The All-in-One Generative AI Platform
Build, productionalize, and monitor enterprise-grade generative AI solutions, safely and reliably.
Start for Free
Open, Flexible, and Multi-Cloud
Enjoy the freedom to work with all the best tools and techniques, across cloud environments, all in one place.
Safely Extend LLMs with your Proprietary Data
Safeguard data privacy, and control all financial aspects of your generative projects.
Confidently Deploy, Manage, and Govern LLMs in Production
Deploy and maintain safe, high-quality, generative AI applications and solutions in production.
Unify Your Generative and Predictive AI Workflows End-to-End
Breakdown silos and prevent new ones with one consistent experience.
Use the Best of Breed Components Across Multiple Clouds
Our API-first integrations let you stay in the driver's seat for your GenAI initiatives and prevent vendor lock-in. Manage LLM selection, safeguard data privacy, and control all financial aspects of your generative projects across cloud environments.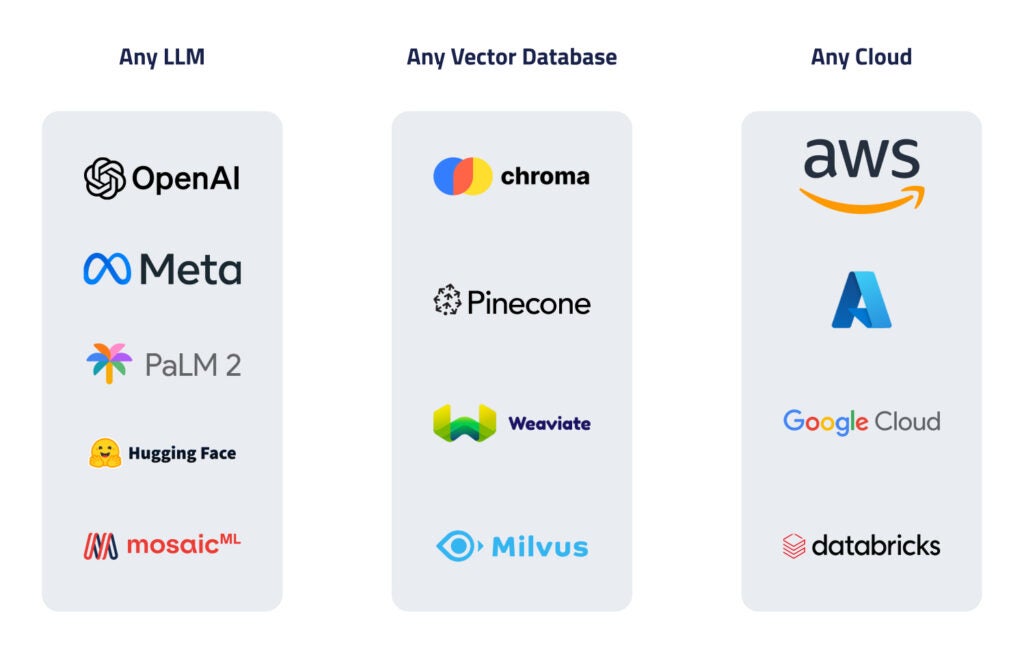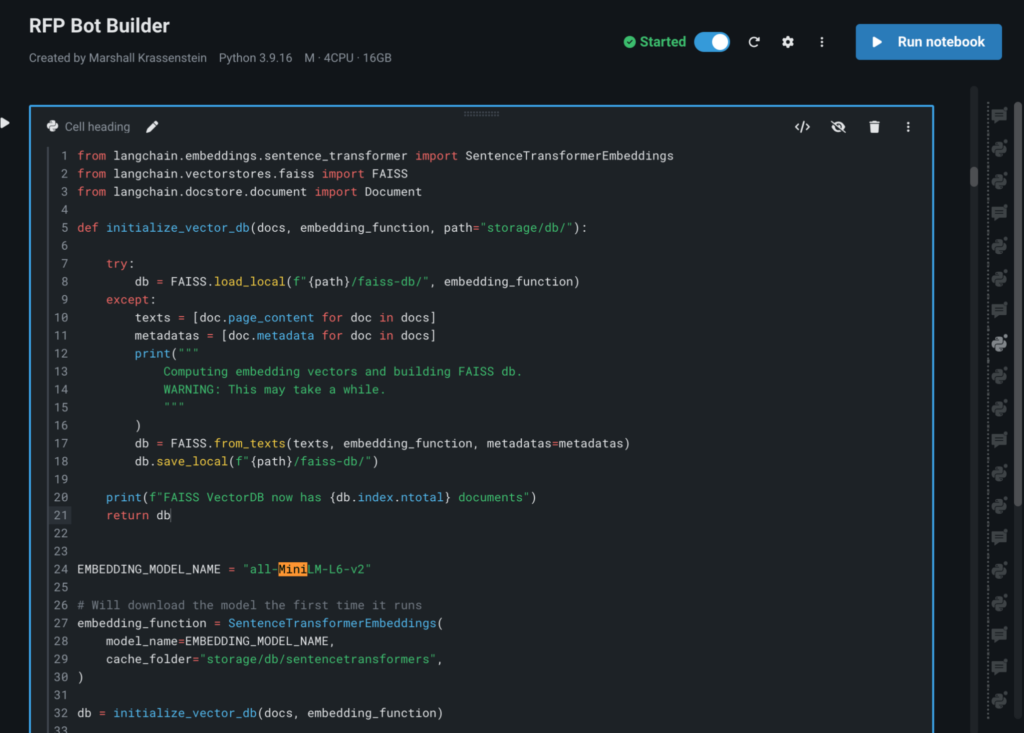 Build Sophisticated Generative AI Applications in Hours
Easily create and manage vector databases, engage with your preferred LLM, rapidly experiment and optimize your prompts and deliver an accurate, user-friendly experience in hours. A suite of tools like Azure OpenAI-powered Code Assist and generative AI accelerators help you jumpstart your AI projects. Organized spaces for project management, hosted notebooks, and a sandbox for building and prototyping generative AI apps, DataRobot centralizes your workflow so you can focus on creating valuable AI solutions and not managing infrastructure.
Bring your GenAI Projects to Life
Quickly build, prototype and customize bespoke generative AI applications in a few clicks with a hosted Streamlit application sandbox that lets you volley between building and seeing to ensure you're creating the best user experience. But don't stop there – easily integrate generative AI into your organization's operations and systems such as Slack, Salesforce, BI tools and more with just a few lines of code.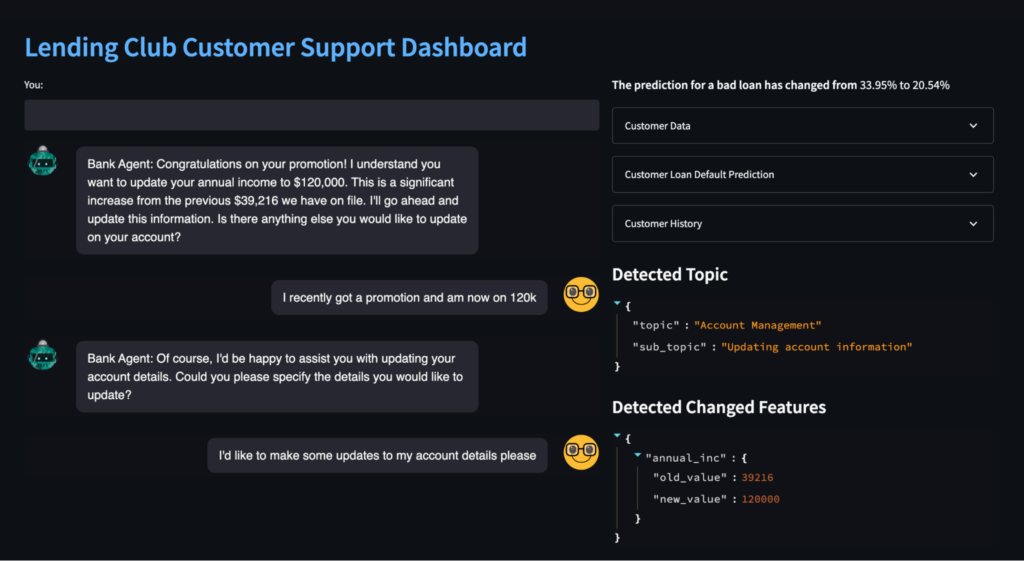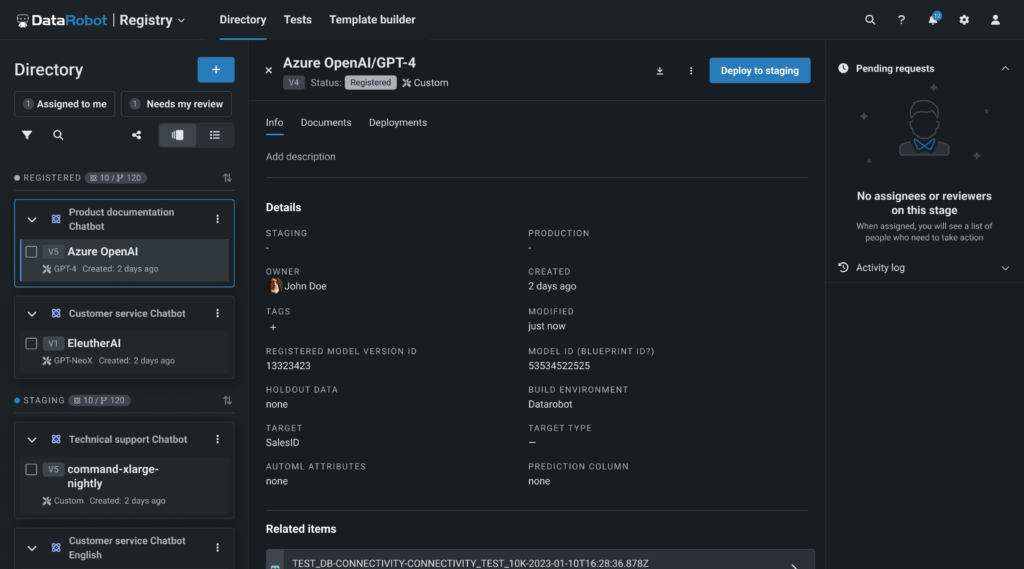 Organize, Deploy and Manage all of your Generative AI Assets
Prevent AI chaos. Consolidate multiple AI artifacts from many sources into a single source of truth and system of record. Manage your vector databases, LLMs, and prompt engineering strategies neatly together – no matter who built them or how they were built. Upgrade LLMs and keep track of changes with automated versioning that records all model changes, and lets you easily revert to earlier versions when needed.
Confidently Monitor and Govern Generative AI Assets with LLMOps
Protect your business reputation and trust your GenAI assets are going to perform as expected in production. Standardize and scale with universal governance and security policies for your GenAI assets regardless of deployment or origin. Use custom performance metrics for toxicity monitoring, ensuring your  LLM is staying "on-topic", and create feedback loops to continuously improve your generative AI applications by leveraging user feedback.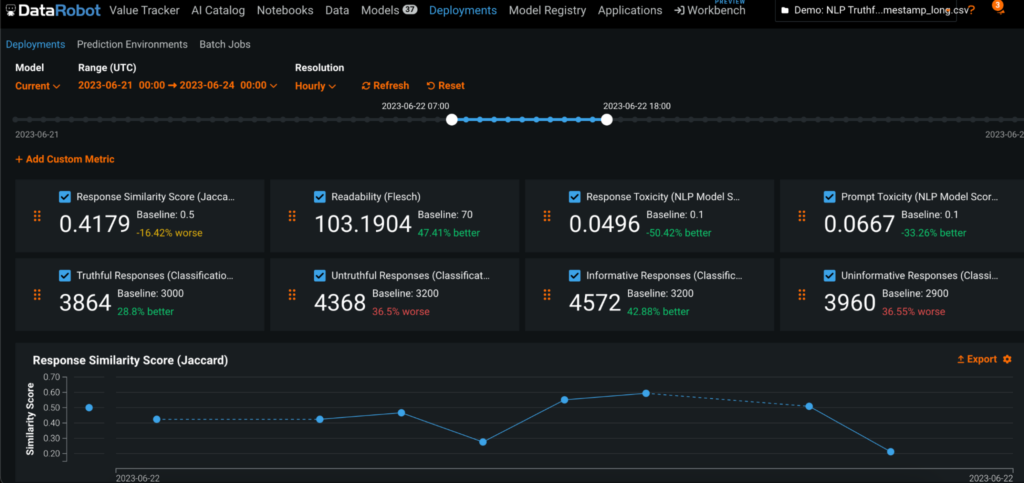 Accelerate your Path from Concept to Implementation and ROI
Fastrack your initiatives, build a clear roadmap for success and raise your team's generative AI expertise. Systematically identify and prioritize high-value opportunities with our GenAI Roadmapping Sessions, and quickly get all your leaders up to speed with our GenAI for Executives program. And our live GenAI workshops and hands-on-labs help you learn how to build, optimize, and monitor generative AI applications at scale.
Global Enterprises Trust DataRobot to Deliver Speed, Impact, and Scale
"DataRobot is an indispensable partner helping us maintain our reputation both internally and externally by deploying, monitoring, and governing generative AI responsibly and effectively."

"The generative AI space is changing so fast but the flexibility, speed, and interoperability of DataRobot is helping us stay on the cutting edge. And, DataRobot's team of GenAI experts have been true partners on our journey, helping us navigate the real concerns to apply generative AI in meaningful and safe ways."

"The value of having DataRobot as a single platform that pulls all the components together can't be underestimated."
More AI Platform Capabilities
Take AI From Vision to Value
See how a value-driven approach to AI can accelerate time to impact.