GOVERN
Register and Manage
A single pane of glass for organizing and tracking each iteration of every model.
Start for Free
Manage Generative and Predictive AI Together
Organize, deploy, and version all generative and predictive AI assets together from one registry, regardless of origin.
Track and Manage Changes to Data and Code Over Time
See a full history with insights into data origins, transformations, lineage and version.
Create a Single Source of Truth
Catalog, version, and govern all models across your enterprise and eliminate AI sprawl.
Benchmark and Evaluate the Performance of Other Models or Systems
Utilize gold standard models as a reference point to compare and assess the effectiveness and accuracy of alternative models or systems.
One Registry for all Generative and Predictive AI
Reduce the chaos of AI sprawl and eliminate 'shadow AI projects' with effortless management and deployment of your AI assets from a single repository. Securely govern generative and predictive AI assets no matter who built them, how they were built, or where they are hosted. 
Organize all DataRobot-generated or custom LLMs, vector databases and embedding models by use case and deploy wherever needed. For models in production, confidently upgrade or swap generative AI components as your business needs change or the market evolves. DataRobot's automated versioning captures the full evolution of all models so you can easily keep track or revert deployment back to the previous version.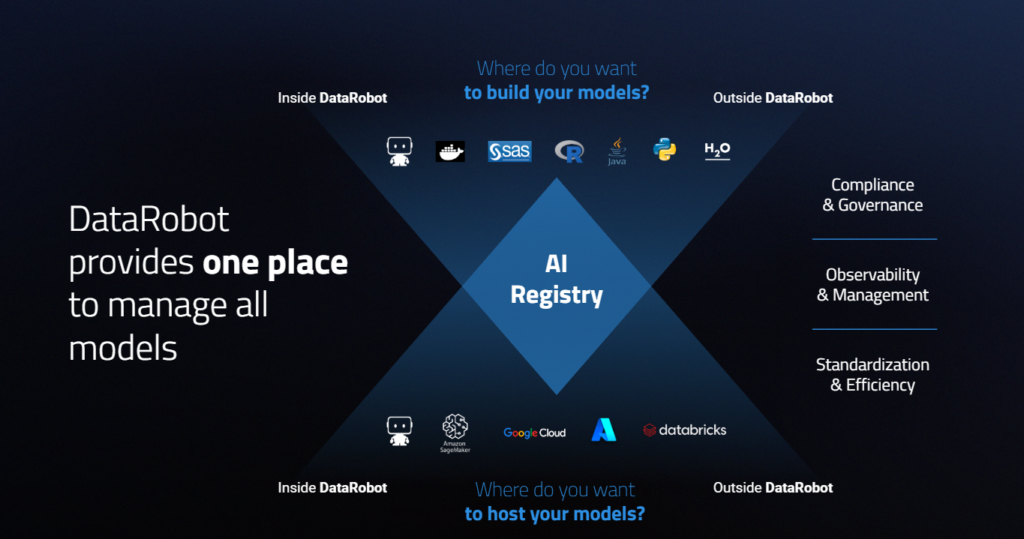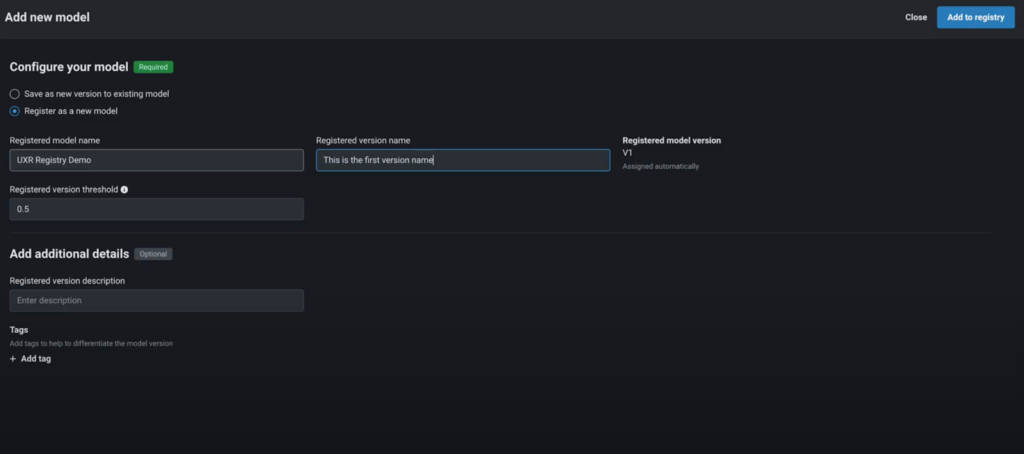 Seamlessly Track Lineage and Lock in Your Model Package
Automatically serialize your entire data and feature engineering pipeline for all data types. Then, containerize and deploy a production-grade rest-API endpoint in one click. Centrally manage and process metrics for these deployments, assuring the performance of these business-critical models via DataRobot.
Manage All Your AI Assets From a Single Place
Confidently upgrade LLMs and predictive models while DataRobot automatically captures the full lineage and versioning of what is happening with your data end-to-end. Group all assets about a specific use case. Easily track and share all generative and predictive AI projects, experiments, and datasets holistically, including features from your data sources. The journey from data preparation to deployment will always be tracked automatically.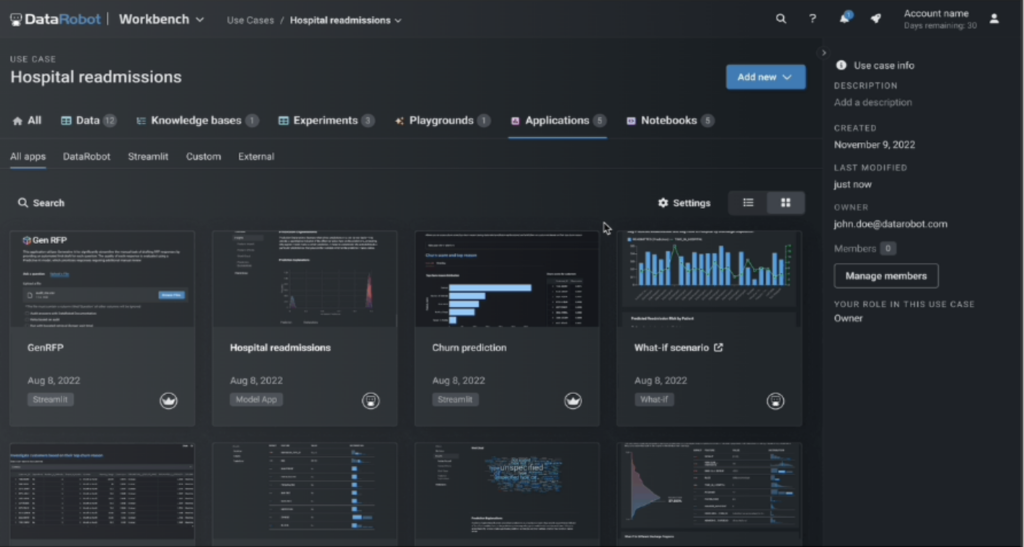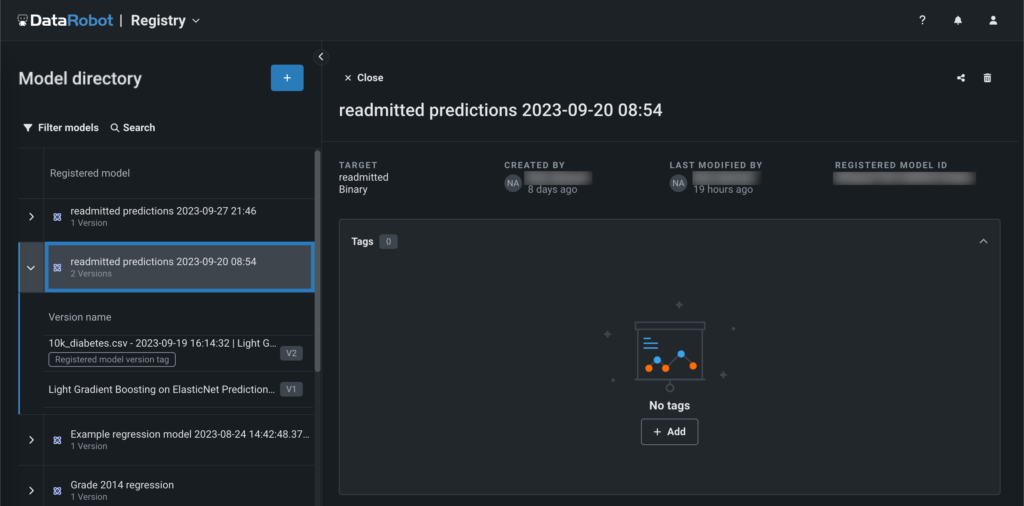 Accelerate AI Deployment without Registering Each Model
Avoid starting with a blank model registry. Public models added by DataRobot or by your organization's admin users provide immediate access to foundational models without each user needing to register them or explicitly share them.
By making guard models such as a Toxicity Classifier from Hugging Face available out-of-the-box in the Model Registry, you can accelerate the delivery of confidently governed predictive and generative AI solutions without needing to register external foundational models yourself.
Global Enterprises Trust DataRobot to Deliver Speed, Impact, and Scale
More AI Platform Capabilities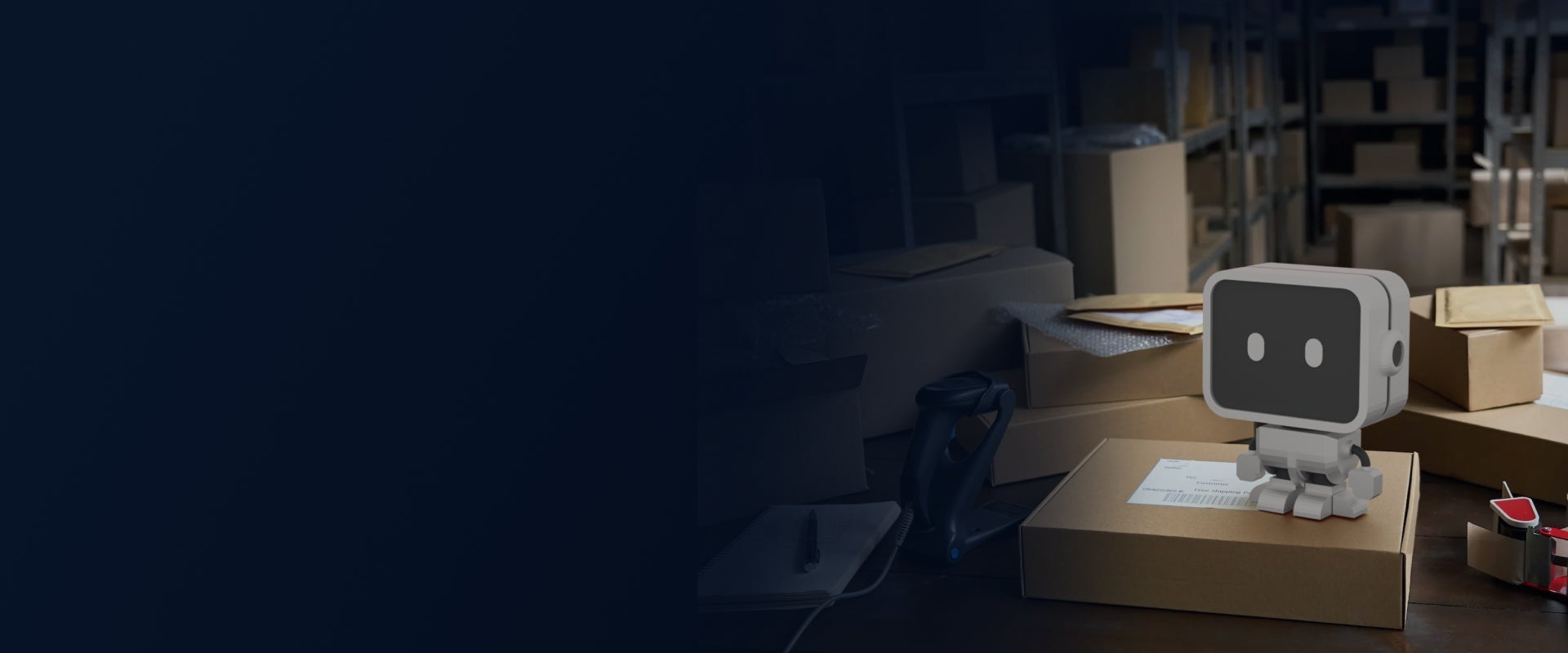 Take AI from Vision to Value
See how a value-driven approach to AI can accelerate time to impact.