Data Science Notebooks for Code-First Users
AI is a team sport that brings analytics to business analysts, IT, and other groups across the enterprise. Additionally, over 30% of data scientists collaborate on a team with 10 or more data science experts, each with their own preference of tools and languages. Organizations need a unified environment that provides code-first experiences coupled with enterprise features to run anywhere at scale. Extend the power of DataRobot AI Cloud to expert data scientists that love to code.
Integrated Experience That Drives Real Business Impact
Enable your team to build data science notebooks with flexibility and control through the power of DataRobot AI Cloud. Reduce hundreds of lines of code, automate mundane data science tasks, and accommodate custom code specific to your business needs. Innovate and experiment fast to deliver unique insights from any data.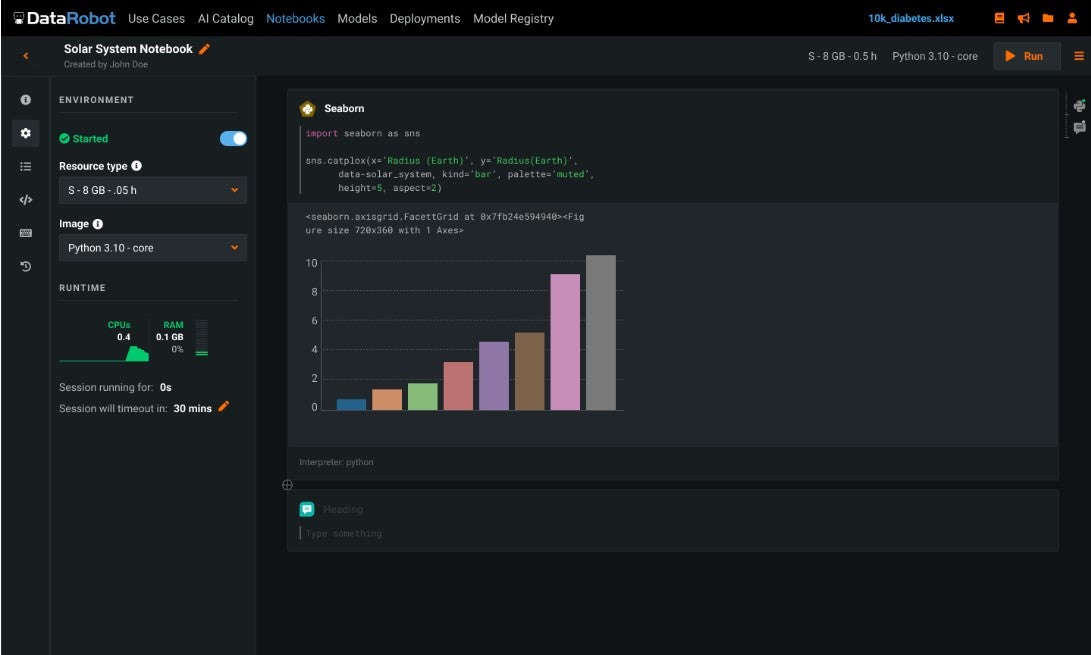 Achieve Productivity Using Scalable Compute Resources
Accelerate AI delivery by leveraging the managed and scalable compute infrastructure of DataRobot AI Cloud. Apply the appropriate machine types based on your data science needs to move with greater speed. Spend more time delivering impact for the business and less time waiting on results.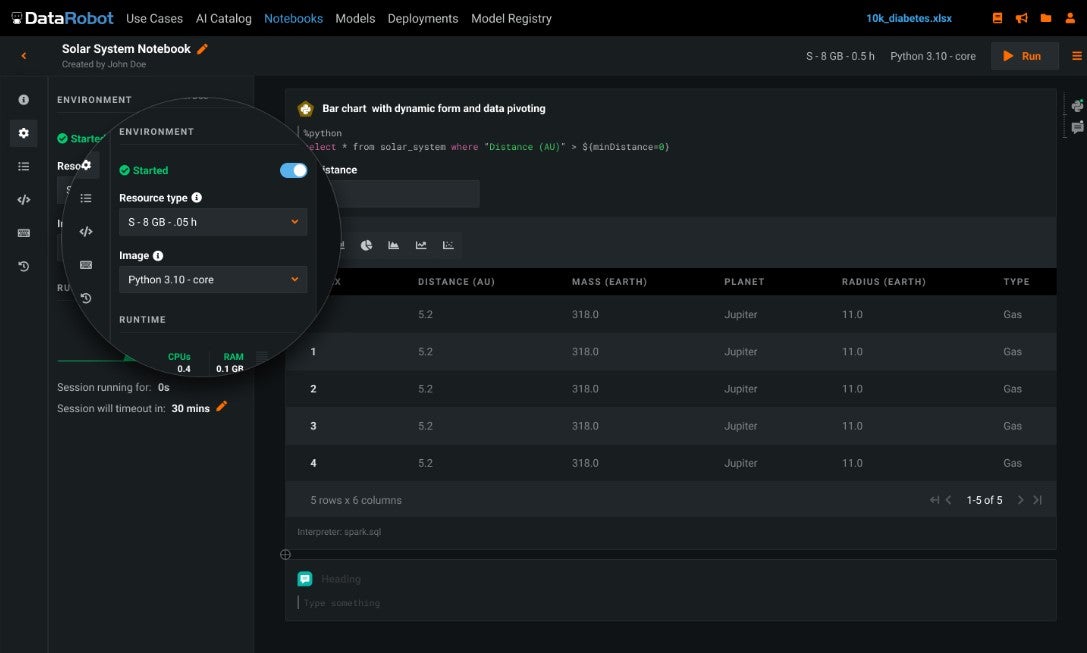 Centralize Governance and Compliance
Centralize AI development infrastructure by storing your team's data science notebooks in the cloud rather than on local machines, ensuring visibility into your IP. Establish governance and policies by easily defining user roles and designated privileges to protect sensitive code, data, and platform management functions from unwanted access.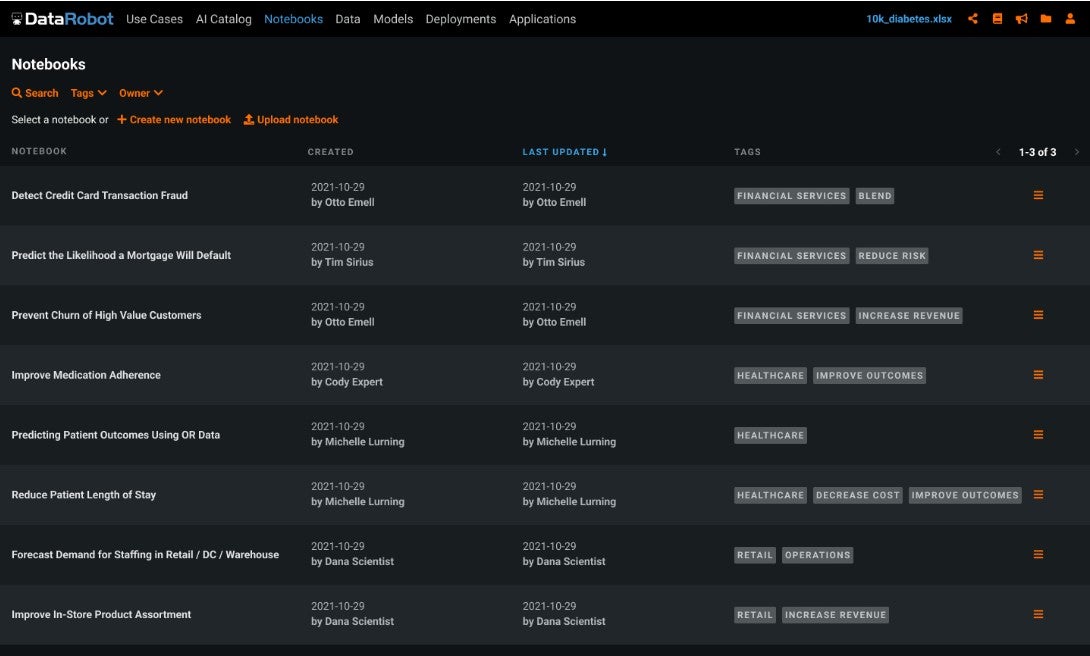 "Many customers have told us they want a secure, embedded, and cloud-first solution to break free from open source notebooks and their high costs to maintain and lack of collaboration," said Nenshad Bardoliwali, Chief Product Officer at DataRobot. "Now, with DataRobot Notebooks, anyone can quickly and easily migrate their open source notebooks or legacy code to DataRobot, giving customers the best of both worlds—the native integration with the AI Cloud and a best in class notebook experience with consumption based pricing so you only pay for what you use."
Frequently Asked Questions
Discover how to empower code-first data science experts through a unified experience that accelerates AI delivery.
Who uses Notebooks for data science?

Data science notebooks are used by a variety of professionals: data scientists, data engineers, machine learning engineers, and all data science experts who love to code. DataRobot Notebooks are a cloud-native, self-service notebook solution within our enterprise AI platform that helps drive productivity, efficiency, and collaboration for multiple personas across organizations. This unlocks additional flexibility by allowing code-first data science experts to write their own tasks and build custom models, extending the out-of-the-box capabilities provided by DataRobot.

Notebooks provide a unified environment for your entire team to collaborate securely, allowing team members to utilize Notebooks natively within DataRobot with one click.

What are the advantages of DataRobot Notebooks over Jupyter Notebooks?

When choosing between DataRobot Notebooks or Jupyter Notebooks, keep in mind DataRobot Notebook users have a unified environment for continuous ML optimization, scalable compute resources, and enterprise-grade governance capabilities.

Notebooks empower collaboration between code-first data science experts and business analysts to customize models built through the power of DataRobot AI Cloud. The unified platform provides transparency through guardrails and explainability features for all stages of the AI lifecycle.

What native Jupyter capabilities are included in DataRobot Notebooks?

Data science experts can still take advantage of standard Jupyter capabilities within DataRobot Notebooks to benefit from the largest open source notebook ecosystem. Capabilities include:

Markdown and Python
Cell actions and executions
Keyboard shortcuts
Syntax highlighting
Code autocomplete

How do Notebooks deliver business impact to organizations?

Increase efficiency by enabling collaboration between code-first data science experts and GUI-preferred business users throughout the machine learning lifecycle, from data exploration and data preparation to model deployment and continued optimization.

Ensure visibility into your IP by storing everything in the cloud with our centralized AI development infrastructure. Centralization simplifies governance, organization, and dependency management within notebooks, ensuring reproducibility by technical and non-technical users. Free up your team to drive business impact, rather than maintaining your open source infrastructure.
Want to learn more about DataRobot Notebooks?
Thank you
Thank you for your interest in Notebooks.
Our team will be in touch regarding your private preview.
Thank You!
We're almost there! These are the next steps:
Look out for an email from DataRobot with a subject line: Your Subscription Confirmation.
Click the confirmation link to approve your consent.
Done! You have now opted to receive communications about DataRobot's products and services.
Didn't receive the email? Please make sure to check your spam or junk folders.
Close