DataRobot Acquires decision.ai for More Actionable AI
DataRobot Acquires decision.ai for More Actionable AI
Practitioners in the AI space are focused on the speed and accuracy of model predictions. But the end game for the applicability of models is not in the predictions, but the decisions they enable, and predictive models alone don't ensure better decisions.
Organizations evaluate AI projects by whether or not they help organizations make better decisions and achieve better business outcomes. Over the last year, DataRobot has built a suite of Decision Intelligence capabilities into the AI Platform to help you translate accurate models into better decisions. Now, DataRobot is taking this to the next level with its acquisition of decision.ai.
What Is Decision Intelligence?
A manufacturer can use machine learning to predict mechanical failures so they can replace parts before the failure interrupts production. At one point, the machine learning model might say a part is 10 percent likely to fail in the next hour. Should the manufacturer replace the part now or wait?
In practice, they need to consider a wide range of factors:
How expensive and disruptive is it to replace the part now?
Will a part failure during operation cause further damage? How disruptive would it be?
Is there another time coming up when the part replacement would be less disruptive?
Preventive maintenance isn't unique. Most places where machine learning is used today would benefit from more sophisticated decision intelligence. Whether it's inventory management, fraud prevention, dynamic pricing, churn prevention, lead scoring, media mix optimization, or staffing decisions, great decision-making requires the consideration of many factors and how they fit together into a complex process.
Decision Intelligence for the Next Generation of AI-Powered Organizations
Some of these questions can be answered with additional machine learning models while others are best answered with human knowledge. DataRobot has always helped users build and deploy more accurate machine learning models. Our recently introduced decision intelligence tools let you embed those machine learning models into your existing processes, whether those processes are totally programmatic or whether they involve a human in the loop.
Earlier this year, we launched No-Code AI Apps, which allows any user, regardless of their technical expertise, to quickly turn a deployed model into a rich AI application without any coding. Users can also get context on key features, run what-if simulations, and determine how to optimize towards specific outcomes. You can also quickly and visually create complex rules to assess your predictions and automate the decision-making process at scale with the launch of our Decision Intelligence Flows capability.
Even with these advances, combining human knowledge with multiple machine learning models can still be a challenge. Data science teams still lack the tools to create these holistic simulations and the interfaces that facilitate capturing human knowledge (which is needed to accurately describe most multi-faceted processes). The holy grail of the decision intelligence space is to put all the pieces together into a unified simulation environment that lets a user see the long run impact of each decision.
Therefore, I'm extremely excited to share DataRobot's acquisition of decision.ai and the return of Dan Becker to DataRobot. Dan's storied career has taken him from Kaggle to DataRobot to Google to founding decision.ai. Dan blends the pragmatic experience consulting on AI projects for 6 Fortune 100 companies and contributions to leading open source AI tools, including TensorFlow and Keras, with a deep passion for pedagogy, including recently authoring Automated Machine Learning for Business.
Decision.ai will help DataRobot extend its existing no-code app building and decision intelligence flow tools to help DataRobot users optimize decisions in complex, dynamic business processes. With the augmented Decision Intelligence Suite in DataRobot AI Platform, your team will make faster and smarter decisions when they can see the full picture and how the decision will play out over time.
About the author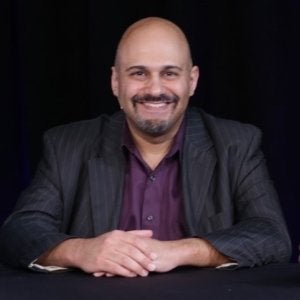 Nenshad Bardoliwalla is Chief Product Officer of DataRobot, where he leads product strategy, product management, product design, and customer experience across the company. Bardoliwalla joined DataRobot in 2019 through the acquisition of Paxata, where he was the Co-Founder and Chief Product Officer. He formerly served as vice president for product management, product development, and technology for Enterprise Performance Management at SAP, after many years at Hyperion and Siebel Systems. He lives in the San Francisco Bay Area, CA with his family.
Meet Nenshad Bardoliwalla
Subscribe to DataRobot Blog
Thank you
We will contact you shortly
We're almost there! These are the next steps:
Look out for an email from DataRobot with a subject line: Your Subscription Confirmation.
Click the confirmation link to approve your consent.
Done! You have now opted to receive communications about DataRobot's products and services.
Didn't receive the email? Please make sure to check your spam or junk folders.
Close