Belong @ DataRobot Celebrates One Year of Diversity, Equity, Inclusion, and Belonging Impact
Belong @ DataRobot Celebrates One Year of Diversity, Equity, Inclusion, and Belonging Impact
What does Diversity, Equity, and Inclusion (DEI) mean at DataRobot? On November 17, 2021, a group of passionate and dedicated DataRobot employees came together to answer that question by listening to experiences, talking through problems, and brainstorming on potential solutions. Our ground rules were simple: keep an open and flexible mind; assume positive intent; and be a safe and confidential space for people to be vulnerable and share authentically. The result was the formation of the Belong @ DataRobot group whose first anniversary we now celebrate with great appreciation and gratitude.
With established Employee Resource Groups in place for some time, employees at DataRobot had already worked to address DEI initiatives. But there was a clear desire to take the next steps and build a formal program that would thrive in our fast-paced environment. Working in small groups, the group came together from around the globe to answer important questions, such as: Why does DEI matter? Who is it for? What are we looking to accomplish? With many ideas brewing and a great deal of enthusiasm, Belong @ DataRobot was officially launched on a journey to touch employees' lives.

A Year of Growing and Learning from Each Other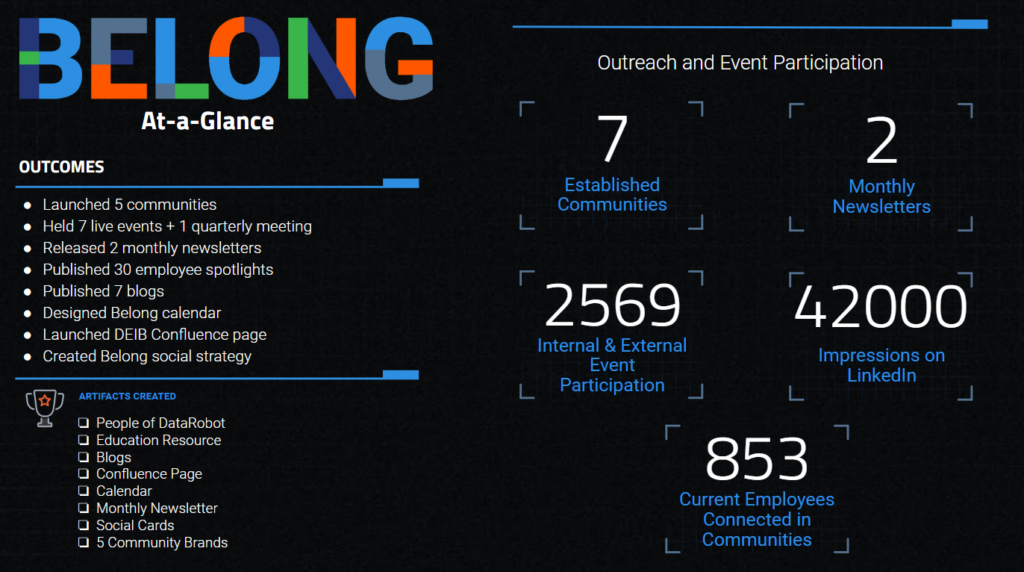 With the support of our Executive Leadership team, Belong @ DataRobot has had an incredible first year. One of the greatest accomplishments was the establishment of seven communities that our Belong leaders established to meet employees' specific needs:
ACTnow! stands for Asians Coming Together Now and cultivates an inclusive space to advocate for the diverse needs of all Asian, Asian American, and Pacific Islander employees at DataRobot through educational, cultural and social activities.
ADAPT stands for Abled and Disabled Advocating and Partnering Together and provides education and allyship to advocate for and empower DataRobot employees with disabilities to ensure an inclusive work environment.
BEACON stands for Black Employees and Allies Changing Outlooks Now and aims to advance a diverse, inclusive, and equitable community that fosters a culture of belonging for Black employees both current and future.
LATTITUD stands for Latinx, Hispanics and Allies in Tech Together Influencing Technology Inclusion and Uniting for Diversity and is dedicated to connecting the Latin/Hispanic community in a supportive and uplifting environment while creating space to share ideas, struggles, resources, and celebrate our diverse cultures and accomplishments.
PrideBots vision is to provide an open, safe, inclusive community where DataRobot employees can connect on common interests or backgrounds and bring our collective voices together to drive innovation, create opportunities, inspire each other and celebrate all sexes, gender identities, gender expressions and orientations. We welcome all members of the LGBTQIA+ community as well as allies.
Veterans brings together those who have served in all branches of the military for ongoing resources, support and networking.
Women @ DR seeks to create, promote and expand an inclusive culture that connects, educates and advances the needs, professional goals and aspirations of our community of female-identifying members and allies.

These communities have made it their mission to listen, help, and bring value to employees in safe spaces and other meaningful ways. Each community has a Slack channel and holds meetings and celebrations where members and allies can speak freely with others that understand, value, and respect them. The growth, management, and formation of each community is unique and organic, but the goal is the same: bringing together our people so they know they belong.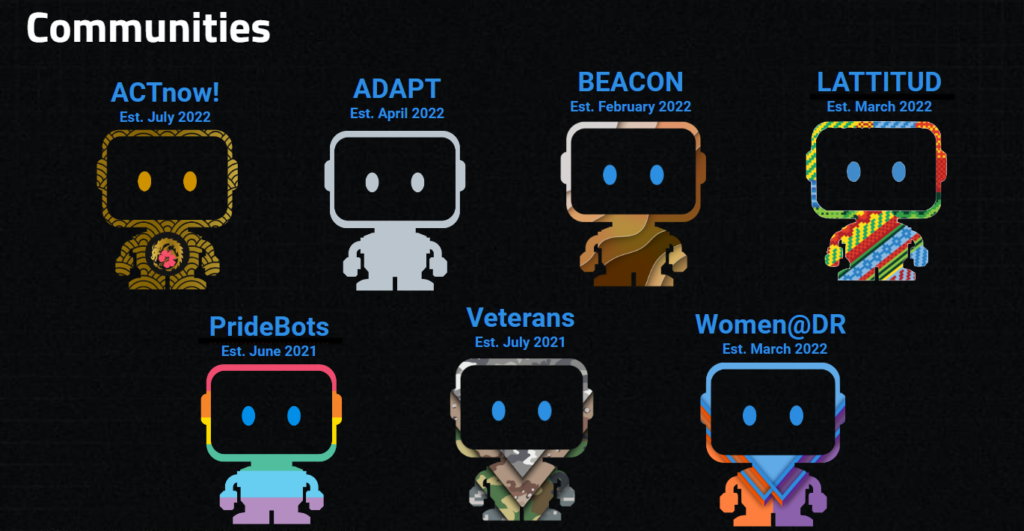 Getting to the Heart of Our Core Values
Belong is at the heart of the DataRobot core values: Be You, Dream Big, Better Together, Champion Customers, and Be Data-Driven. With the goal to make everyone feel valued and heard, Belong is committed to ensuring that all employees are confident and respected for their unique abilities, secure in the knowledge that they belong at DataRobot.

Looking Ahead to a Bright Future
Belong is a journey of discovery, authenticity, shared experiences, and people. This quote from an adaptation of an article written by Dafina-Lazarus Stewart speaks to the continuous work and the consistent questions that must be asked and answered to bring awareness to Diversity, Equity, Inclusion and Belonging:
Diversity Asks: Who is in the room?
Equity Asks: Who is trying to get in the room but can't? And what are the barriers?
Inclusion Asks: Have everyone's ideas been heard, respected, and understood?
Belonging Asks: Is everyone feeling valued through positive connections with others and able to bring their authentic selves to work?
While still in its infancy, the Belong @ DataRobot initiative celebrates the milestones we have reached over the past year. When employees message the group to say that a Belong community has saved them during low moments in the past year, we know that our work has value and is making an impact.
About the author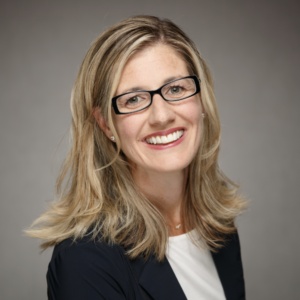 Amy Suchanek leads the People Team at DataRobot, responsible for enabling our team and our people to unlock their potential and awaken the possibilities. Prior to joining DataRobot, Amy led the People Team at two tech startups and spent more than fifteen years in various People roles at Reebok and adidas Group. She has experience across multiple industries, company size and stage, and has worked in the United States, Germany and Hong Kong. When she's not working, she's enjoying time with her three children.
Meet Amy Suchanek
Subscribe to DataRobot Blog
Thank you
We will contact you shortly
Thank You!
We're almost there! These are the next steps:
Look out for an email from DataRobot with a subject line: Your Subscription Confirmation.
Click the confirmation link to approve your consent.
Done! You have now opted to receive communications about DataRobot's products and services.
Didn't receive the email? Please make sure to check your spam or junk folders.
Close