See What MLOps Can Do For You
Schedule a live demo to witness the power of MLOps firsthand.
DataRobot MLOps
Your Center of Excellence for Production AI
One place to deploy, maintain, and govern all your production models, regardless of how they were created and where they are deployed.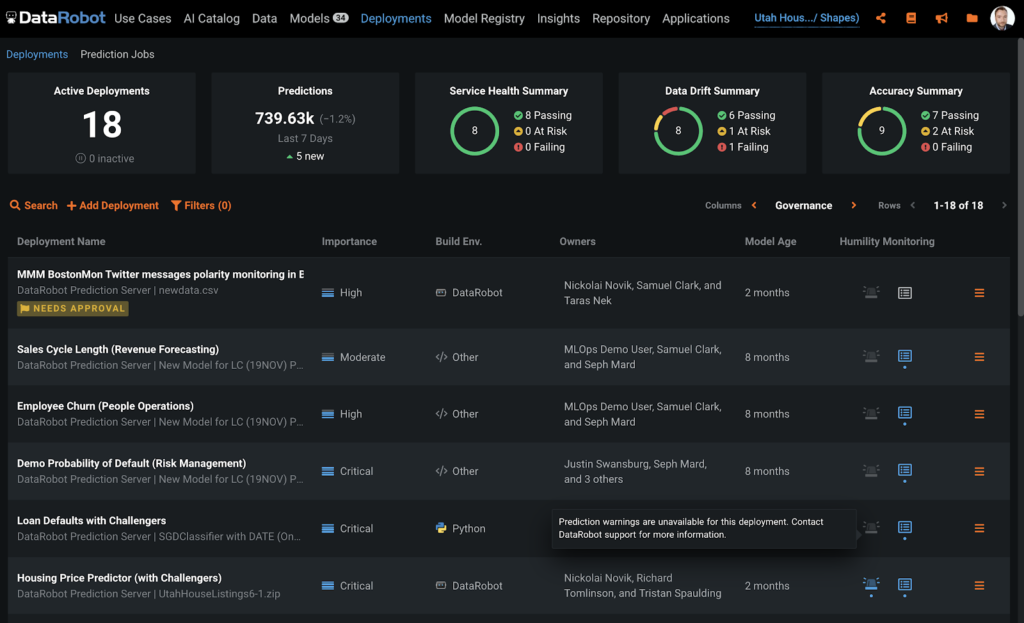 Realize the Benefits of MLOps
Deployment
Businesses often don't realize the full benefits of AI, because models seldom get deployed. Or if they are deployed, it's not at the speed, scale, or confidence levels that meet the needs of the business.
Deployment Benefits and Support Capabilities:
Streamlined Model Deployment: Drag-and-drop model deployment with pre-built environments for common languages like Python, R and Java.
Agnostic of Run-Time Environments: Models can be deployed and managed on any cloud, multi-cloud, hybrid, or on-prem run-time environments.
Hot-Swappable Models: Automate the model update process without interrupting existing business processes.
Model Upgrade Approval Workflows: Streamline the process for approving and managing modifications or uploading of new models into production.
Monitoring
Evaluating machine learning model health manually is very time-consuming, pulling resources away from model development.
Monitoring Benefits and Support Capabilities:
Live Model Health Monitoring: Use real-time dashboards with automated monitoring and alerting upon data deviations and key model health metrics to quickly and proactively adapt to changing conditions.
Deep Production Diagnostics: Observe and optimize model performance in production to improve failure prediction, minimize SLA violations, and optimize system and resource operations.
Run Models Anywhere: Maximize the investments you have already successfully deployed by using tracking agents to monitor models running on any environment, including IoT devices, cloud platforms, and on-premises.
Production Lifecycle Management
Even if they can identify model decay, organizations cannot regularly update models in production because the process is either non existent or too resource intensive. There are also concerns that manual code is brittle, and the potential for outages is high.
Production Lifecycle Management Benefits and Support Capabilities:
Simplified Model Deployment: Automated model deployment directly pulling out of GitHub or other systems or machine learning platforms for most common languages.
Model upgrade approval workflows: Streamline the process for managing and approving modifications or uploading of new models into production via champion/challenger gated process.
Hot-Swappable Models: Streamline the model update process without interrupting existing business processes.
Production Model Governance
Businesses need time-consuming and costly audit processes in order to ensure compliance as a result of varied deployment processes, modeling languages, and the lack of a centralized view of AI in production across an organization.
Production Model Governance Benefits and Support Capabilities:
Production Access Control: Limit and govern access to production models and systems to manage organizational risk and satisfy regulatory requirements.
Traceable Model Results: Track individual predictions back to the production model version used at a specific time to make each prediction in order to ensure legal and regulatory compliance.
Model Audit Trail: Keep an audit trail over the lifetime of a model deployment showing when and where the model was deployed, who made updates, what was changed, with what authority, and why.
Model Upgrade Approval Workflows: Streamline the process for approving and managing modifications or uploading of new models.
MLOps for Everyone
The market has matured to a point that machine learning models have to start showing and proving value by monitoring for performance and accuracy in order to eliminate business risk. The path to realizing this value is achieved by implementing a scalable solution to manage production machine learning.
See Why You Need MLOps
What you will see
An interactive product demonstration that highlights the powerful end-to-end capabilities of the DataRobot Enterprise AI Platform from data to value.
Request a Demo
We show you how to use Paxata Data Preparation, Automated Machine Learning, and MLOps to:
Quickly find, prepare and shape your data
Use Autopilot to build hundreds of diverse models in minutes
Easily evaluate, describe and explain your models
Deploy, monitor and manage your models and accommodate change
Use AI applications to make new predictions and understand ROI
MLOps Customers
Companies across every industry leverage DataRobot's MLOps solution, such as: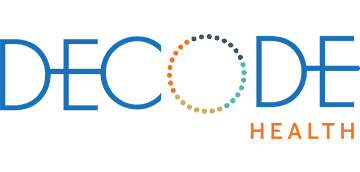 Carbon Transforms Consumer Lending with DataRobot
Today, Carbon processes 150,000 loan applications each month through DataRobot's prediction API and tracks those deployments in DataRobot MLOps.
Download case study PDF
"I really think using DataRobot MLOps is the reason why we didn't have to stress about it [COVID] as much as other companies have. The only reason we were comfortable in doing that is that when we see performance changes via MLOps we can throw everything automatically back into DataRobot AutoML and see what it tells us in terms of model comparison and see what we need to do based on where we're at at that point of time."

"With MLOps, we were able to deploy both DataRobot and non-DataRobot models within minutes rather than weeks, enabling us to achieve a far faster time to value than with homegrown deployments. In addition, the monitoring capabilities ensure that our models are generalizing appropriately to new data. We have so far had 100% uptime on our deployments."
Ready to see what MLOps can offer you?
Thank you
We will contact you shortly
We're almost there! These are the next steps:
Look out for an email from DataRobot with a subject line: Your Subscription Confirmation.
Click the confirmation link to approve your consent.
Done! You have now opted to receive communications about DataRobot's products and services.
Didn't receive the email? Please make sure to check your spam or junk folders.