Why DataRobot Is Topping the Leaderboard
Why DataRobot Is Topping the Leaderboard
The baseball season is in full swing, overflowing with excitement for teams hoping to get onto the top of the leaderboard and play through the postseason. It's been an honor to have worked with some epic teams in baseball (and some not-so-amazing teams) over the decades. The passion of being a member of the front office of a Major League Baseball franchise permeates everything. The focus of an entire staff working for a common goal is palpable and rewarding.
Over two years ago, I joined another team—DataRobot. It is the culmination of my career where I have been fully immersed in artificial intelligence, automation, and ultimately created entirely new industries. When I first worked in the MLB in the 80's, there were only a handful of data scientists employed. Now, fast forward to the present day where not only are there college degrees in sports analytics, but they have even become popular. Similarly, ten years ago, DataRobot created the AutoML market, and now it is one of the leading growth areas in the technology and business industries.
DataRobot works with every major industry
It's been exciting for me to get to work with professional sports teams around the globe. From MLB to NBA, NHL, premier league, entertainment venues, and broadcast, they all get tremendous value injecting AI into their current processes. I've also spent this summer traveling with Andretti Motorsports and their RKM IndyCar team, learning how crucial data analytics are in the racing world as well as how Augmented Intelligence is immensely embedded into their racing strategy.
Sports teams use AI for all sorts of use cases ranging from "on the field" (What are the strengths and weaknesses of my opponents? How can I reduce injuries? How should I position my players?) to "off the field" (How will my players project to play next year? Whom should we draft? How much should I pay for my players?) to "fanalytics" (How should we price tickets? How can we reduce season ticket churn?). Recently, DataRobot went to the Giants game, and we snapped some photos of the DataRobot logo on the scoreboard (near top-left!). For me, there is nothing better than combining my passion for sports with my passion for AI.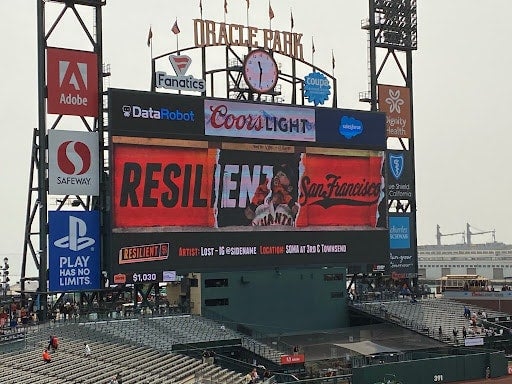 All sports teams have big datasets (terabytes collected per game). All teams also have the drive to find competitive advantages to compete, the need to get insights faster and more accurately, and better understand the real-life complexities of human behavior and nuances of an overabundance of variables. In fact, the customers with the most predictions are not in finance, healthcare, or manufacturing—they are in sports. Overall, our sports accounts have made over 800 billion predictions on the DataRobot platform! One team found a 50x productivity improvement when they reduced end-to-end modeling from 500 hours (pre-DataRobot) to just 9 hours with automation! These types of scale and efficiency improvements only come around every few decades.
So, what about my new team, DataRobot?
During my tenure, they continue to "top the leaderboard" within the AI/machine learning/data science industry. Customers across industries have seen increased "AI with ROI" value, evincing that AI is not only here to stay, it will become rooted in every company. Along with this, a new world of "citizen data scientists" will continue to sprout, where business analysts will be able to get the most advanced AI-driven insights without the need to get a PhD in statistics or be a python/R hacker. They will be the human part of "Augmented Intelligence" that collaborates closely with artificial intelligence.
In a few short years, DataRobot raised over $700M (over $1B total now). This helped us accelerate improving our platform from partnering with and listening to our customers, acquiring some exciting companies (Algorithmia, Paxata, Zepl, among others), and hiring an all-star roster of teammates.
Hope you get to enjoy and experience your own personal championship. Until next time, here are some photos of the Giants outing: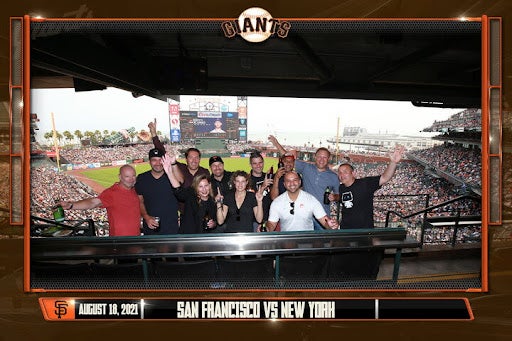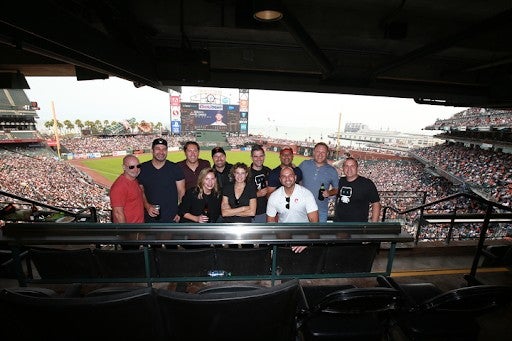 About the author
Kaplan is a leading figure in data science, sports analytics, and business leadership. High profile roles include creating the Chicago Cubs analytics department, President of the investigation into the fate of Holocaust hero Raoul Wallenberg, and President Emeritus of the worldwide Oracle User Group.
Meet Ari Kaplan
Subscribe to DataRobot Blog
Thank you
We will contact you shortly
We're almost there! These are the next steps:
Look out for an email from DataRobot with a subject line: Your Subscription Confirmation.
Click the confirmation link to approve your consent.
Done! You have now opted to receive communications about DataRobot's products and services.
Didn't receive the email? Please make sure to check your spam or junk folders.
Close