The Power of DataRobot + Snowflake
The Power of DataRobot + Snowflake
At DataRobot, we strive to help enterprises uncover hidden predictive insights through automated machine learning. As technologies like IoT and mobile become more prevalent, vast amounts of new data (in a host of formats) become available. The demand for data from analysts, data scientists, and executives is growing exponentially as more challenging business problems are being addressed.
Given the growth in the demand and consumption of data, difficulties often arise when it comes to creating repeatable and easy-to-use analytics workflows, and legacy technologies aren't helping to solve the problem. In fact, many organizations continue struggling with a proliferation of data warehouses as well as the shortage and expensive cost of data scientist talent.
Part of our mission is to partner with leading technologies in order to make life easier for organizations working with data. We recently partnered with Snowflake Computing to offer DataRobot users the ability to ingest data from Snowflake. You may be familiar with Snowflake given the company's success and recent valuation news.
Snowflake, the data warehouse built for the cloud, now enables DataRobot users to bring in data from a data warehouse, delivering the performance, simplicity, concurrency, and affordability not possible with other data analytics platforms. Snowflake makes it easy to amass all of your data, unlike conventional data warehouses and big data solutions, and quickly makes that data available for AI and machine learning initiatives through the Snowflake connector for DataRobot.
DataRobot and Snowflake Connector Use Case with Outsell
We spoke with Matt Kristo, Insights Manager at Outsell, to share his experience with the Snowflake connector for DataRobot.
Why are you using DataRobot and Snowflake together?
The DataRobot and Snowflake partnership provide a scalable solution that keeps business data and analytics readily accessible, and predictive insights flowing across our organization. The DataRobot and Snowflake tools complement each other nicely, helping us realize the goal of advanced machine learning, that is quick-to market-and scalable. The built-in connector further simplifies the process by leveraging the shared infrastructure of AWS to make file handling for model building more efficient.
What value are you personally experiencing by using Snowflake and DataRobot together?
Both products empower me to have control of the modeling process end-to-end, and I don't need to rely as much on technical resources to complete my work. The ability to test several models automatically gives me the confidence that I'm selecting the right model for the problem. And, at every step of the model building process (data discovery, feature engineering, model training, implementation, etc.), DataRobot and Snowflake provide efficiency gains allowing us to be more proactive and is pushing our machine learning capability further and faster.
What does using both products together enable you to accomplish?
Outsell uses this combined solution to drive an industry-leading AI-driven marketing automation solution. Our AI brain drives our outbound communications, choosing the right content and channels to communicate to consumers. In addition, we also identify the consumers who are most likely to take a particular action and what it is they are likely interested in — i.e. what vehicle model the consumer is going to buy or what price point they are likely to buy at. This enables our clients to make informed outreach to consumers to increase customer retention and drive additional sales from aged leads.
Together, Snowflake and DataRobot help businesses like Outsell to:
Deliver scalable performance for advanced analytics: Snowflake provides distinct performance advantages compared to other data warehouses and big data solutions.

Provide concurrency for self-service analytics: Snowflake provides high concurrency, enabling organizations to extend advanced analytics throughout the entire organization.

Make better predictions in less time: Incorporating a library of hundreds of the most powerful open source machine learning algorithms, the DataRobot automated machine learning platform builds, trains, and evaluates models in minutes not months to deliver more accurate predictions and jumpstart Outsell's transformation to an AI-driven enterprise.
Connecting DataRobot + Snowflake:
You can now access data stored in Snowflake with the seamless connection between DataRobot and Snowflake.
Begin by importing data from a 'Data Source'.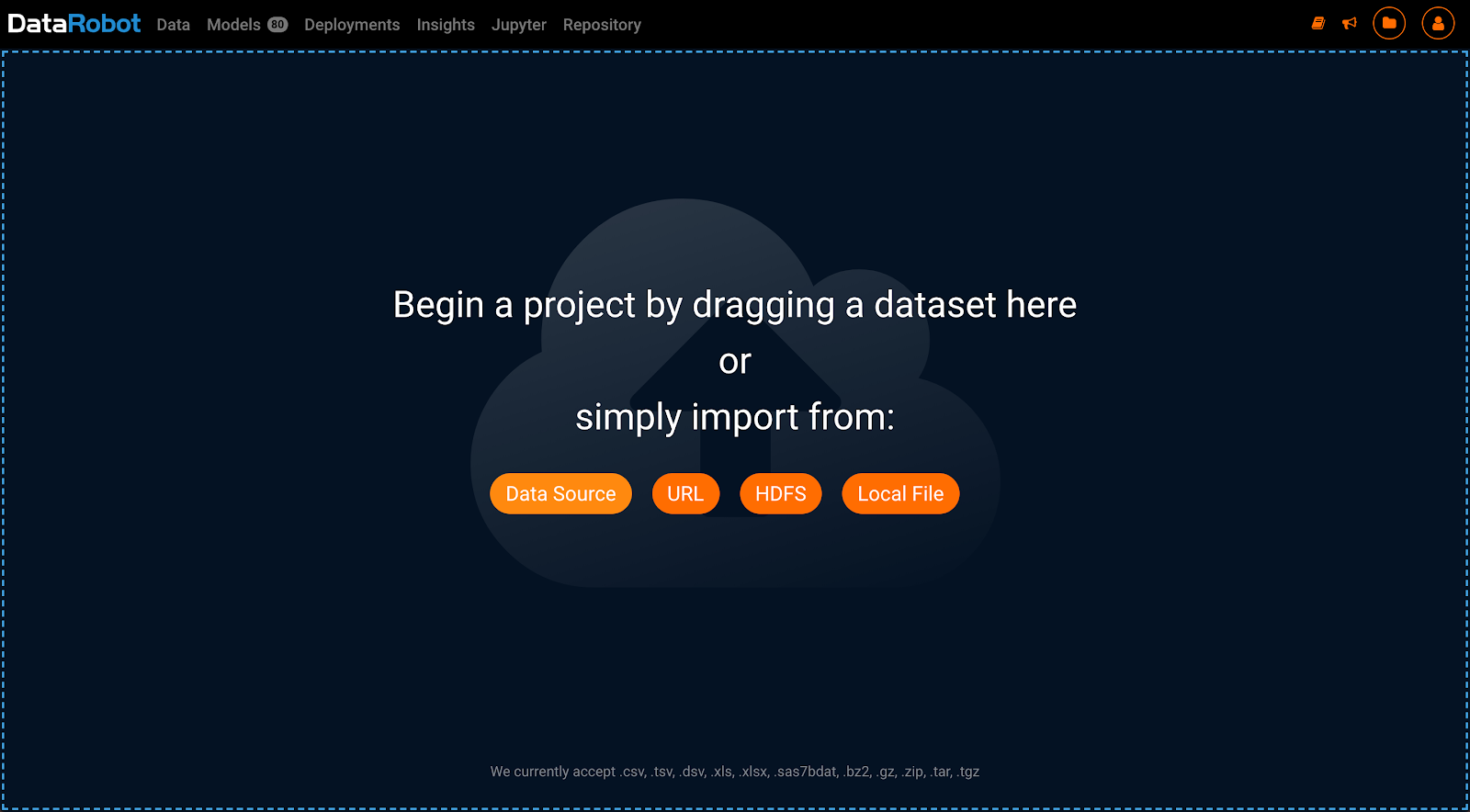 Click on 'create a new one' to add a new data source then click on 'Next'.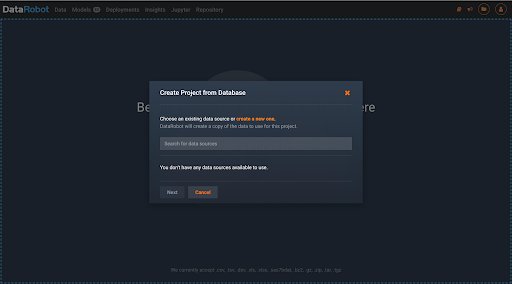 Click on 'Add a new data store'.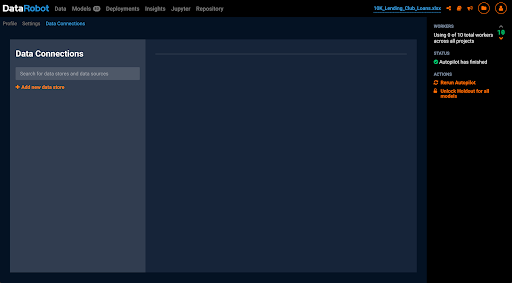 Select the Snowflake driver as your data store.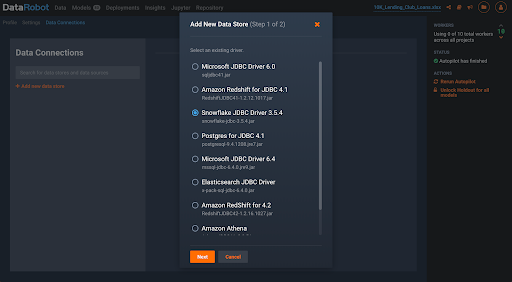 Enter in your new data store information and save.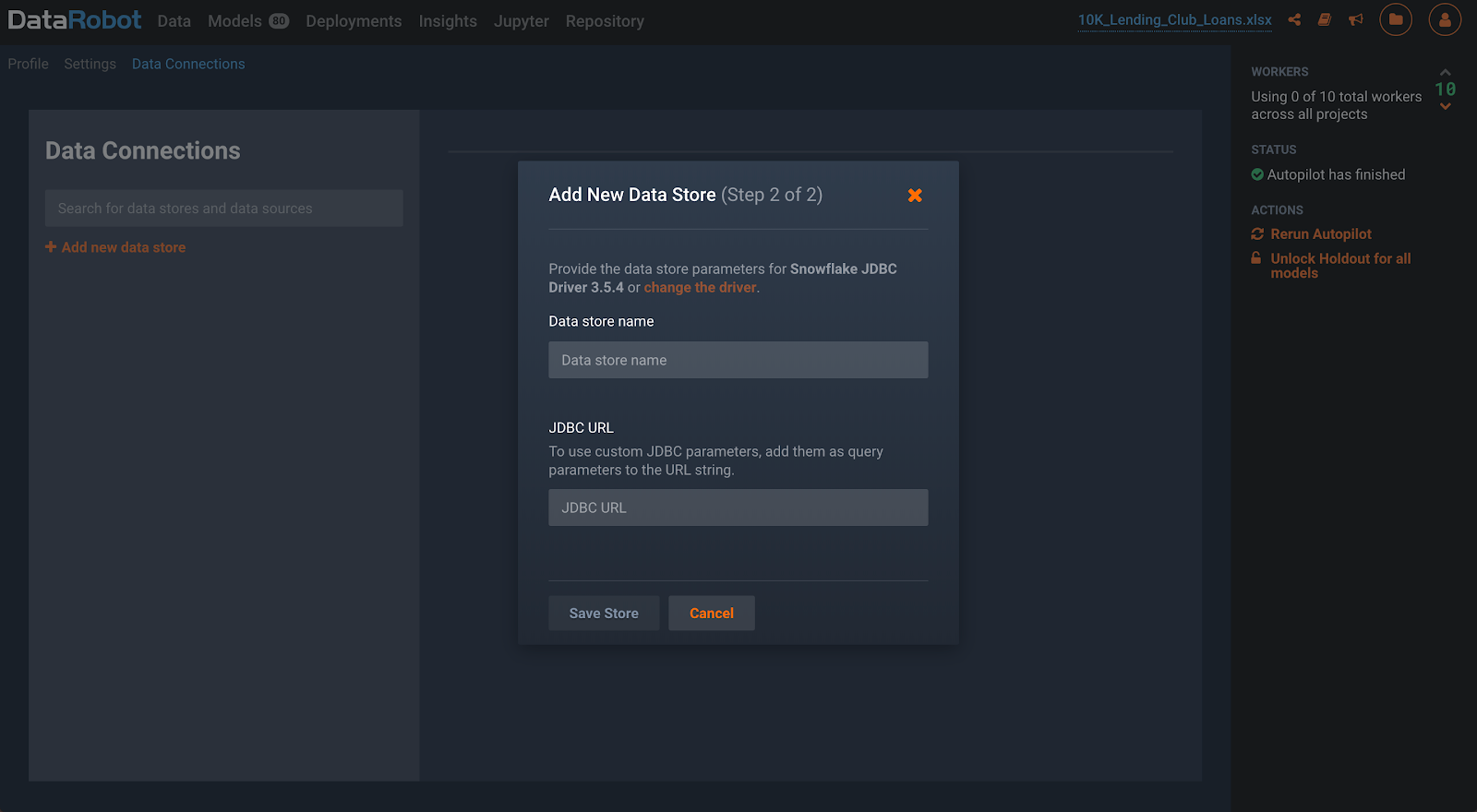 Once the data is brought into DataRobot, you can start building machine learning models with the click of the Start button.
DataRobot has a diverse and strong AI Partner Program that supports customers and businesses across multiple industries. Learn more about DataRobot's Technology Alliance partners, like Snowflake, here.
About the Author:
Dan Ganancial leads Partner Marketing at DataRobot, and he is responsible for driving joint marketing initiatives with technology alliance and channel partners. Dan is a marketing professional with more than 10 years of experience in partner, product, and strategic marketing. He has held several roles in his career related to sales, business development, and marketing where he has produced a strong record in driving both customer and revenue growth.
Subscribe to DataRobot Blog
Thank you
We will contact you shortly
We're almost there! These are the next steps:
Look out for an email from DataRobot with a subject line: Your Subscription Confirmation.
Click the confirmation link to approve your consent.
Done! You have now opted to receive communications about DataRobot's products and services.
Didn't receive the email? Please make sure to check your spam or junk folders.
Close