Running Simulations with the New DataRobot What-If Extension for Tableau
Running Simulations with the New DataRobot What-If Extension for Tableau
In order to further help you accelerate AI success with the team and tools you have in place, we are pleased to share our new DataRobot What-If extension for Tableau. The DataRobot What-If extension empowers you to analyze the cause-and-effect of different variables on a predicted outcome within a familiar Tableau experience. With the DataRobot What-If extension, you can make better informed, more actionable decisions to optimize outcomes.  
The DataRobot What-If extension enables Tableau users to experiment, simulate, and compare different scenarios using governed DataRobot predictive models to identify the best strategy or test ideas before committing resources. Our latest extension complements the previously released DataRobot Insights extension for Tableau. Now you can easily use DataRobot to efficiently focus on the right data to analyze in Tableau, get predictive insights with explanations in your dashboards, and also run simulations to get actionable prescriptive guidance on what to do next.

Taking Tableau Analysis Further with DataRobot
Let's walk through a loan portfolio management example to illustrate how you can enhance analysis with DataRobot in your Tableau workflows. A short video of this demonstration is also available.
We'll begin by looking for loan default reasons using the DataRobot Insights extension for Tableau. This extension automates exploratory analysis, empowering you to efficiently find and focus on the most impactful variables that influence outcomes.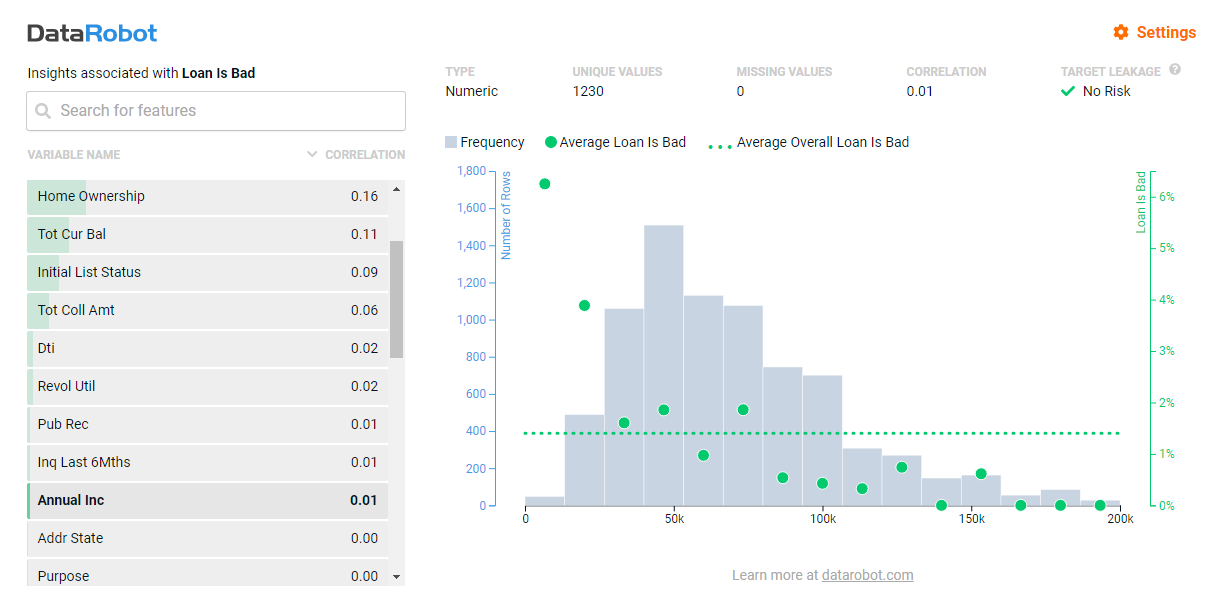 Next, we can easily build and deploy a loan default predictive model with DataRobot automated machine learning to use within Tableau. By integrating DataRobot predictions into Tableau dashboards, you can get deeper intelligence, improve productivity, and reduce potential loan review bias.
Using the results from our DataRobot predictive model, we can craft a Smart Customer Dashboard with loan predictions and prediction explanations. With forward-looking loan insight, we can proactively work with our customers to lower default risk.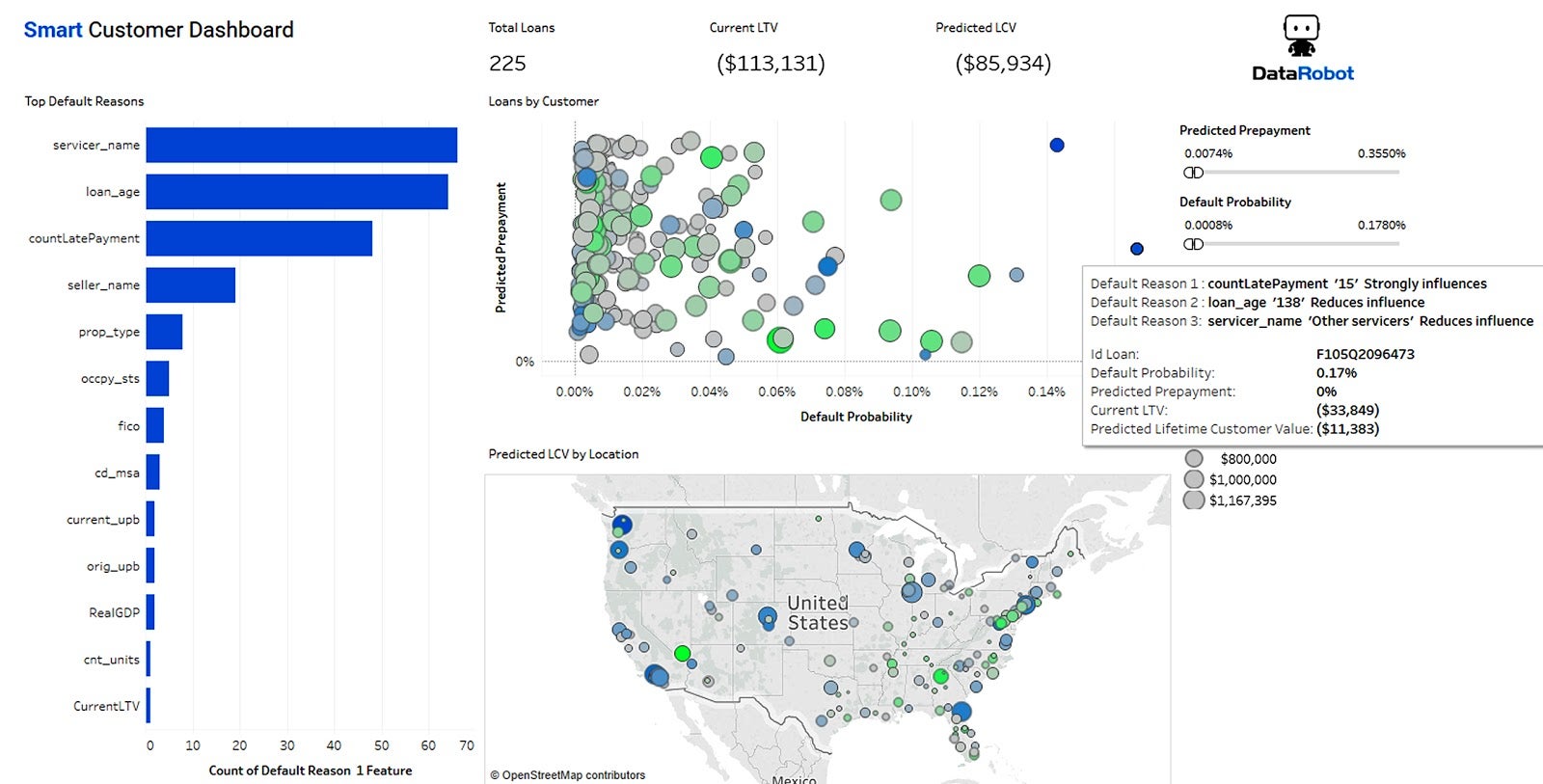 Reviewing our DataRobot-powered dashboard Top Default Reasons chart, we can see a list of ranked loan variables across accounts that are most important for predicting defaults. To get an better understanding of loan risks, we can explore the Loans by Customer chart tooltips to see prediction explanations.
After receiving an alert regarding several past due accounts, we'll use the DataRobot What-If extension for Tableau to run simulations. To get started, we'll enter loan scenario variables and click Update Prediction. DataRobot will send Tableau the loan default probability along with prediction explanations.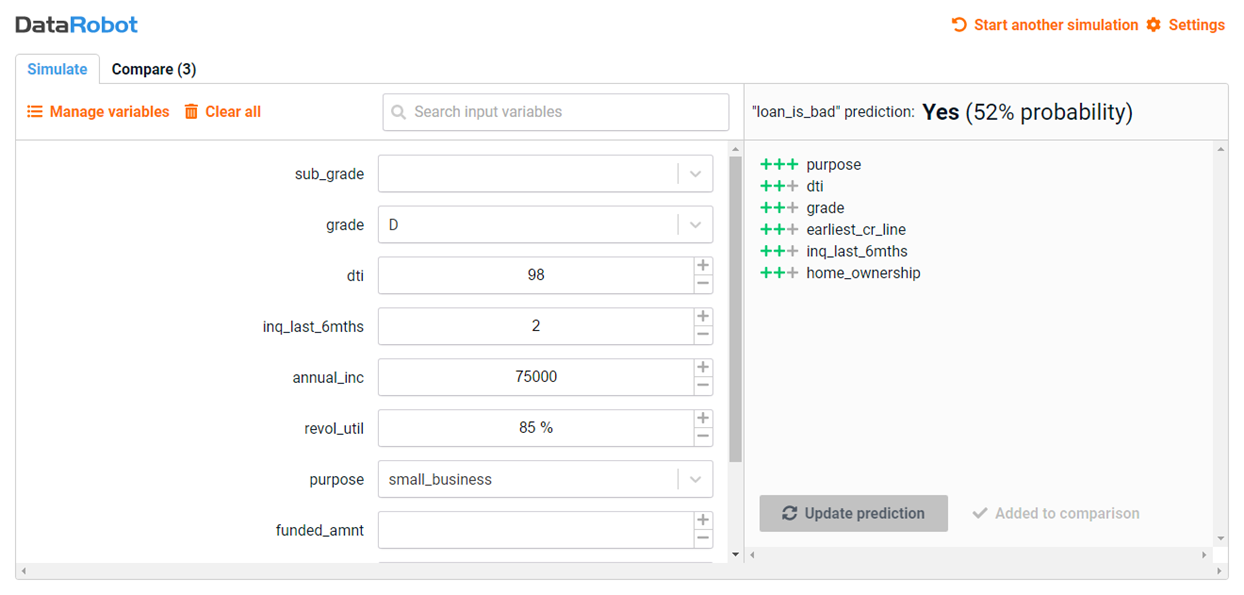 In our simulation example, the evaluated loan resulted in a 52% probability of default. DataRobot also returned purpose of the loan, applicant debt-to-income ratio (dti), grade, earliest credit line, inquiries, and home ownership as the top reasons influencing the prediction. We can continue simulating and reviewing multiple loans or loan scenarios by simply changing input variables and adding prediction results to the What-If extension comparison view.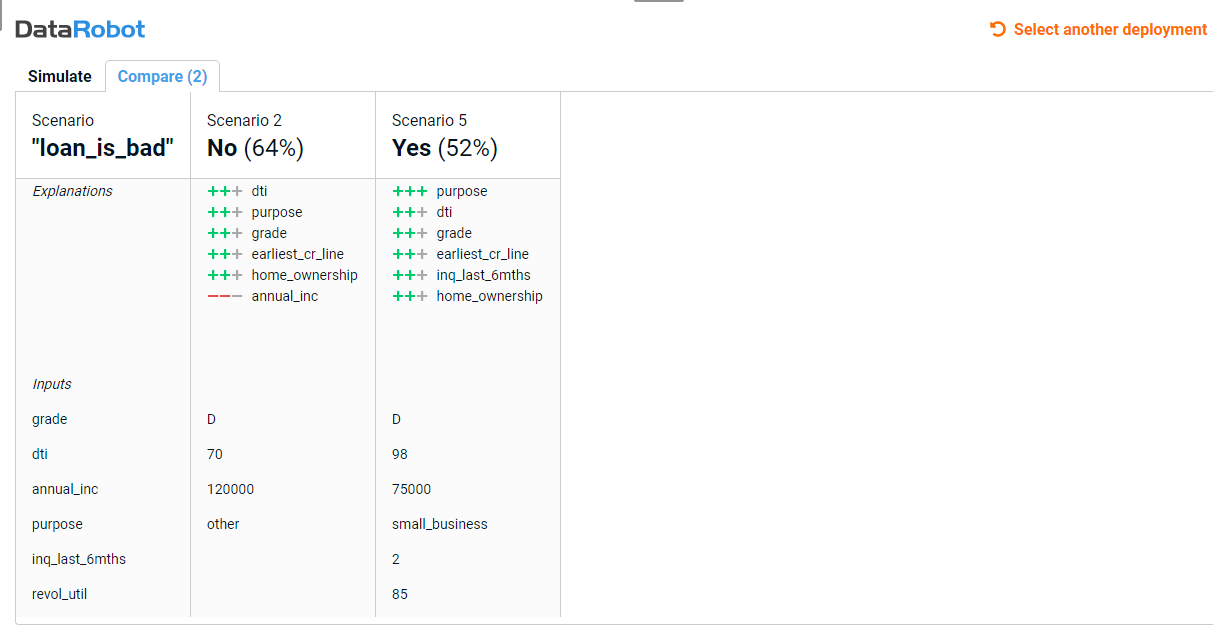 This concludes our tour of the three ways you can combine DataRobot + Tableau today to create actionable AI-driven dashboards.
Changing the Game with DataRobot
DataRobot is the category creator and market leading provider of automated machine learning. Our proven platform provides unmatched depth, breadth, and protective guardrails for responsibly expanding governed citizen data science across the enterprise. With DataRobot, you can unlock untapped value from your data.
"Our ability to keep default risk predictable and low has been game changing for me. With DataRobot, I can get creative quickly and that is where gold lives."
– Pauline McKinney, VP of Data and Analytics, Wellen Capital
To Learn More about DataRobot + Tableau
For more information on advancing your analytics programs with DataRobot + Tableau, please review the following recommended resources.
For more details on our partnership with Tableau, please visit our partnership page at https://www.datarobot.com/tableau/.

About the author
Jen Underwood, Sr. Director Product Marketing, has held worldwide analytics product management roles at Microsoft and served as a technical lead for system implementation firms. She has experience launching new products and turning around failed projects in enterprise data warehousing, reporting, and advanced analytics. Today she designs products and helps analytics professionals learn how to solve complex problems with machine learning in the emerging citizen data science segment. Jen has a Bachelor of Business Administration – Marketing, Cum Laude from the University of Wisconsin, Milwaukee and a post-graduate certificate in Computer Science – Data Mining from the University of California, San Diego.
Meet Jen Underwood
Subscribe to DataRobot Blog
Thank you
We will contact you shortly
We're almost there! These are the next steps:
Look out for an email from DataRobot with a subject line: Your Subscription Confirmation.
Click the confirmation link to approve your consent.
Done! You have now opted to receive communications about DataRobot's products and services.
Didn't receive the email? Please make sure to check your spam or junk folders.
Close