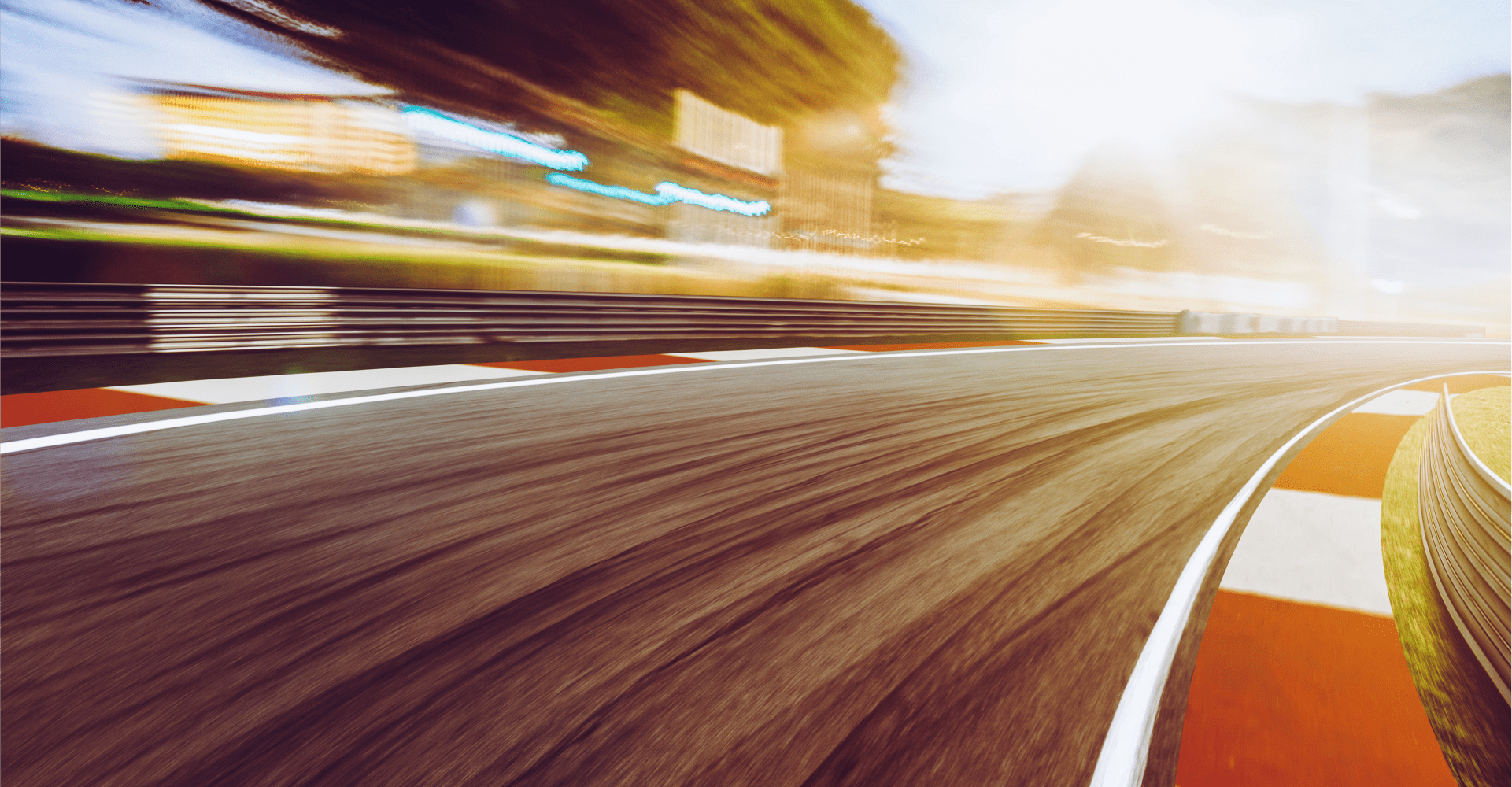 Learning at 200mph – IndyCar Racing
Learning at 200mph – IndyCar Racing
"Winning at 200mph" is the theme for DataRobot's amazing and unique sponsorship of an Andretti Autosports Indy race car driven by Robert Megennis. The 12-city series of events ranged from the streets of St. Petersburg, Florida, to downtown Toronto, to Portland International Raceway, with the season coming to its end at the Long Beach Grand Prix. Throughout 2021, I went on an adventure of traveling around the country to many racing events learning everything I could about the technology, the people, and the racing culture. I came out of the experience with a better understanding on how to strive to be your best with short-term execution and long-term planning.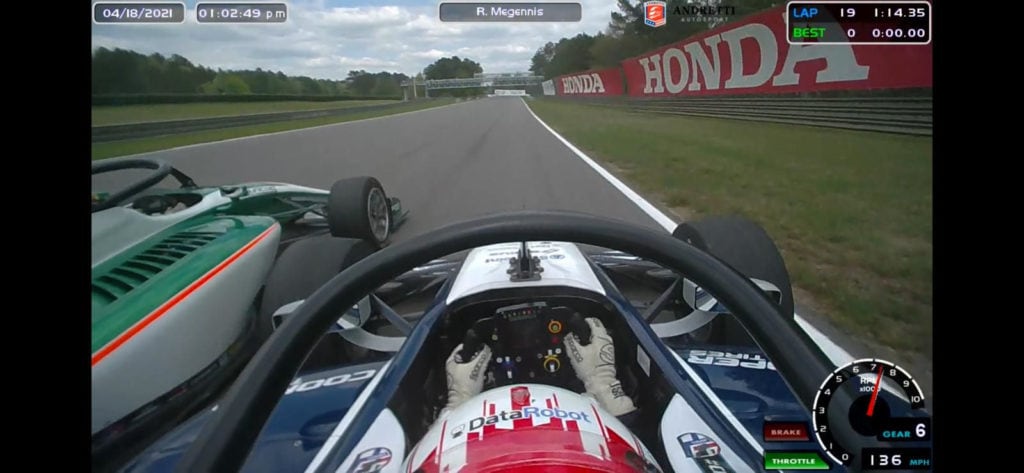 This was a once-in-a-lifetime opportunity to engage personally with Robert and his family—his father Gary is his manager and his mother Helen runs the operations side. VIP customers and prospects were able to share the experience and even one of them got to sit in the pace car for the first official lap post-Covid!
It was an incredible opportunity to spend a day as an insider (not just a spectator or a guest) attached to a driver and his family. It doesn't matter if you have never been to a race before. It's eye-opening to see what goes into winning at 200mph.
Partnership
The partnership with the RKM team and DataRobot has been special. According to Robert: "It's been awesome working with DataRobot this season. I've had so much fun having them as a part of the team, and I've learned so much having super smart and forward-thinking people like Ari around me every race weekend. They truly understand the importance of data, and how essential it is to my success on the race track. When a thousandth of a second can be the difference between winning and losing, having the right data and being able to interpret it the right way can make all the difference. It's crazy how similar my team's processes are to the ones DataRobot uses to be successful in their world, and how much I learn from DataRobot. I've loved every moment of our partnership this season, and I hope we can continue it for many more years!" We are so appreciative of our relationship!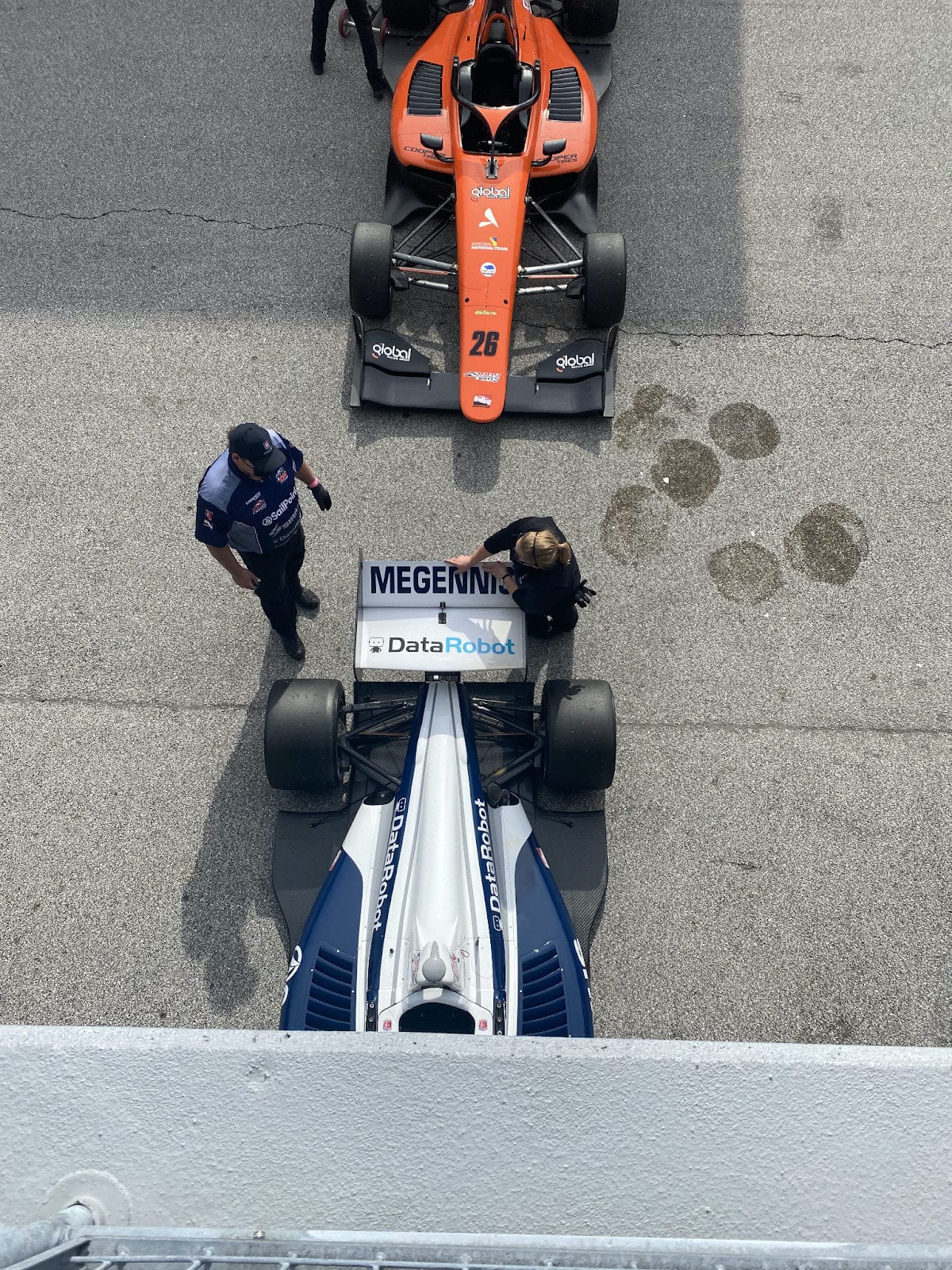 How It Works
The weekend consists of qualifying races that determine what positions each car will start in each race (one on Saturday, one on Sunday). The ideal is to finish in the first place, and if not, to be on "the podium" by finishing in the top three. Each win is a victory for that day, and also solidifies the driver for moving up in the racing world, getting sponsors, and acquiring more fans. If the race car is qualified to start farther back, such as 10th place, then the goal becomes to finish in a place farther ahead such as 8th or 9th place. Even without winning, there is value to show you can pass other cars in the standings.
Indy Racing by the Numbers
750,000 – value in dollars of each IndyCar
5,000 – pounds of downforce on the top-line IndyCars
1,500 – weight in pounds of an IndyCar
700 – horsepower in Indy cars (500 HP in Indy Lights)
120 – degrees of heat that drivers must endure (causing them to lose 5 lbs. a race)
15 – youngest eligible age of drivers in IndyCar's entry-level series (earlier than a legitimate driver's license!)
7 – seconds or less to get in and out of a pit stop
3 – car seats replaced per year as they get worn down
Race Day
Come race day, the entire team is in "high gear" to get ready. The team starts with pre-race meetings to go over strategy while the engineers and crew team check and re-check hundreds of mechanical features.
The driver gets mentally prepared depending on their personality—everyone has a different way to prepare to get on the beckoning course. In parallel, Robert's parents are busy coordinating the VIP guests and sponsors who are parking, entering the viewing area, and getting to meet Robert in person.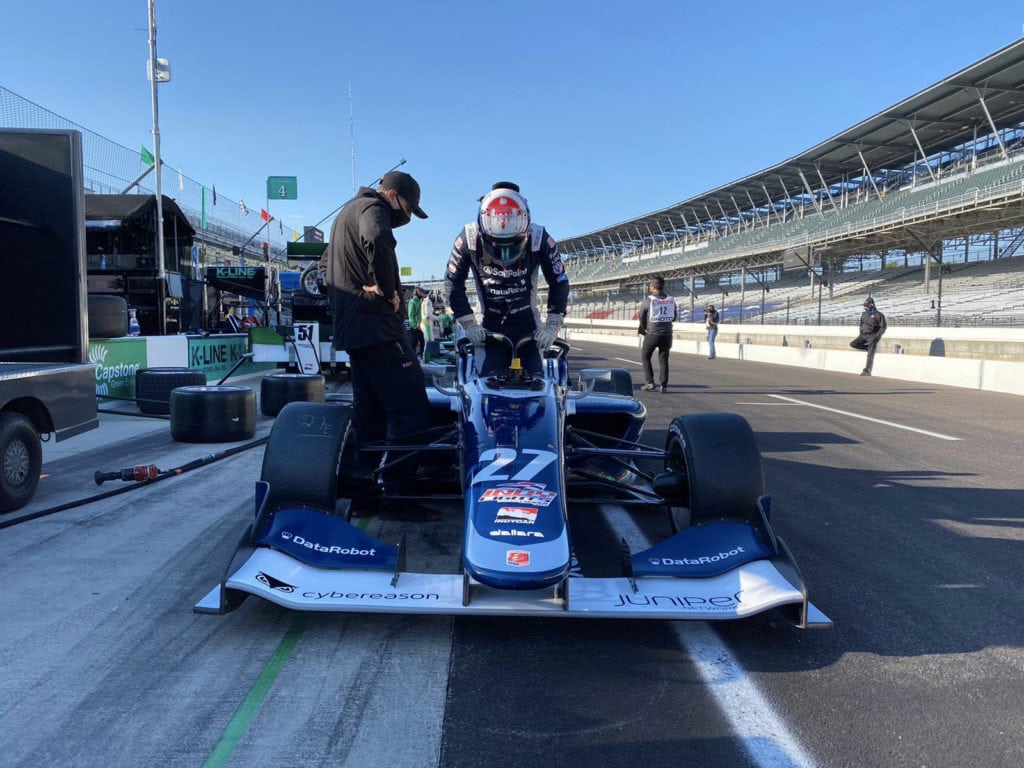 DataRobot hosted a hospitality tent with non-stop food, drinks, and seats with the best views of the track where mingling occurred with a few other sponsor's VIP customers —mostly C-level technology executives.
Gary gave intimate behind-the-scenes tours of the entire car fleet, process of manufacturing, mechanics, repairs, and strategy. In the first week at Alabama, he got the entire group onto the track during the race itself near the pit stop.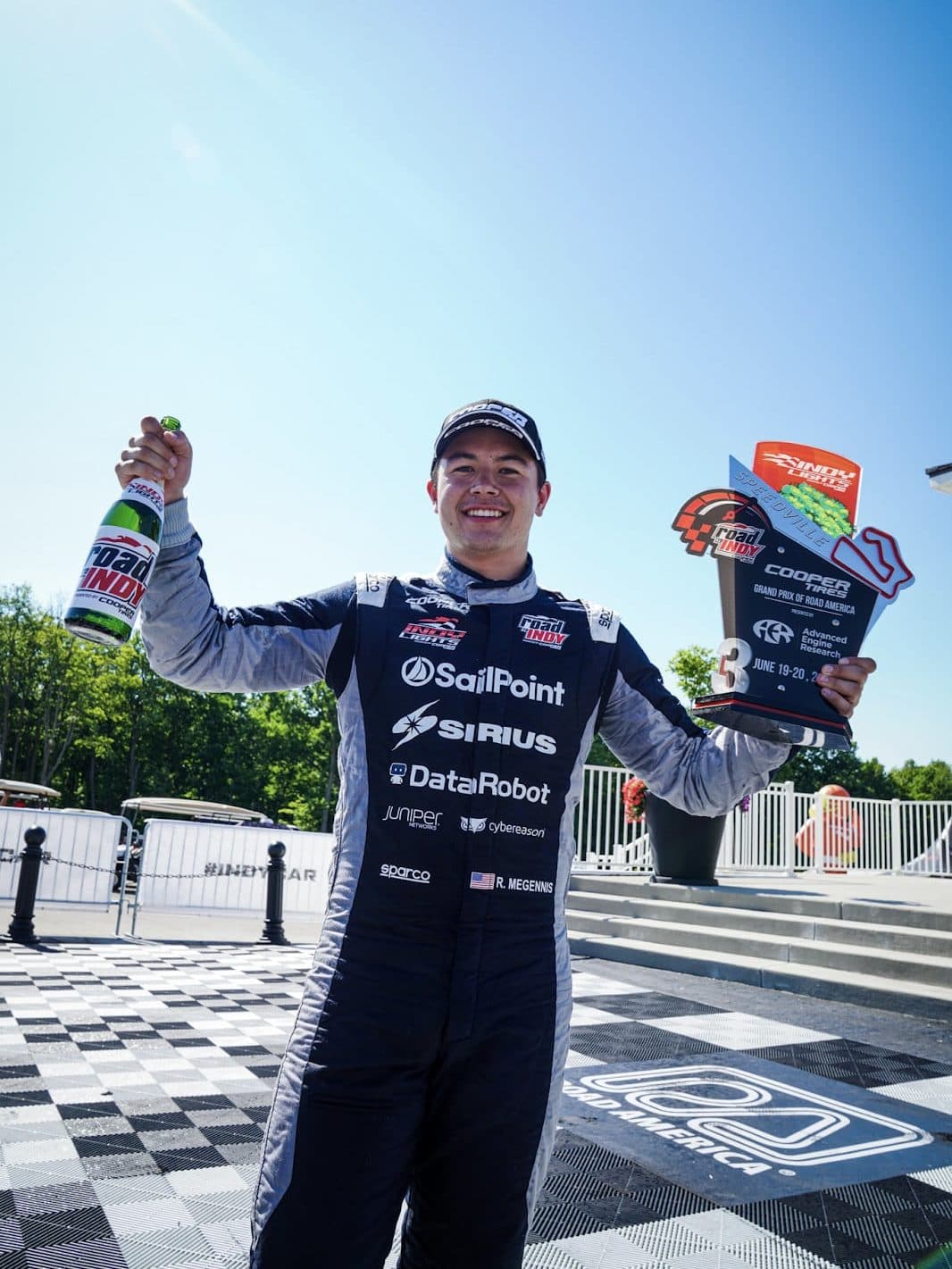 When the races began, Gary treated us with explanations of what to look out for on the track.
Each IndyCar is highly technical. Information is relayed from the pit crew to the racer's headset while driving to detecting changes in the car and opponents to help prepare and win races. Each car must have the same parts—tires, engine, chassis, wheel, and more.
Every single part of the car is inspected every weekend and they will even do random inspections. An example of such would be taking apart the engine's interior to make sure all components are within compliance, but even with this, there are 300 differences that can be configured and possibly give a driver an advantage. For example, lowering the rear of the car a few millimeters will stick the rear of the car more through the corners and help give the driver more confidence to push the limits.
Strategy is everything—it creates winners and losers in the racing world. Winning isn't just about the mechanics of the car but also the human behavior inside of it. For example, a driver is never supposed to let another car pass, even in practice, and if a driver is passive on track, it sends a message of weakness. The other drivers will instantly notice and begin to use more aggressive maneuvers to take advantage of your weakness, even if it means putting you in a position where you'll crash.
Looking Forward
What happens when the short-lived exhilaration ends?
After every race, the team does a debrief. They review race data taken from 300 sensors in the car, collecting data over a thousand times a second. They discuss
The race strategy – could he have tried to pass on the third lap?
Robert's driving execution – should he have taken a turn wider or did he brake too soon?
The car's engineering – did the engine heat up too quickly or did the aerodynamics perform as expected?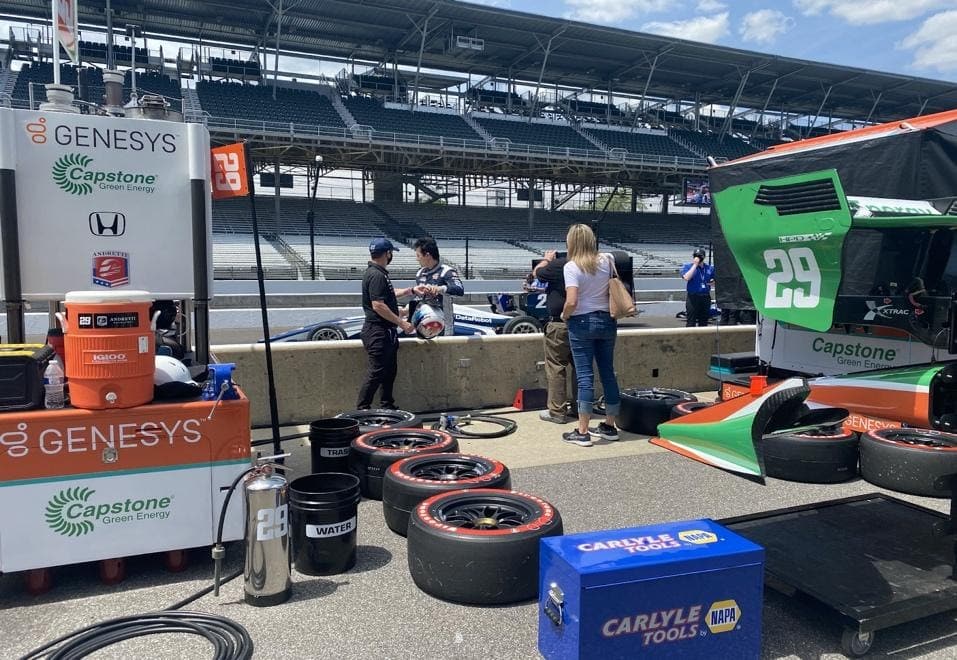 Andretti Autosports has a team of data analysts to work with Robert on interpreting the data and helping him be as competitive as possible. To iterate for the next race, Robert uses a simulator of the upcoming racetrack. He tries to go for two hours in the virtual world without making a mistake.
There are many factors that translate to success in Indy racing in both the technical strategy but also in the people involved. I had an incredible first-hand experience fueled by an understanding of how to strive to be your best with short-term execution and long-term planning.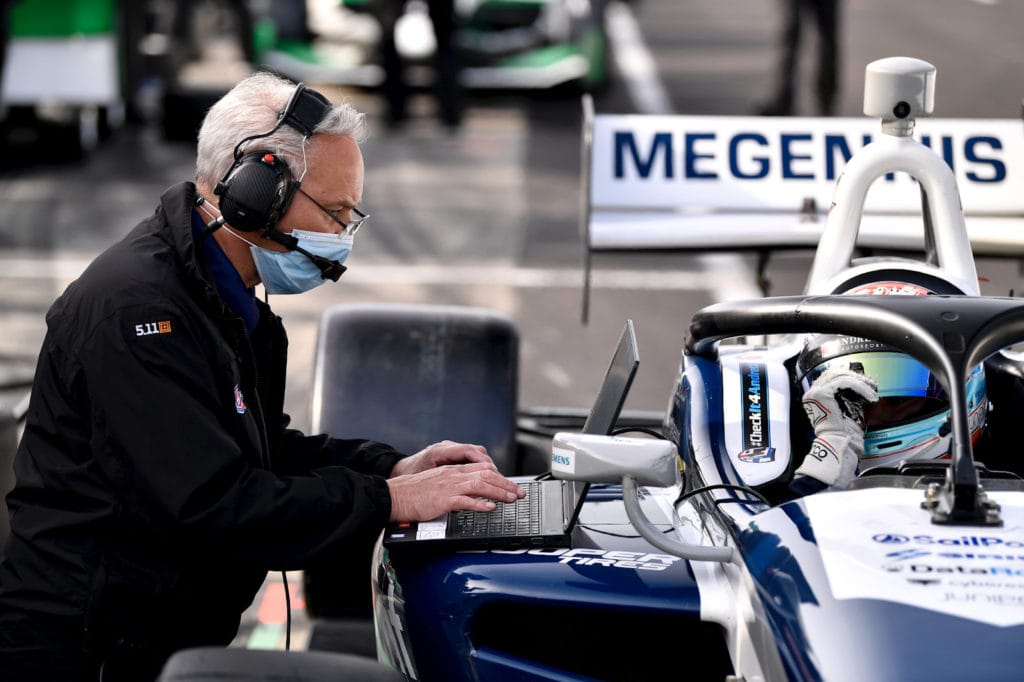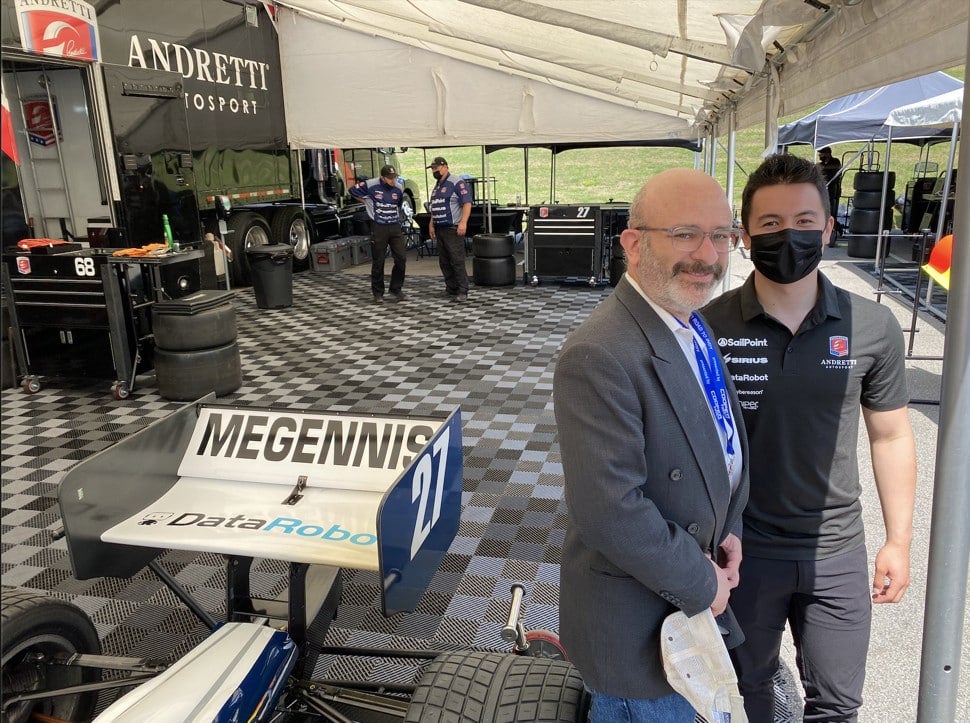 About the author
Kaplan is a leading figure in data science, sports analytics, and business leadership. High profile roles include creating the Chicago Cubs analytics department, President of the investigation into the fate of Holocaust hero Raoul Wallenberg, and President Emeritus of the worldwide Oracle User Group.
Meet Ari Kaplan
Subscribe to DataRobot Blog
Thank you
We will contact you shortly
We're almost there! These are the next steps:
Look out for an email from DataRobot with a subject line: Your Subscription Confirmation.
Click the confirmation link to approve your consent.
Done! You have now opted to receive communications about DataRobot's products and services.
Didn't receive the email? Please make sure to check your spam or junk folders.
Close