Introducing the DataRobot Use Case Value Tracker
Introducing the DataRobot Use Case Value Tracker
In Release 6.1, we are thrilled to introduce the DataRobot Use Case Value Tracker, designed to help you with the business operationalization of your AI. As a centralized hub to collaborate with team members on any machine learning initiative from start to finish, it provides a systematic way to manage, monitor, and track the return on investment generated from your AI efforts.
With the Use Case Value Tracker, you can manage the project lifecycle and understand the value associated with each step. It also enables you to associate and organize all your DataRobot artifacts (e.g., datasets, models, deployments, applications, etc.) around a given use case for a holistic view.
In addition to the project management aspects of Use Case Value Tracker, you can also monitor metrics on the realized business value of your use cases over time. This provides you with an ROI calculator to help you understand the true value of your enterprise-wide machine learning initiatives.
How It Works
When you log into DataRobot 6.1, you will notice a new "Use Cases" option at the top of your screen. This provides you with the ability to define and manage all your AI Use Cases to be tracked inside of DataRobot.
A really neat aspect of the Use Case list is the ability to filter your AI Use Cases across each stage and have the table dynamically reflect the appropriate metadata for the stage on which you are filtered. For example, you can filter the list of use cases by those that are "In Production" to view the total realized value you are getting across all of your production use cases at once.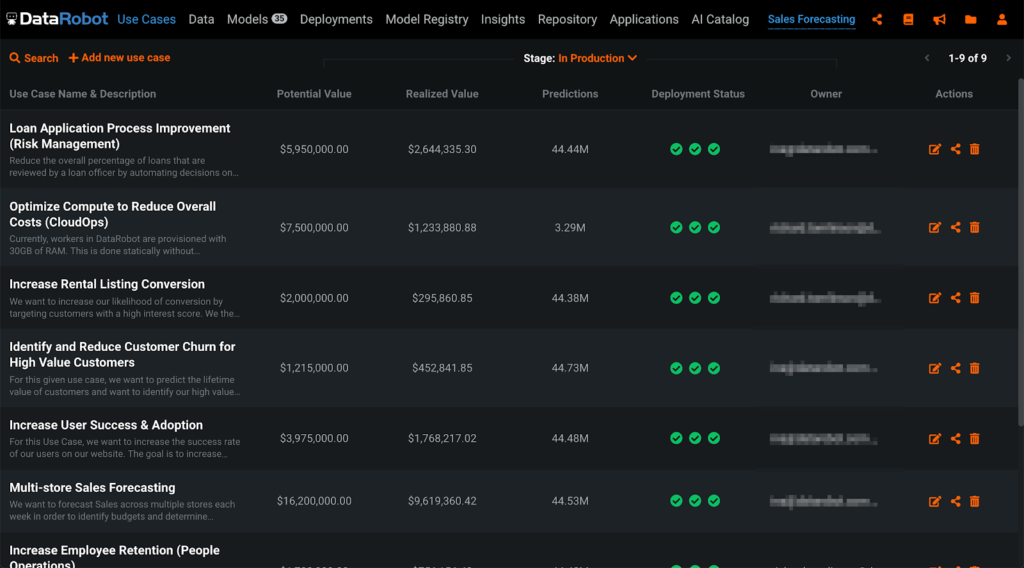 You can also filter the list of use cases by those that are in "Ideation" to help manage which use case your organization should prioritize next. For this, we use three metrics: 1) Business Impact, 2) Feasibility, and 3) Business Value.

Naturally, you would want to address the high impact, high value, and high feasibility use cases ahead of those that are less valuable or more technically complex.
Creating a Use Case
When creating a new use case, you will be asked to fill out a number of fields, including business justification to kick off the project. The most important aspect of progressing a use case from "Ideation" to "Queued" is to understand how you intend to use DataRobot. This is where the "Number(s) or event(s) to predict" field will be important to fill out. You can also define the use case owner and declare your target milestone dates for your AI initiative.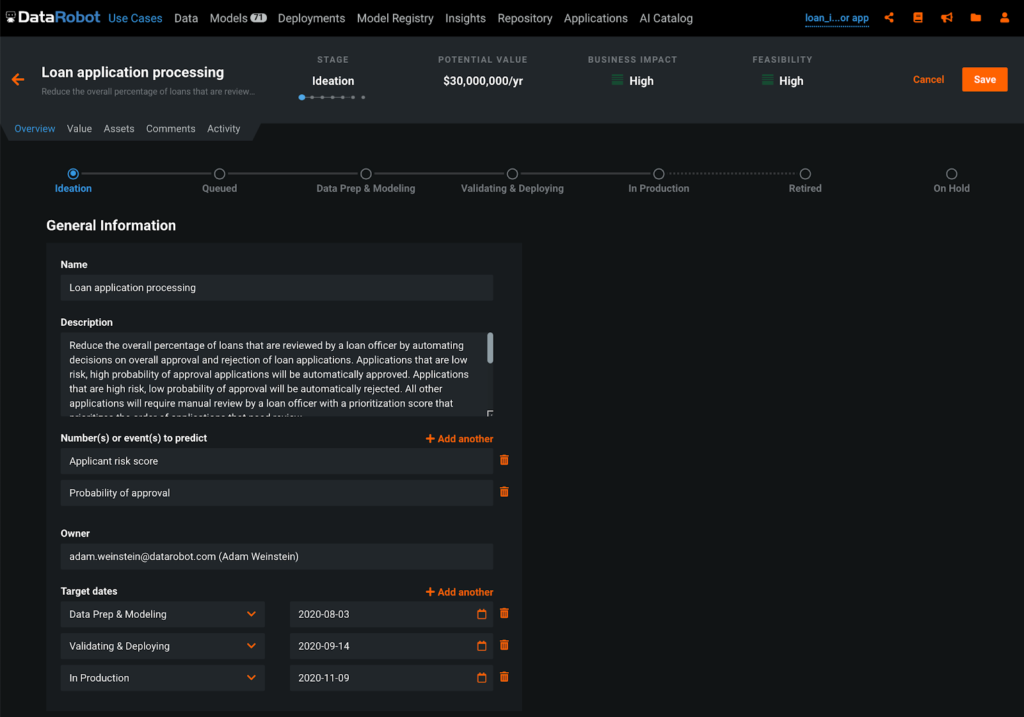 Calculating ROI
Use Cases Value Tracker creates a mechanism to track the value of the predictions generated from your various DataRobot deployments. We provide a way to quantify and monitor ROI as well as the KPIs to help you adjust financial and operational plans.
Next, you will navigate to the "'Value" page to fill out the relevant information that prioritizes this use case across all other use cases in ideation.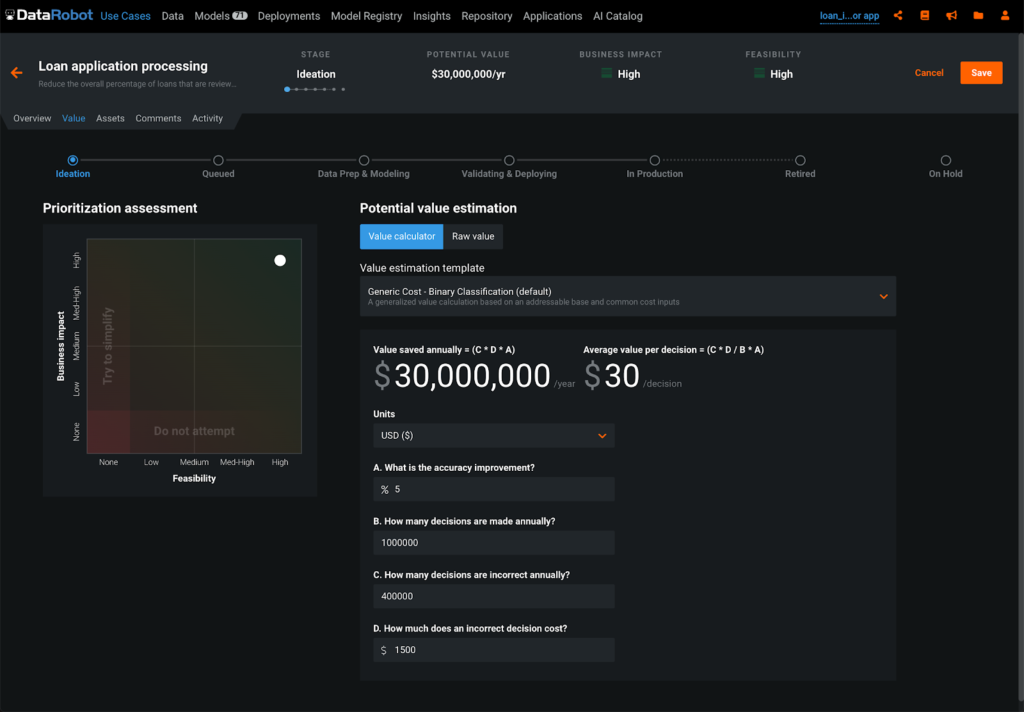 The "Prioritization Assessment" chart (left) provides a way to input "Feasibility" and "Business Impact" scores for your given use case. For feasibility, you have to consider if you have the relevant resources, executive sponsorship, and available data to initiate the use case.
Use Case Value Tracker provides a guided and methodical approach to calculate the overall expected value to be gained by putting any use case into production. If you do not have the approximate business inputs to help you calculate the value, you can just enter estimates to get started.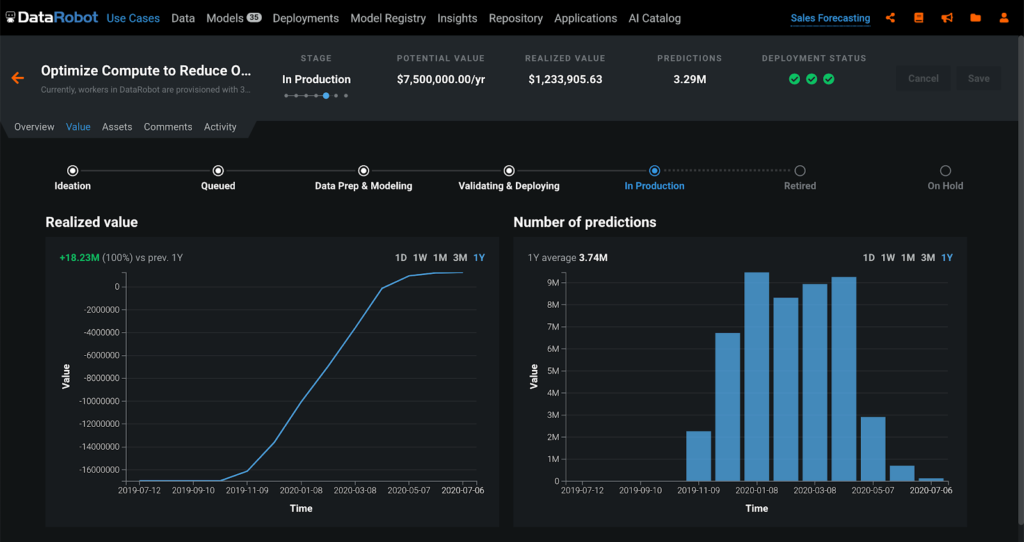 Enhanced Collaboration
For any AI initiative you are working on, you can share it with your team members. This will share not only the use case but all of the underlying assets associated with it.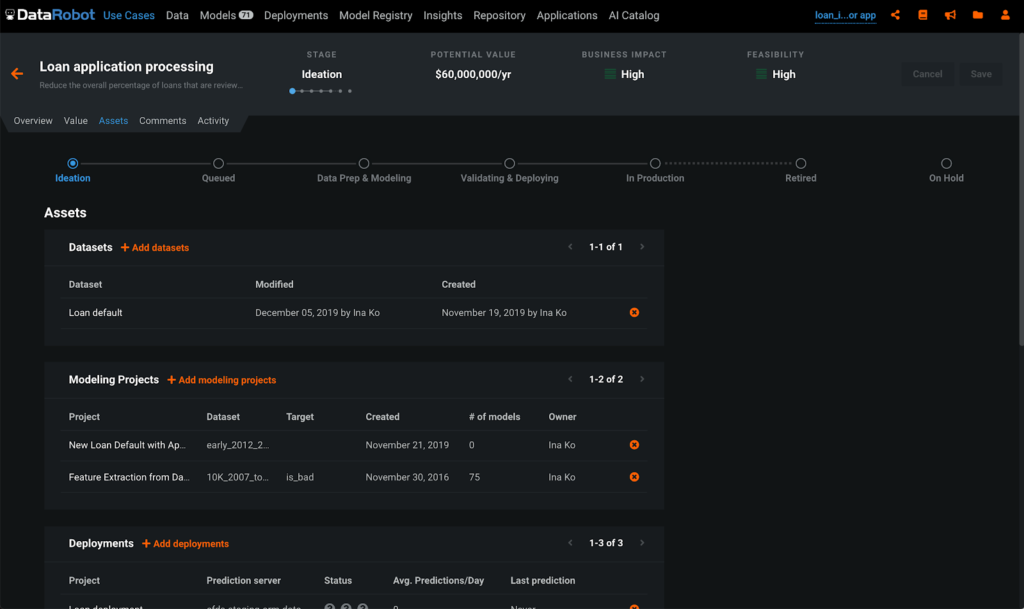 Use case sharing leverages your existing role-based permissions structure. This means that different users and groups will have different levels of permissions on the use case. You can declare owners and editors of the use case, while allowing other users to only consume or view information in the use case.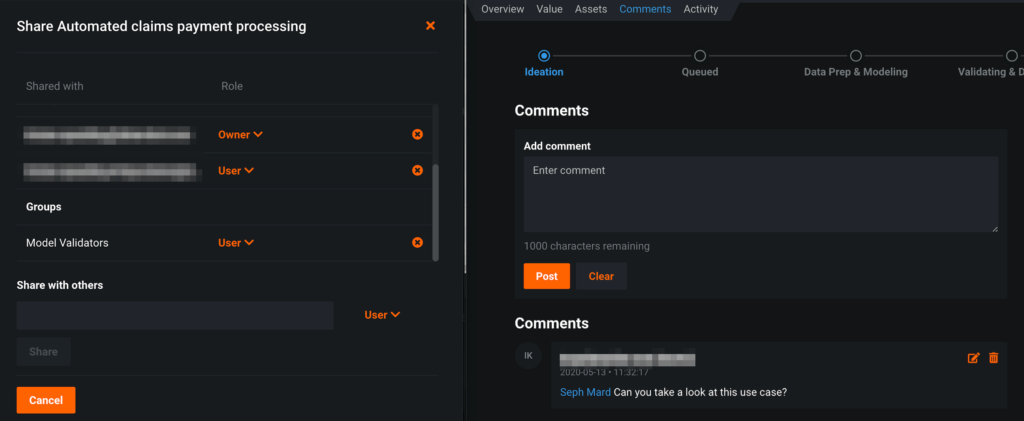 Once the use case is shared, you can collaborate with your team members with the new commenting functionality. This capability allows you to tag and notify users of comments and discussions related to the use case.
Future Roadmap
We think the Use Case Value Tracker is an essential part of any AI initiative and your input is important to us. We encourage you to use this new feature right away. Over time, we will use your feedback to add additional capabilities and improve the overall user experience. So, please let us know what you think!
Get Started with Use Case Value Tracker Today
The Use Case Value Tracker is included with your DataRobot license. We've included a detailed process in the DataRobot Community to explain the feature in more detail and to help you build your first use case. Use Case Value Tracker is generally available today.
About the author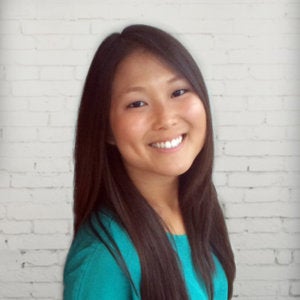 Ina is focused on building the product strategy, vision, and mission for new capabilities that help business users and executives realize tangible value out of AI. Ina is an analyst-turned-product manager with over 10 years of experience building and commercializing capabilities in artificial intelligence and enterprise performance management.
Meet Ina Ko
Subscribe to DataRobot Blog
Thank you
We will contact you shortly
We're almost there! These are the next steps:
Look out for an email from DataRobot with a subject line: Your Subscription Confirmation.
Click the confirmation link to approve your consent.
Done! You have now opted to receive communications about DataRobot's products and services.
Didn't receive the email? Please make sure to check your spam or junk folders.
Close