Integrate EPIC data source for healthcare customers
Integrate EPIC data source for healthcare customers
Leverage Fivetran to integrate data from EPIC Clarity or Caboodle for healthcare machine learning use cases
Leverage EPIC and other data sources to develop accurate machine learning models
Combining data from EPIC Clarity and Caboodle with other data sources, customers are able to benefit from improved model performance for their use case.
Customized complex data pipeline by AHEAD services
It is likely data from different sources will be in very different format and level of quality. AHEAD helps customers to cleanse and standardize data from all sources and integrate through one pipeline, so the data will be ready to use for machine learning modeling.
Flexible solution and model deployment options
Customers have the flexible on whether to leverage the solution in cloud or on-prem. Machine learning model can be hosted either in EPIC or DataRobot and can be monitored by DataRobot in both cases.
How it Works
EPIC is the most common EHR (electronic health record) system used in the United States. Many hospital systems and providers use EPIC as their main data store and to host machine learning models as well. Models deployed in EPIC can be consumed by end-users, such as physicians and nurses. Model predictions can be used to create dashboards or written into patient records.
Leveraging your data from EPIC to develop customized machine learning model with DataRobot is crucial to generate predictions and deliver value to the business. DataRobot models are tailored to your actual data with insights and transparency, instead of an off-the-shelf black box model trained on generic data. DataRobot also enables you to run many different type of modeling approaches in one go, as well as host and monitor model in production.
AHEAD can help you to develop end-to-end machine learning solutions with data in EPIC Charity or Caboodle, together with other data sources using Fivetran, in either Cloud or on-prem setup. The data integration pipeline also can be established with EPIC FHIR API endpoint.
After model experimentation, the best model can be deployed into EPIC using Nebula and monitored with DataRobot monitoring agent. Alternatively, the models can be deployed in DataRobot directly, with the benefit of native model monitoring capability in production.
The solution is HIPAA compliant with security and governance.
Key Deliverables
Data integration for EPIC Clarity and Caboodle with other data sources using Fivetran
JDBC connector or other cloud data integration services
Data ingestion into Snowflake or another database
Data engineering and transformation pipeline developed with dbt Labs
Develop machine learning workflow and models in DataRobot
Model deployment and monitoring in EPIC or DataRobot
Secure and HIPPA compliant end-to-end data pipeline and machine learning workflow
About the Partner
AHEAD excels at building digital platforms, modernizing infrastructure with cloud-native capabilities in software engineering, data engineering and data science. AHEAD helps customers to accelerate their digital transformation through digital strategy consulting and professional services using modern tech stack and platforms.
AHEAD provides services around cloud transformation and migration, agile coaching and DevOps enablement along with software engineering, data engineering and data science with modern data and AI architecture. For the data and analytics services portfolio, AHEAD delivers data strategy roadmap aligned to business strategy, data migration from legacy database to cloud, data pipelines and actionable insights integrated with end-to-end machine learning solution using DataRobot.
Healthcare is one of the most focused vertical for AHEAD, with around 40% clients in the industry. AHEAD has worked with over 150+ Epic customers for their infrastructure deployment projects. Here are several AHEAD's referenceable healthcare provider customers: Lurie Children's Hospital, Northwestern Memorial Hospital, Mayo Clinic, Community Health Systems, Beth Israel Deaconess Medical Center, Beaumont Health and HCA Healthcare.
Solution Diagram
Are you ready to visualize the power of our solution? In the 'Solution Diagram' section, we present an intuitive visual representation of how our cutting-edge technology addresses your challenges. Our innovative approach, combined with your valuable content, will create a compelling and comprehensive solution diagram. Let's collaborate to showcase the seamless integration of our platform and empower our users. Fill this section with your expertise and insights to bring our solution to life!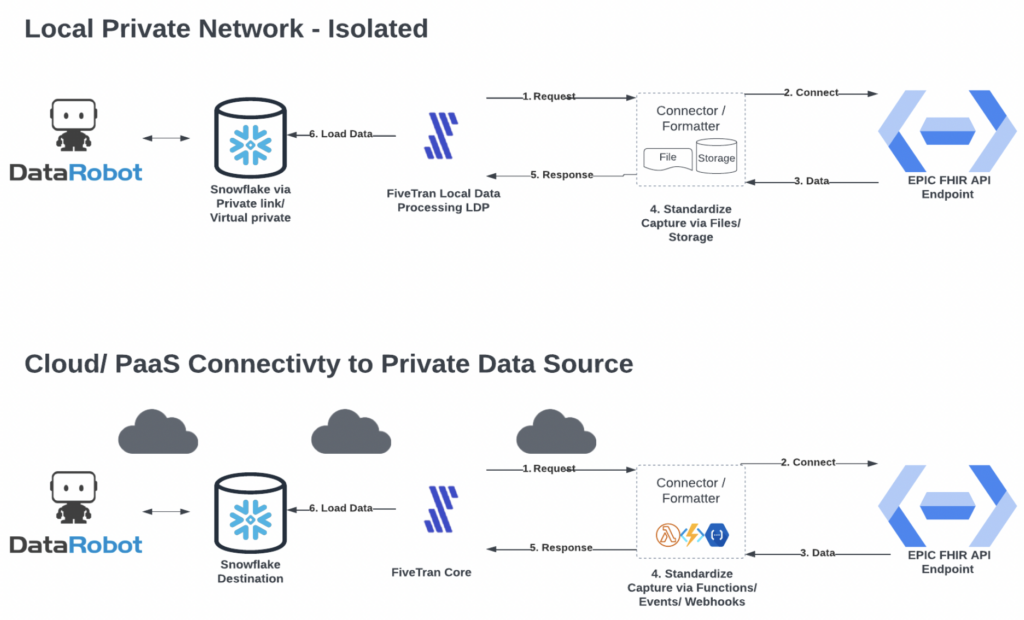 Success Story
AHEAD FHIR Health API experience
AHEAD helped the client to build a single customer access portal for all their patients to access. The client has acquired various healthcare companies over the last few years creating a disparate system that made it very inconvenient for patients to access their healthcare information in a central place. AHEAD built a gateway that allows a single point of entry for communications to the various EPIC and other health systems sources via FHIRs, thus allowing the patients a single point of access. The unified data in the backend can be then used for machine learning projects across all the systems.
End to End Solutioning for a Top Healthcare Provider Customer
Business Challenge:
The healthcare customer has identified three environments required for the build out of their data science and analytics platform (R&D, Pre-Prod, Prod).
Improve collaboration between data scientists
Identify tools to mature data science ops
Improve & efficiently utilize compute instances to run ML models
Leverage scalable cloud infrastructure configure CI/CD pipeline for model deployment
Integrate with EDW, Power BI, Data Governance, and Active Directory
Design & deploy API endpoint for integration services• Enable the secure handling of PHI data for Pre-Prod and Prod
Enable the secure handling of PHI data for Pre-Prod and Prod
Solution:
AHEAD helped the healthcare customer building out the solution with Azure foundational deployment. The AHEAD team is working by 4 Principles:
Work in an agile fashion with rapid iterations
Deploy a powerful, scalable and flexible environment in Azure Cloud
Train the customer's team for hands-on experience with POC environment
Leverage source control & IaC when possible.
The outcome is to have a fully automated machine learning platform that'll allow the customer's Data Scientists to build, train, & deploy machine learning models into production through a CI/CD pipeline with full security controls to allow for the handling of PHI data.
Ready to Get Started?
Take action now to transform your franchise organization with Ironside's data-driven decision-making solution.