Mindshare Integrates Predictive Analytics to Deliver Performance Marketing at Scale
Mindshare Integrates Predictive Analytics to Deliver Performance Marketing at Scale
How can you build a performance-driven organization where driving outcomes is ingrained in your culture and the ownership of the process is shared across agency and client stakeholders? Learn more from guest blogger Ikechi Okoronkwo, Executive Director, Business Intelligence & Advanced Analytics at Mindshare.
Organizations like Mindshare, a global media agency network, drive client value by using data to understand consumers and how media influences them on a deeper level than any organization on the planet. In a world that is increasingly outcome-focused and platform-based, we have integrated strategy and predictive analytics to move at the speed of our clients' decisions and established a scalable framework for uncovering and acting on insights in an organized, simple, and transparent operating model.
As a global media agency network that delivers value in different ways (media investment management, planning and buying, content, creative, strategy, analytics, etc.), most of what Mindshare does is designed expressly to inform and enhance our client's decision-making. To do that, we have expanded beyond intermediary signals, like reach and other delivery metrics, and applied more focus on measurement that is linked to business outcomes—because it allows us to have better and more nuanced conversations.
Combining the Right Leading Indicators is Critical for Accurate Decision-Making
In an increasingly digital world, speed is a critical competitive advantage in making decisions. However, speed is often at odds with confidence as it relates to decision-making. To solve this, we use data science tools to identify the right leading indicators across the different levers that we can pull to support faster decisions—using methods that establish causation to the larger business objectives of their clients. This is core to the Mindshare approach to full funnel measurement and planning, which is all about balancing investments across the brand to demand spectrum. At Mindshare, performance is not a siloed comms objective limited to certain channels or tactics. Performance is the HOW to explain the WHY and WHAT Mindshare does for clients across the globe.
An example of this in action is one of our global clients, where we manage sales risk across their product portfolio. Our predictions are so accurate that we work directly with the client's finance organization to set targets and track how they deliver against those targets throughout the year. There are multiple levers outside of media that can be pulled, and our analysis takes the entire ecosystem into consideration. In terms of impact, we have helped this client with driving incremental revenue and media driven ROI, despite considerable headwinds in their market environment.
Establishing a Reliable Data Layer and Breaking Down Silos is the First Step
To understand and influence performance, you need to connect disparate activities by building a mathematical simulation of your marketing environment and use that to run different scenarios to make data-driven decisions. Everyone knows the popular adage, "What gets measured gets done." Performance marketing does not happen without breaking down silos across the organization and using data to stitch them back together to form a holistic view.
Establishing a reliable data layer is the first step in becoming performance-oriented, something that Mindshare has invested considerable resources to get right. We've built scalable architecture to centralize and automate the ingestion of data across Paid, Earned, Shared and Owned data sources. We can ingest custom data sources, including event-level data with tools for faster speed to insights with bespoke visualization and dashboarding capabilities. In summary, the first step to being performance-driven is data automation to ensure adherence to standards across our people, our processes, and our products.
We make sure that all this data is being used to power scenario planning that allows us to make quick decisions that can be validated through predictions. Some examples include:
Improving efficiency by reducing, re-allocating, or removing media spend that does not drive business performance
Driving effectiveness by recommending how to improve incremental return in existing channels and partners through optimization
Prioritizing expansion and incremental return by shifting spend into under-utilized channels or partners to engage with valuable audiences
To do this, we built out a global, unified analytics platform—Synapse—which is our proprietary platform for delivering attribution, budget optimization, scenario planning, forecasting, and performance simulations across multiple outcomes, all in one ecosystem. We've made strategic investments in R&D and technology partnerships to acquire industry-leading machine learning and AI capabilities that unlock the full potential for modeling and data-driven decision-making based on analysis outputs. A big driver for the success of the Mindshare Synapse platform is the use of human-friendly visuals through a customizable UI that is accessible to the Mindshare organization and our clients. Synapse can be used by analysts, strategists, and clients because of its ability to democratize complex analysis in a simple way across multiple stakeholders at scale.
Machine Learning and AI Fuel Media Governance, Performance Success, and Analytics
As mentioned above, understanding performance should be ingrained in all parts of the marketing value chain. At Mindshare, machine learning, AI, predictive analytics, and scenario planning is used to fuel data-driven decisioning in three key areas.
The first is media governance, which is about ensuring that we can communicate to clients, with empirical evidence, that we're managing their investments and how they show up in the marketplace in a responsible, transparent, and measurable way.
The second is connecting media to outcomes in a way that matches how our clients define performance success. Mindshare uses this to evolve client thinking from only relying on backward-looking analysis to leveraging forward-looking analysis around informing what decisions we need to make and predicting the outcome of those decisions. We don't focus on reach and vanity metrics—we have conversations with clients and gain a better understanding of what is relevant for extracting insights and performing optimizations.
The third area is macro + media analytics, which expands to position Mindshare as an extension of our clients as a business partner. We have business planning discussions with clients to talk about how media influences outcomes alongside other factors that are controllable or non-controllable. As we talk to clients about performance across the brand to demand spectrum, we're able to consider other things outside media as well (promotions, variable marketing expense, supply chain management, CRM, competition, economic impacts, weather, etc.).
The Mindshare Synapse Platform Drives Value by Answering Client Questions with Data Science and Delivering More Insights
Our ability to identify a question or challenge and translate that into a solution has incredibly huge upside for our clients and our business by:
Expanding how data science is used to answer more client questions and empower the Mindshare workforce with better insights that are elevated at the speed of the decisions within our clients business environments. This involves simple, quick analysis to large scale macroeconomic + media use cases.
Delivering more insights, more efficiently, and accelerating time to value.
Supporting a product toolkit that can be customized to unique client needs. We productize certain things for efficiency, but our approach is less about selling products or tools and more about driving value to answer our clients' learning agenda questions.
Establishing a simplified measurement and analytics narrative that solves for multiple complex needs in an accessible ecosystem that is easy to use and explain.
Delivering performance insights—using best-in-class technology that is scalable— future proofs Mindshare as a trusted advisor and resource for clients, as it relates to predictive analytics and data science. Our mission is to achieve good growth, so it is important for us to leverage tools that use cloud infrastructure and modeling technology that is privacy compliant and takes bias mitigation and AI governance very seriously.
The DataRobot AI Platform Empowers Mindshare to Utilize the Most Statistically Robust Approach for Any Data Type
The DataRobot AI Platform is a major asset in our toolkit. Using DataRobot software has significantly improved our technology architecture, and provided many benefits, including but not limited to:
An intuitive and easy-to-use toolkit that lowers the barrier to entry for advanced analytics use cases, which expands the types of solutions we can build
An extensive pool of machine learning algorithms allows us to utilize the most powerful and statistically robust approach for any data type or business purposes
An enhanced ability to uncover insights and optimization opportunities quicker in an automated fashion
A foundational tool to help with creating a more effective workforce because they can perform existing and new tasks using a powerful platform that allows them to focus on more strategic areas
At Mindshare, we've embraced the idea that a truly performance-driven organization must intentionally adopt technology that enhances the symbiosis between human and machine decision-making. To win in the platform age, we will continue to use tools that complement our workforce to drive creativity and client value through data science as a service. This helps the agency to do better work, with more impactful outputs that drive good growth in a truly data-driven way.
About the author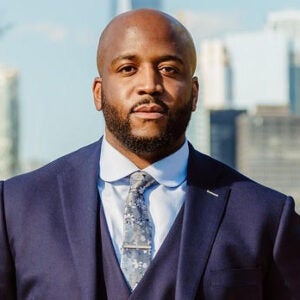 As Executive Director and Head of Business Intelligence and Advanced Analytics at Mindshare, Ikechi is helping clients to leverage data in new ways and embrace innovations in predictive analytics. Ikechi works across all Mindshare accounts to ensure that analytics is consistently adding value through stakeholder partnership and clear storytelling.
Ikechi's contributions to the industry were highlighted in 2020 when he was selected by Adweek as a Media All-Star for leading the creation of Mindshare's analytics and scenario planning platform called Synapse. Ikechi also takes time to attend and speak at various conferences to stay connected with the analytics and marketing community. He is an adjunct professor at Fordham and Pace University and has strong relationships with other colleges in the NY area (Columbia, Baruch, Simon Business School, etc.) through organizing case competitions to provide experiential learning opportunities for the next generation of analytics and marketing professionals.
Meet Ikechi Okoronkwo
Subscribe to DataRobot Blog
Thank you
We will contact you shortly
Thank You!
We're almost there! These are the next steps:
Look out for an email from DataRobot with a subject line: Your Subscription Confirmation.
Click the confirmation link to approve your consent.
Done! You have now opted to receive communications about DataRobot's products and services.
Didn't receive the email? Please make sure to check your spam or junk folders.
Close