DataRobot and Evolutio: Enabling Better Model Observability and Increased Trust in AI
DataRobot and Evolutio: Enabling Better Model Observability and Increased Trust in AI
As part of Cisco's FY24 Partner Summit, November 6-9, 2023 in Miami, a new partnership with Cisco was announced with a new MLOps solution for the Cisco Full-Stack Observability (FSO) Platform built with our platinum partner Evolutio. This new solution will deliver enterprise-grade observability for both predictive Al and generative Al, help optimize and scale AI deployments, and accelerate business value for our customers.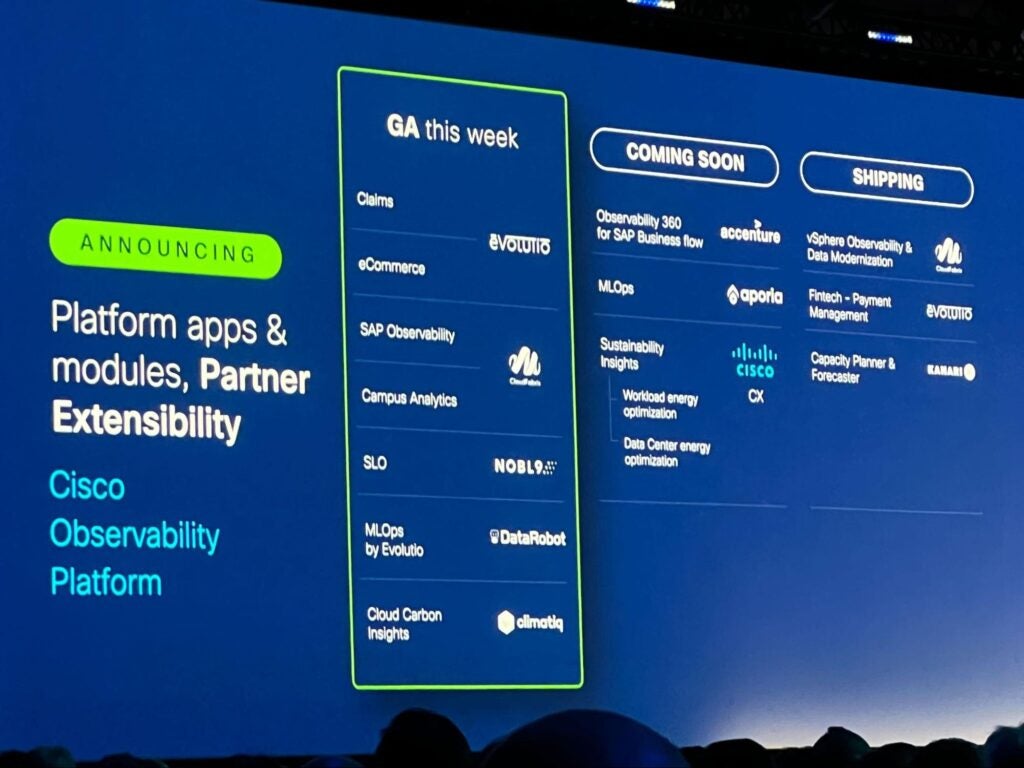 MLOps by Evolutio, Powered by DataRobot extends observability for both predictive AI and generative AI, with always-on monitoring and production diagnostics to track and improve performance of your models. End users can stay informed of key metrics like service health, accuracy, data drift, prompt toxicity, token and inference costs. This module built on Cisco's Full Stack Observability Platform is designed to make AI model performance, LLM operations and overall data and response quality in AI use cases a priority focus in an organization's observability posture and ensures delivering your AI solutions with confidence.
Through our MLOps solution, we've fine-tuned the process of monitoring machine learning models in real-time. It facilitates a comprehensive view of model performance metrics and how they align with business objectives. If there's an anomaly in a specific region or sector, it can be promptly addressed.
Modern business revolves around superior digital experience. Any deviation from excellence in this arena is met with swift criticism and dwindling user trust. And, because in the age of data, software applications will continue to incorporate AI capabilities, we need to ensure machine learning models are functioning optimally and meeting the stated objectives. Customers need a 360-degree view of their ML models and the agility to act swiftly based on insights, which is the challenge Evolutio, Cisco, and DataRobot hope to address with this partnership.
Evolutio's Data Science & AI practice, powered by DataRobot, allows customers to segment their ML model insights by parameters like region, model type, and deployment scale, ensuring anomalies like reduced model accuracies or silent failures are instantly flagged. Evolutio, a services-led consultancy, specializes in "Business-Aware" Observability. Their goal is to bring business context into the realm of Observability to make clients' view of user experience both highly actionable and proactive.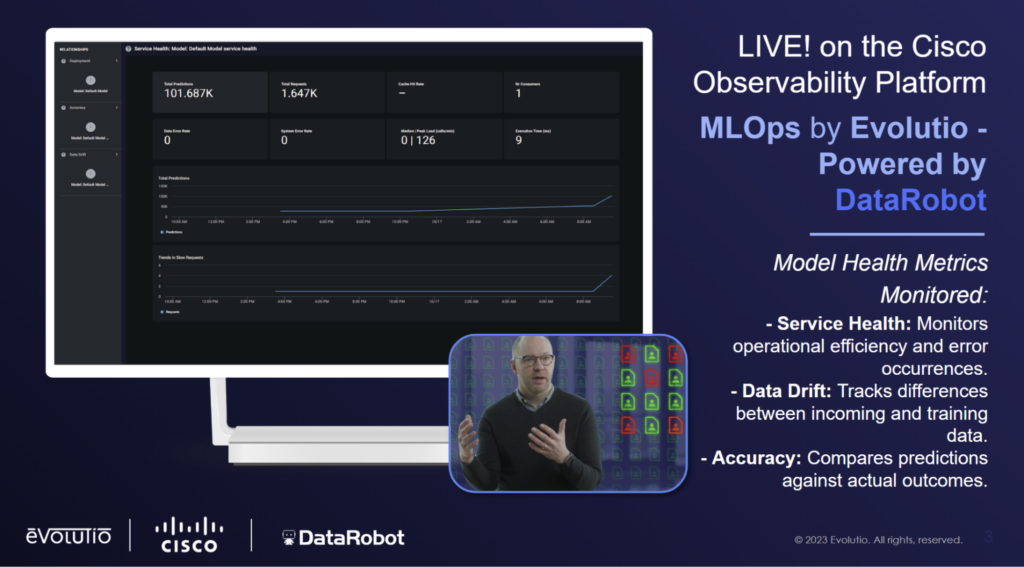 Cisco FSO Platform is the only vendor-agnostic, entity-based observability platform in the market. The open, extensible, API-driven architecture of Cisco FSO Platform enables the creation of an observability ecosystem. It also allows development partners to build novel observability solutions and realize new revenue streams from those solutions. With the growing use of generative AI and integrations into the modern application stack, the Cisco FSO Platform helps customers to monitor these applications, their SLOs and bring the monitoring of large language models (LLMs), and MLOps models together with application observability.
By implementing the DataRobot AI platform, Evolutio helps customers drive AI/ML solutions throughout their organizations by making AI/ML accessible to business stakeholders and subject matter experts. The combined capability of DataRobot and Evolutio accelerates time to value and execution on a monitored, explainable, enterprise-ready platform, and customers can realize immediate ROI.
Evolutio leverages DataRobot MLOps to provide monitoring and observability to increase trust and fairness, reduce bias, and maintain transparency into performance and cost. Most importantly, DataRobot's mature MLOps capabilities enables models to learn continuously from the real world, with minimal downtime and with appropriate governance in place to protect the business investment. The partnership helps organizations with insights, clarity, and control over their operations when dealing with machine learning deployments to guarantee an impeccable user experience.
Learn more
Subscribe to DataRobot Blog