Raik's Impact as an AI Hero
Raik-Ingo Lehr led an initiative to transform how BLG Logistics estimates its staffing needs. Leveraging machine learning, he created time-series forecasts to improve weekly staff predictions for the logistics center where he manages operations. The BLG Group, headquartered in Bremen, Germany, creates logistics for customers in trade and industry, with nearly 100 locations and branches in Europe, America, Africa, and Asia.
3-5% more accurate weekly staffing predictions
To improve ROI and employee satisfaction. This was a hard project to accomplish, but Raik and his team did it with DataRobot.
Improving Logistics and Manufacturing Process with AI
Raik-Ingo Lehr is a process manager at BLG Logistics, a government-owned seaport and logistics company in Bremen, Germany. He manages logistics operations for the Berlin-Brandenburg department.
The BLG Group creates logistics for its customers in trade and industry by applying its expertise to develop and implement innovative, highly sophisticated, and future-oriented solutions. For more than 140 years, BLG's hallmark has been logistics driven by both passion and pragmatism. The company is represented in all of the world's growth markets, with almost 100 locations and branches in Europe, America, Africa, and Asia. Its Automobile and Container divisions are leaders in Europe, managing logistics for 4.8 million vehicles in 2020 for a total of €521 million in earnings and operating 13 container terminals at 10 locations with revenue of €263 million. Its contract division is among Germany's leading providers, with more than 40 locations in Europe and overseas and €553 million in revenue.
Evolving a Traditional, Growing Business
Though he doesn't come from a data science background, Raik took the lead recently on machine learning in the company. He knew about the power of data and was excited about its potential for improving production—with the right data.
BLG, a traditional company founded in 1877, is just adopting industry 4.0, and his leadership team is very interested in innovation and open to suggestions. Digitalization is presenting the logistics industry with countless opportunities. In collaboration with partners, including start-ups and emerging enterprises, the company's DigiLab is developing innovative solutions for the future of logistics.
Targeting Staffing Forecasts
Raik's division at BLG contracts services for major German car manufacturing companies, as well as other large industrial manufacturing companies. It has grown from a single warehouse of 80–100 staff members back in 2013 to operating many warehouses with over 450 workers.
The biggest cost, by far, is staff. Raik realized that the staff forecast for the biggest business in their logistics center, which employed 80 people, wasn't accurate. It came as a rough estimate—a single number for the entire month—provided on a quarterly basis. 80% of the workers are full-time employees and 20% are contracted from an employment agency. The full-time employees perform skilled tasks and are valued for their institutional knowledge, with relatively few employees handling each process. Contract workers generally perform physical work such as moving packages or packing pallets, though some contract workers are skilled and earn more. Contract workers are more expensive, so the goal is to hire only as many as are needed.
Streamlining Predictions and Processes
As the business grew, the model of Excel spreadsheets, KPIs, and business intelligence wasn't working effectively any longer. Too many people had to click buttons to get the numbers straight. The team started using Alteryx to automate data. Then, a couple of years ago, they heard about DataRobot—that you don't need to be a data scientist to use it—and decided to check it out.
Raik was excited about trying DataRobot and contacted Stefan Schilling, the account executive for BLG. Together they started their first proof of concept: a time-series model for forecasting their day-to-day staffing needs.
The Importance of Predicting Correctly
The goal was to become 3–5% better at predicting the correct number of personnel the warehouse would need for a specific week. Warehouse employees handle many different tasks and processes, and the projects are cyclical, so it's very difficult to standardize.
Predicting staffing levels correctly helps promote employee satisfaction. If there are too few workers and employees have to, for example, work late unexpectedly and then return early the next morning, morale suffers and skilled workers might quit. If predictions are more accurate, layoffs are less likely, which also preserves employee morale and retention of skilled workers. Predicting correctly is also important to revenue. If there are too many workers on a shift, BLG ends up paying for people who aren't busy.
Raik and a colleague, Vanessa Sautter, set up a model. He reviewed the results and provided feedback, then worked with a data scientist to learn more. He currently does time-series planning for personnel, then communicates details of the past work week's performance to operations managers via PowerBI.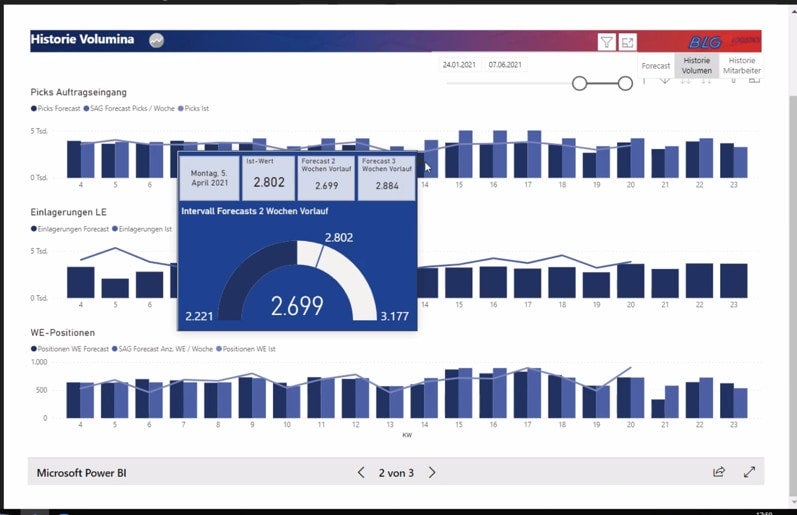 This was a hard project to accomplish, but Raik and his team did it with DataRobot.
Looking Ahead
Getting people to trust the forecasts is a work in progress. Predictions aren't always perfect and some operation shift leaders continue to make their own predictions. Raik and his team are making progress in getting transparency and more acceptance across the organization over time.
Next up: arriving at a correct forecast for the attendance rate. It can vary as much as 30% due to sickness, vacation, or other reasons.
DataRobot launched Raik on his machine learning journey. He's exploring what he needs to know to become a data scientist. He even took Python programming classes. He finds it "very fun."
Thanks, DataRobot, for opening up this new world of data science. It's been quite a ride! It's really fun.
Want to become the next AI Hero with DataRobot?
Thank you
We will contact you shortly
Thank You!
We're almost there! These are the next steps:
Look out for an email from DataRobot with a subject line: Your Subscription Confirmation.
Click the confirmation link to approve your consent.
Done! You have now opted to receive communications about DataRobot's products and services.
Didn't receive the email? Please make sure to check your spam or junk folders.
Close