Generative AI
What Is Generative AI?
Generative AI, short for Generative Artificial Intelligence, is a branch of artificial intelligence focused on creating new content. It leverages machine learning algorithms, particularly deep learning, to generate data for use in a business application. Generative models, including Generative Adversarial Networks (GANs) and Variational Autoencoders (VAEs), are central to this type of Artificial Intelligence.
A notable embodiment of generative AI is in the creation of large language models (LLMs) like OpenAI's GPT-3 (Generative Pre-Trained Transformer 3) and GPT-4. These models are trained on vast amounts of data using transformer architectures, enabling them to generate coherent and contextually relevant text. Furthermore, enterprise-level AI platforms can help facilitate the integration and utilization of generative AI in modern software applications and services.
Why Is Generative AI Important?
Generative AI can perform many tasks, including creating and summarizing documents, answering questions, brainstorming, editing prose and code, and performing simple planning. From productivity gains to finding new routes to revenue generation, generative AI will radically transform how we work. AI copilots will not just be the norm but will be expected, handling everything from simple tasks, such as customizing travel itineraries to summarizing lengthy documents to complex commands and actions like assisting in coding.
In the enterprise context, two key ways to think about generative AI opportunities are optimizing operating costs and aligning it to key growth levers.
40% of all working hours can be impacted by LLMs like GPT-4. –

Accenture
Generative AI will help enterprises optimize operating costs by increasing the productivity of existing teams and also driving down cost levers, including:
Customer Self-Service
Support
Administrative request handling
Inquiry routing and triage
New product recommendations and education
Internal Business Communications
Content generation and ghost writing, such as reports, presentations, briefings, and updates
Knowledge Retrieval and Summarization
Strategy, R&D, and mergers and acquisitions research
Internal knowledge bases and expert agents
Financial and analyst report generation or summarization
Operational Efficiencies
Agent assistance, request processing
Report summarization and retrieval
Data entry assist
Coder productivity, including business analyst and back office workflows
Growth levers can open new revenue streams or drive more topline outcomes. Some of these include:
New Products and Experiences
Chat-based agents
Shopping assistants with dynamic recommendations
New product education
Enhancements to Existing Products and Experiences
Natural language product manual and support interfaces
Marketing and Sales
Content generation
Ghostwriting
Personalized outreach
Knowledge retrieval and summarization
Sales call preparation and intelligence gathering
Organizations should also factor in emerging use cases for specific industries that will help them transform the organization with generative AI. The ability to successfully apply these use cases will be highly dependent on the complexity of the use case and the general AI maturity of the organizations. You don't want to over index too far on one end or the other.
Generative AI + DataRobot
DataRobot is the only end-to-end generative AI platform that allows organizations to build, operate and govern enterprise-grade generative AI solutions, safely and reliably.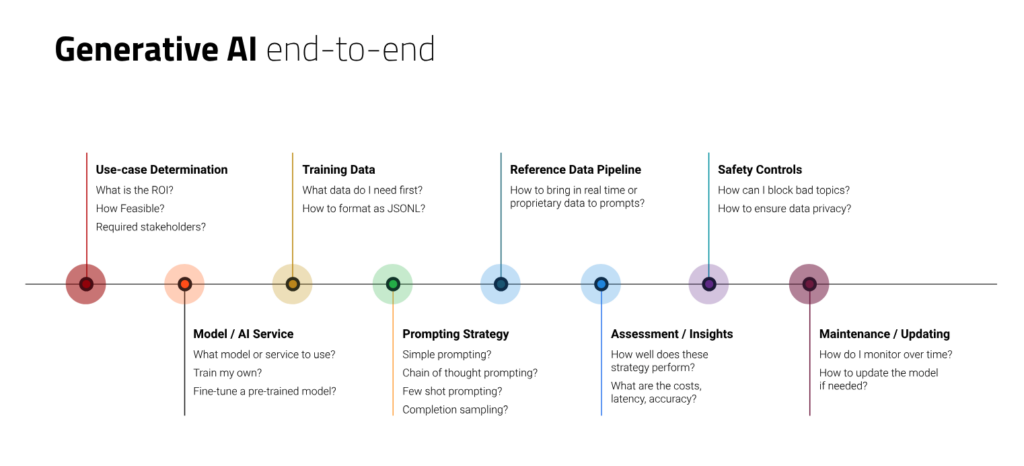 DataRobot allows organizations to work with all the best tools and techniques, across cloud environments, in one unified experience, due to its open, flexible, and multi-cloud architecture. With DataRobot Generative AI, organizations can safeguard data privacy and control all financial aspects of their generative projects. Enterprises can confidently deploy and maintain safe, high-quality generative AI applications and solutions in production with advanced LLMOps capabilities built into the platform.
DataRobot Generative AI gives enterprises the confidence to achieve real-world value with generative AI, enabling them to rapidly build with optionality, govern with full transparency and oversight, and operate with correctness and control. Designed to integrate with your existing tools, processes, and infrastructure, it fuels the delivery of real-world value from your AI initiatives, with the adaptability to evolve as demands shift and the enterprise control to scale with confidence.