Business Analysts
DataRobot automates many of the routine tasks performed by data scientists, providing a leg up to business analysts seeking to incorporate machine learning into their current workflows. Use our free trial to see how easy it is for analysts to use machine learning to unearth new solutions to your business problems. Supercharge Your Insights.
Meet All Your Needs in a Single Tool
DataRobot is an end-to-end solution
Business analysts frequently spend significant time on preparing data for analysis. DataRobot helps streamline this task, allowing business analysts to focus on more substantive challenges that have a higher value to the business. DataRobot also features functionality across various stages of the workflow that allows key insights and predictions to be exported into traditional visualization tools or Excel.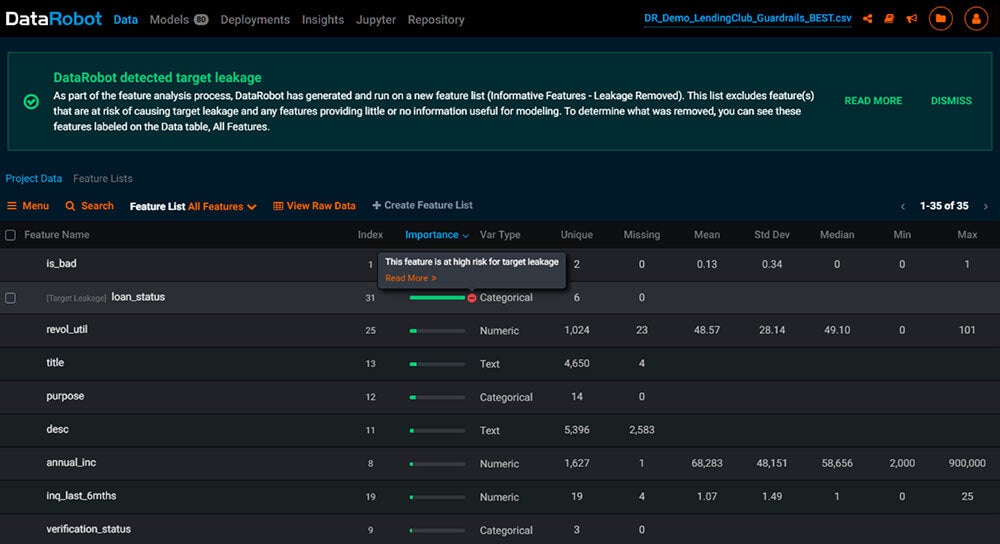 Deliver Predictive Insights with Confidence
Unlike visualization tools with machine learning features that only work if your problem squares precisely with the technology, DataRobot is flexible, automatically testing hundreds of advanced algorithms until it finds the right options based on the business problem you seek to solve. Along the way, DataRobot's built-in guardrails help you identify questions or errors to help you feel more confident about your process.
Defend and Explain Your Use of AI
DataRobot has a variety of built-in systems to help you explain and defend your use of machine learning, whether to leadership, data scientist collaborators, or even to regulators. For example, DataRobot automatically generates customized, model-specific documentation that captures the choices you've made and the findings uncovered. Model blueprints are downloadable and reflect the specific steps that a model takes on the dataset, providing full transparency.
Democratize Your AI with Control
DataRobot helps support an organization's efforts to democratize the use of AI through technological solutions that complement the organization's policies and procedures. For example, an administrator can set controls in DataRobot that limit a user's ability to deploy a model before it has been approved. Models can be assigned a risk level to help ensure that the bet-the-company models are appropriately vetted.
DataRobot's platform makes my work exciting, my job fun, and the results more accurate and timely – it's almost like magic!

I think we need to take it upon ourselves in the industry to build the predictive models that understand what the needs and wants of our customers are, and go through the whole curation process, become their concierge.

At LendingTree, we recognize that data is at the core of our business strategy to deliver an exceptional, personalized customer experience. DataRobot transforms the economics of extracting value from this resource.

We know part of the science and the heavy lifting are intrinsic to the DataRobot technology. Prior to working with DataRobot, the modeling process was more hands-on. Now, the platform has optimized and automated many of the steps, while still leaving us in full control. Without DataRobot, we would need to add two full-time staffers to replace what DataRobot delivers.
DataRobot Democratizes AI with Automation and Guardrails
The power of machine learning is now available to everyone, and with DataRobot you can learn the basics of automated model deployment, management, and monitoring. Watch this recording to discover how our built-in guardrails prevent many machine learning errors.
Watch the Recording
Find out how to get more from your data.