With support for on-premise Linux servers and scalable Hadoop infrastructure, DataRobot offers blazing performance, strict adherence to controls, and a relentless focus on data protection – all while saving a fortune in hardware costs.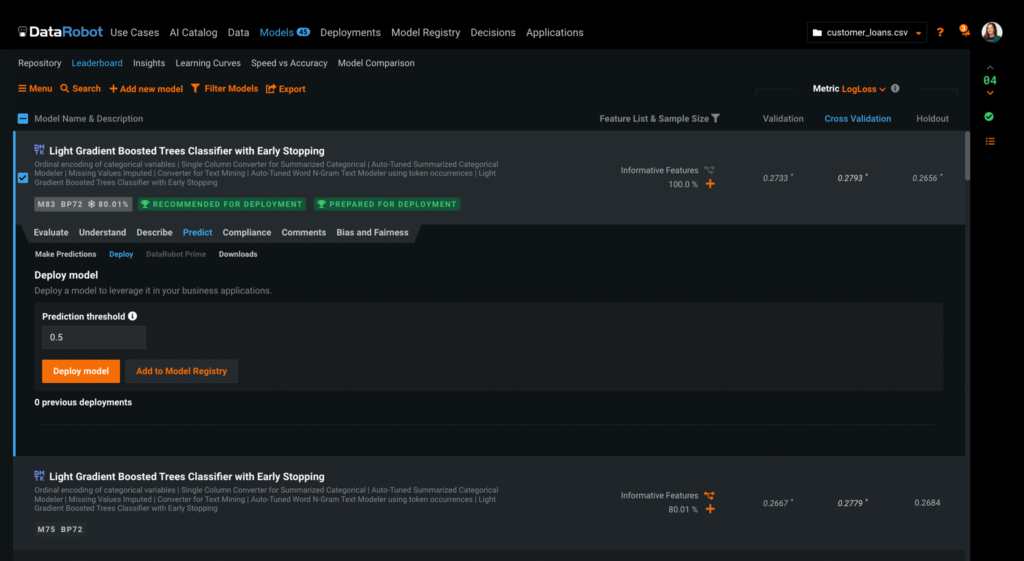 Scalable Performance
DataRobot features a massively parallel modeling engine that can scale to hundreds or even thousands of powerful servers to explore, build, and tune enterprise AI models. Large datasets? Wide datasets? No problem. Modeling speed and scalability is limited only by the compute resources at DataRobot's disposal.
Installation and Model Scoring in Hadoop
DataRobot can be installed as a service on YARN in Hadoop clusters, and perform distributed model scoring on data stored on HDFS, to bring enterprise AI to your Hadoop stack. Using Spark for large-scale data processing, DataRobot adheres to all Hadoop management processes and policies.
Off-Network Deployment
If your data is subject to strict regulatory compliance (such as HIPAA) or has a classification that requires specific security controls, DataRobot can be installed in an off-network configuration. Downloadable scoring code (or scoring code approximations) can be deployed to offline servers for local scoring.
Scalable Computing Resources
Minimize your on-premise capital and maintenance costs and maximize business value by installing DataRobot in the cloud. You'll only pay for the compute resources you use while reducing on-premise complexity with a focus on data storage.
Enterprise-Grade
Now that enterprise AI impacts an ever-increasing number of business processes, it is critical that a platform for building and deploying models be hardened, trusted and integrated within your ecosystem of technologies.
Start delivering trusted and ethical AI now