Releases
DataRobot AI Cloud 8.0
Businesses across all industries are facing challenges and uncertainties. DataRobot AI Cloud 8.0 is the mission-critical innovation that empowers organizations to navigate changing market conditions and drive clear business results from accelerated growth, reduced operational costs, and improved customer engagement.
DataRobot AI Cloud 8.0 brings to market over 40 new and enhanced capabilities, further enriching one of the most trusted and widely deployed AI platforms in the world. Among the new capabilities are:
Time Series Integration with AI App Builder
Continuous AI extended to the entire multi-cloud architecture, including on premise environments
Enhanced connectivity extending to Microsoft Active Directory connections for SQL Server with Synapse and Scoring Code for Snowflake
Together, these new capabilities will help every business to navigate the most unpredictable of markets with better and more intelligent predictions.
We understand how critical it is to have access to AI-powered insights at the right time. Now users will be able to rapidly create intelligent applications on top of time series deployments and access actionable forecasts in a matter of minutes.
DataRobot AI Cloud 8.0 continuously monitors all models in production, keeping every model running at peak performance while adjusting for drift, adapting to changing ethics standards, and supporting governance policies. With real-world changes challenging every business on a daily basis, from COVID to changing economic climates and more, the continuous monitoring that DataRobot AI Cloud 8.0 offers is more important than ever.
Additionally, we extended the connectivity of the AI Cloud platform to give you access to data from Azure Synapse SQL, while DataRobot Scoring Code supports execution directly inside Snowflake, allowing you to store large datasets even faster. This gives all of our customers connectivity to the broadest set of data sources, including AWS Redshift, Oracle, SAP Hana, and Google BigQuery, along with the power to build the most complete, highest quality models.
Let's dive in!
Empower Business Users with Predictive AI Apps
Even as many global markets continue their recovery from an extended pandemic response, significant uncertainty remains in the marketplace. Now more than ever, fast and accurate decisions make a difference in business performance. With growing pressure on organizations to empower frontline decision-makers with actionable insights, more companies are looking for ways to leverage tools for automated forecasting.
Time Series Predictor with No-Code AI Apps
AI-Powered forecasts at your fingertips. In DataRobot AI Cloud 8.0, we've extended our market leading Time Series capabilities to our No-Code AI Apps. With Automated Time Series, you can create robust, AI-driven forecasts using advanced algorithms, automation, and time-aware guardrails. You can then immediately deliver them to your front lines with flexible deployment options that natively embed AI-driven forecasts anywhere in your ecosystem. And now, with No-Code AI Apps, you can select any of your deployed Time Series models and build a fully customized AI Application with absolutely no coding required. Within the app, you can compare forecasts with actual values for new data, provide insights on prediction explanations over time, and dig deeper into the reasons driving each forecast. And thanks to the intuitive interface, you can quickly and effortlessly share insights with the key decision-makers who need them most.
By bringing Time Series to our No-Code AI Apps, we get intelligent applications that are predictive to changing market conditions and adaptive to an ever-changing environment.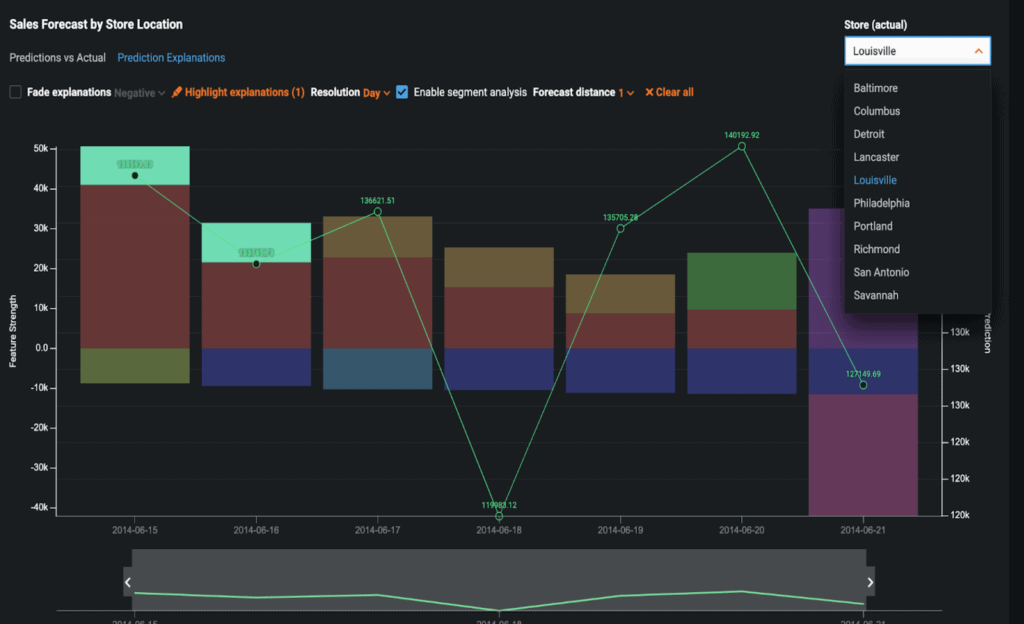 Continuous Automation and Trust for Production AI
During the pandemic, we saw that machine learning models can fail overnight. Models trained on 2019 data didn't know what to do with 2021 market conditions. The result was that many AI systems delivered misguided recommendations to decision-makers, thereby driving risky and error-prone business decisions. DataRobot AI Cloud 8.0 is unique in its ability to leverage the strength of automation with a human-in-the-loop to prevent this type of failure. We are happy to announce that Continuous AI is now available for on-prem users. Continuous AI combines the best of automated machine learning with the best of machine learning operations to continually improve models over their full lifecycle.
Continuous AI
Find the best solution for your business now to protect your performance in the future. An unexpected event, such as the COVID-19 pandemic, proved to all of us that systems, processes, and models can fail in an instant. As an integral part of DataRobot MLOps, Continuous AI automatically maintains all of your production models, keeping them at peak performance regardless of real-world chaos.
With Continuous AI, you create multiple MLOps Retraining Strategies to refresh your production models based on the schedule of your choosing—like when accuracy drops below a predetermined threshold, or data drift occurs, or when models fail to keep pace with essential business practices that reinforce trust, ethics, and anti-bias. Continuous AI not only retrains your current production models for you, it also generates and tests a whole host of new models and presents the top ones as recommended challengers as part of the same process. Challengers are then replayed against historical prediction data for you (or the system) to decide if one of them should be promoted as the new champion.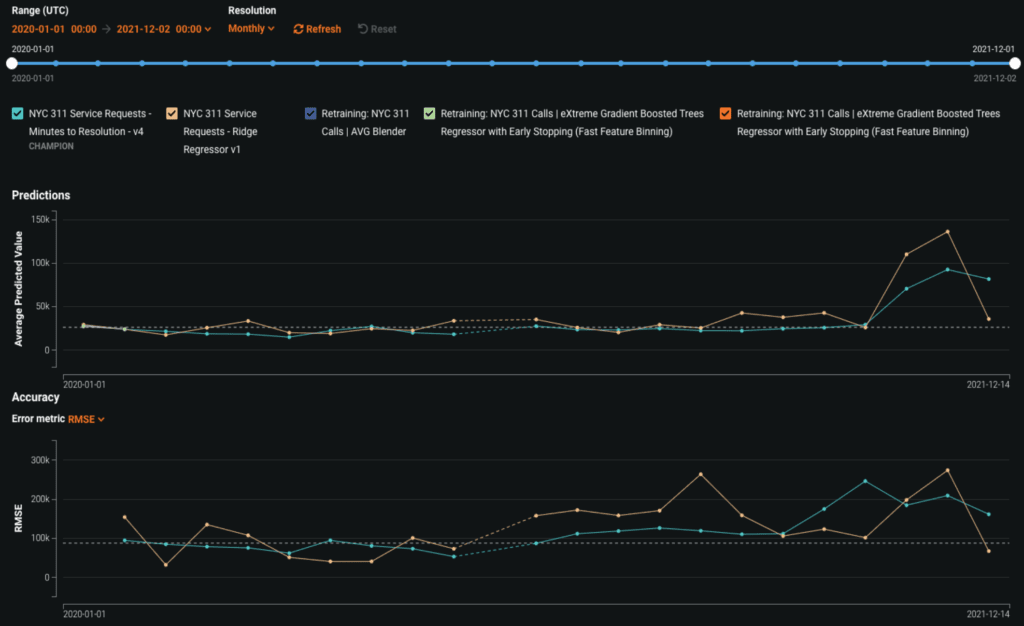 Challenger Insights
Evaluate, compare, and make decisions about your production AI. In addition to Challenger Models and Retraining strategies, we also have added more explainability and insights focused on direct comparisons between challenger and champion models, such as accuracy summary across all metrics, lift, dual lift, ROC, and prediction difference.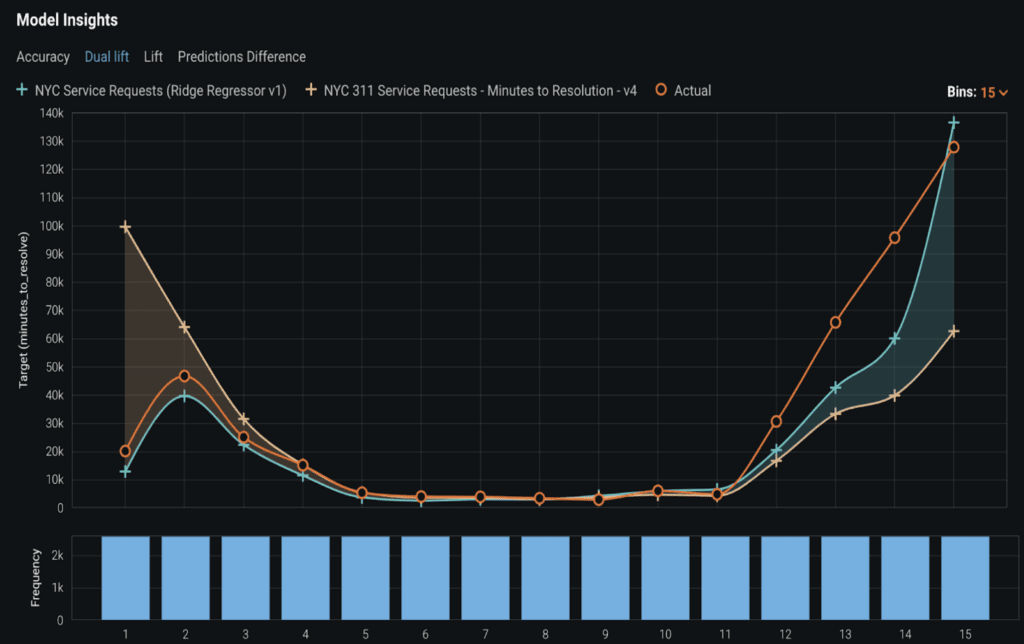 Best-in-Class Connectivity. Advancing the AI Cloud Platform Ecosystem.
With the massive growth in data collection, every business is dealing with a broad range of data distributed widely across traditional enterprise systems, on premises environments, data clouds and more. But getting the most accurate picture of your data requires the ability to access the widest range of data, bringing together multiple sources to build a more comprehensive, higher quality, and higher fidelity model. By delivering best-in-class connectivity, DataRobot AI Cloud 8.0 gives every business the ability to work with more types of models, while accelerating time to value and removing barriers. By giving access to a complete set of pre-built integrations to approximately 75 of the leading and most widely used data sources in the market today, DataRobot AI Cloud 8.0 gives write-back capabilities to the most popular cloud data stores, including Snowflake.
Active Directory Connections for SQL Server, Synapse
Connect to Synapse SQL – Azure. In the DataRobot AI Cloud 8.0 Release, we've added Active Directory Connect with Azure Synapse. This connector allows you to connect to Azure Synapse Analytics for Library imports and exports. For export, the connector uploads data into Azure's Data Lake service and then exposes the data as a table in the SQL Data Warehouse.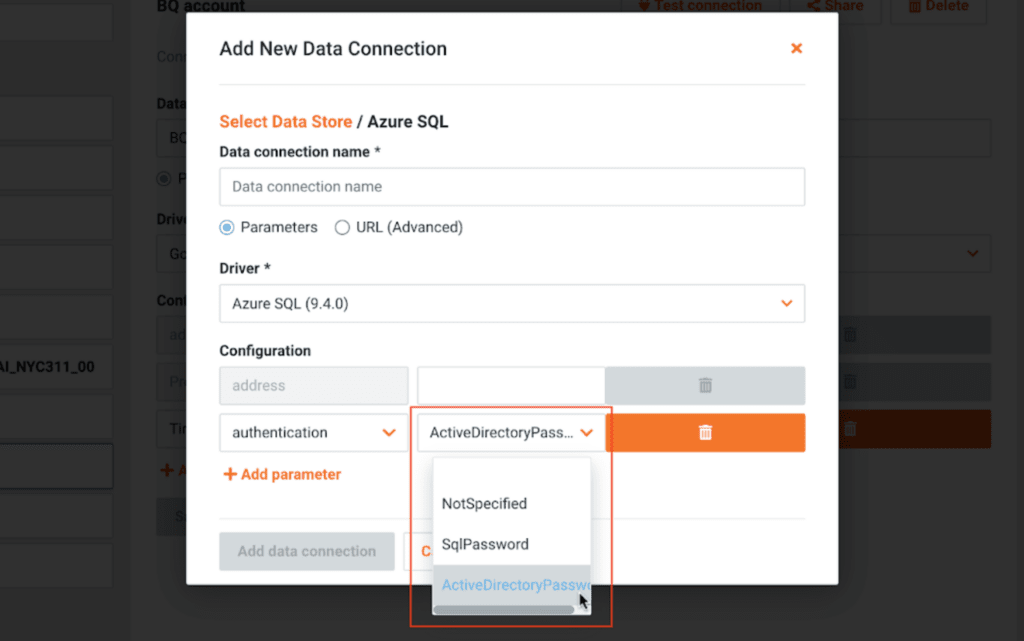 Scoring Code For Snowflake
Streamline predictions through your favorite tools, such as Snowflake. Available now, DataRobot Scoring Code supports execution directly inside of Snowflake, using Snowflake's new Java UDF functionality. This capability removes the need to extract and load data from Snowflake, resulting in a much faster route to scoring large datasets. You can perform predictions on DataRobot models anywhere you want by exporting a model to a Java file.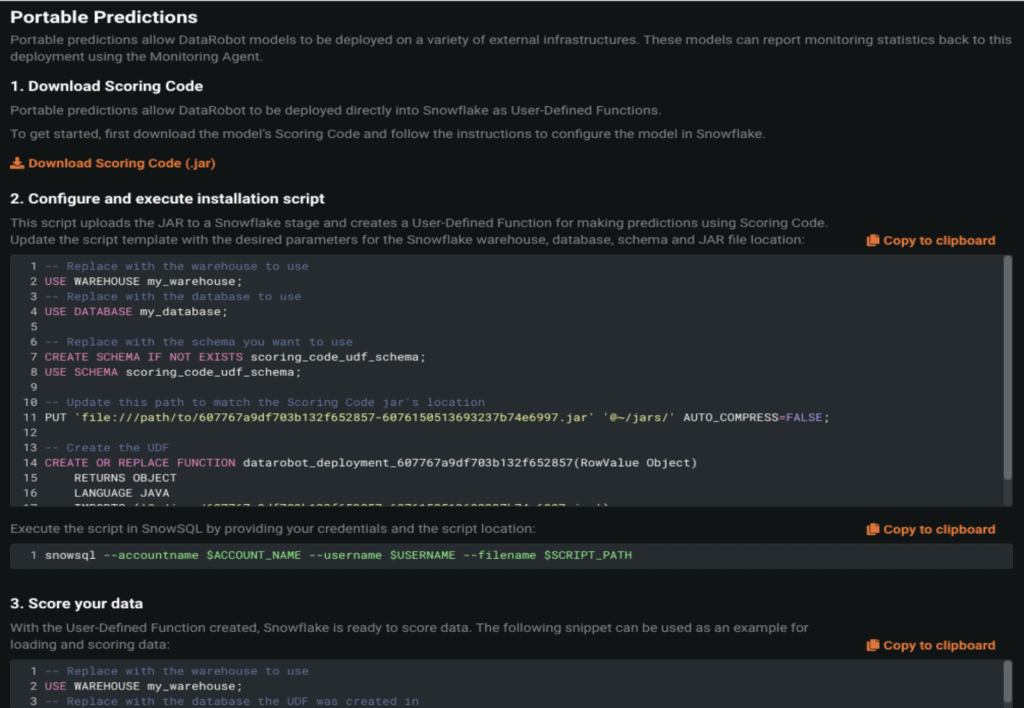 And More
These are just some of the major highlights of the DataRobot AI Cloud 8.0 Release. Join the conversation and ask questions about the release in the DataRobot Community.