Releases
DataRobot 7.0
It's our very first release of 2021, and we're excited to share it with you. Release 7.0 of DataRobot, provides innovation across our entire platform through enhancements to all the products you know and love. We've improved our scoring tools in Data Prep, added image augmentation to Visual AI, introduced customizable compliance reports in AutoML and AutoTS, and added a way to easily compare your forecasting models to ours. In MLOps, we've added the ability to challenge any model built in any language or framework, and deployed to any environment. Here are the major headlines for this exciting new release.
Enhanced Prediction Preparation
Ultimate Flexibility For Scored Data. DataRobot's self-service data preparation just got even more powerful in Release 7.0. Not only can you quickly and easily prepare your data for model training, you can also use our visual data prep capabilities to score new data after your models are built and use it for whatever purpose you choose. Since our data prep tools work seamlessly within our end-to-end AI Platform, we make it incredibly easy for anyone to get scored data from any deployed model. You can then integrate the scored data back into your production data pipelines or write it out to a huge variety of well-known enterprise data sources on-prem and in the cloud. All of the scored data is intelligently cached to accelerate the read performance of downstream applications. You can also get both SHAP and XEMP-based explanations for every single prediction, ensuring full transparency and trusted AI.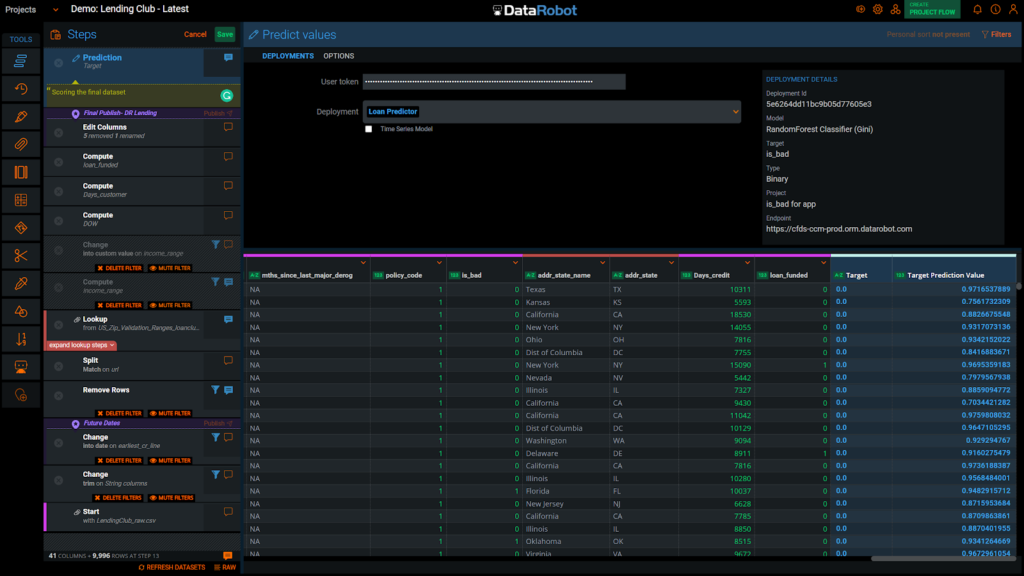 Visual AI Image Augmentation
Build Accurate Computer Vision Models With Fewer Images. In Release 7.0 of DataRobot, we have enhanced AutoML's Visual AI capability by introducing training time image augmentation. When this feature is enabled, DataRobot will create new training images from your dataset by randomly transforming existing images, thereby increasing the size of the training data via augmentation. This allows computer vision models to be built from datasets that might otherwise contain too few images within a particular class. Image augmentation with DataRobot Visual AI is incredibly simple to implement for expert and novice users alike and helps improve the overall accuracy of your image models. It eliminates the need to manually capture more images and then go through expensive and time-consuming image labeling activities.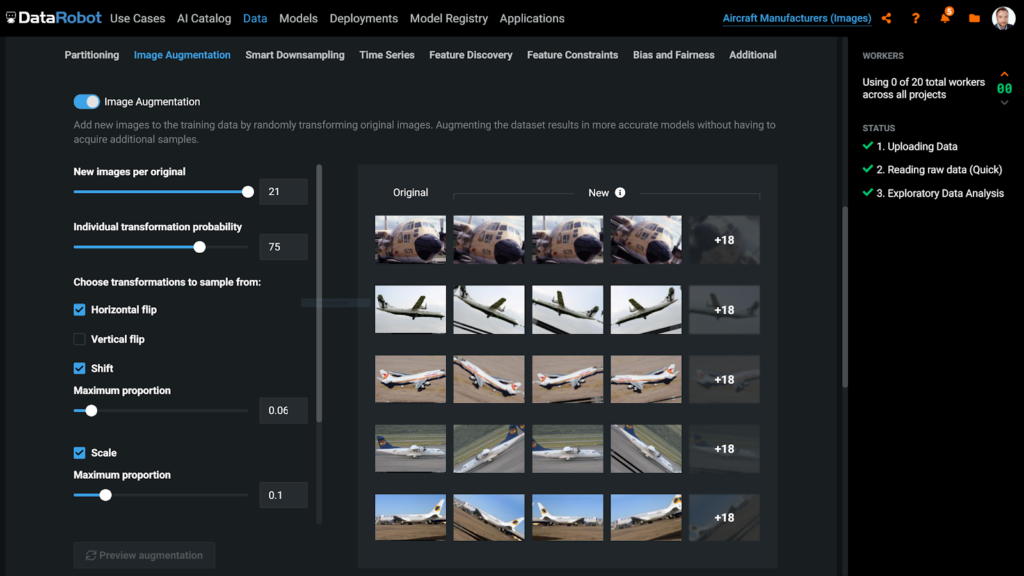 Choose Your Own Baseline (Public Beta)
Easily Compare Your Forecast With DataRobot's Forecast. Many organizations with forecasting models already in place are curious to compare the output of those models with predictions from DataRobot's Automated Time Series product. This comparison allows you to have confidence that DataRobot is forecasting as expected, and helps you understand if our models are more or less accurate than your existing ones. In Release 7.0 we made the process of performing this comparison incredibly simple. Just upload a spreadsheet containing your current model's baseline data and run Autopilot as per usual. Once completed the leaderboard will show you exactly how each model DataRobot built compares to your baseline model so you can leverage the best possible forecasts.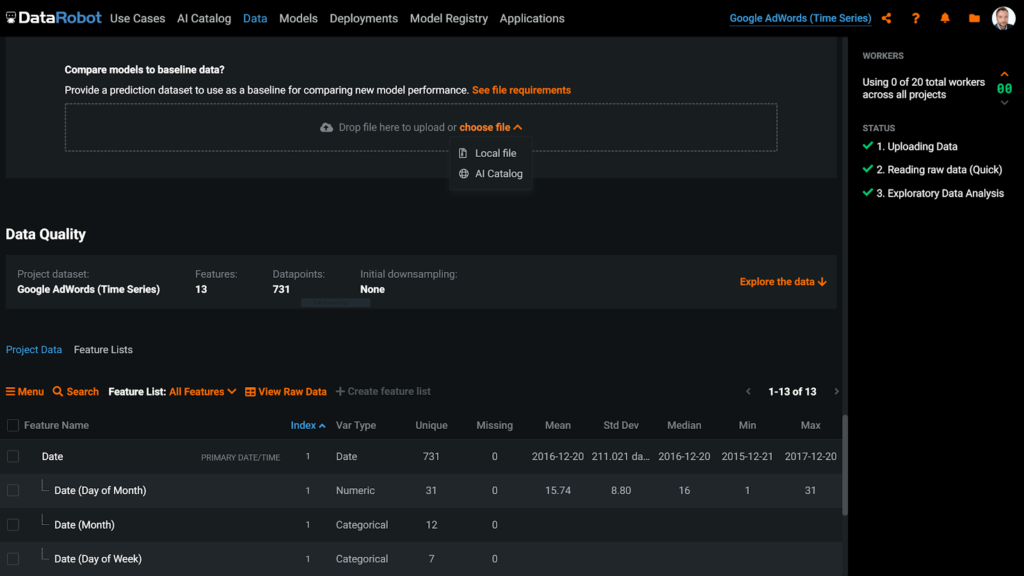 MLOps Remote Model Challengers
Stress Test All Your Models. In DataRobot's new MLOps Release 7.0, you can now challenge any of your production models, no matter where they are running, and regardless of the framework or language in which they were built. Using today's data or data from any point in the past, you can challenge your models to see how they would have performed during the most volatile moments in history. MLOps Remote Model Challengers enables you to keep any model you have deployed, or plan to deploy, constantly on its toes. In a few simple clicks, you can quickly set up a variety of challengers, some written manually and others built by DataRobot, and run them in shadow mode alongside your current champion models already deployed. Using intuitive diagnostic tools and data visualizations, you can then easily make the call to keep or replace any production model to ensure that mission-critical applications get the most accurate predictions possible.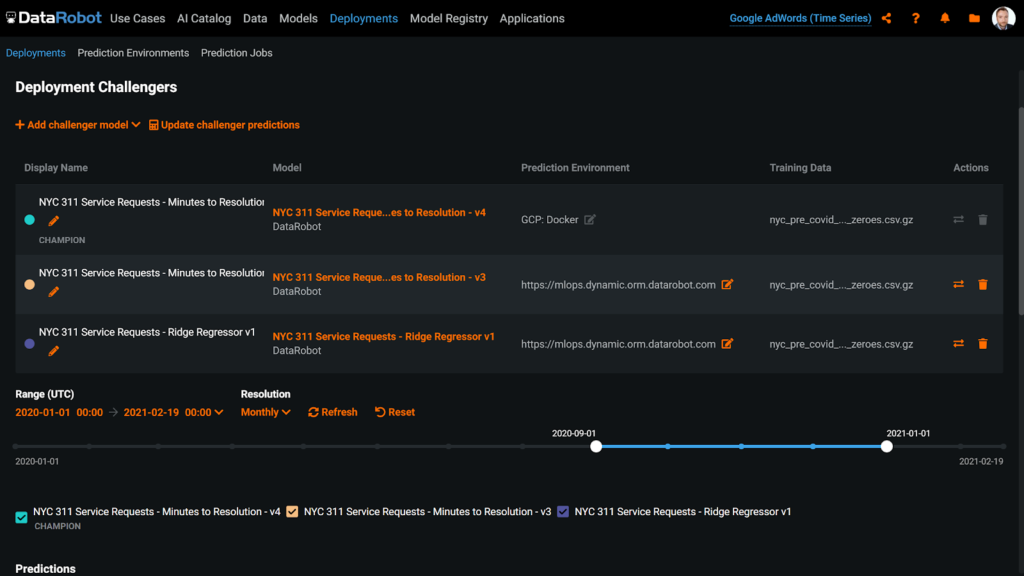 Customizable Compliance Reports
Standardize Model Documentation to Fit Your Needs. In Release 7.0, DataRobot Automated Machine Learning and Automated Time Series now include a new compliance report template builder. This allows you to create custom compliance reports that suit the specifics of your organizational standards and meet the needs of your regulators. Using the interactive template builder, you can add, remove, and arrange content in blocks to create the documentation structure you need. Templates are then shared for reuse across projects, ensuring standardized and conformed model documentation for your entire enterprise.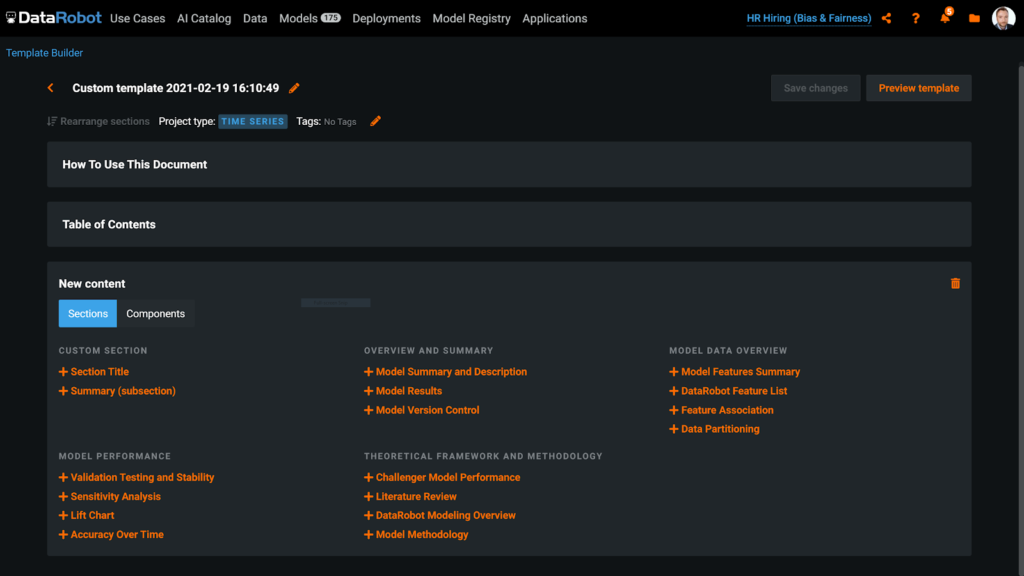 Yes, Of Course There's More!
Automatic bias and fairness testing is generally available in Release 7.0 of AutoML and includes a new cross-class accuracy insight. DataRobot Data Prep contains enhanced APF monitoring, automatic date transformations, and a new elastic Spark-based infrastructure. Automated Time Series introduces monotonicity constraints and a new unsupervised anomaly over time model comparison feature. MLOps now includes support for connecting to Github Enterprise and Bitbucket Server, as well as a whole host of additional valuable features to help you more effectively manage your production models. All of these fantastic Release 7.0 features and many more can be found on the DataRobot Community and in the release notes of the DataRobot product documentation.