Releases
DataRobot 6.3
DataRobot Release 6.3 is here and contains bounty of highly requested features. Bias and fairness testing is new in Automated Machine Learning, MLOps introduces Portable Prediction Servers, and Automated Time Series includes visual feature lineage, new deep learning blueprints, pre-loaded holiday calendars, and many other enhancements to provide deeper insights and more human-friendly explanations for all your time series models.
Automatic Bias and Fairness Testing
AI that Shares Your Values. A key component of building trusted AI is ensuring alignment with your ethics and values. New in DataRobot Release 6.3, bias and fairness testing allows you to flag protected features in your dataset and then actively guides you through the selection of the best fairness metric to fit the specifics of your use case. Once your models are built, we then surface visual insights to illustrate the results of the selected bias and fairness test. If bias is identified, you can use the Cross-Class Data Disparity tool to perform root cause analysis, diagnosing the source of bias in your data, and ultimately directing you towards mitigation steps in your data collection or processing.
MLOps Portable Prediction Servers
Deploy and Monitor Wherever You Choose. DataRobot Portable Prediction Servers are available in Release 6.3 of MLOps. Portable Prediction Servers allow you to integrate any DataRobot model into the pipelines and applications you have already built outside of your DataRobot environment. Portable Prediction Servers are provided in a convenient docker image format, making it much easier for IT and DevOps personnel to operate and manage DataRobot models in the infrastructure of their choosing. They also contain MLOps monitoring agents to allow key model performance metrics to be easily reported back to your MLOps server right out of the box. When coupled with the new DataRobot Prediction Environments feature (also available in Release 6.3), MLOps now provides the ability to deploy and monitor DataRobot models in any external prediction environment on-prem or in the cloud.
Time Series Feature Lineage
See How Your Features Are Derived. A key strength of DataRobot's Automated Time Series product is that it performs specialized feature engineering to automatically generate important new features for your time series models. These features are critical for driving model accuracy, but since they are generated by DataRobot, they do not exist in your original dataset. Release 6.3 of DataRobot now provides a beautiful visualization to show the full lineage of every new feature generated. This way you can see exactly how they were derived and provide even more governance and traceability to explain every step in any time series model.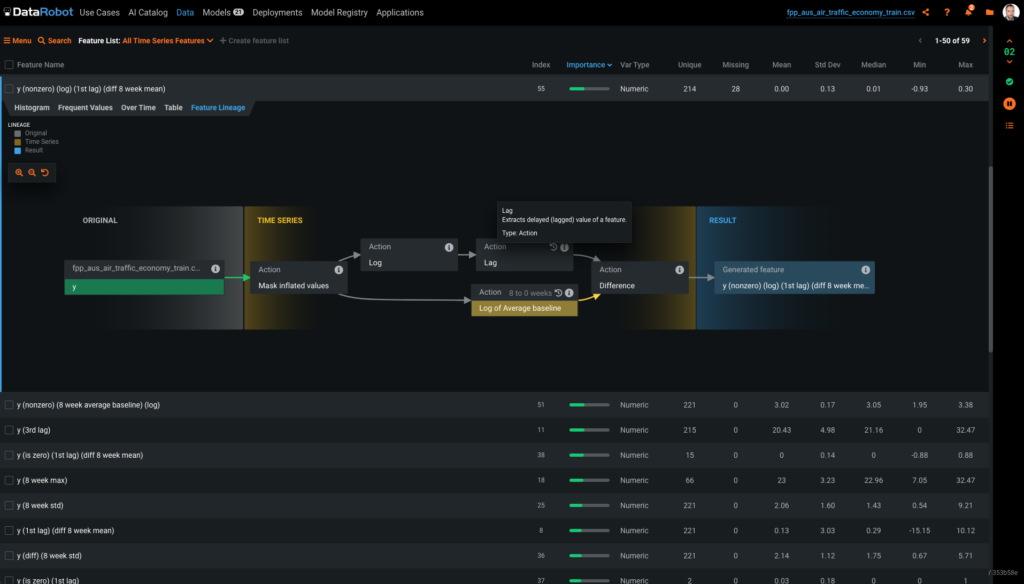 Visual AI Smart Autopilot
Dynamic Deep Learning. With every new release, we enhance DataRobot's automated computer vision capabilities, known as Visual AI, and Release 6.3 is no exception. Visual AI's Autopilot is now much more intelligent and will automatically test a variety of deep neural networks for you to choose the most appropriate one based on the specifics of your dataset and the use case you are trying to solve. For example, DataRobot will pick the right featurizer for you depending on how many image columns your dataset contains, which accuracy metric your model is using, or the number of classes you are trying to predict. In addition, DataRobot will automatically compare alternative neural networks on your top model to maximize accuracy without the need for manual tuning.
Automated Deep Learning in Time Series
Use Every Technique. DataRobot's Automated Time Series is well known for blending classical forecasting methods with the latest machine learning algorithms, along with cutting-edge deep learning approaches. In Release 6.3, we have expanded the depth of our time-aware, deep learning algorithms that are available out of the box. Our new Keras Deep AR and Keras DNN (MLP) blueprints now run automatically as part of the Autopilot process. This ensures that you always have the widest variety of traditional and emerging time series modeling techniques at your fingertips for every project you tackle.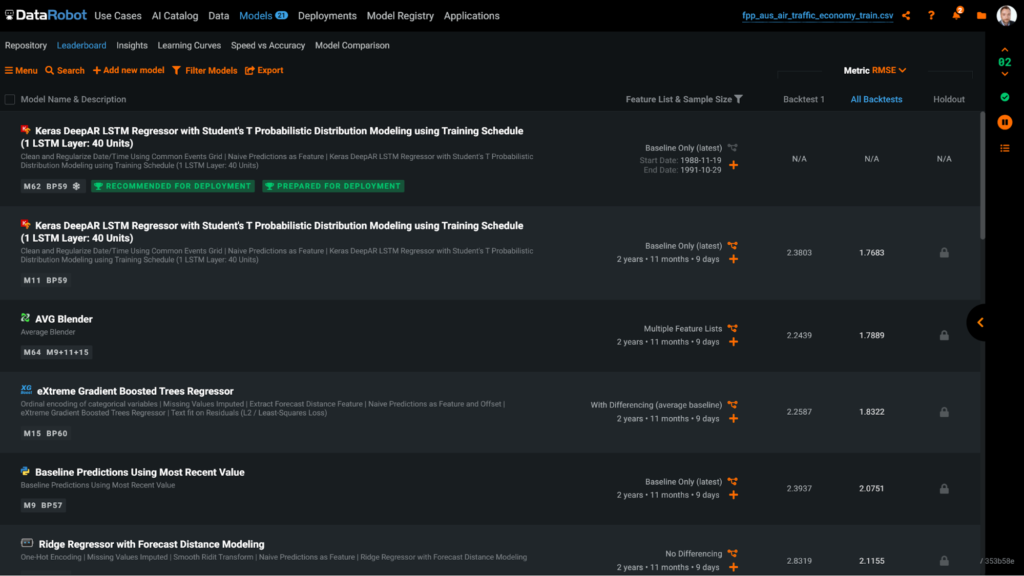 And There's More
Even More Capabilities for Enterprise AI. Each new release of DataRobot contains so many highly requested features that it's difficult to list them all. In addition to those mentioned above, Release 6.3 of Automated Time Series also includes pre-loaded, region-specific holiday calendars in AI Catalog, improved model comparison visualizations, new series insights, and prediction explanations at the local level. With the addition of MLOps Portable Prediction Servers, you can now deploy and monitor any time series model in the environment or cloud platform of your choosing. To our data connection library, we added support for authentication into Azure Data Lake Storage (Gen2), and Amazon S3 cloud storage services. In addition, our automatic Feature Discovery capability has been enhanced to include feature derivation sub-windows and support for unsupervised learning models.