Releases
DataRobot 6.2
DataRobot Release 6.2 is here, and it's packed with innovation for every step of your AI journey from data to value. The release includes next-level feature discovery, a new comprehensive autopilot mode for maximum accuracy, anomaly assessment insights, governed approval workflows for MLOps, and so much more.
Next-Level Feature Discovery
Find Predictive Signal In Related Data. Release 6.2 takes our automated feature discovery capabilities to a new level. We have enhanced the dataset relationship workflow, making it much more intuitive. You can now select multiple datasets, as well as define, edit, and visualize all your relationships at the same time. Feature discovery is also more transparent. You can access logs to get details on which features were explored, discarded, or generated. You can also download the full training dataset, including all the values derived during the feature discovery process.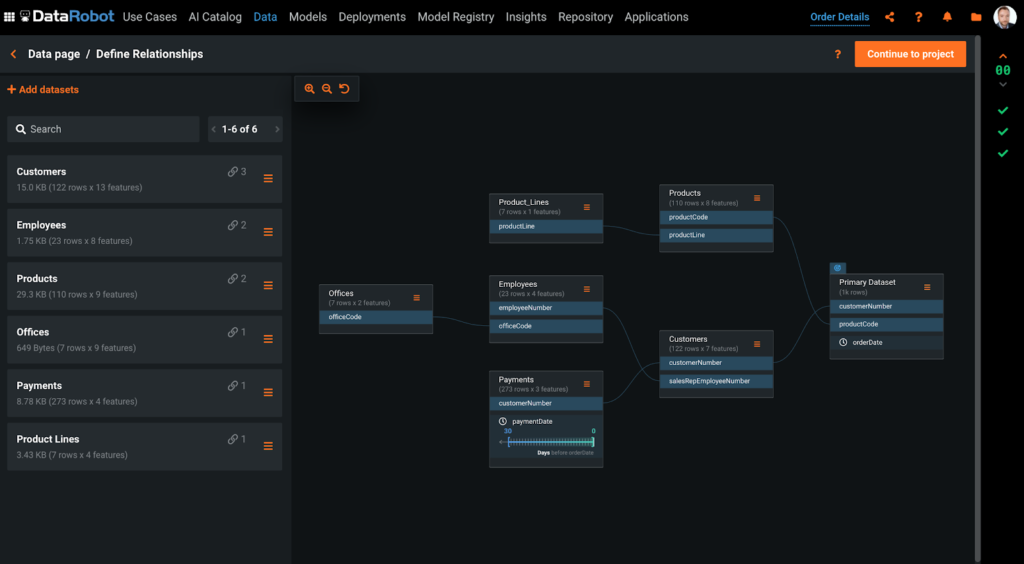 Comprehensive Autopilot
Top Accuracy When It Matters Most. In this release, we add the ability to run comprehensive autopilot in AutoML, taking advantage of our expansive range of preprocessing and modeling techniques. Comprehensive autopilot will run every single model in the repository for your project, taking as long as necessary to maximize accuracy when you need it most. And by using our new Get More Accuracy feature, you can always kick off autopilot in quick mode, with the ability to start a comprehensive autopilot run only after you've seen your initial results and without losing any of your original models. Comprehensive autopilot allows you to take full advantage of DataRobot's unmatched automation and parallelization.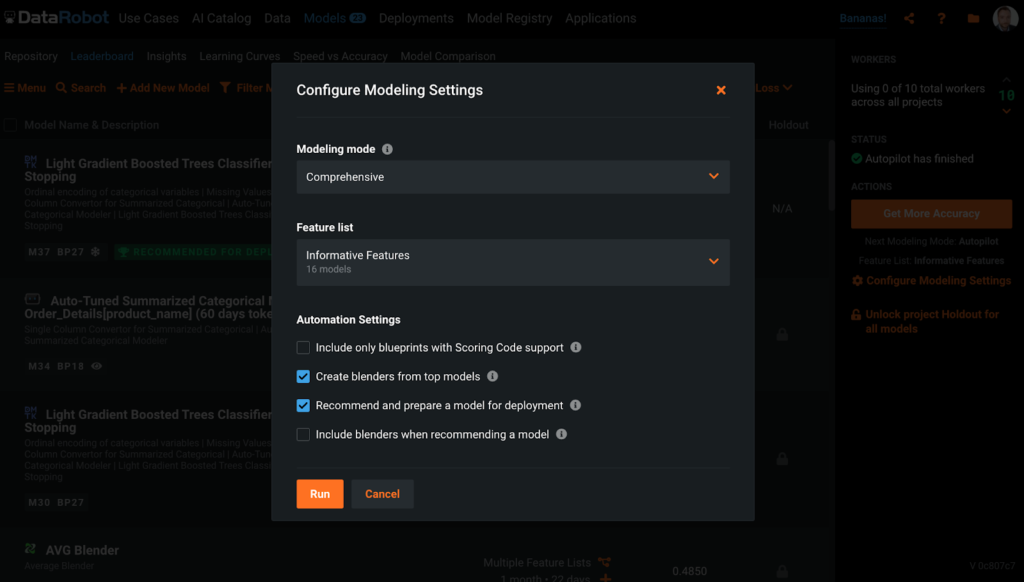 Anomaly Assessment Insights
See Root Cause of Unanticipated Events. Anomaly Assessment Insights are new in Automated Time Series 6.2. This new interactive visualization allows you to quickly investigate anomalies and anomalous regions in your data, and see SHAP scores for the underlying features causing the anomaly. This allows you to understand the root cause, as well as be able to explore all of your anomalies, panning through different time segments and zooming in to see the detail.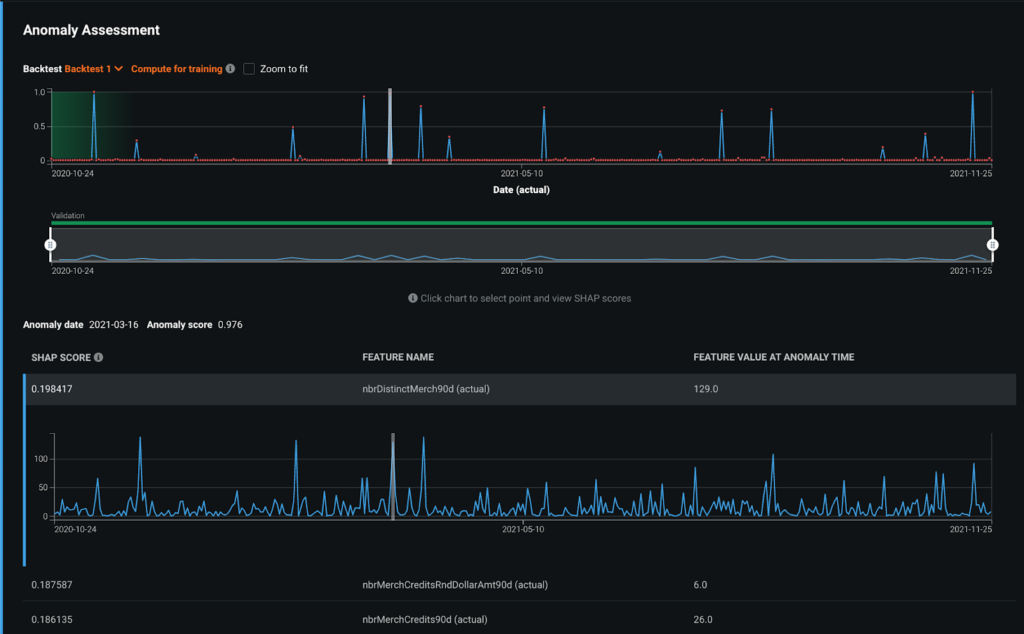 Model Comparison. Reimagined.
Accuracy and Value from Every Angle. The ability to compare models has taken a huge leap forward in Release 6.2. We worked with our most experienced data scientists to give you the best possible user experience where you can compare models and choose the best for deployment. We have enhanced the Lift Charts, ROC Curve, and Profit Curve, added support for more bins, and have added new tooltips to enhance overall ease of use.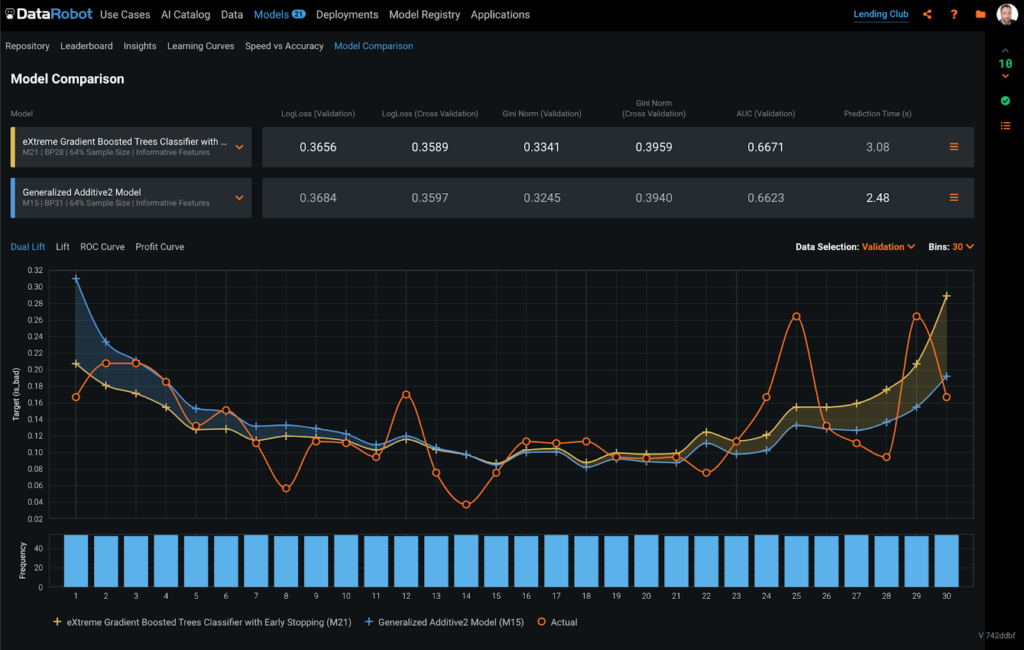 Governed Approval Workflows
Accountability For Your Production AI. In our latest release, we are introducing customizable governance policies and human-in-the-loop review and approval workflows into MLOps. This enables you to continue to quickly deploy and manage production models while at the same time increasing your overall level of AI governance across your organization. MLOps now provides full user accountability and a detailed audit trail for every event, such as the creation or replacement of a model or a request to change the importance level of a deployment.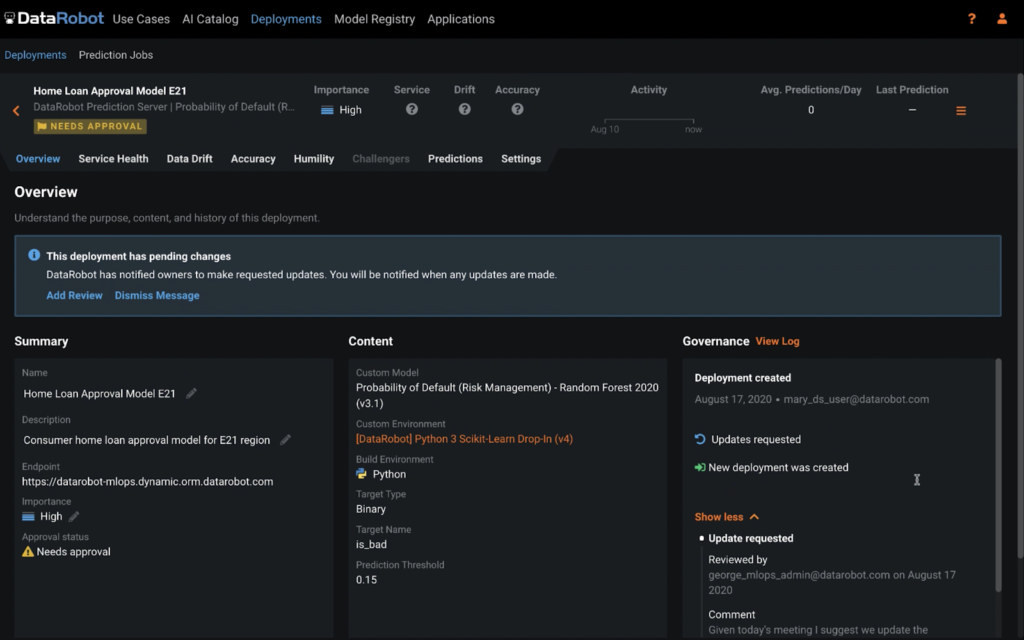 Connect to Remote Repositories
Embrace Your Ecosystem. Most data science teams govern and manage their models in popular open source code repositories. In Release 6.2, MLOps allows you to connect directly to your GitHub and S3 repositories and dynamically pull model code and model artifacts into DataRobot, making it simple to package, test, deploy, and monitor them in your production environment of choice.