Releases
DataRobot 6.0
Release 6.0 of the DataRobot takes enterprise AI to the next level. It is, by far, the most innovative and feature rich version in our history. DataRobot Visual AI brings image-based models to the Automated Machine Learning product. We've introduced a new suite of AI applications that turn your predictions into business decisions and added major enhancements to MLOps, Automated Time Series, and DataRobot Data Prep.
DataRobot Visual AI for Automated Machine Learning
Help Your AI See the Big Picture. In Release 6.0 of DataRobot, we are thrilled to announce a groundbreaking new capability in our Automated Machine Learning product. DataRobot Visual AI gives you the ability to easily incorporate image data into your machine learning models alongside tabular and text-based data types. This enables your organization to get value from computer vision, right away — all with the same DataRobot usability, workflow, visuals, and other UI features you know and love.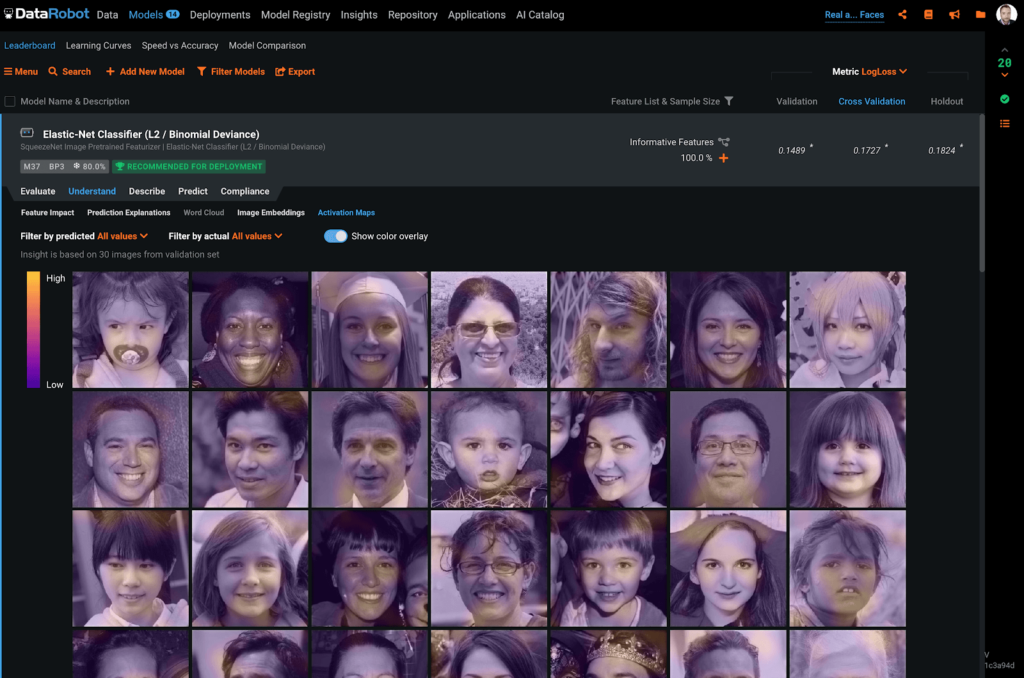 DataRobot AI Applications
Unlock the Value of AI Today. Many organizations struggle with getting the transformational power of AI into the hands of key decision makers. With AI Applications – new to Release 6.0 – any machine learning model can be turned into an AI Application, enabling anyone in your organization to interact with the predictive insight of the underlying model. Users get the power to experiment with different scenarios, predict results, and make more informed business decisions.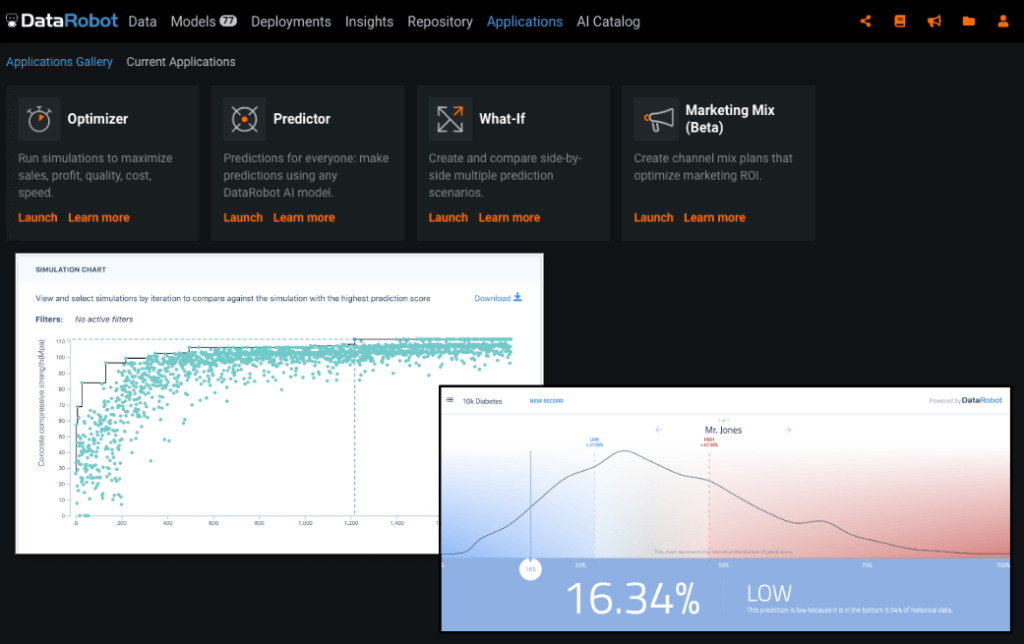 DataRobot Data Prep
AI-Assisted Data Preparation for Machine Learning. In Release 6.0, AI-assisted data preparation solution seamlessly integrates with the DataRobot AI Catalog to empower novice and expert users to rapidly explore, clean, combine, and shape data for training and deploying machine learning models and production data pipelines. Data science teams can collaborate, reuse, and share data sources, datasets, and recipes with full enterprise governance and security to ensure compliance with organizational policies.
DataRobot MLOps
Putting AI to Work in Production. Many data science projects can't generate value because they are not running in production. DataRobot MLOps gives you the ability to deploy, monitor, manage, and govern machine learning models in production environments. New in release 6.0 – pre-packaged model environments, so users can drag-and-drop model files and then deploy to Kubernetes; unlimited batch scoring with integrations to leading cloud storage options for massive scale; and MLOps Monitoring Agents that can capture metrics from models deployed to almost any environment, so you can finally see all your models in one place.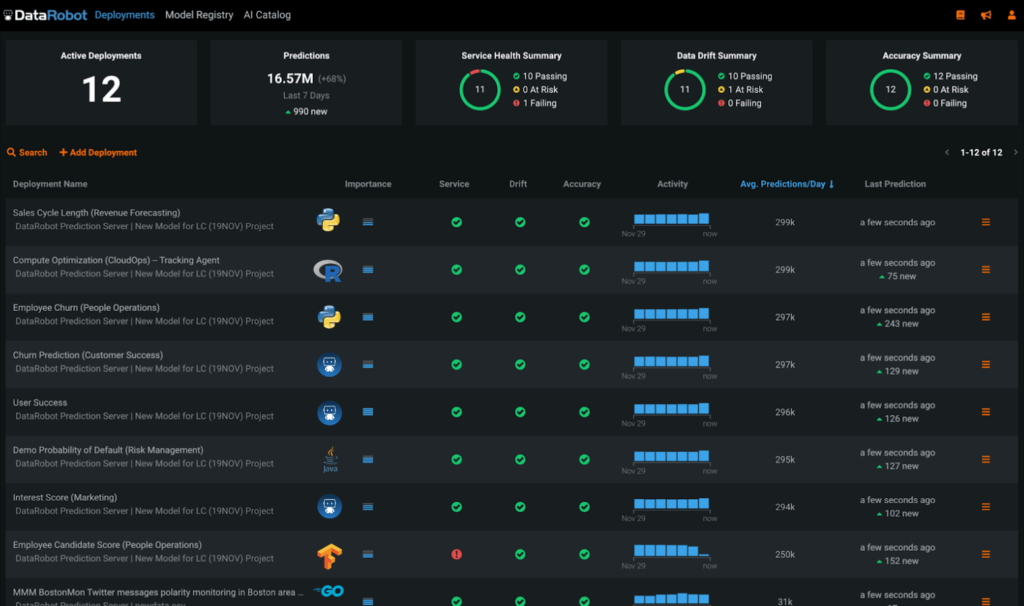 DataRobot Automated Time Series
Powerfully Purposeful Forecasting. To create a highly-accurate forecasts, DataRobot Automated Times Series, Release 6.0 brings absolute flexibility and uncompromising time-aware forecasting to the masses. New deep learning techniques, coupled with automated handling of real-world scenarios such as automated intra month seasonality, zero-inflated strategies, and ever-increasing datasets. In Release 6.0, Automated Time Series removes traditional forecasting barriers to make easy work of large-scale multi series forecasting applications, so you can do your greatest work.