Empower Your Organization to Use and Optimize AI
Many organizations struggle to get the transformational power of AI into the hands of their key decision-makers. As a result, they miss significant opportunities to better understand their customers, optimize processes, and drive to better outcomes.
DataRobot AI Applications gives your organization the ability to consume the output of their predictive models in a whole new way.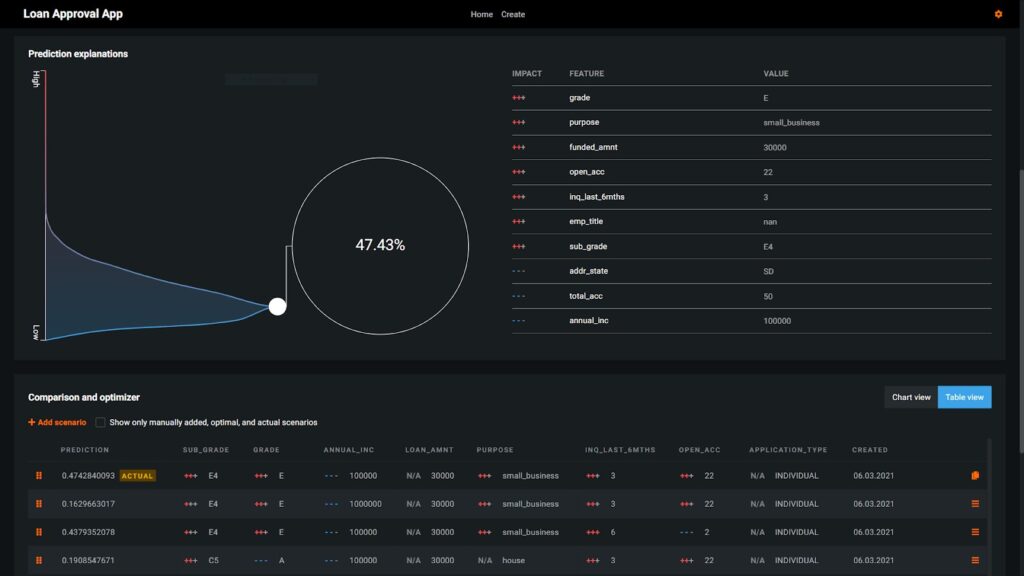 Benefits
Find, create, and share powerful AI-powered apps from any model in minutes.
Access All the Apps You Need
Browse apps that you or others in your organization created. Discover powerful machine learning applications to help get your job done quickly. Understand app owners, know when they were updated, and launch them in a single click.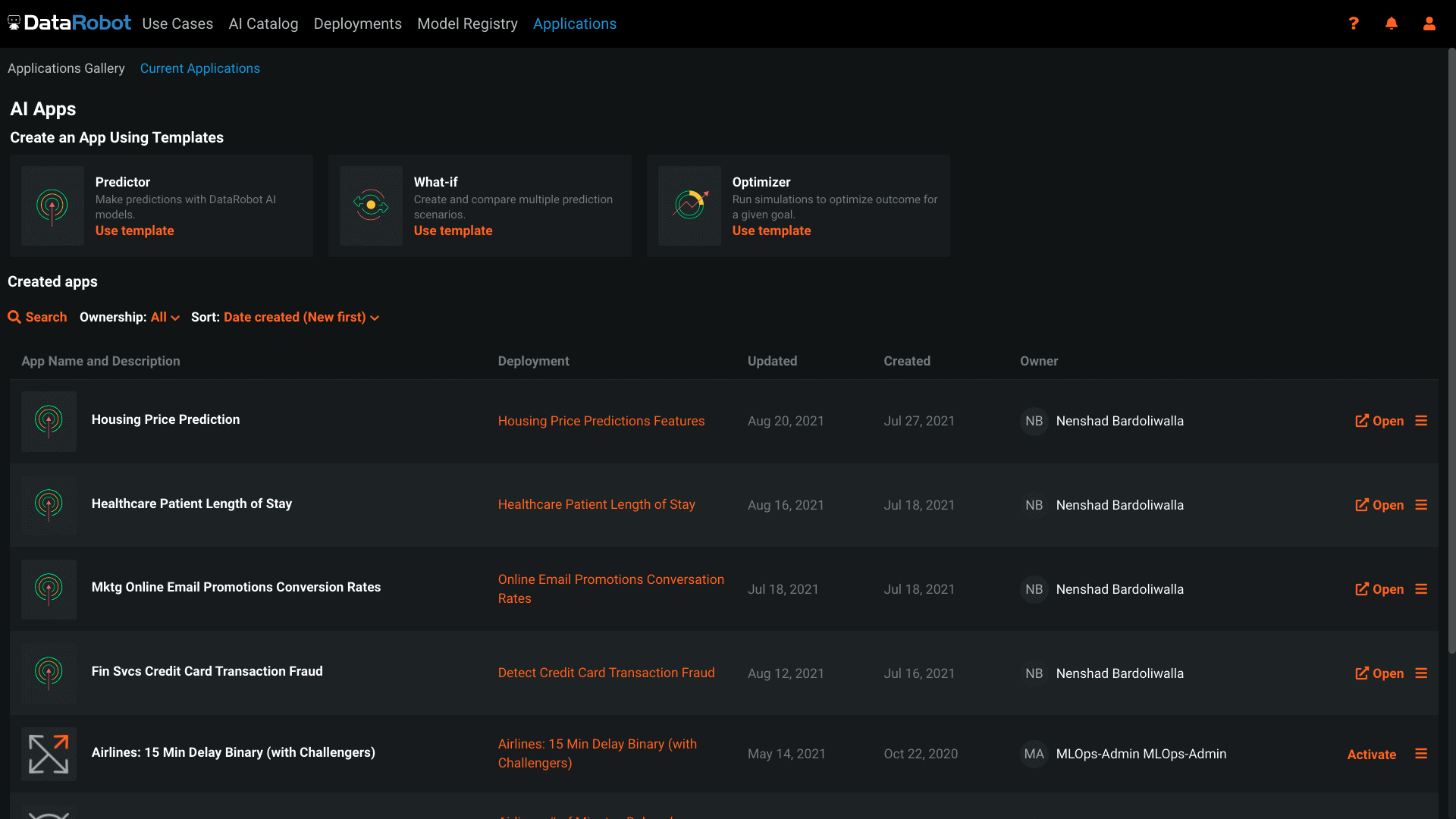 Time Series Predictor with No-Code AI Apps
AI-Powered forecasts at your fingertips. In DataRobot AI Cloud 8.0, we've extended our market leading Time Series capabilities to our No-Code AI Apps. With Automated Time Series, you can create robust, AI-driven forecasts using advanced algorithms, automation, and time-aware guardrails. You can then immediately deliver them to your front lines with flexible deployment options that natively embed AI-driven forecasts anywhere in your ecosystem. And now, with No-Code AI Apps, you can select any of your deployed Time Series models and build a fully customized AI Application with absolutely no coding required. Within the app, you can compare forecasts with actual values for new data, provide insights on prediction explanations over time, and dig deeper into the reasons driving each forecast. And thanks to the intuitive interface, you can quickly and effortlessly share insights with the key decision-makers who need them most.
By bringing Time Series to No-Code AI Apps, we get intelligent applications that are predictive to changing market conditions and adaptive to an ever-changing environment.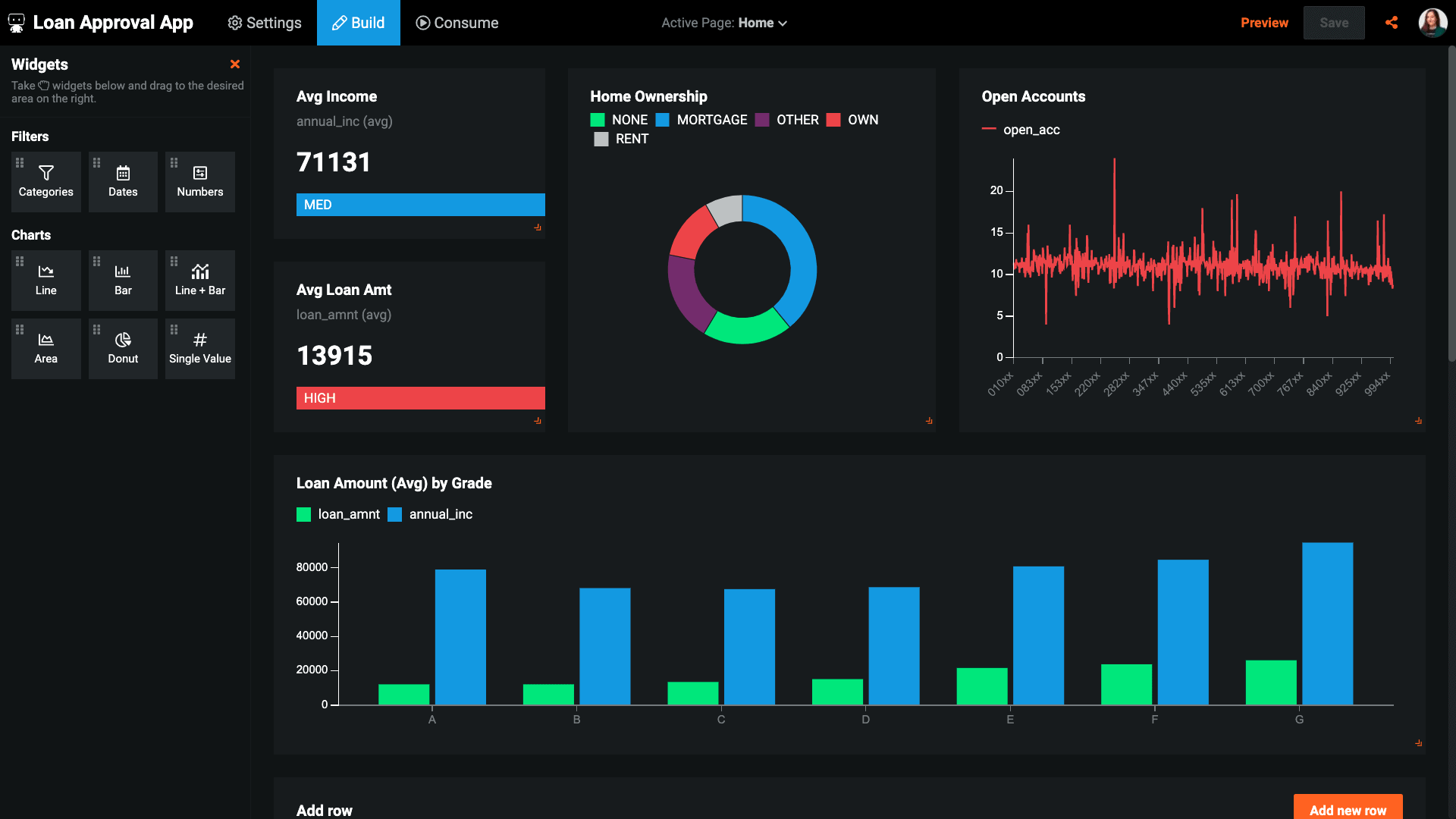 Share Insights Across Your Organization
Share AI apps with anyone in your ecosystem to drive consistent insights and better decisions. Secure authentication and role-based permissions ensure effective collaboration with individuals and groups, while allowing others to simply consume the results. Most importantly, you can also share outside of DataRobot's user base with the same level of security.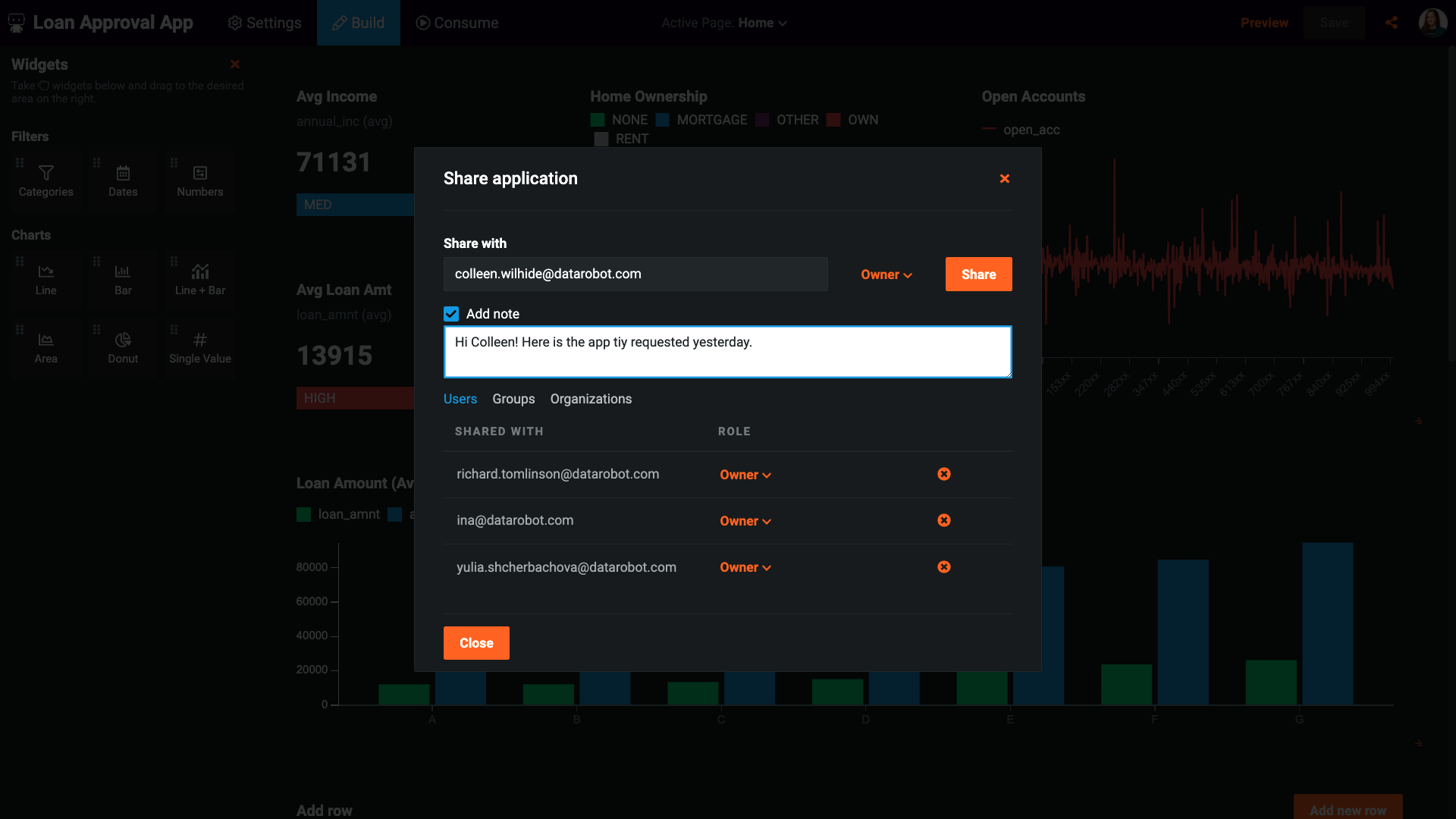 Features
Use AI applications in different ways to suit your specific use case.
Make New Predictions
Make predictions one at a time or make a large batch of predictions by importing a file. Compare predictions to historical results, view prediction explanations, and adjust input values to see how they impact the results.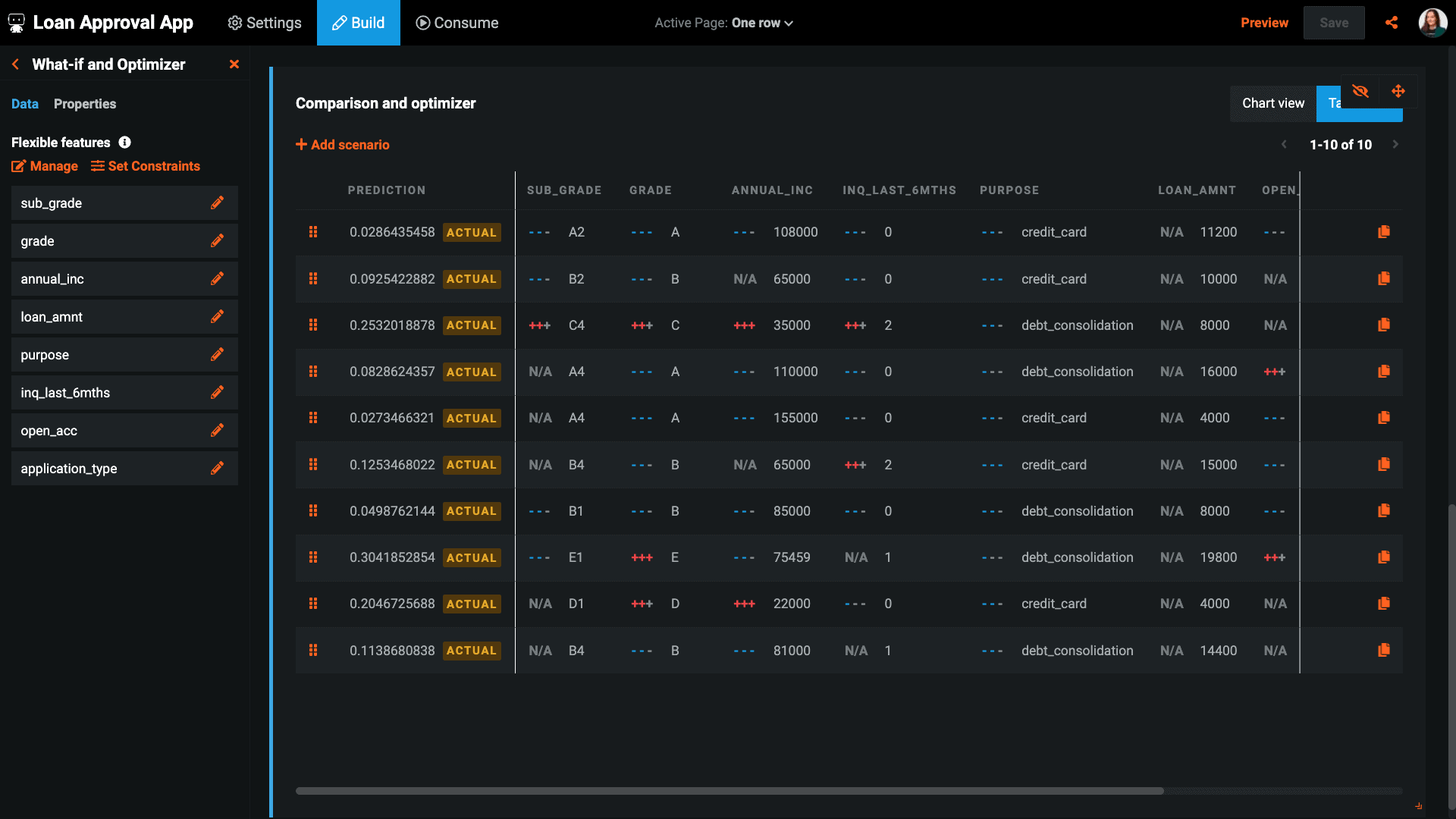 Perform What-If Analysis
Make a baseline prediction, then change one or more inputs to create new scenarios and compare them side-by-side. You'll be able to answer questions such as, "Do changes in the input value have the desired effect on the results?" Then, select the option that provides the best outcome.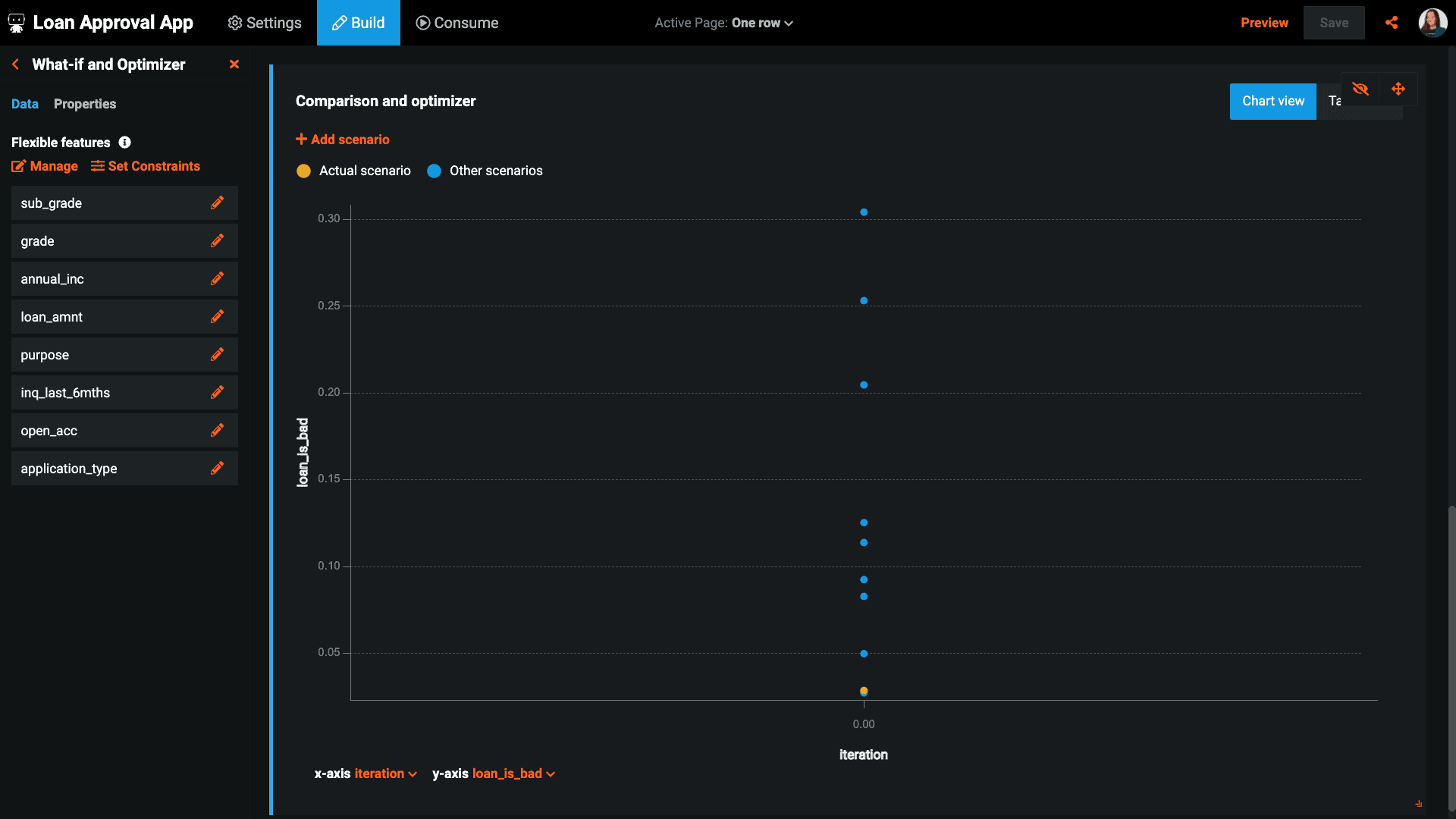 Optimize Desired Outcomes
Run hundreds of simulations to identify the ideal combination of input values to maximize your target outcome (e.g., sales, profit, quality, cost, or speed). Specify any constraint for the values to be optimized, apply filters to narrow down results, and easily identify the best scenario that works for you.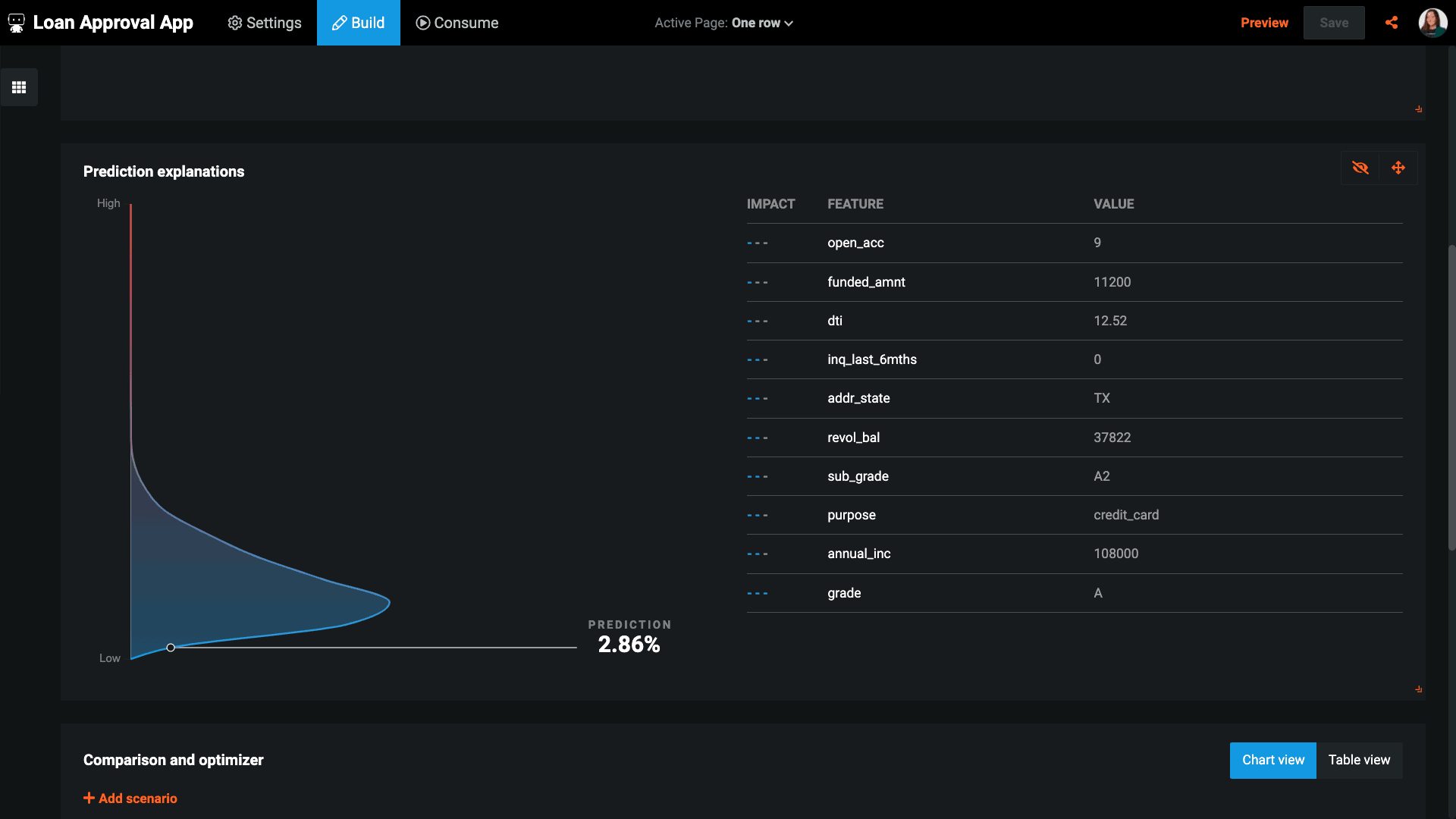 Accelerate the value of your AI with decision intelligence applications.