Today's market looks very different than it did in 2021 as global IPO activity hit an all-time high, when DataRobot pursued an aggressive growth strategy and expanded business operations in preparation for the public markets.
Since the beginning of the year our team has taken steps to adapt to changing market dynamics and put in place more cost discipline, including the workforce reduction in May. It's become clear that these earlier steps were not enough to make progress toward our targets and goals. This will require a different approach going forward, and additional change.
We brought the company together today to discuss a restructuring of the business and reduction of our global workforce. We're taking decisive action to reorganize the company to focus on our strengths — innovation and delivering value for our customers — and position DataRobot for long-term sustainable growth.
First, we're reducing operational expenses to create a more efficient and sustainable operating structure, including the difficult decision to make additional reductions to our workforce. These actions, coupled with our strong balance sheet, will give us years of runway and position us to make the necessary investments to capture the enormous market opportunity in front of us.
Second, we will continue to invest heavily in product innovation and customer success. DataRobot is a market leader in AI because of our innovative platform and our focus on helping our customers be successful with AI. Those will continue to be our top priorities.
Finally, we will be laser focused on execution. We're streamlining our leadership team and simplifying our organization to operate with more focus, agility, and faster decision making.
There will be difficult days ahead for our team, especially for those who are impacted. Our top priority is to ensure every member of our team is treated with compassion, fairness, and respect as well as financial support for impacted employees through this transition period.
I joined DataRobot six months ago because I wholeheartedly believe in the platform, our customers, and our mission to transform organizations with the power of AI. In these times, our customers need AI now more than ever. We've built our platform to help organizations across industries adapt faster to changing conditions, streamline operations, and more efficiently drive growth.
I'm confident that these changes will help us refocus on what sets DataRobot apart from the rest of the industry, and emerge as a stronger company for years to come.
About the author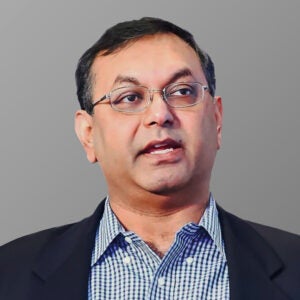 Debanjan Saha is the Chief Executive Officer (CEO) of DataRobot, where he is responsible for the expansion of DataRobot's AI platform, and the impact and innovation it delivers to customers globally. Debanjan joined DataRobot in February 2022 as President and Chief Operating Officer (COO). Debanjan is a visionary technologist with twenty years of product, engineering and operational leadership experience at some of the most successful technology companies in the world, including Google, Amazon Web Services and IBM. Debanjan is also co-author of over 50 patent applications, serves as a Fellow of the Institute of Electrical and Electronics Engineers (IEEE) and is a Distinguished Member of the Association for Computing Machinery (ACM). He lives in the San Francisco Bay Area, CA, with his family.
Meet Debanjan Saha
Subscribe to DataRobot Blog
Thank you
We will contact you shortly
Thank You!
We're almost there! These are the next steps:
Look out for an email from DataRobot with a subject line: Your Subscription Confirmation.
Click the confirmation link to approve your consent.
Done! You have now opted to receive communications about DataRobot's products and services.
Didn't receive the email? Please make sure to check your spam or junk folders.
Close