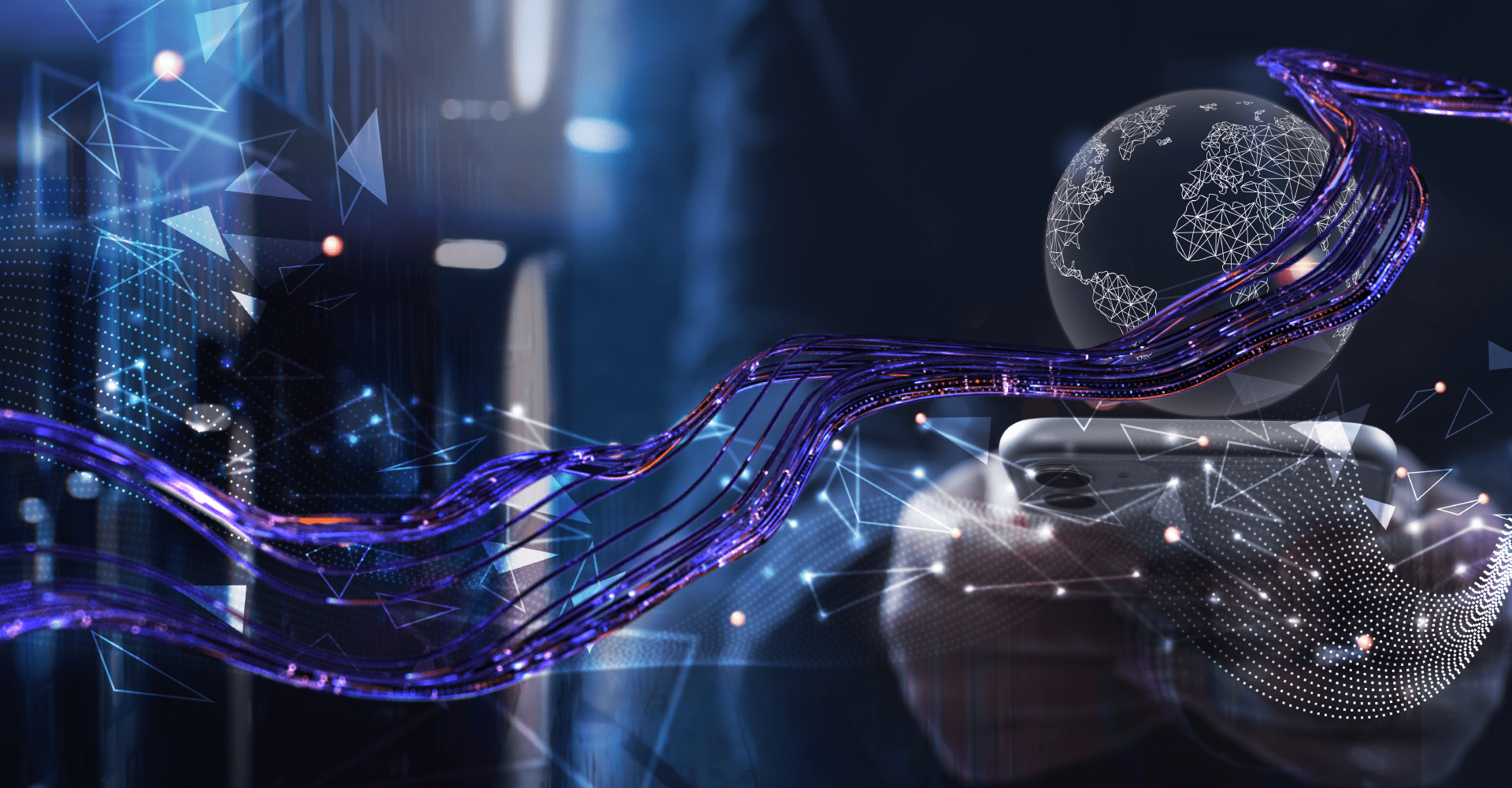 No-Code AI Apps: Reliable Insights, Even in Uncertain Times
No-Code AI Apps: Reliable Insights, Even in Uncertain Times
In today's ever-changing market, planning for the future of your business is not only more important than ever, but also more difficult than ever. The last few years have been filled with uncertainty, across all organizations and industries.
Luckily, there's a solution–DataRobot's No-Code AI Apps makes planning and preparing for the future of your business easily and quickly achievable. By using reliable insights–built from your deployed DataRobot AI models–you can help your business make informed decisions. These insights can empower you to address mission critical needs, whether that's forecasting demand, simulating scenarios to mitigate potential supply chain disruptions, optimizing staff allocation for ER shifts, or predicting who's most likely to default on a loan.
AI Apps aren't just powerful business tools, they are also specifically designed so that any user, regardless of their technical expertise, can quickly turn a deployed model into a rich AI application thanks to a platform that requires no coding. This means that any predictive model can become an AI app in minutes, putting the power of DataRobot directly in the hands of your front line decision-makers.
Time Series Predictor Support
Leveraging the new Time Series Predictor support in No-Code AI Apps, now available in 8.0 release, let's walk through a sales demand forecast use case.
While the need to accurately forecast demand has always been a common use case, during a time of unprecedented historical events, doing so correctly has even greater implications and importance.
Let's say you own multiple grocery stores and want to forecast demand for each store during the pandemic based on the needs of the community. Although the predictions you receive from your trained models are helpful, the insights you gather from them to drive decisions are arguably more so.
Time Series Predictor applications allow you to easily build out multiseries and single series projects, meaning in the above use case, you can use an AI App to seamlessly maneuver between various stores, pinpointing differences among the locations to accurately deliver inventory for varying demands. Time series charts also display calendar events, so if there's a holiday, sales event, or new mandate announced that might drive customers to stock up on groceries, you can plan ahead and properly provide for customers when they need it the most. Additionally, you can quickly navigate between multiple time unit resolutions–giving you the ability to explore forecasts annually or all the way down to the hour–compare forecast vs. actuals for new data, and view Prediction Explanations over time.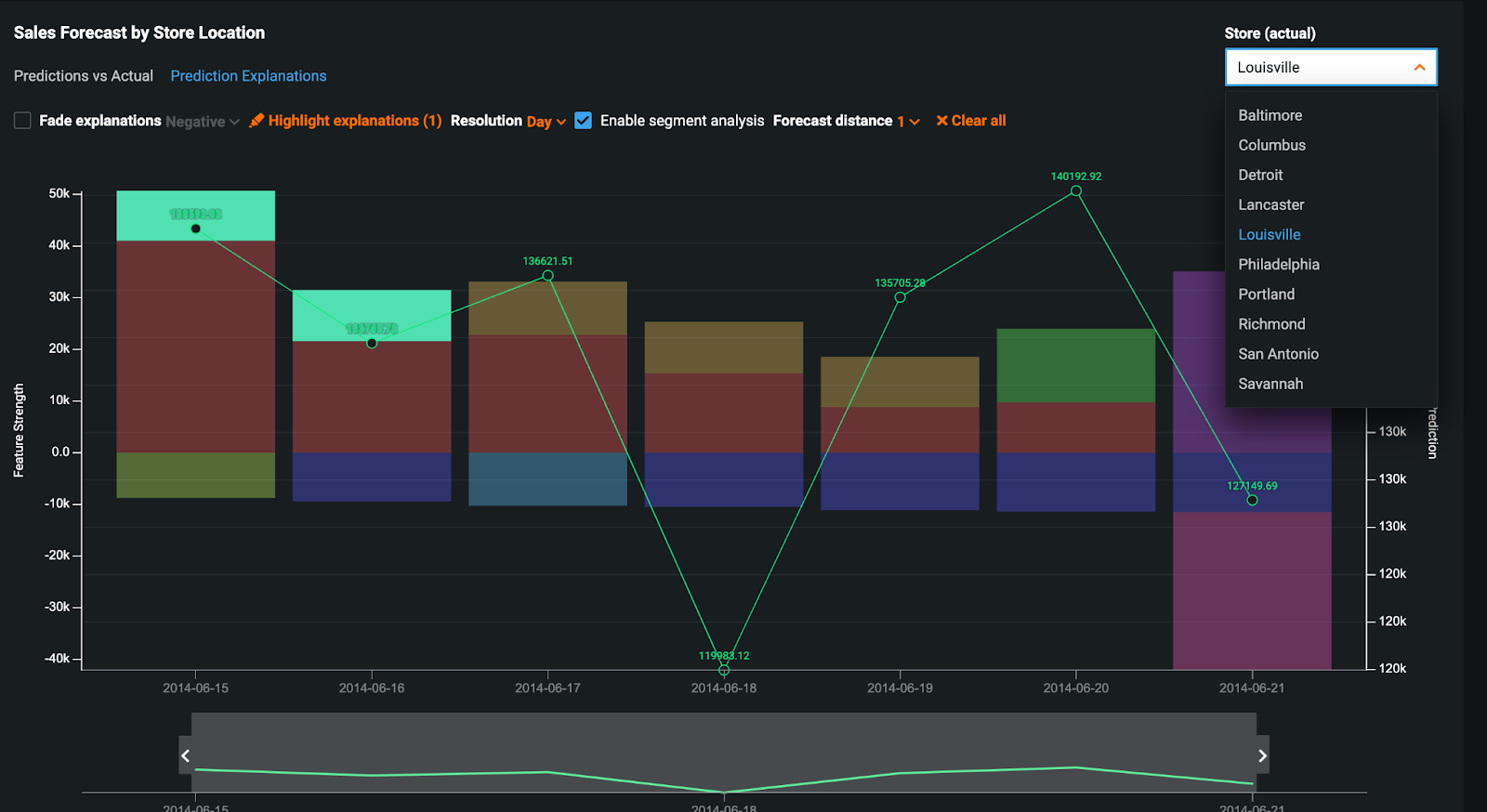 Known-in-advance features–features that do not change, like store location or holidays–can be utilized in Time Series applications if set during project creation, allowing you to dig into accurate aggregations for Prediction Explanations or predicted vs. actuals, depending on the resolution selected. You even have the ability to investigate forecast distance insights via the segmented analysis feature.
Geospatial Support
Another highlight of the 8.0 release is the addition of geospatial support in AI Apps. You can now generate predictions using a dataset with location features and expand those features in the Manage Feature and Constraints models, as well as view a unique map of the training data. Use these maps to make predictions by highlighting areas of interest.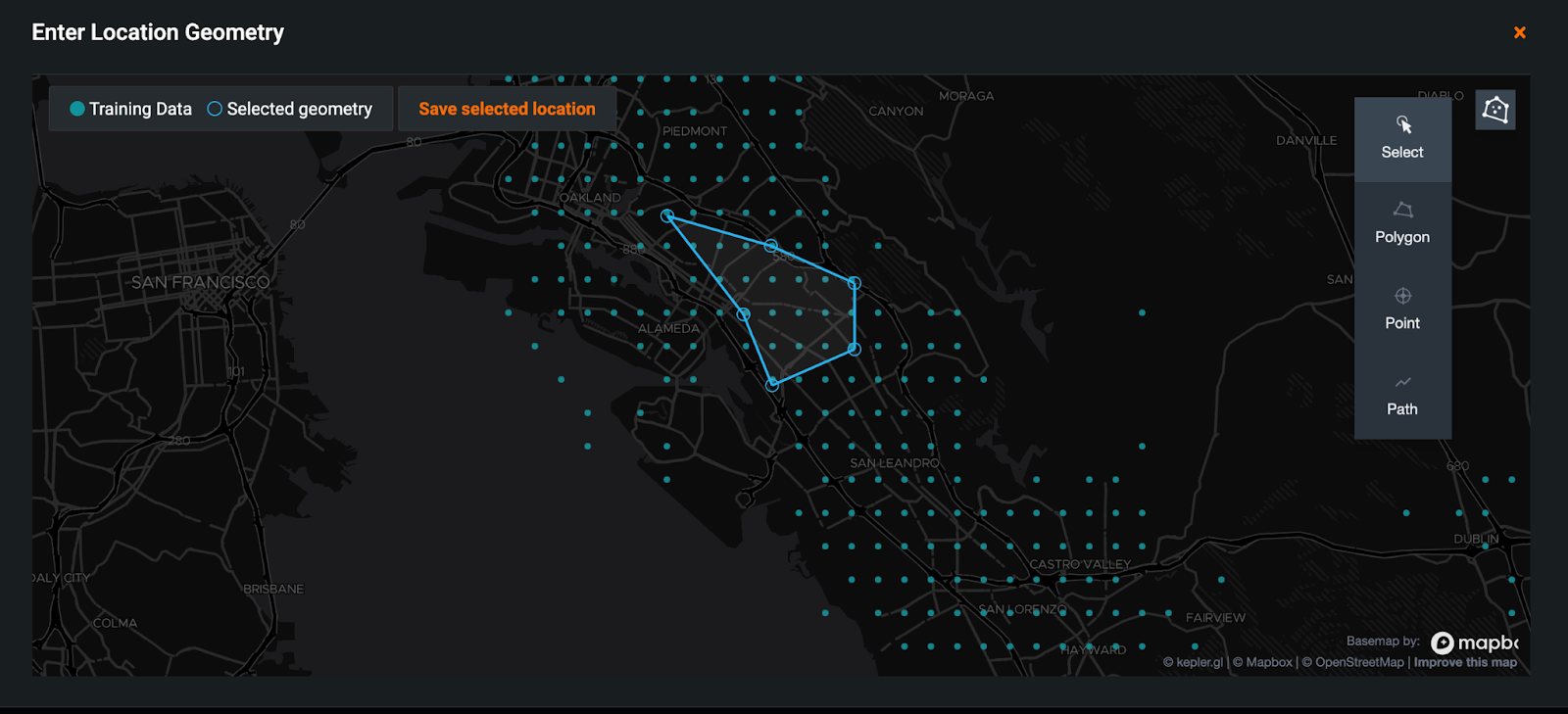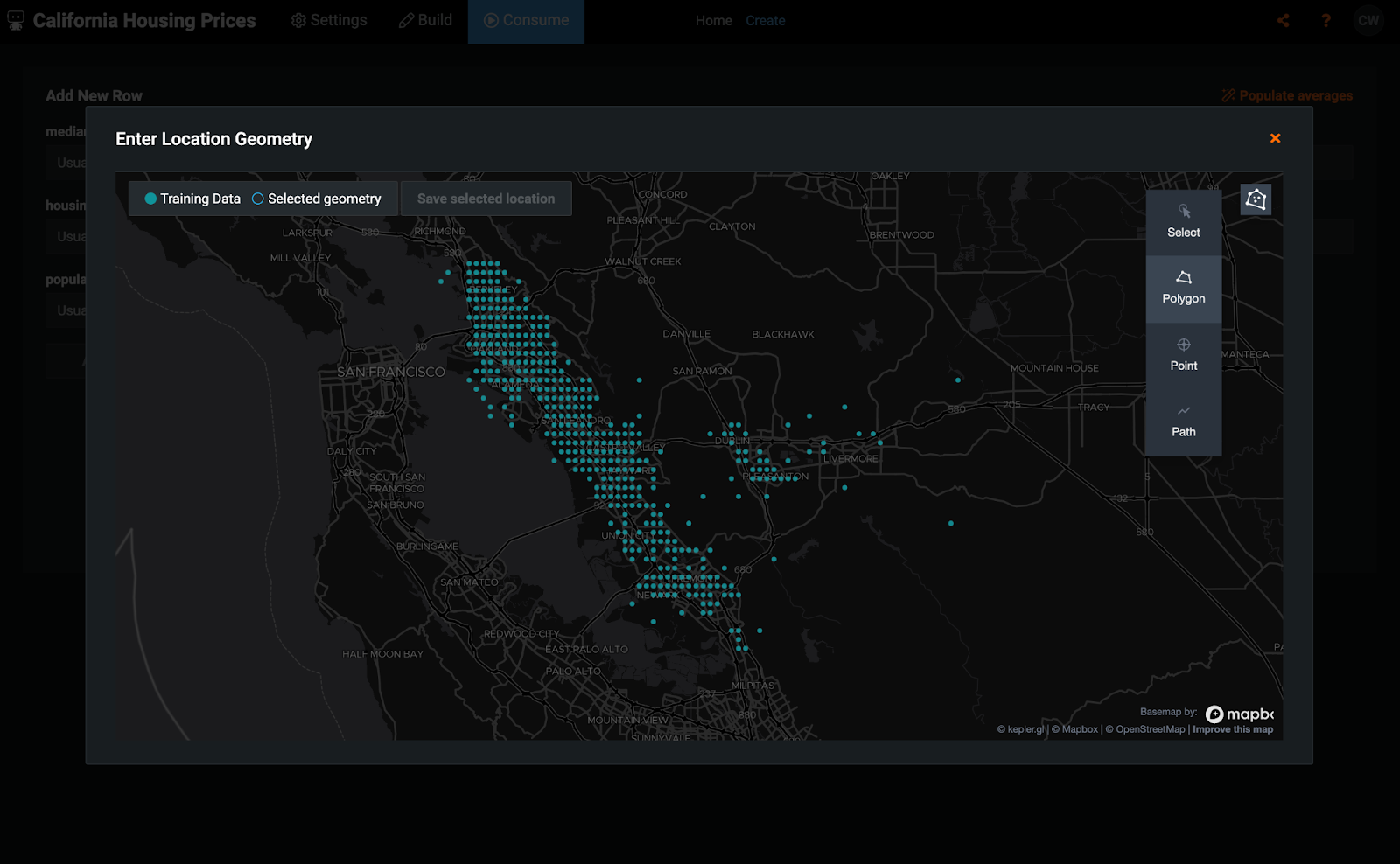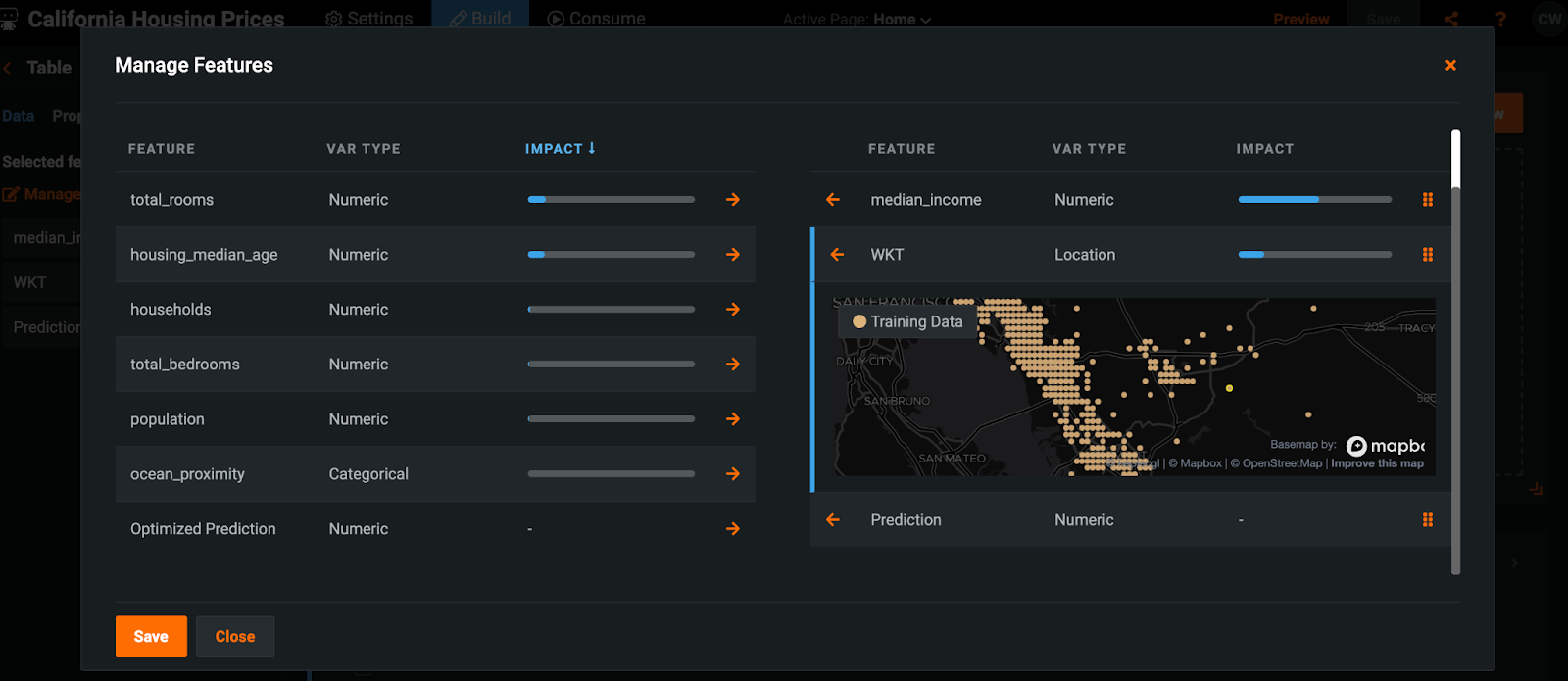 Duplicate App
The 8.0 release also adds the ability to easily duplicate AI Apps. Let's say you're part of the East Coast region of your organization's store locations, and one of the stores in that region created an application invaluable to their success by leveraging chart widgets configurations and optimization settings, that you, as another store location also within the East Coast region, want to replicate, but with your local prediction data. With our new duplicate apps feature, you can do just that–within seconds.
Simply open the application menu, click Duplicate, and choose whether or not to port over any existing predictions.

Regardless of how the original owner used the predictions in their decision-making, all chart configurations and names are duplicated in the new app. In the scenario above, you wouldn't port over predictions because you'll eventually want to upload your own local data; however, in the meantime, you can begin iterating on existing chart configurations without affecting the original application.
Intuitive Interface
The intuitive interface makes consuming insights, Time Series or otherwise, effortless using the various AI App charts, visualizations, optimizations, what-if scenarios, and more. With straightforward, customizable drag-and-drop components, you can customize an application to meet your specific needs. For example, you can choose which features to input and display in the UI, the scenarios you want end-users to explore, and visual insights that support the decision-making use case. And because AI Apps are so simple to socialize within the business community–thanks to a variety of sharing options–scaling insights to drive AI-powered decisions is easier than ever before.
Get Started with No-Code AI Apps Today
If you already have DataRobot, you can get started with No-Code AI Apps Time Series support right away. The new capability is a part of our 8.0 release and is available for all editions and all deployment options on-premise and in the cloud. 
No-Code AI Apps works with your existing models and deployments and is accessible via the DataRobot UI along the top level navigation. No additional licenses are required to get started – just enable the feature in your settings.
In the DataRobot Community, find videos and articles that explain No-Code AI Apps in more detail and help you build your first application. Contact us to request a personal demo.
About the author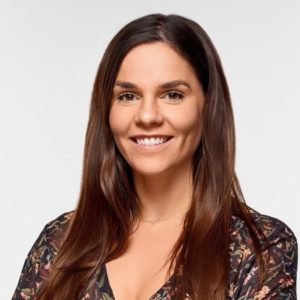 Colleen Wilhide is a Senior Product Manager on the DataRobot Business Operationalization team. Prior to joining DataRobot, Colleen worked for the Department of Defense supporting the acquisition lifecycle before later focusing on research and development, product performance, and risk analysis. Currently, Colleen works with clients across industries to continuously advance business performance by leveraging machine intelligence, helping provide business users of all skill levels the machine learning capabilities and inputs needed to improve operational decision-making. Colleen holds a BA from the University of Connecticut.
Meet Colleen Wilhide
Subscribe to DataRobot Blog
Thank you
We will contact you shortly
We're almost there! These are the next steps:
Look out for an email from DataRobot with a subject line: Your Subscription Confirmation.
Click the confirmation link to approve your consent.
Done! You have now opted to receive communications about DataRobot's products and services.
Didn't receive the email? Please make sure to check your spam or junk folders.
Close