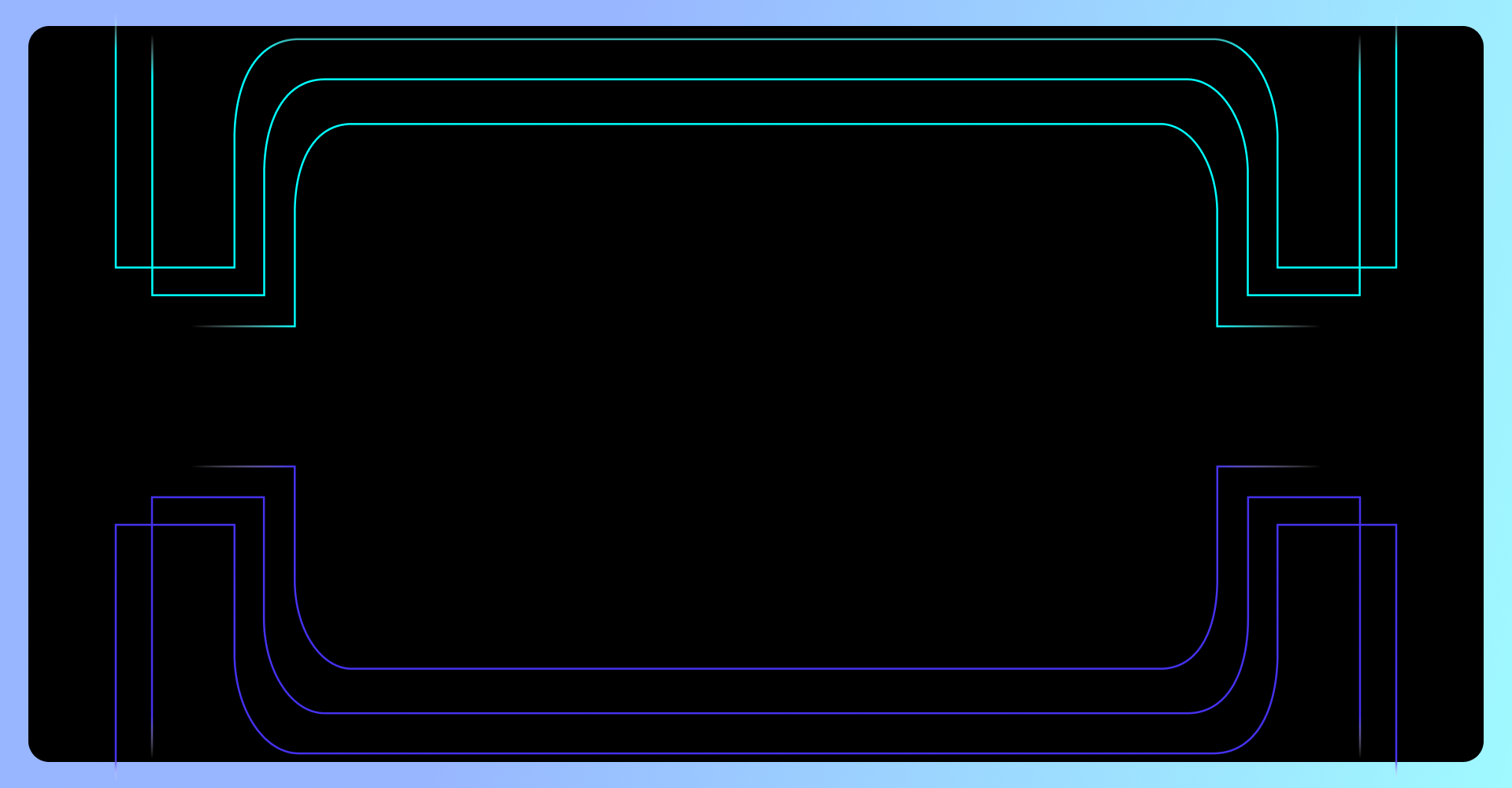 Closing the Generative AI Confidence Gap with DataRobot
Closing the Generative AI Confidence Gap with DataRobot
Generative AI holds immense promise – but only if and when you can feel confident about putting it into production. And after our summer release we clearly heard and saw that many of you are struggling to build, deploy, manage, and operationalize models responsibly due to a lack of transparency and governance. This is what we have identified as the confidence gap which is a roadblock for most organizations and end users on their path to harnessing the power of generative AI solutions.
But we don't shy away from the hard problems with AI. Which is why our new Fall Launch addresses the confidence gap head-on, empowering enterprises to deploy generative AI. The new capabilities allow you to operate AI with correctness and control, govern with full transparency and oversight, and build rapidly with flexibility, with the assurance you need to feel confident putting these solutions into practice. Our robust platform empowers practitioners to rapidly experiment, maintain oversight, and operationalize high-quality generative AI solutions.
Since clear insights and model performance alerts ensure high quality responses, operating with correctness and control becomes possible, allowing you to reliably and assuredly get your generative AI solutions into production. With the new capabilities of the DataRobot AI Platform, you can now continuously monitor performance to ensure real-time observability of deployed models through our unified AI Console. Custom alerts and metrics identify issues proactively, increasing the overall trust in your generative AI solution. Features like Generative AI Guard models score every output for completeness, relevance, and confidence. Coupled with human feedback loops, this ensures that the model's outputs stay on track over time. When the ongoing monitoring surfaces anomalies, our platform enables immediate intervention to address problems before any downstream impact occurs to maintain operational control.
As generative AI expands, cross-functional coordination becomes imperative but increasingly challenging. DataRobot helps you govern with full transparency and oversight by enabling and facilitating greater collaboration. The unified AI Registry catalogs all models and projects from across your organization in one place, enabling greater coordination, model lineage transparency, and, thus, better overall governance.
The Workbench centralizes in-flight projects so nothing falls through the cracks. With holistic visibility, DataRobot allows seamless collaboration across data teams, developers, IT, and business users. Granular analytics around generative prediction spend also facilitates financially responsible innovation by providing continuous cost visibility. With robust visibility into model portfolios and spending, DataRobot empowers leaders to govern generative AI in an informed, measured manner.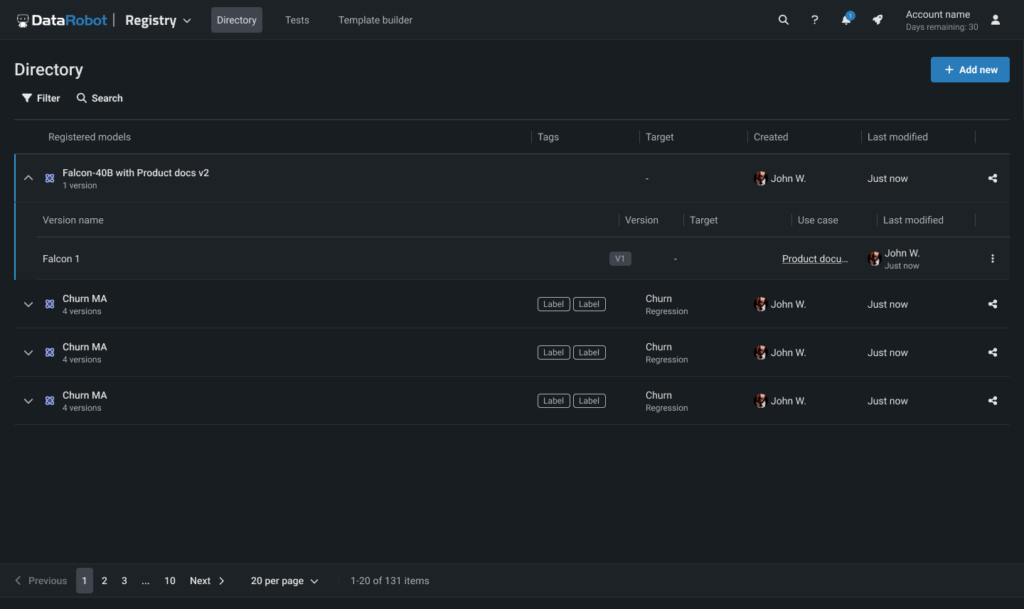 Experimentation and optionality are crucial to ride the generative AI innovation wave.​​ This can help organizations stay ahead of the curve by being competitive, mitigate vendor risks, and customize solutions for unique use cases.
By allowing organizations to build rapidly with optionality, DataRobot empowers fearless innovation both now and into the future with robust visual experimentation capabilities and support for leading models.
Our Multi-Provider LLM Playground is the first-of-its-kind visual comparison interface with out-of-the-box access to external LLM services, including Google PaLM, Azure OpenAI, AWS BedRock, as well as the option to bring your own, custom models.
The Playground allows you to easily compare and experiment with different generative AI 'recipes' that may include any combination of foundation models, vector databases, and prompting strategies tailored to your needs. And with the freedom to continuously adopt cutting-edge advances as they emerge, you can deliver impactful models at unmatched speeds without being locked into any single technology ecosystem.
To further boost the velocity of your generative AI experiments, our AI Accelerators with expert-designed templates allow you to kickstart generative AI projects and dramatically shorten time to value.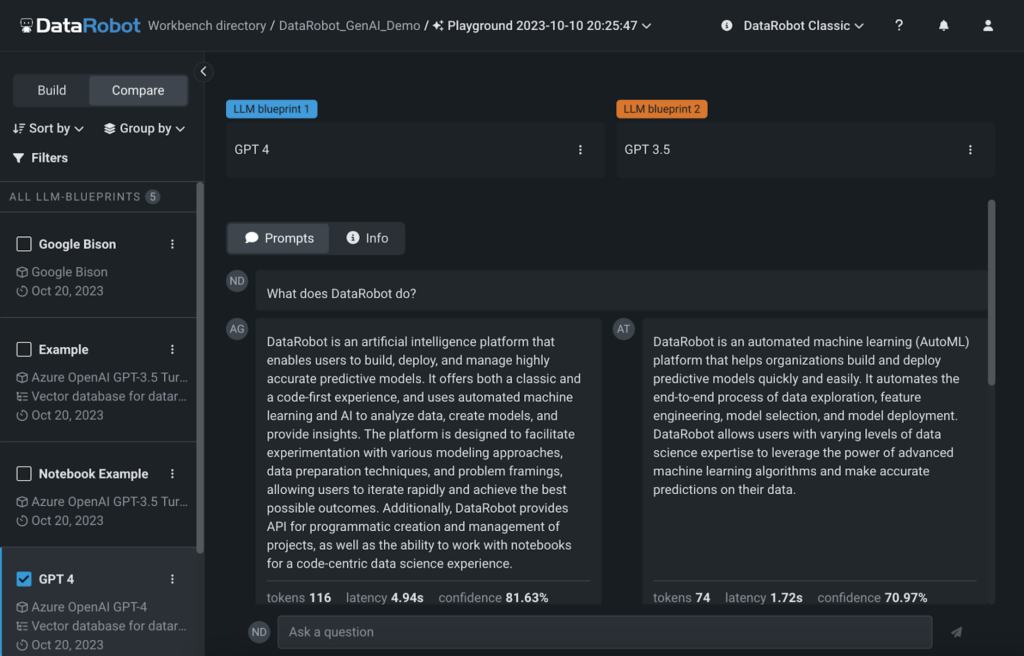 We help organizations continuously accelerate generative AI development and augment their ecosystem with turnkey building blocks and seamless integrations. Our library of expert-designed Generative AI Accelerators helps you kickstart development by packaging proven reusable code snippets.
These Accelerators can help you extend foundational models with proprietary data for security, build a RAG application, add custom metrics, monitor models, or embed your generative AI solution into a communications app. These readymade templates enable rapid time-to-value.
We also complement your existing tech stack by allowing you to easily leverage existing enterprise messaging tools like Slack and Microsoft Teams to host your generative AI solutions and facilitate user adoption. Integrations with Databricks and BigQuery reduce data wrangling time. With domain expertise encoded into reusable accelerators and ecosystem interoperability, DataRobot is the fastest path to generative AI impact. Our robust library of prebuilt capabilities and complementary ecosystem integrations empower enterprises to jumpstart delivery and maximize results.
The generative AI opportunity is immense, but realizing it requires the right platform. DataRobot helps you operate AI with correctness and control, govern with full transparency and oversight, and build rapidly with flexibility to quickly put any generative AI solution into production. Our robust support for state-of-the-art foundation models empowers you to deliver high-impact solutions today while retaining the flexibility to innovate boldly into the future.
Getting Started
Experience generative AI success for yourself – start a free trial today to build, operationalize, and govern generative models with confidence with Datarobot.
Our experts are also available for 1:1 tailored demonstrations showing how DataRobot can empower your specific AI initiatives. Book a demo for a deep dive into how our new Generative AI offerings can help you propel ahead.
The generative journey is just the beginning. We look forward to partnering with you to maximize results and uncover new opportunities. Let's realize the full potential of generative AI together.
About the author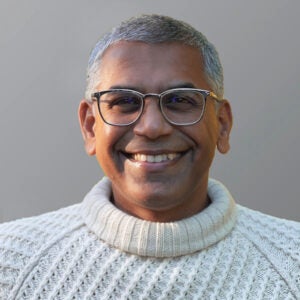 Venky Veeraraghavan leads the Product Team at DataRobot, where he drives the definition and delivery of DataRobot's AI platform. Venky has over twenty-five years of experience as a product leader, with previous roles at Microsoft and early-stage startup, Trilogy. Venky has spent over a decade building hyperscale BigData and AI platforms for some of the largest and most complex organizations in the world. He lives, hikes and runs in Seattle, WA with his family.
Meet Venky Veeraraghavan
Subscribe to DataRobot Blog