Building a More Intelligent Tomorrow
Join the hosts and creator of the More Intelligent Podcast to discuss the launch of their new media site, MoreIntelligent.ai, how the podcast is made, and why exploring what makes a more intelligent tomorrow is such a critical conversation.
Guests
Kaplan is a leading figure in data science, sports analytics, and business leadership. High profile roles include creating the Chicago Cubs analytics department, President of the investigation into the fate of Holocaust hero Raoul Wallenberg, and President Emeritus of the worldwide Oracle User Group.
Taylor started working for Intel/Micron in semiconductor where he spent 5 years. After that, he worked for a hedge fund as a quantitative analyst before joining Sequoia-backed HireVue as their Chief Data Scientist. Taylor co-founded Zeff.ai in 2017 which was acquired by DataRobot in 2020.
Keynote speaker, tech evangelist and podcast host Dave Anderson is a unique talent with a refreshing perspective. With expertise running marketing in Europe and the US, including successfully leading NYSE listed DT to an IPO in 2019, he has returned home to Australia to evangelise AI disrupter DataRobot.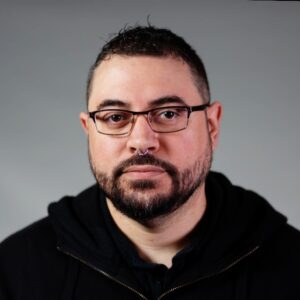 VP, Storytelling & Creative
Half Dominican, Half Northern European and All American. Professional Storyteller. Amateur Deep Thinker. Dharma Initiative Founder. As VP of Storytelling & Creative at DataRobot, Michael leverages over 2 decades of experience discovering and delivering authentic stories. Amidst side journeys as on-air radio talent (WFNX/Lynn, KUCD/Honolulu) and on-set production technician (ABC TV's Lost), Michael has spent the majority of his career creating thousands of videos as a Producer, Director, Writer, Editor and more. Michael now leads a world class in-house Creative team at DataRobot responsible for all Brand, Design, Video and Animation efforts. After being introduced to an Apple IIe in his elementary school, a lifelong fascination with computers and technology ensued. Now, as a founder and Executive Producer of the More Intelligent Tomorrow podcast, Michael has a firm belief that we all have a role to play in driving responsible use of increasingly powerful technological solutions that are quickly taking over our world.