Machine Learning Operations (MLOps)
One place to deploy, maintain, and govern all your production models, regardless of how they were created and where they are deployed.
Your Center of Excellence for Production AI
In a volatile world, your machine learning models can turn quickly from assets into liabilities. When faced with conditions not encountered in the training data, your models will make inaccurate and unreliable predictions that will undermine consumer trust and introduce risk to the business. Additionally, most machine learning deployment processes today are manual, complex, and span data science, business, and IT organizations, impeding the rapid detection and repair of model performance problems. In order to maintain current levels of AI adoption and scale in order to take advantage of new opportunities, every organization needs a better way to deploy and manage the lifecycle of all their production models holistically across the enterprise.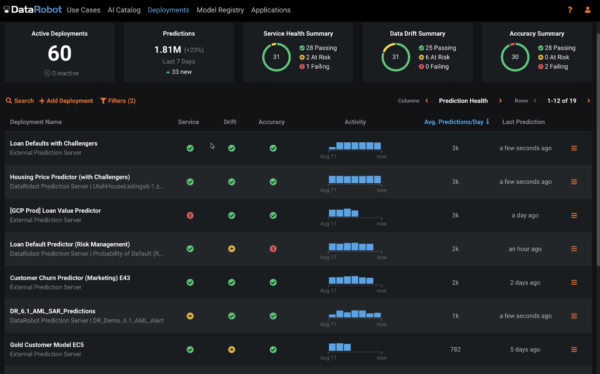 DataRobot MLOps provides a center of excellence for your production AI. This gives you a single place to deploy, monitor, manage, and govern all your models in production, regardless of how they were created or when and where they were deployed. MLOps improves the overall quality of your models, using advanced automated machine learning health monitoring and accommodates changing conditions via continuous automated model competitions (aka 'Champion/Challenger' mechanisms). It also ensures that all centralized production machine learning processes work under a robust governance framework across your organization, leveraging and sharing the burden of production model management with the teams you already have in place.
Build and Run Your Models Anywhere
With MLOps, you can deploy any model to your production environment of choice. This can be any cloud platform, on-premise data center, or hybrid environment. By instrumenting MLOps monitoring agents, you can add monitoring in place to any existing production model already deployed. This provides live updates on behavior and performance from a single and centralized machine learning operations system. MLOps makes it easy to deploy models written in any open-source language or library and expose a production-quality, REST API to support real-time or batch predictions. MLOps also offers built-in, write-back integrations to systems such as Snowflake and Tableau.
Automated Model Health Monitoring and Lifecycle Management
MLOps provides constant monitoring and production diagnostics to improve the performance of your existing models. Automated best practices enable you to track service health, accuracy and data drift to explain why your model is degrading. You can build your own challenger models or use our industry-leading Automated Machine Learning product to build them for you and test them against your current champion model. This process of continuous learning and evaluation enables you to avoid surprise changes in model performance -- a situation becoming only too familiar in today's dynamic and highly volatile world.
Embedded Governance, Humility, and Fairness
MLOps establishes a framework in which you can maintain discipline and control over your AI projects across your entire organization. Using the MLOps Humble AI feature, you can define rules that provide real-time guardrails to ensure that every prediction is reasonable and within the normal range of expectations. MLOps also establishes regulatory compliance and reduces risk through customizable governance policies and review and approval workflows by preserving a full history of prediction activity and model updates. This means you always know what models have been created, how they are used, and when they were updated.

Want to learn more about MLOps?