Notebooks de data science pour les utilisateurs code-first
L'IA est un sport d'équipe qui met l'analytique à la disposition des business analysts, de l'IT et d'autres fonctions de l'entreprise. Plus de 30 % des data scientists travaillent dans une équipe qui compte au moins dix experts en data science, et chacun a sa préférence en matière d'outils et de langages. Les organisations ont besoin d'un environnement unifié qui offre des expériences axées sur le code et des fonctionnalités de niveau entreprise qui peuvent être déployées partout et à grande échelle. Diffusez la puissance de la plateforme DataRobot AI Cloud aux experts data scientists qui aiment coder.
Une expérience intégrée avec un impact réel sur l'entreprise
Permettre à votre équipe de créer des notebooks de data science avec flexibilité et contrôle grâce à la puissance de la plateforme DataRobot AI Cloud. Réduire des centaines de lignes de code, automatiser les tâches répétitives inhérentes à la data science et customiser le code en fonction des besoins de votre entreprise. Innover et tester rapidement afin d'obtenir des résultats uniques à partir de n'importe quelles données.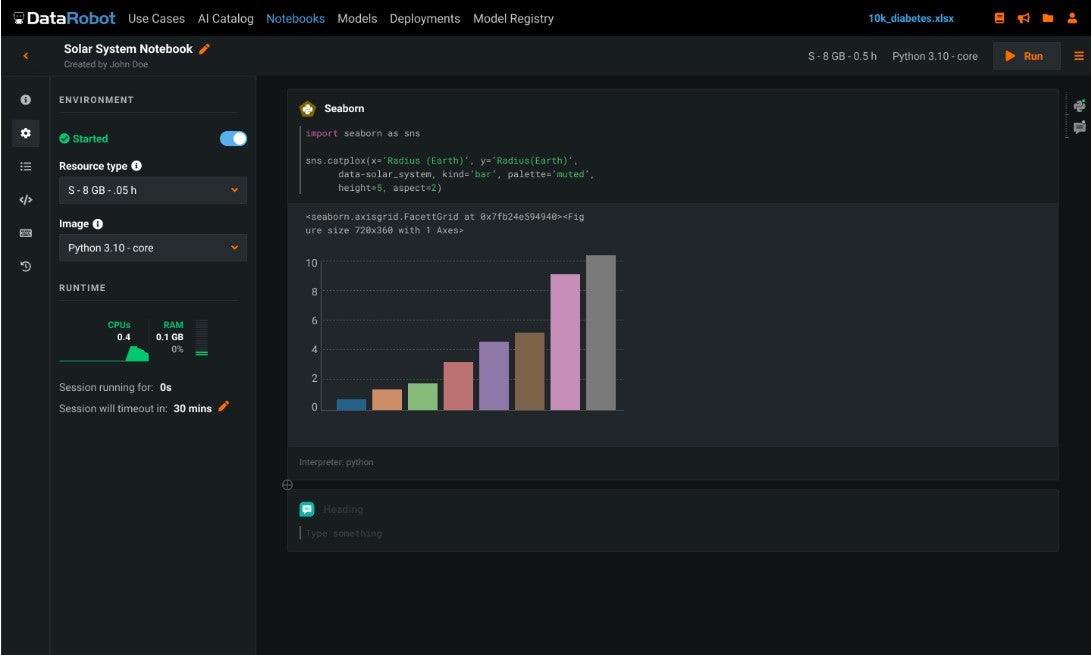 Atteindre votre productivité grâce à des ressources de calcul exstensibles
Accélérer la livraison de l'IA en tirant parti de l'infrastructure de calcul managée et scalable de la plateforme DataRobot AI Cloud. Utiliser le type de machine approprié en fonction de vos besoins en data science pour avancer à une vitesse accrue. Passer plus de temps à délivrer de la valeur pour l'entreprise et moins de temps à attendre des résultats.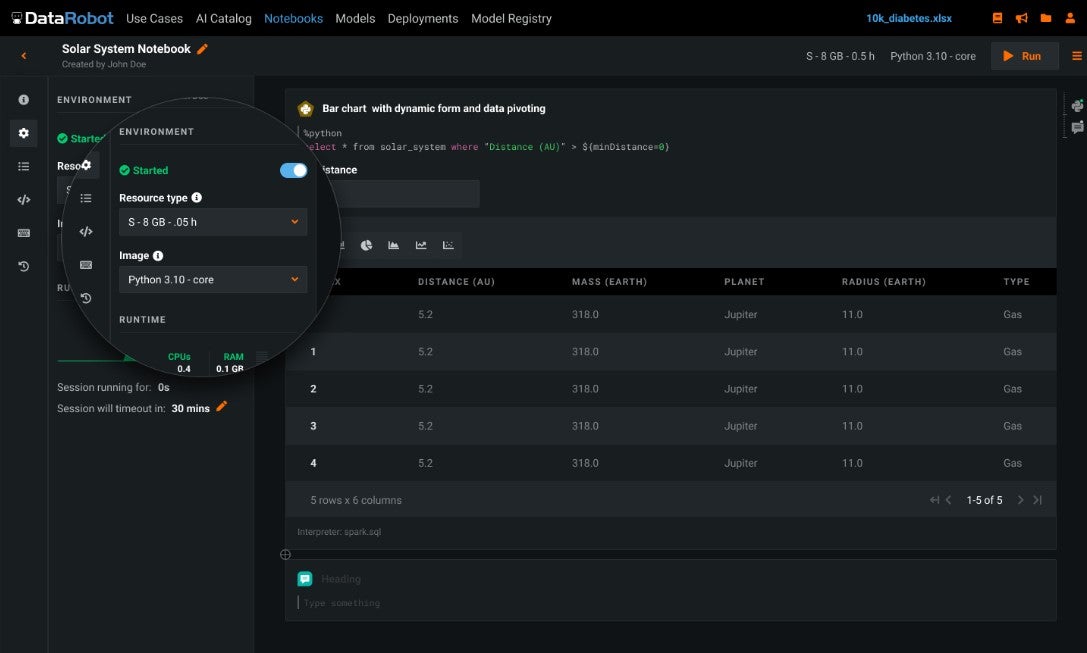 Gouvernance et conformité centralisées
Centraliser l'infrastructure de développement de l'IA en stockant les notebooks de votre équipe de data science dans le cloud plutôt que sur des machines en local permet d'assurer la visibilité sur votre propriété intellectuelle. Mettre en place une gouvernance et des politiques en définissant facilement des rôles d'utilisateur et des privilèges spécifiques pour protéger les contenus sensibles, tels que le code, les données et les fonctionnalités de gestion de la plateforme contre les accès indésirés.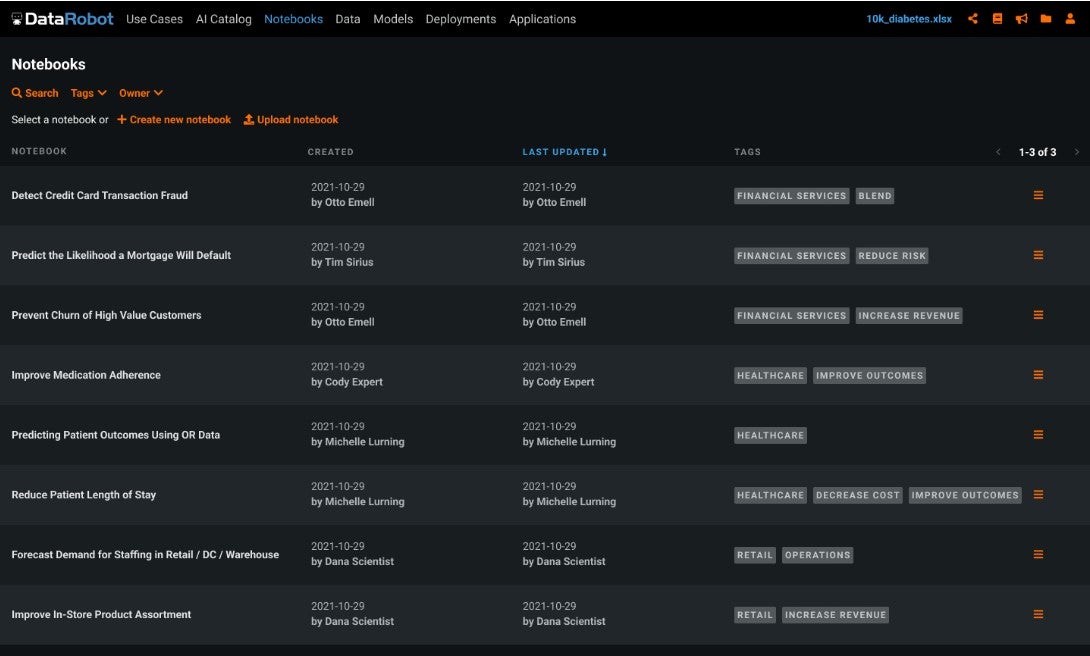 «De nombreux clients nous ont confié qu'ils voulaient une solution sécurisée, intégrée et orientée cloud pour s'affranchir des notebooks open-source, de leur coûts élevés de maintenance et de leur manque de collaboration», indique Nenshad Bardoliwali, Chief Product Officer chez DataRobot. «Désormais, grâce aux notebooks de DataRobot, n'importe qui peut migrer rapidement et facilement ses propres notebooks open-source ou son code historique vers DataRobot, offrant à nos clients le meilleur des deux mondes – une intégration native entre AI Cloud et la meilleure expérience de notebooks avec une tarification basée sur l'usage où vous ne payez que ce que vous utilisez.»
Foire aux questions (FAQ)
Découvrez comment augmenter la productivité des data scientists « code-first » en leur offrant une expérience unifiée qui accélère le déploiement de l'IA.
Qui utilise les notebooks dans le domaine de la data science?

Les notebooks de data science sont utilisés par de nombreux professionnels : data scientists, data engineers, machine learning engineers et tous les experts en data science qui privilégient le code. Intégrés à notre plateforme d'IA d'entreprise, les notebooks de DataRobot sont nativement disponibles sur notre cloud en libre-service et vous permettent d'améliorer la productivité, l'efficacité et la collaboration entre plusieurs type de personas au sein de votre organization. Cette option vous offre davantage de flexibilité en permettant aux experts en data science d'écrire leurs propres tâches et de développer leurs modèles custom, s'ajoutant ainsi aux fonctionnalités prêtes à l'emploi fournies par DataRobot.

Les notebooks fournissent un environnement unifié où l'ensemble des membres de votre équipe peuvent collaborer en toute sécurité et sont accessibles nativement depuis DataRobot en un clic.

Quels sont les avantages des notebooks de DataRobot par rapport à ceux de Jupyter?

Vous hésitez entre les notebooks de DataRobot et Jupyter Notebook ? Dans ce cas, gardez à l'esprit que les utilisateurs des notebooks de DataRobot disposent d'un environnement unifié pour une optimisation continue du machine learning, de ressources de calcul extensibles et de fonctionnalités de gouvernance de niveau entreprise.

Les notebooks favorisent la collaboration entre les experts en data science qui privilégient le code et les business analysts leur permettant de customiser les modèles crées avec la puissance de la plateforme DataRobot AI Cloud. Grâce à ses garde-fous et à ses fonctionnalités d'explicabilité, cette plateforme unifiée offre une transparence à toutes les étapes du cycle de vie de l'IA.

Quelles sont les fonctionnalités natives de Jupyter incluses dans les notebooks de DataRobot?

Les Data Scientists expérimentés peuvent continuer d'exploiter les capacités standard de Jupyter au sein des notebooks de DataRobot et ainsi bénéficier d'un large écosystème de notebooks open-source. Exemples de fonctionnalités:

Markdown et Python
Actions et exécutions de cellules
Raccourcis clavier
Coloration de syntaxe
Auto-complétion du code

Quel impact les notebooks ont-ils sur les entreprises?

Augmentez l'efficacité en permettant aux experts en data science orientés code et aux utilsateurs métier préférant l'UI de collaborer tout au long du cycle de vie du machine learning, depuis la préparation de la donnée jusqu'au déploiement du modèle et à l'optimisation continue.

Assurez la visibilité sur votre propriété intellectuelle en stockant dans le cloud grâce à notre infrastructure centralisée de développement l'IA . La centralisation simplifie la gouvernance, l'organisation et la gestion des dépendances au sein des notebooks, ce qui garantit la reproductibilité par les utilisateurs techniques et non techniques. Allégez la charge de travail de votre équipe afin qu'elle puisse créer de la valeur pour l'entreprise au lieu de se consacrer à la maintenance de votre infrastructure open-source.
Vous souhaitez en savoir plus sur les notebooks de DataRobot?
Thank you
Nous vous remercions de l'intérêt que vous portez aux notebooks.
Notre équipe vous contactera concernant votre démonstration privée.
Thank You!
We're almost there! These are the next steps:
Look out for an email from DataRobot with a subject line: Your Subscription Confirmation.
Click the confirmation link to approve your consent.
Done! You have now opted to receive communications about DataRobot's products and services.
Didn't receive the email? Please make sure to check your spam or junk folders.
Close