Unlocking Intelligent Process Automation (IPA) with Blue Prism
Unlocking Intelligent Process Automation (IPA) with Blue Prism
Introducing New Partnership with Robotics Process Automation (RPA) vendor with Blue Prism.
DataRobot is pleased to announce our new partnership with RPA vendor Blue Prism. Blue Prism has been a leading RPA vendor since its founding in 2001. They provide a highly scalable and robust platform, enabling additional technologies such as AI.
As part of the partnership, a DataRobot process is now available on the Blue Prism Digital Exchange. Using this new process, developers are able to inject machine learning into existing processes, providing an opportunity for the Blue Prism RPA team to take on higher-value use cases.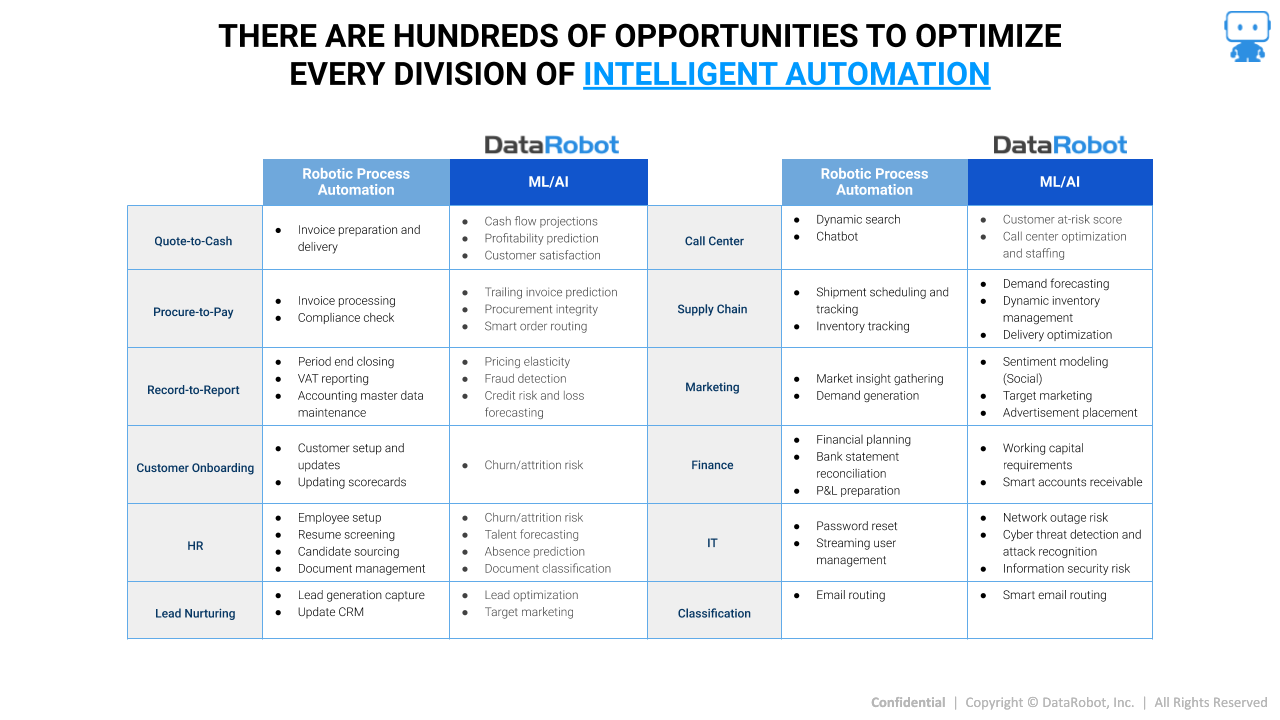 How It Works
The DataRobot integration utilizes the native Web API Services available in Blue Prism to send data to DataRobot and receive predictions. The integration initiates using a GET action to receive a user's API Key before performing a POST action to send/receive the final predictions from DataRobot.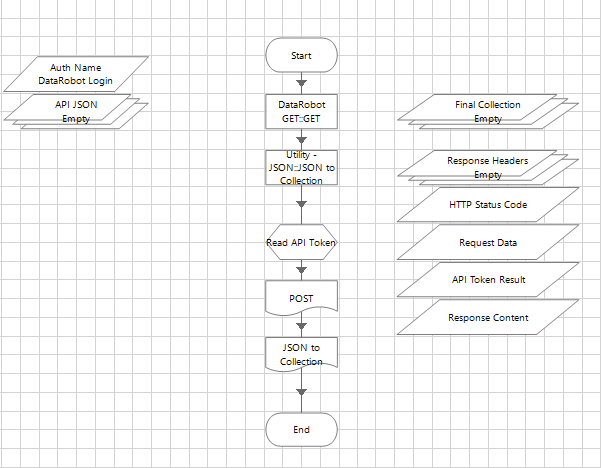 After importing the Blue Prism package from the Digital Exchange, the developer only needs to change the below items before the tools can be used together. Removing complex python code or custom objects follows the low code and easy-to-implement strengths of Blue Prism.
Required changes for developers:
Create DataRobot Credentials in Credential Manager.
Update GET and POST commands with destination URLs.
Set prediction file in DataRobot process.
Set destination for DataRobot prediction outputs.
Blue Prism and DataRobot Deliver on Intelligent RPA, Shifting Focus from the Routine to the Strategic with AI
As the leader in enterprise AI, DataRobot offers an advanced AI platform that democratizes data science and automates the end-to-end process for building, deploying, and maintaining artificial intelligence and machine learning at scale. Powered by the latest open-source algorithms and available in the cloud, on-premise, or as a fully-managed AI service, DataRobot gives you the power of AI to drive better business outcomes with Blue Prism RPA.
If your organization has RPA deployed, chances are that it already has an automation and data-first focused culture. To further scale the value of RPA and deliver IPA, machine learning models can be layered in to further tackle business process automation hurdles. Through the DataRobot and Blue Prism partnership and integration, your organization can realize:
Greater process efficiency
Enhanced rules-based processes
End-to-end AI-driven process automation
Summary
The Blue Prism and DataRobot integration combines RPA with AI to deliver intelligent process automation. At its core, the integration combines fundamental process redesign with Robotic Process Automation and machine learning. The resulting business process improvements help move the bottom line for businesses by removing repetitive, replicable, and routine tasks for knowledge workers so that they can instead focus on more strategic work that improves the customer journey and bottom line.
Watch this video for a demo of Blue Prism and DataRobot working together to solve a common RPA + machine learning use case today with email/ticket classification:

About the author
Tyler Howard works in Business Development at DataRobot as an RPA Solutions Consultant. Previously, Tyler was part of the Intelligent Automation practice at KPMG. He specialized in delivery projects using Blue Prism and Automation Anywhere assisting clients from initial strategy to implementation of Intelligent Automation solutions. Tyler has an M.S. in Information Systems and B.S. in Informatics from Indiana University.
Meet Tyler Howard
Subscribe to DataRobot Blog
Thank you
We will contact you shortly
We're almost there! These are the next steps:
Look out for an email from DataRobot with a subject line: Your Subscription Confirmation.
Click the confirmation link to approve your consent.
Done! You have now opted to receive communications about DataRobot's products and services.
Didn't receive the email? Please make sure to check your spam or junk folders.
Close