Three AI Insights from the First Three Episodes of "More Intelligent Tomorrow," a DataRobot Podcast
Three AI Insights from the First Three Episodes of "More Intelligent Tomorrow," a DataRobot Podcast
The first three episodes of More Intelligent Tomorrow, an exploratory AI podcast featuring conversations with experts and thought leaders across industries, are live. You can find the full-length audio wherever you listen to podcasts and the shorter video versions here on our site. The initial conversations with these AI movers and shakers have brought up a wide array of topics: everything from autonomous war to J.A.R.V.I.S. to accidental illegal car dealing.
Listeners of More Intelligent Tomorrow will get a peek behind the curtain into some of the most pressing and controversial issues facing AI innovators today. In co-host Ari Kaplan's words, "By bringing together some of the industry's most thoughtful and innovative leaders, we're hoping to demystify this powerful technology and inspire our listeners to transform their own AI destiny."
It's hard to choose just one takeaway from each episode, but below are some of the highlights.
1. You have to pin the rose on someone.
Advancement of any kind doesn't happen by accident; if your organization is committed to staying at the forefront of advancements in artificial intelligence, you'd better be sure that there's someone whose job it is to monitor what's happening in the industry. Michael Kanaan, author of the new book T-Minus AI, said, "You have to pin the rose on somebody to evangelize a charge. You have to inspire other people to pay attention to it."
In the discussion, Michael and host Ben Taylor also touched on autonomous war, Black Mirror, and the inevitable inflection point of AI. 
2. AI — just like medicine — has to be people-first.
Dr. Zain Khapley knows a thing or two about humanizing processes that can easily feel sterile. As Chief of Cardiothoracic Surgery, Chief Medical Artificial Intelligence Officer, and Director of Heart & Vascular Institute at Northwest Medical Center, he makes a point to discuss a patient's life and family with his team pre-surgery so they remember what's at stake. "[In surgery], if you don't do it right, the stakes are high. You don't pressure yourself to paralysis. You pressure yourself to innovate, to do better."
He said that a similar mindset applies to the technological innovations his teams pursue—it's all about the humans on the other side of the processes.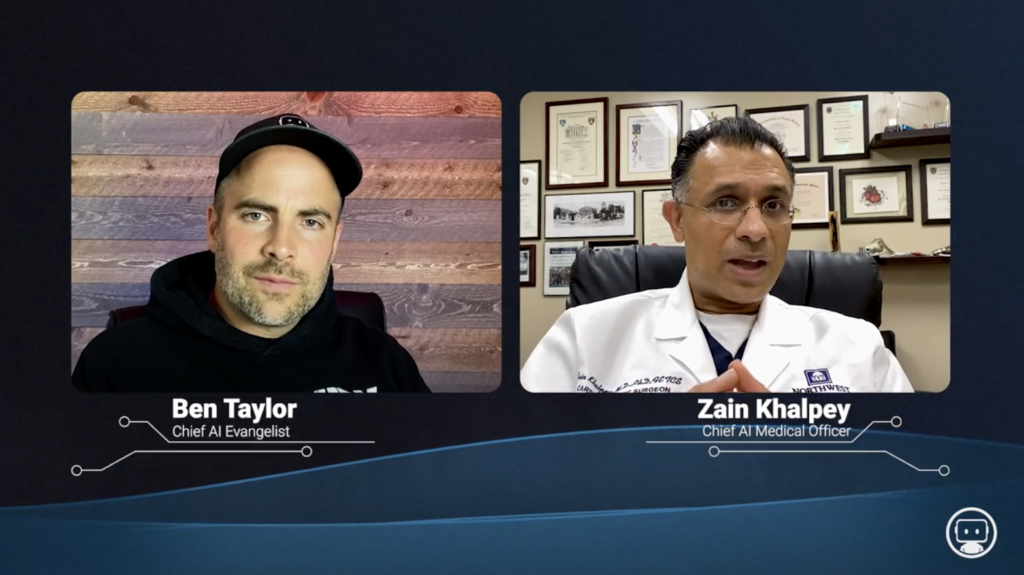 3. Know when to hide your AI in the background.
No, we're not talking about black box algorithms and shady ethics. We're talking about knowing when to highlight your AI's tech specs, and knowing when to let the solution speak for itself in terms of business value. Tyler Hall, CEO of Drivably, described how he pitched his company's platform to early design partners not by presenting not how the tech creates a solution, but how the solution leads to business impact.
"You're speaking in KPIs that they know, and I think that probably builds huge confidence," said host Ben Taylor after hearing Tyler's story. "AI has to be mapped to value." 
Listen to the full audio of each episode:
About the author
DataRobot
The Next Generation of AI
DataRobot AI Cloud is the next generation of AI. The unified platform is built for all data types, all users, and all environments to deliver critical business insights for every organization. DataRobot is trusted by global customers across industries and verticals, including a third of the Fortune 50. For more information, visit https://www.datarobot.com/.
Meet