Surviving and Adapting to COVID-19, Part 2: Banking, FinTech, and Financial Markets
Surviving and Adapting to COVID-19, Part 2: Banking, FinTech, and Financial Markets
As the world continues to face the global COVID-19 pandemic, AI technology is helping companies minimize disruption with AI-driven forecasting and strategy. In part 1 of this series, we discussed how the healthcare and insurance industries can become more resilient and adapt to their new reality. In this article, we cover how banking, FinTech, and financial markets can mitigate some of the risks affecting them.
Banking and FinTech
Bankers know from experience that it is always better to identify and mitigate risks before delinquencies and defaults occur. An ounce of prevention is worth a pound of cure, as the old saying goes.
Survival
Survival will depend on the ability to identify and mitigate risks as business activity changes during, and after, the crisis. The measures to contain the pandemic have already had a significant impact on business activity and consumer income, which, in turn, will temporarily increase delinquencies and defaults in many sectors. However, it's important to remember that not all industry segments will suffer in this crisis. Restaurants that specialize in or shift to take-out and delivery, liquor stores, grocery stores, pharmacies, parcel delivery, online retailers, telco and media are all continuing to do well. Some of the ways AI can help with survival include:
Identify the highest risk segments of client population who may be most severely impacted by economic turmoil in the wake of COVID-19 containment and mitigation strategies
Predict where increased delinquencies and defaults are likely to occur across consumer and commercial portfolios
Predict deposit run-off and plan for liquidity needs in different scenarios
Resilience
With AI and machine learning, financial institutions can take proactive steps to identify at-risk clients and help them during this period of stress. Banks that do so will earn client loyalty, better protect their shareholders, and position themselves and their communities to recover more rapidly. There are multiple applications of AI that can help banks serve their customers during these unprecedented times:
Proactively and sensitively engage at-risk clients to mitigate risk
Extend maturities, reschedule payments, grant temporary limit increases, reduce rates, and/or waive late fees to help borrowers, protect shareholders, and support communities
Adjust regulatory capital and liquidity needs as necessary
Adaptation
In order to help clients, protect shareholders and support their communities, so all can heal more quickly when this crisis passes, banks will have to:
Determine new channel usage patterns and preferences
Adjust contact methods and frequency, making client outreach more relevant and less frequent in order to increase value, positive brand awareness, and loyalty
Predict deposit balance and deposit volatility
Financial Markets
The stock market is extremely volatile as shareholders are faced with extreme uncertainty during the pandemic. In the 2008 global financial crisis, even with a fast correction without precedent, it took months for the markets to suffer the same amount of damage that they suffered this time in the course of a handful of days.
Survival
Many firms have invoked business continuity plans during the pandemic. However, these plans alone may not guarantee survival. The crisis is presenting many scenarios that organizations will need to navigate in order to survive:
Ramp up risk-based trading functions to take advantage of increases in market volatility and trade volumes
Implement short-term, risk-mitigation plans, including people, processes, and portfolios
Stay in regular contact with clients; adopt full reassurance mode
Keep a close eye on counterparty and credit risk, and customer flows
Resilience
The COVID-19 crisis is well-described as a Black Swan, as popularized by Nassim Nicholas Taleb. Organizations will no longer be able to rely on prior forecasting models and will need to learn quickly to minimize vulnerability:
Measure existing models in production and look for data drift from the crisis
Update existing models rapidly as conditions change
Ensure that processes are robust in order to cope with elevated volumes. Machine learning can help reduce operational risk and increase resilience
Rapidly deploy new models that are aligned the new reality
Adaptation
What can we expect out of the new normal?
Prepare for elevated volatility, higher debt levels (public and private) and accelerated adoption of remote working
Identify emerging opportunities

New data to build and retrain models
More targeted client engagement post-crisis
Separate from the pack with better predictions
Although financial services organizations have more experience than other industries when it comes to mitigating the risks associated with a financial crisis, the critical and urgent needs they are facing today are much more complex than what we have seen in the past. Fortunately, AI technology has also greatly improved in the last decade, which will help companies be much more prepared to weather this storm.
In the last part of our series, we will discuss the challenges and opportunities of the retail, sports, and gaming industries, as they face the new reality of a post-coronavirus world.
Acknowledgments
We would like to thank H.P. Bunaes, Andrew Engel, Rob Hegarty, Kim Minor, Lisa Runci, Neal Silbert, and Paul Winsor for their contributions to the content of this series.
About the author
Kaplan is a leading figure in data science, sports analytics, and business leadership. High profile roles include creating the Chicago Cubs analytics department, President of the investigation into the fate of Holocaust hero Raoul Wallenberg, and President Emeritus of the worldwide Oracle User Group.
Meet Ari Kaplan
---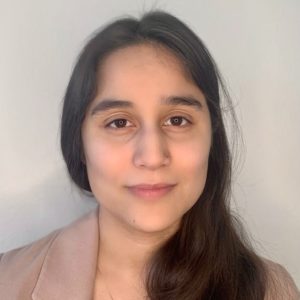 Sarah is an Applied Data Scientist on the Trusted AI team at DataRobot. Her work focuses on the ethical use of AI, particularly the creation of tools, frameworks, and approaches to support responsible but pragmatic AI stewardship, and the advancement of thought leadership and education on AI ethics.
Meet Sarah Khatry
Subscribe to DataRobot Blog