Snowflake and DataRobot: No "Cooler" Tech Stack
Snowflake and DataRobot: No "Cooler" Tech Stack
I recently had the opportunity to speak at a number of Data For Breakfast events as part of DataRobot's strategic partnership with Snowflake. The event series delivers content and best practices on advancements in cloud data analytics and data science. Since I usually skip breakfast – intermittently fasting in a desperate attempt to be healthy – I was glad to find intellectual nourishment was on the menu too, complementing the generous rashes of bacon and three-egg omelets! Understandably, under the current circumstances, the remainder of the live Data For Breakfast events have been postponed (good news below, though), but the opportunity to combine DataRobot and Snowflake remains as strong as ever.
The Value of Snowflake
Snowflake offers a leading cloud-based data management platform. It helps organizations get value out of their data with a single data warehouse, secure governed access across their network, and offers a flexible architecture for different data workloads. Since its general release in mid-2015, Snowflake has enjoyed outstanding success, earning the trust of more than 3,400 customers, with continued rapid growth.
The Value of Snowflake, Coupled with the Leader in Enterprise AI
Most executives recognize that AI is a massive opportunity for their businesses, but implementation is easier said than done. Many organizations struggle with data preparation, building AI models, and managing these assets in production. Executives look to IT departments (and skilled Snowflake users) as potential heroes who can help them address these challenges and instill best practices.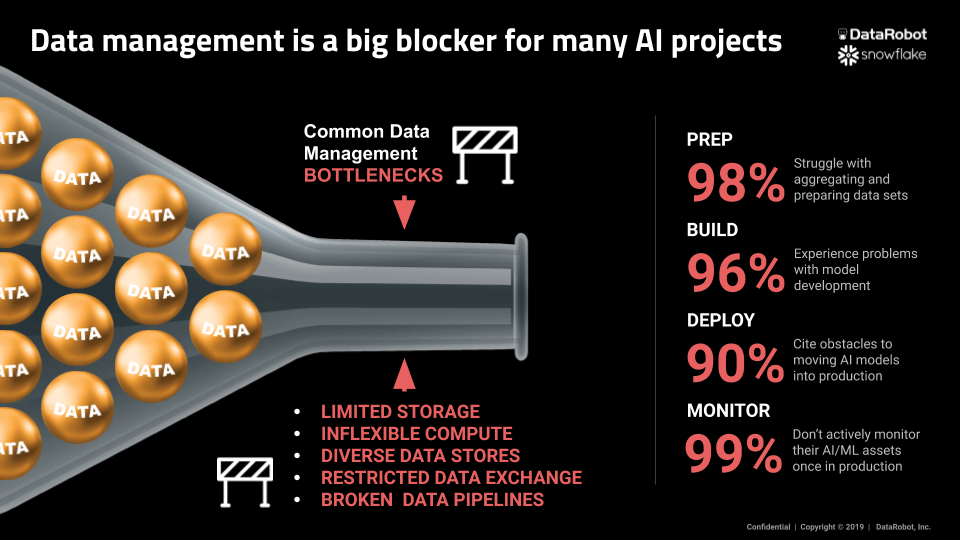 To help overcome these data management-related obstacles, Snowflake and DataRobot have joined forces. The combination of the two platforms is simple to use, highly scalable regardless of business requirements, and can be set up quickly. Both components of this tech stack are cloud native. Both platforms were built for the cloud. Both can be used on your choice of cloud vendor. Both are respective leaders in their fields. Unlimited storage and computing capabilities enable you to feed your AI with the data it needs. Furthermore, Snowflake and DataRobot are seamlessly connected with read and write-back capabilities.
Register for a Virtual Data for Breakfast!
While in-person events may be sidelined, there are still great opportunities to learn more about this leading tech stack. We can't supply the bacon and eggs any longer, but hope to provide the intellectual nourishment to complement your coffee at home!
Register for the March 31, 2020 virtual Data For Breakfast, or if that does not work well for you, be sure to register for the April 28, 2020 option.
In the APAC market? We have you covered too! Register for our April 22, 2020 virtual event.
In the meantime, hear from Harmoney on their joint Snowflake and DataRobot AI program:

About the author
James is responsible for educating the market about Artificial Intelligence, further accelerating adoption, and dispassionately advising executives on how best to achieve value from their transformation initiatives. Before DataRobot, he was WorkFusion's Global Head of Strategic Markets, a leader in RPA. He is a fellow of the Adam Smith Institute and read Philosophy, Politics and Economics at the University of Oxford.
Meet James Lawson
Subscribe to DataRobot Blog
Thank you
We will contact you shortly
We're almost there! These are the next steps:
Look out for an email from DataRobot with a subject line: Your Subscription Confirmation.
Click the confirmation link to approve your consent.
Done! You have now opted to receive communications about DataRobot's products and services.
Didn't receive the email? Please make sure to check your spam or junk folders.
Close