Omdia Selects DataRobot as Recommended MLOps Vendor
Omdia Selects DataRobot as Recommended MLOps Vendor
A recent report by technology research and consulting firm Omdia, "Selecting an Enterprise MLOps Platform, 2021," could not have been clearer when stating that "investing in MLOps will be necessary for companies that aim to transform their businesses by using AI technologies." They went on to say that investing in MLOps directly answers one of the biggest questions facing AI practitioners in the enterprise: how to move from experimentation to transformation.
This blog post explores some of the most interesting findings in the report about the growing importance of MLOps. It explains why the report led Omdia to conclude that DataRobot is the leading MLOps challenger, is #1 in customer experience compared to all other MLOps top contenders, and "should be on your shortlist if you are looking to speed time to value for AI outcomes across the enterprise." We'll look at DataRobot's continued investment in MLOps, including the acquisition of MLOps leader ParallelM and the introduction of new features, such as MLOps Remote Model Challengers, in Datarobot's 7.0 release. Lastly we'll preview some of the great new features that are coming in DataRobot 7.1, which will be available in just a few weeks.
The Growing Importance of MLOps, Including Operationalizing Models and Putting Models into Production
According to Omdia, the goal of MLOps is to move machine learning projects out of the experimentation phase and into production where they can give companies a competitive advantage. Although MLOps has historically been concerned with IT-centric operational issues such as machine learning model testing, deployment, and monitoring, it is increasingly clear that the best MLOps solutions address the entire machine learning lifecycle and support all participants involved in the journey from data to value with AI.
The Leading MLOps Challenger and #1 in Customer Experience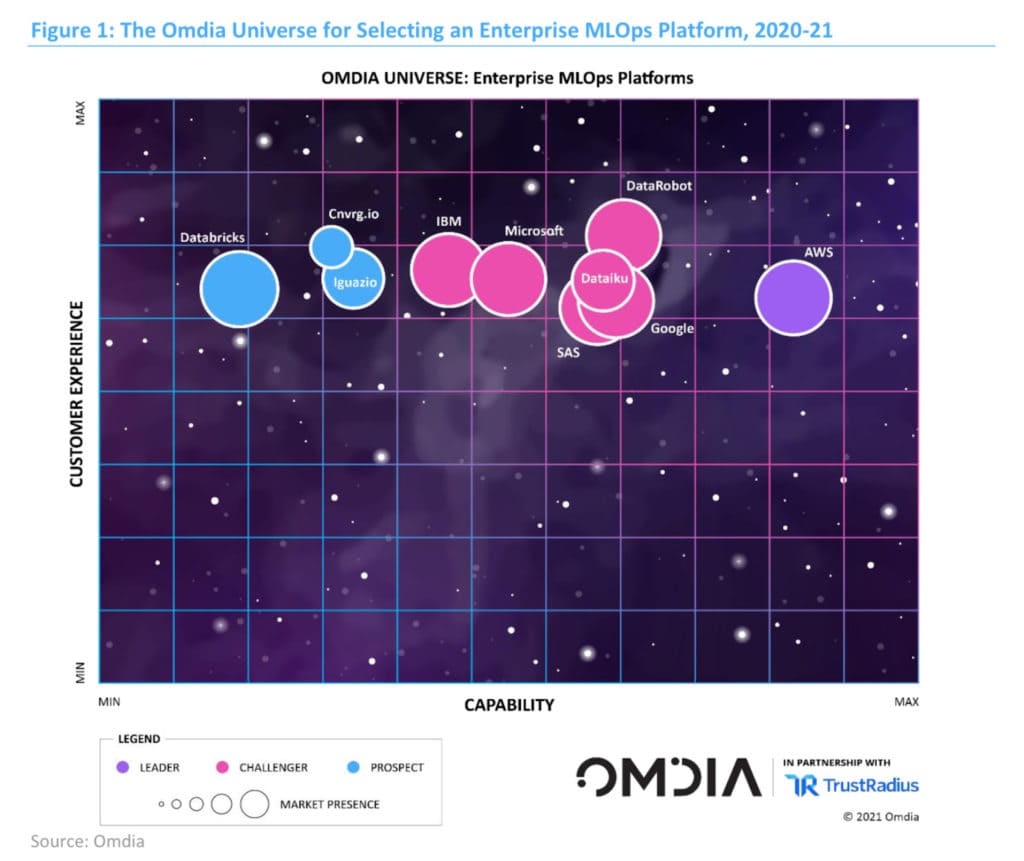 Omdia noted that DataRobot stands out from the competition in its extensive use of AutoML ideals across the machine learning lifecycle. AutoML has grown into a more widely applicable means of automating a wide array of machine learning tasks, including data preparation, model selection, feature selection, and engineering, as well as hyperparameter tuning. DataRobot has led the democratization of data science with AutoML that allows both data scientists and non-technical domain experts to participate in the data science process. The report states that "DataRobot has emerged as a convincing challenger amid the top contenders. The company has created a highly unified ML platform, which emphasizes openness, automation, operationalization, collaboration, transparency, explainability, and governance across the entire ML lifecycle and in support of numerous user roles."
DataRobot Continues Investment in MLOps and New Features
DataRobot has continually invested in MLOps. In 2019, it acquired ParallelM, the leader in machine learning operations. As part of the acquisition, DataRobot expanded its platform's model monitoring and management capabilities to include an industry-leading MLOps and governance offering that accelerates the AI lifecycle for all projects. Since then, DataRobot has poured hundreds of thousands of hours of engineering investment into its MLOps offering. It has created a world-class enterprise-grade MLOps solution, adding features that include champion/challenger models, dockerized portable prediction servers instrumented with MLOps Agents to enable remote monitoring and the ability to deploy and run models in a true multi-cloud environment, and tightly governed approval workflows with audit trails, lineage, and compliance reports. The company has even more great new features planned for release 7.1, scheduled for June 15, 2021, and beyond. Look out for the remote model lifecycle management agents, bias monitoring, and automated retraining policies to promote continuous learning and "always accurate" AI models.
About the author
DataRobot
Value-Driven AI
DataRobot is the leader in Value-Driven AI – a unique and collaborative approach to AI that combines our open AI platform, deep AI expertise and broad use-case implementation to improve how customers run, grow and optimize their business. The DataRobot AI Platform is the only complete AI lifecycle platform that interoperates with your existing investments in data, applications and business processes, and can be deployed on-prem or in any cloud environment. DataRobot and our partners have a decade of world-class AI expertise collaborating with AI teams (data scientists, business and IT), removing common blockers and developing best practices to successfully navigate projects that result in faster time to value, increased revenue and reduced costs. DataRobot customers include 40% of the Fortune 50, 8 of top 10 US banks, 7 of the top 10 pharmaceutical companies, 7 of the top 10 telcos, 5 of top 10 global manufacturers.
Meet DataRobot
Subscribe to DataRobot Blog
Thank you
We will contact you shortly
Thank You!
We're almost there! These are the next steps:
Look out for an email from DataRobot with a subject line: Your Subscription Confirmation.
Click the confirmation link to approve your consent.
Done! You have now opted to receive communications about DataRobot's products and services.
Didn't receive the email? Please make sure to check your spam or junk folders.
Close