How the Boston Red Sox Knock It Out of the Park with Analytics and AI
How the Boston Red Sox Knock It Out of the Park with Analytics and AI
Baseball very much remains America's national pastime, but Major League Baseball (MLB) has faced its share of challenges recently. Even a franchise as universally successful and iconic as the Boston Red Sox — four World Series championships since 2004 paired with massive popularity off the field — is not immune to these challenges. To address some of these off-field obstacles, the Red Sox have turned to the same thing that helped them win those championships on the field: advanced analytics and predictive modeling.
Leading a team of seven that serves as a central repository for the rest of the organization on the analytics front is Jon Hay, VP of Data, Intelligence & Analytics. Jon was recently featured on the DataRobot Q&AI Leadership Series webinar to share how they use analytics to tackle a myriad of challenges at Fenway Park and what type of role the DataRobot AI Platform plays in supporting that.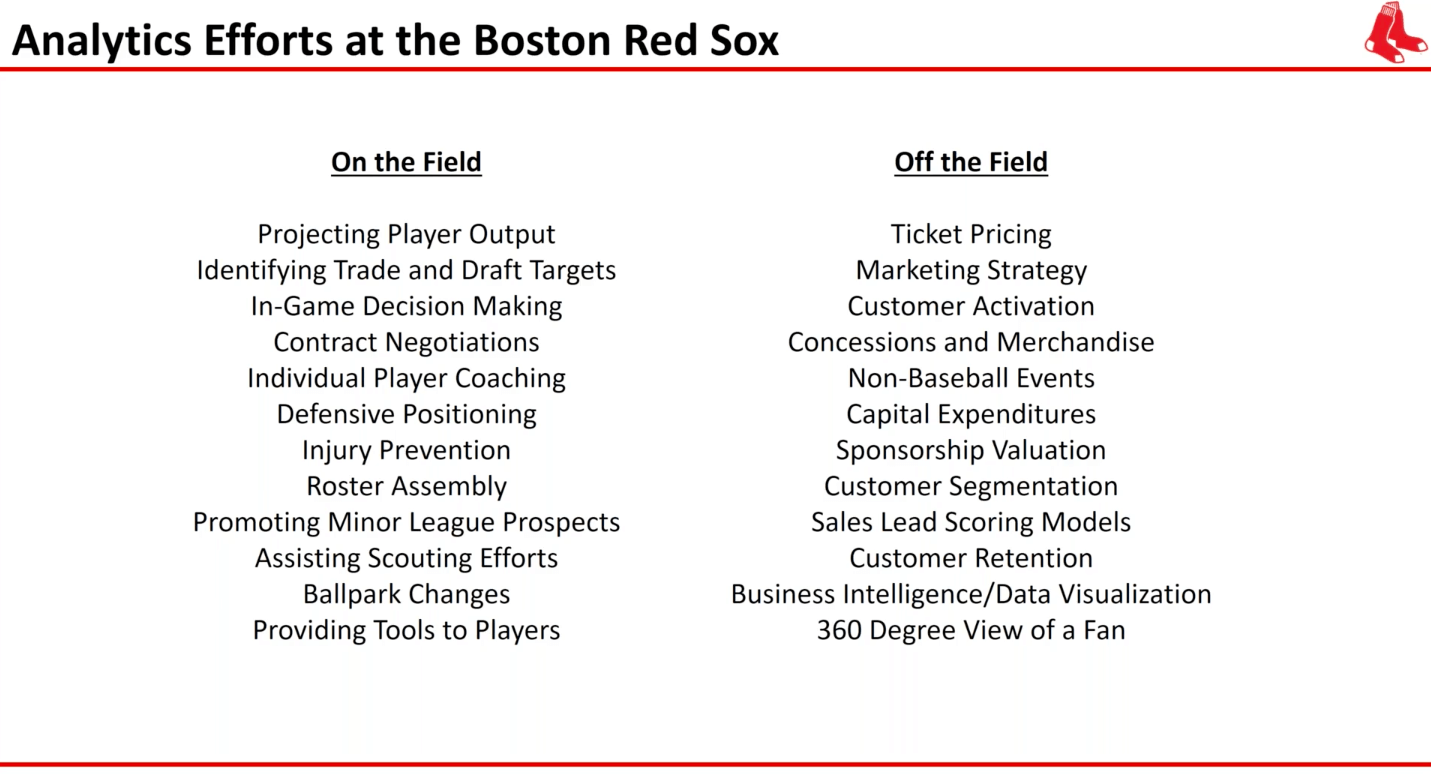 While industry revenues and franchise valuations across MLB continue to grow year over year, there are a couple of worrying concerns that are on the mind of every team's executives:
Reversing trends of declining interest in an increasingly competitive entertainment market. Baseball franchises are competing against not just other sports but any types of entertainment (e.g., Netflix, video games) that attract eyeballs. This is most evident in the steep decline of World Series TV ratings.
Attracting new and younger fans to a sport with an aging core demographic. The social media followings of baseball's biggest stars are dwarfed by every other major professional league's.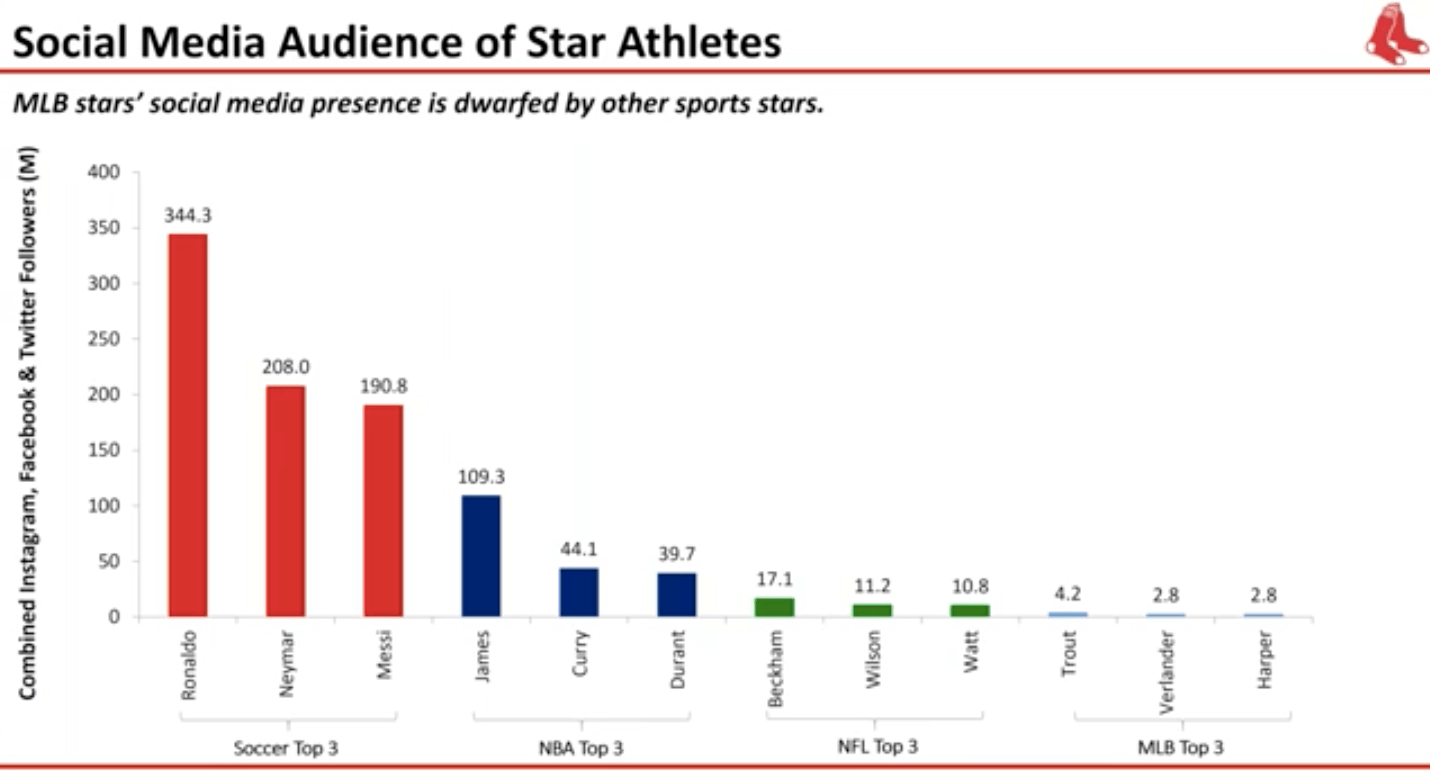 Coupled with the fact that franchises have access to more varied and advanced data than ever before, Jon and his team tackle dozens of analytics projects both on the field (i.e., with in-game decision making, injury prevention, and projecting player output) and off the field.
DataRobot is a key part of Jon's data tech infrastructure, and the platform has played a crucial role in addressing both the data science knowledge skills gap and in communicating actionable results and predictions to the rest of the business. The automation has also been a significant boon to productivity for a small analytics team that serves the entire organization.
"I'm not a data scientist by trade," said Jon. "What I think it really comes down to is can you communicate the results of your model in layman's terms. DataRobot has a nice functionality where it does these prediction explanations and it will say and show 'Here's the model, and here are the variables that are really driving the variability and what's predictive.'"
"Obviously model accuracy is really valuable, and everything we're doing is more accurate now. But really, we've seen huge value around bandwidth and ease of use. These things that used to be these very manual processes, being able to build these things in DataRobot and have the results spit out automatically to feed directly into the data warehouse, that's been a huge value for us as well."
To learn more about how Jon and the Boston Red Sox use DataRobot to knock it out of the park with detailed use cases around fan segmentation, sponsorship valuations, and a whole lot more, check out our exclusive Q&AI Leadership Series webinar.

About the author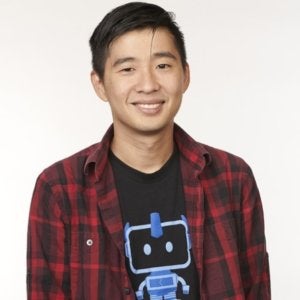 Gareth Goh is the Customer Marketing Manager at DataRobot. He was previously the Web Director at DataRobot, and has also worked at several different tech startups in the Boston area in various marketing roles. Gareth has an M.S. in International Relations and a B.S. in Journalism from Boston University.
Meet Gareth Goh
Subscribe to DataRobot Blog
Thank you
We will contact you shortly
We're almost there! These are the next steps:
Look out for an email from DataRobot with a subject line: Your Subscription Confirmation.
Click the confirmation link to approve your consent.
Done! You have now opted to receive communications about DataRobot's products and services.
Didn't receive the email? Please make sure to check your spam or junk folders.
Close