How AI Can Help Banks Navigate the COVID-19 Disruption
How AI Can Help Banks Navigate the COVID-19 Disruption
For close to a year now, the COVID-19 pandemic has shaken businesses to their core. Travel has plummeted; downtown office towers sit empty; retailers and restaurants are struggling. According to a headline in The Economist, "COVID-19 is up-ending capitalism." [i]
The banking industry is hardly immune to this disruption. Changes in customer patterns, novel areas of risk, and new workplace habits are causing financial services executives to think hard about banking's evolution. With the right approach, banks can do more than survive COVID-19. They can thrive.
At DataRobot, our financial services experts see several global impacts on banks due to the pandemic. In the United Kingdom, for example, millions of people were granted payment holidays on mortgage, credit card, and personal loan payments. That's true in South Africa, too, where the government used payment holidays and a COVID-19 loan guarantee plan to ease the impact of lockdowns and economic disruption.
In the United States, in addition to payment holidays, a $3 trillion stimulus bill helped ease the economic pain of layoffs that took place in the spring of 2020. Although the virus seemed to stall and the U.S. economy began to bounce back, by December, soaring case and death rates drove an increase in new unemployment numbers. Business disruptions are likely to become even more severe as stimulus efforts wind down and the full scale of economic carnage becomes evident.
Banks, especially those that focus on consumer and small business loans, are facing the following realities:
Customer records can't be updated quickly enough to match customers' changing financial situations.
Due to low interest rates, banks are being hit with a flood of applications for mortgage refinancing and new mortgages. They are hard-pressed to keep up.
New entrants into the financial services industry are showing the potential to be more nimble and more digital than older banks. They're also proving to be adept at giving customers the interactions they want.
Dramatic decreases in retail spending, despite efforts in several nations to support small businesses, is creating grave liquidity problems that will require banks to reevaluate their tolerance of risk.
As employees work from home, banks must change their back office operations to rebalance workloads and develop new methods for processing paperwork.
These challenges are particularly difficult for smaller and regional banks to manage, because they lack the extensive IT infrastructure of larger national or international banks. But AI and DataRobot can give mid-sized banks the digital power to keep up with industry giants and financial services newcomers.
Most important, AI can help banks keep up with the accelerating pace of change. DataRobot can help banks quickly and accurately develop new models of customer behavior or risk, and then keep them current as conditions change. Improved models can help banks perform stress tests that more accurately forecast potential risks in the months and years ahead.
As branches lose primacy in the customer relationship—many banks are closing physical branches—AI also can speed up digital transformation. It can handle email or call center routing to make customer transactions more productive. It can streamline operations by taking over mundane tasks. And it can reduce costs to help banks balance out instances where COVID-19 has cut into their business.
In addition, banks can use AI to streamline and even automate loan applications while maintaining high-risk guardrails. AI also can help improve cash management and help forecast how banks can better take advantage of high reserves. And it can monitor models in real time (versus through monthly batch processing) so that bank data is always up to date.
AI and machine learning in banking have the power to help banks navigate an unprecedented public health crisis. By using data from customers, banks can better understand how financial needs have changed due to COVID-19.
About the author
Ryan is a leader within the banking practice at DataRobot, helping financial institutions leverage AI and Machine Learning for predictive analytics and data mining. Ryan has over 25 years experience in management consulting and banking, with broad banking domain knowledge and deep expertise in data and analytics. Previous positions included COO of a retail bank, management consultant at McKinsey & Company and over a decade leading analytical teams at American Express. Ryan is a graduate of the Kellogg School of Management at Northwestern University where he received a MBA and Tufts University where he received a Bachelor of Science in Electrical Engineering
Meet Ryan Manville
---
Javier Lombana  is a Lead Customer-Facing Data Scientist at DataRobot working in the United Kingdom,  and leading DataRobot's banking data science practice supporting customers across multiple EMEA regions. Javier has more than 15 years of experience in Data Science and Analytics and before joining DataRobot he worked as Data Science Manager at Capgemini Financial Services. He owns a M.sC in Data Science from Universitat Oberta de Catalunya and a B.sC in Computers Science Engineering from the Polytechnic University of Madrid.
Meet Javier Lombana
---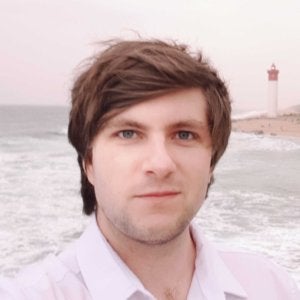 DJ Human is a data scientist within the banking vertical of DataRobot in EMEA based out of South Africa. Apart from providing data science expertise on the most challenging problems DataRobot's banking customers face, DJ also leads MLOps engagements across Southern and Northern Europe, Africa and the Middle East. Prior to joining DataRobot, he was a quantitative analyst within FNB, one of the largest banks in Africa. He holds MCom in Operations Research from Stellenbosch University and a BSc in Mathematical Sciences, also from Stellenbosch University.
Meet DJ Human
Subscribe to DataRobot Blog
Thank you
We will contact you shortly
We're almost there! These are the next steps:
Look out for an email from DataRobot with a subject line: Your Subscription Confirmation.
Click the confirmation link to approve your consent.
Done! You have now opted to receive communications about DataRobot's products and services.
Didn't receive the email? Please make sure to check your spam or junk folders.
Close