Government Grant Fraud Detection
Government Grant Fraud Detection
In the spring of 2020, the U.S. Small Business Administration (SBA) did what it thought was a good thing: It offered $10,000 to small businesses struggling with the impact of COVID-19. All applicants had to do was fill out a short form and attest that they had at least 10 employees, and the money would arrive in a few days.
In its haste to get help to businesses, the SBA put almost no safeguards in place. Within days of the program's launch, it saw a gold rush of fraudsters. In October, Forbes reported that "In some neighborhoods in Chicago and Miami, it seemed like everyone made a bogus application to the Small Business Administration's Covid-19 Economic Injury Disaster Loan program. Professional thieves from Russia to Nigeria cashed in. Low-level employees at the agency watched helplessly as misspent money flew out the door."
Within weeks, $20 billion simply disappeared. This is in addition to the $80 billion or more the U.S. government typically loses each year due to grant fraud.
Unfortunately, the SBA fraud, although blatant, is far from unusual. Grant fraud is on the rise around the world, driven in large part by the increasing use of digital banking and grant applications. Although it takes several forms, grant fraud is typically found in cases where grant recipients make false statements in their application, forge documents, conceal important facts, or misuse money they receive.
Fortunately, government agencies have a powerful tool to fight grant fraud: artificial intelligence. The right model can deliver an accurate report on fraudulent activity within a second.
Here at DataRobot, we're making a robust investment to help protect grant programs and their beneficiaries from fraud. Our models can help fight grant fraud in four ways:
Take into account new and emerging fraud examples. In the past, AI-driven fraud detection relied on previous fraud examples; it used them as a basis for what to detect. Now AI models can quickly detect and report novel fraud approaches, without creating too many false positives that distract agency staff.
Provide risk scores in real time. AI models allow fraud analysts to see a more complete view of a potential fraud the second it is detected. Analysts can refine their models' decision-making process to better manage risk.
Ensure regulatory compliance. Rules for grant applications constantly change. AI-based scoring methods ensure that agencies are using the latest guidelines for grant management and fraud detection.
Free up fraud analysts for high-value work. AI-supported grant fraud teams can greatly improve their efficiency by using AI to take care of many time-consuming tasks, such as chasing down false positives. That means analysts can spend time developing new fraud techniques and incorporating them into models.
By some accounts, when executed properly, AI fraud-detection systems can reduce fraud by 95 percent, while also reducing the costs associated with detecting them. Results like these provide significant value for public agencies who are facing challenging times due to COVID-19-strapped budgets. If you're interested in using AI, take a tour of the DataRobot AI Platform. To request a fraud detection demo shown in the following screenshot, contact us and we'll explore a proof of value together.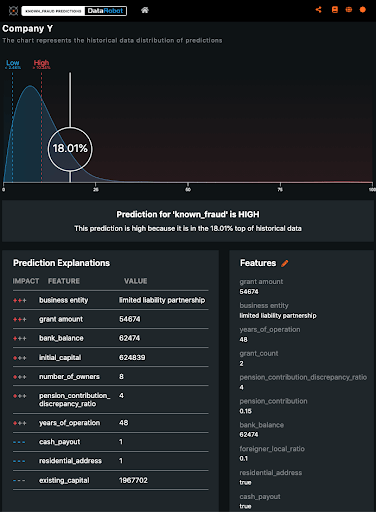 About the author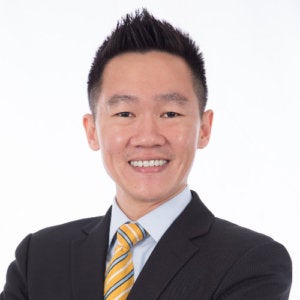 Clifton is a Customer Facing Data Scientist (CFDS) at DataRobot working in Singapore and leads the Asia Pacific (APAC)'s CFDS team. His vertical domain expertise is in banking, insurance, government; and his horizontal domain expertise is in cybersecurity, fraud detection, and public safety. Clifton's PhD and Bachelor's degrees are from Clayton School of Information Technology, Monash University, Australia. In his free time, Clifton volunteers professional services to events, conferences, and journals. Was also part of teams which won some analytics competitions.
Meet Clifton Phua
---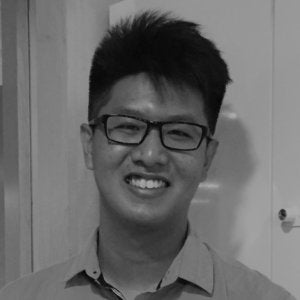 Wei Zhong is a Customer Facing Data Scientist (CFDS) at DataRobot, located in Singapore. His areas of expertise include public sector, healthcare, and telecommunications. Wei Zhong holds a MSc in Statistics and a BSc (First Class Honours) in Computational Biology, from the National University ofSingapore.
Meet Wei Zhong Toh
Subscribe to DataRobot Blog
Thank you
We will contact you shortly
We're almost there! These are the next steps:
Look out for an email from DataRobot with a subject line: Your Subscription Confirmation.
Click the confirmation link to approve your consent.
Done! You have now opted to receive communications about DataRobot's products and services.
Didn't receive the email? Please make sure to check your spam or junk folders.
Close