Gartner Unveils Their Strategic Technology Trends for 2019
Gartner Unveils Their Strategic Technology Trends for 2019
Last week I read an article about the technologies we lost in 2018. Many of them, such as Google+, Klout, Vine, and StumbleUpon, failed to find a place in our hearts with so many of the other social media options out there. Other technologies were Google projects (such as Google Goggles, Google URL shortener, Google Alto, and Google Inbox) that either outlived their usefulness or saw their core technology folded into different Google products. And some of these are things that I will truly miss, such as a Canon film camera (although I admit I haven't used one in a long while) and Oppo Digital (which made the workhorse Blu-ray player I still use today).
Change is inevitable and happens often in consumer markets, as tastes change quickly. But in business, B2B buyers look for the technologies that will have staying power, basing a lot of their organizational structure, hiring, and ultimately operating processes on core technologies that will drive business growth.
Gartner recently revealed their perspective on the Top 10 Strategic Technology Trends for 2019 to help CIOs, CTOs, and other senior executives identify the technologies that have "the potential to drive significant disruption and deliver significant opportunity." Gartner talks a lot about the future being characterized by the "intelligent digital mesh", which they define as a network of "smart devices delivering increasingly insightful digital services everywhere." Central to the intelligence portion of this mesh is Artificial Intelligence (AI) and machine learning (ML), so it's not surprising that Gartner views AI-driven technologies, such as autonomous things, smart spaces, and immersive experiences, as technologies to watch in 2019. But there are two other AI-driven technologies that have us, and most of the executives we speak to, most excited about for many years to come.
Augmented Analytics Goes Mainstream
Gartner singled out ML-led "augmented analytics" as one of the strategic technology trends for 2019, and the third major wave for data and analytics platform capabilities (after IT-led semantic layer-based platforms and business-led visual-based data discovery platforms). Gartner defines augmented analytics as the technology that "uses automated machine learning to transform how analytics content is developed, consumed and shared."
Their use of the word "transform" is particularly appropriate because, as Gartner describes in their report, augmented analytics will empower a new set of users who are analytically-minded, but lack the intense math, statistics, and algorithmic training of a traditional data scientist. These citizen data scientists can combine their deep domain expertise with automated machine learning to complete many projects that previously required a data scientist.
Consider some of the projections Gartner lists in the report and elsewhere:
Citizen data scientists will surpass data scientists in the amount of advanced analysis produced by 2019.

Through 2020, the number of citizen data scientists will grow five times faster than professional data scientists.

By 2020, more than 40% of data science tasks will be automated, resulting in increased productivity and broader use by citizen data scientists.
Everyone wins when augmented analytics and automated machine learning become more pervasive. Business analytics professionals, operations analysts, actuaries, and other capable and motivated business users gain new skills and can accomplish more on their own – leading to deeper insights and more individual job satisfaction. Data scientists – freed from projects that utilize only a fraction of their skills – can focus on the most strategic and complex problems and use automated machine learning to dramatically increase their productivity. And senior executives who were worried about how they were going to hire more data scientists in order to take advantage of the growing opportunities to apply AI can scale data science capabilities and help their organizations become AI-driven by empowering a large population of people who are already on staff.
Application Development Becomes AI-Driven
While business analytics professionals and other data-savvy people may be the first group that comes to mind when you think of citizen data scientists, software engineers are emerging as another set of users acutely interested in AI and machine learning. We're certainly seeing more software engineers as DataRobot users, and Gartner named "AI-driven development" as another key technology for 2019.
In the past, software engineers were dependent on traditional data scientists to build predictive models and embed them into applications. In addition to slowing innovation, this two-step process created ambiguity about who should be responsible for ongoing monitoring and management of those models as business conditions changed over time. Today, as data science becomes democratized and automated machine learning becomes more accessible, software engineers can develop and embed sophisticated machine learning models without having to lean on data scientists.
Conclusion
As we close out 2018 and reflect back on the year that was, IDC estimates that worldwide spending on cognitive and AI systems will reach $19.1 billion, an increase of 54.2% over the amount spent in 2017, and grow to $52.2 billion by 2021. While those numbers are staggering, the rationale behind them is not that surprising, considering how prevalent AI and machine learning is becoming in our lives.
We're excited to see "augmented analytics" and "AI-driven development" being recognized by Gartner as two of their ten strategic technology trends for 2019. But what makes us even more excited is knowing that automated machine learning, as invented and refined over the years by DataRobot, will be a critical component enabling user adoption of both emerging technologies.

About the author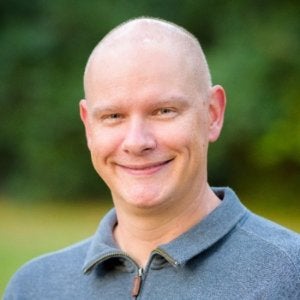 Bob Laurent
Sr. Director of Product Marketing at DataRobot
Prior to DataRobot, he ran product marketing at Alteryx, where he was responsible for driving awareness and growing a loyal customer base of empowered data analysts. He has more than 20 years of marketing, media relations, and telecom network engineering experience with Fujitsu and NYNEX (now Verizon). Bob resides in Dallas with his wife and two boys, and holds a Bachelor of Science degree from Clarkson University, plus an MBA from New York University's Stern School of Business.
Meet Bob Laurent
Subscribe to DataRobot Blog
Thank you
We will contact you shortly
Thank You!
We're almost there! These are the next steps:
Look out for an email from DataRobot with a subject line: Your Subscription Confirmation.
Click the confirmation link to approve your consent.
Done! You have now opted to receive communications about DataRobot's products and services.
Didn't receive the email? Please make sure to check your spam or junk folders.
Close