From Data Prep to Deployment: DataRobot Connectors for Alteryx
From Data Prep to Deployment: DataRobot Connectors for Alteryx
You want to use Alteryx, the leading tool for data preparation. And you want to use DataRobot for automated machine learning and model deployment.
You can do both with DataRobot Connectors for Alteryx, available as a free download from the Predictive District inside the Alteryx Analytics Gallery.
Alteryx users can insert these two powerful DataRobot Connectors directly into Alteryx workflows:
DataRobot Automodel Tool: Alteryx users pass data directly to the DataRobot platform to automatically create machine learning models.
DataRobot Predict Tool: Alteryx users can score data and generate predictions using models developed in DataRobot.
These tools allow Alteryx users to quickly and efficiently make use of DataRobot for their AI application needs – building new models, making predictions, and optimizing and tuning those models for deployment into production. Offering a robust, enterprise-grade solution, these DataRobot Connectors for Alteryx are fully tested, supported, and updated on a regular basis.
DataRobot allows Alteryx users with no data science or programming background to build highly-accurate machine learning models. With DataRobot Connectors for Alteryx, predictions and explanations run fast, and support large datasets.
DataRobot's dedicated prediction server separates model training and model scoring workloads. That means your Alteryx users can request the scores and prediction explanations they need without affecting the computing resources need to build models. You can scale the prediction workload without limit.
Prediction explanations, are a qualitative indicator of a variable's direction and influence on the overall prediction. They make it much easier for users to understand and explain a prediction.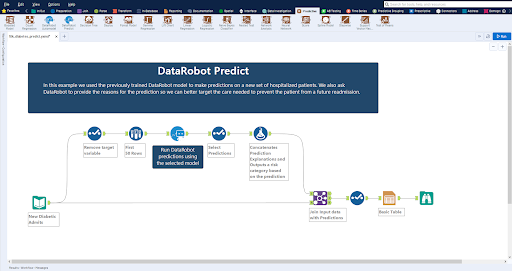 The DataRobot Connector for Alteryx Supports:
Alteryx versions 11.7 and newer. For older versions of Alteryx please keep using the 2.x version of the tools.
DataRobot Enterprise versions 2.9 and newer, or DataRobot Cloud.
New Features:
The DataRobot Automodel Tool now outputs the Project ID and ID of the best performing model that was trained.
Requesting predictions from dedicated DataRobot Prediction Servers is now supported.
There is an additional option to return Reason Codes in the DataRobot Predict Tool.
Updates:
This suite of tools no longer requires Alteryx Predictive Tools to be installed.
The icons have been changed to visually differentiate the legacy 2.x tools from the new 3.0.0 versions.
Getting predictions from Multiclass models is now fully supported.
Creating Multiclass projects from the DataRobot Automodel Tool is now supported, as long as your target variable is unambiguous.
Output field names have been improved to be more informative and include short descriptions in the metadata view.
Large datasets are now better supported.
Users can configure HTTP/S proxy settings (BETA).
Inline documentation is included in the tool.
This is the first release to leverage the Alteryx Python SDK for improved performance and reliability.
Please note that output from the DataRobot Predict Tool will no longer include the original input. It is recommended that you use the built-in Alteryx Join Tool to join the prediction results with the desired fields from the original data.

About the Author:
Dan Ganancial leads Partner Marketing at DataRobot, and he is responsible for driving joint marketing initiatives with alliance and channel partners. Dan is a marketing professional with more than 10 years of experience in partner, product, and strategic marketing. He has held several roles in his career related to consultative sales, business development, and marketing where he has produced a strong record in driving both customer and revenue growth. Follow him on Twitter – @datarobotdan
Subscribe to DataRobot Blog
Thank you
We will contact you shortly
Thank You!
We're almost there! These are the next steps:
Look out for an email from DataRobot with a subject line: Your Subscription Confirmation.
Click the confirmation link to approve your consent.
Done! You have now opted to receive communications about DataRobot's products and services.
Didn't receive the email? Please make sure to check your spam or junk folders.
Close