Finding the Signal in the Noise: Talking Racing Strategy with McLaren Racing's Randy Singh
Finding the Signal in the Noise: Talking Racing Strategy with McLaren Racing's Randy Singh
F1 is headed Down Under this weekend for the first time since 2019. The Australian Grand Prix – taking place in Melbourne's Albert Park Circuit – will showcase a new track layout and will be a homecoming for Australia's own, McLaren Racing driver Daniel Ricciardo.
The track changes, which Ricciardo consulted on, are the first modifications since 1996 and are aimed at reducing lap times, increasing speeds, and bringing the cars closer together. This is a continuation of the theme of the 2022 rule changes with the goal of making races more exciting.
The 2022 F1 Season continues to shape up as an interesting one, with multiple cars withdrawing from the Saudi Arabian Grand Prix, including Ricciardo's. I'm sure Daniel is hoping for a different result for his homecoming this weekend.
McLaren did see marked improvement in Saudi Arabia over the season debut in Bahrain, with Lando Norris finishing 7th. Prior to his car's untimely retirement, Daniel was running 10th. Considering that there were only days between the two races to update the cars, this is a promising improvement.
"I'm excited to go home and compete there," Ricciardo said.
"For now, we'll keep chipping away. We can't promise amazing results yet, but we'll keep at it and I'm sure better things are on the horizon.
"The characteristics of this circuit seemed to help us, and although we weren't setting the timesheets alight, we had a bit more confidence in the car. Looking at Melbourne and the changes we made, I think it is going to be quite flowing and, hopefully, that suits us."
The Data Race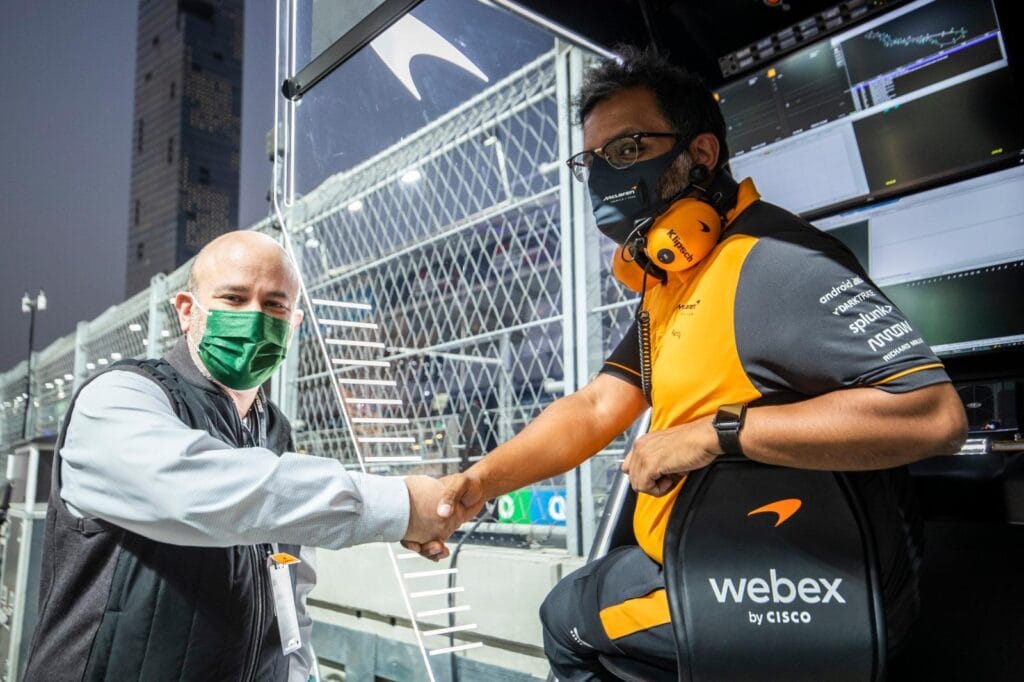 Rule changes have upended data collection for F1 teams, leaving them all in the same spot with minimal historical data and many questions to be answered. Even without historical data, teams are collecting as much as they can in every practice, qualifying, and race; each car has 300 sensors, collecting data one thousand times per second, leading to over 12 billion data points collected per year.
With such a wealth of data collected, how do you find the signal in the noise? I had the chance to sit down with Randy Singh, Director of Strategy and Sporting at McLaren Racing and ask him, "How do you identify what data matters and what you don't want to use?"
Randy's response: "We get a lot of different data streams, from timing data, to tyre data, GPS information, audio and video streams. Our method of identifying which data to use and not use is based on the specific circumstances. Prior to each race we try and understand through modeling and analysis which 'levers' will be most important in which circumstances and then we try and use the data in priority order, prioritizing those areas where the impact will be largest. For example, in Bahrain where degradation was one of the key levers, we were focusing more on the timing data and telemetry data related to tyre life and degradation."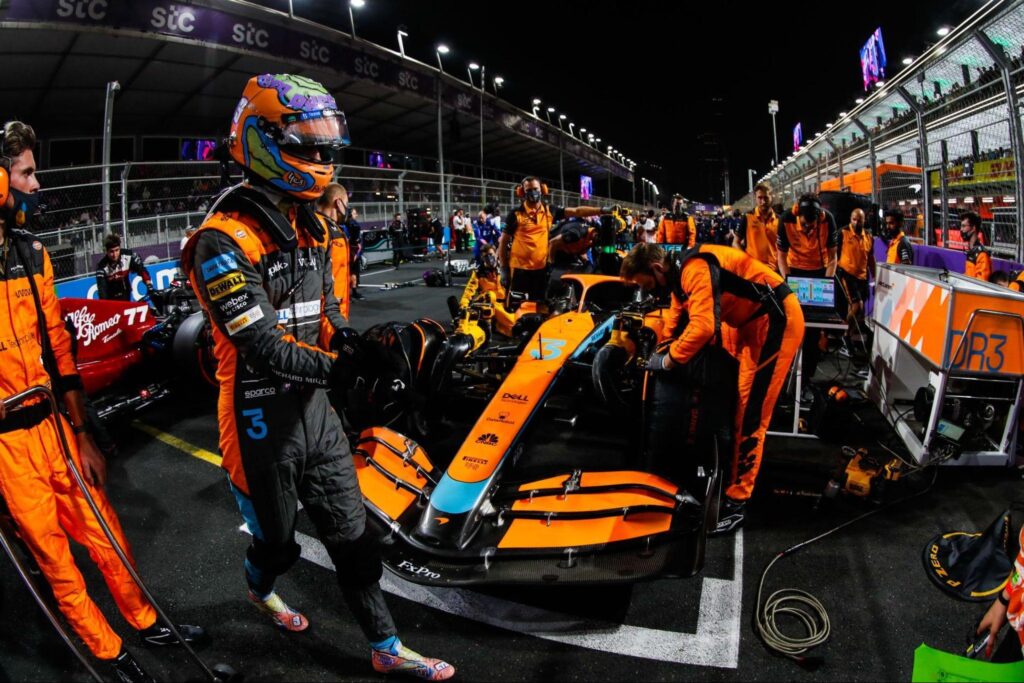 The Race for the Shortest Pit Stop
McLaren had the two shortest pit stop times of 2022 across all teams at the Saudi Arabian Grand Prix, with times of 2.41 and 2.51 seconds. They also had the shortest pit stop time in Bahrain, at 2.31 seconds.
I was lucky enough to watch the pit crew practice in Jeddah. Pit stops are a team sport. Each pit crew consists of 20 people. Members of the crew have a specific task they need to complete, and they focus only on that task. There are eight different roles that make up the pit crew.
I watched the McLaren pit crew practice about a dozen times in advance of the race and was mesmerized by their synchronous "dance." Speaking of dancing, I learned that each team does dancing and stretching exercises with music pumping to get their energy flowing leading up to the race. The practice includes having a volunteer sit in the car (with the engine off) while four people roll it into place to try different pit stop exercises such as changing tyres, changing the front nose, lifting the front and back on jacks, and changing the wing flaps of the car. After each practice, the team goes to a bank of computer screens to watch themselves in slow-motion, read sensors of their performance, and then regroup to perform another run-through a few minutes later. What was also fascinating is that anyone with a pit lane pass can walk up to any car (competitors too) and watch up close.
The pit crew is a team sport – and likewise there is a full team of data scientists and engineers at McLaren who process and analyze the mountains of data the team receives each weekend. Together these teams help drive strategies for the fastest pit times and other successes during race weekend. Follow along with us all season as we continue to explore the team behind the wheel.
About the author
Kaplan is a leading figure in data science, sports analytics, and business leadership. High profile roles include creating the Chicago Cubs analytics department, President of the investigation into the fate of Holocaust hero Raoul Wallenberg, and President Emeritus of the worldwide Oracle User Group.
Meet Ari Kaplan
Subscribe to DataRobot Blog
Thank you
We will contact you shortly
We're almost there! These are the next steps:
Look out for an email from DataRobot with a subject line: Your Subscription Confirmation.
Click the confirmation link to approve your consent.
Done! You have now opted to receive communications about DataRobot's products and services.
Didn't receive the email? Please make sure to check your spam or junk folders.
Close