Don't Let a Talent Shortage Stop You from Launching AI & Machine Learning Projects
Don't Let a Talent Shortage Stop You from Launching AI & Machine Learning Projects
If you're not already doing AI, machine learning, or some form of advanced analytical project, research from McKinsey indicates that it's now or never. Their conclusion, in a nutshell, is that laggards might never be able to catch up to the early adopters.
If you've got AI or ML projects underway, the next question you can turn your attention to is whether or not those efforts are successful. According to recent research, as much as 90 percent of projects stall without ever reaching production. Are your efforts making a measurable business impact? Clearly the mere presence of ongoing AI projects isn't enough.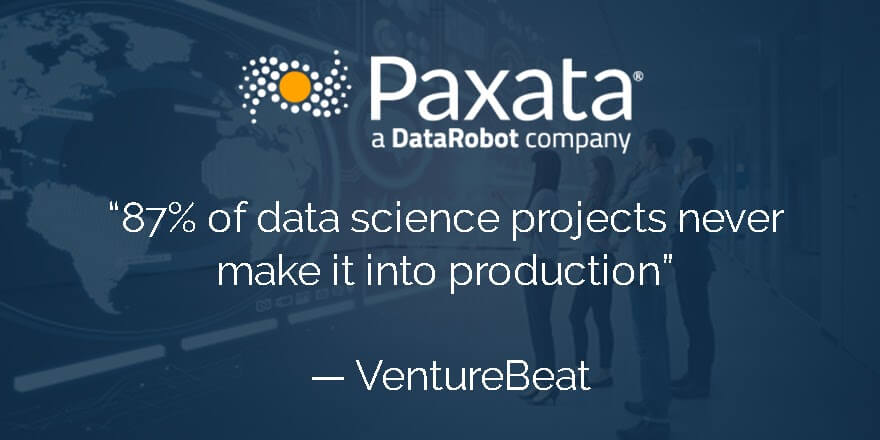 VentureBeat claims 87 percent of data science projects never make it into production.
While the reasons for failures abound, I am hearing two things consistently when speaking to heads of data or heads of analytics globally:
We don't have enough unicorn data scientists or technical experts to do these projects.
Our data is all over the place. It's just not ready.
Democratize AI by Democratizing Data
DataRobot is the leading enterprise AI platform. When we acquired Paxata, we did so to create the world's first enterprise-grade, end-to-end AI platform. The combination of these platforms is a unique win-win solution engineered precisely to tackle the issues mentioned above: lack of talent and chaotic data practices.
DataRobot and Paxata combine to create a platform that:
Manages the AI lifecycle or workflow from end to end—from raw data to machine learning model creation and then on to deployment and production.

Caters to the non-expert data scientist with an interactive visual experience to democratize AI/ML across all participants and stakeholders in your organization.

Uses advanced AI to create guard rails for novice users, so complex feature engineering tasks or model selections are performed automatically, and selecting the best performing algorithm for a specific data set is easy.
Democratize Data by Empowering Novice Users and Analysts
If you're going to train machine learning models quickly and easily, you need the right data at the ready. Relying on scarce IT resources to do the data preparation is a bottleneck I see all the time, and it doesn't scale. Paxata created self-service data preparation specifically to solve that problem. Paxata empowers your novice users and analysts to perform sophisticated data preparation tasks by themselves, thus alleviating the most severe bottleneck in the AI lifecycle.
Paxata's unique capabilities include:
A familiar, visual experience. In Paxata, data is represented in a familiar, tabular format. Visual cues and guides help the user to easily spot patterns in the data, and every action performed is reflected in real-time.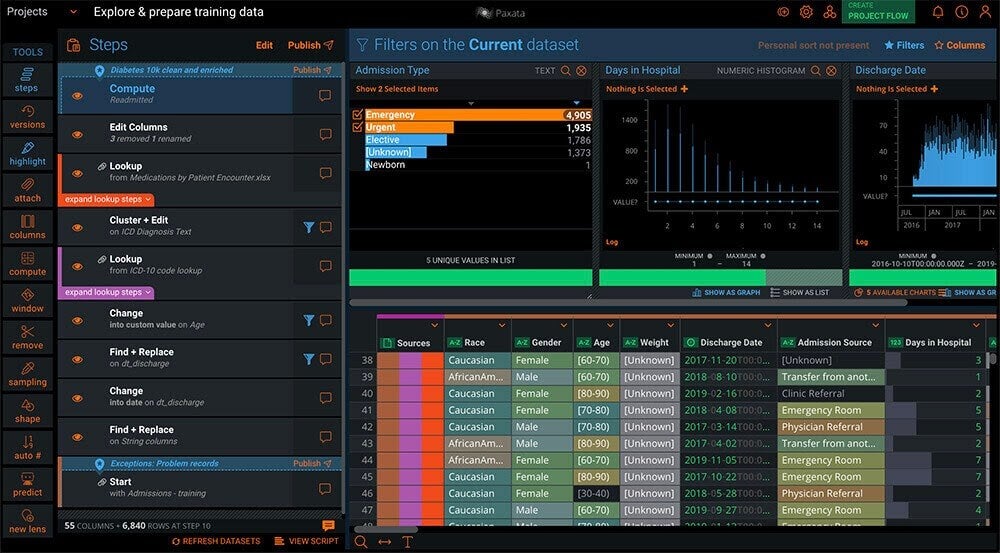 Built-in AI. Embedded AI-assisted techniques and algorithms recommend tasks—such as ingestion of complex XML or JSON files, finding variations in categorical variables, and standardizing on the preferred choice (eg. variations in Company Names)—and automate multiple dependent data preparation jobs with a single click.
Full data sets, not samples. Powered by Apache Spark, Paxata allows you to work with all your data at once, not just a small, product-enforced sample. Instead of seeing some outliers, you see them all. Paxata's cloud-native, multi-tenant architecture is deployed in various multi-cloud hybrid options, so it easily scales to as many people, or as much data, as you need.
Effortless governance. Paxata delivers end-to-end governance, automatically recording every step of the data transformation process, by every user and for every project. That translates to detailed insight and data lineage. Every step, project, and data set is also automatically versioned, allowing you to precisely see what steps were performed to deliver the data set, even if those steps were performed months ago.
See It. Try It!
If modern firms are to keep up, data science must be a team sport. Paxata for DataRobot provides a rich, collaborative environment where users can jointly work on and reuse projects, project steps, or previously created data sets to jumpstart their own efforts.
Interested in seeing Paxata for DataRobot in action? Join our weekly PaxataLive session for a 15-minute demo followed by a quick Q&A. Better yet, try it yourself by signing up for a free trial.

About the author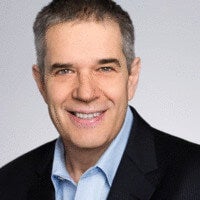 Piet Loubser
VP Product Marketing - Data Preparation, DataRobot
Piet is building out a new category for modern data management with the market-leading Self-Service Data Preparation solution.
Meet Piet Loubser
Subscribe to DataRobot Blog
Thank you
We will contact you shortly
Thank You!
We're almost there! These are the next steps:
Look out for an email from DataRobot with a subject line: Your Subscription Confirmation.
Click the confirmation link to approve your consent.
Done! You have now opted to receive communications about DataRobot's products and services.
Didn't receive the email? Please make sure to check your spam or junk folders.
Close