Democratizing AI: Transforming Your Operating Model to Support AI Adoption
Democratizing AI: Transforming Your Operating Model to Support AI Adoption
Many executives and business owners perceive that artificial intelligence (AI) is only applicable to big companies such as Facebook, Apple, Amazon, Netflix and Google, and not for smaller enterprises.
The reality is that any organization can implement, scale and benefit from AI today. Although it is true the Big Tech companies achieved early success through the adoption of artificial intelligence, smaller businesses are now following suit and transforming their products, services, and operations by adopting an AI platform. As the pioneer in the field of automated machine learning, DataRobot helps businesses democratize AI within their organizations by guiding them through change and implementing the breadth of its product capabilities.
In Democratizing AI: Transforming Your Operating Model to Support AI Adoption, we describe the steps your organization needs to take to put the capabilities of AI into the hands of non-data scientists to make predictive decision making ubiquitous in every area of the business.
So, what are some of the steps to scaling AI in your organization?
Identify High Impact Use Cases
Correctly framing the business problem is key to successfully using AI within your organization. This means focusing on specific use cases that would provide the highest return on investment (ROI). Getting business users to participate, however, is challenging but ultimately rewarding. It injects more peoples' perspectives into the creative process, while at the same time, democratizing AI. We have even seen some companies running periodic "AI challenges" throughout the business, with prizes for winners to encourage participation and help secure funding to enable project delivery.
Build Trust
AI adoption is challenging to say the least, but you can make it easier by involving the employees, who will become your citizen data scientists. Entrusting them with participation in the implementation process. Business users are the best resources in your organization to help you frame a problem that requires an AI solution. This is because they work with huge amounts of relevant business data on a daily basis, and they will help you accelerate the inception phase of your AI project and, consequently, boost the results.
Initiate Transformation
Undoubtedly, most employees resist change within their organization. But people tend to mimic those around them, and leaders can inspire their followers to embrace new technologies by fostering people's understanding of the benefits democratization of AI would bring to the business. Therefore, it is essential to invest in training and work to integrate AI with your legacy business intelligence (BI) tools.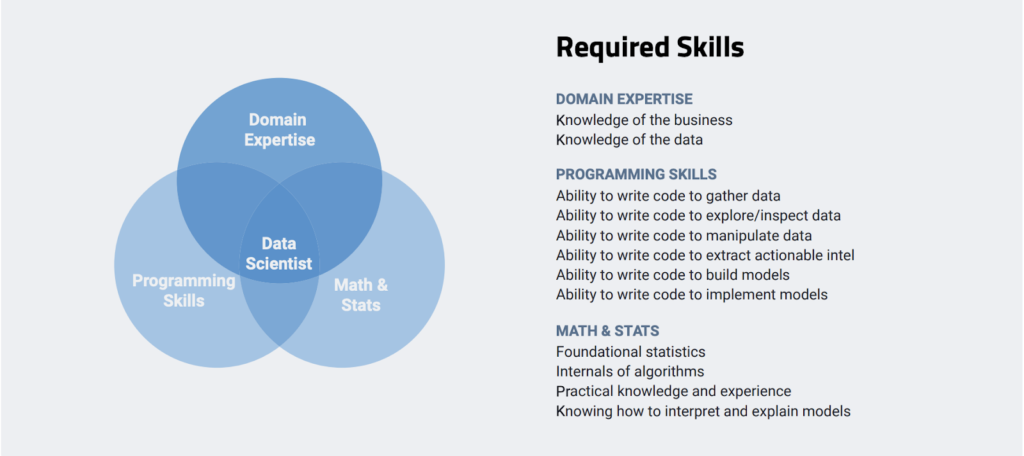 Ready to learn more? Download our white paper, Democratizing AI for All: Transforming Your Operating Model to Support AI Adoption.
Democratize data within your organization with DataRobot, the leader in Enterprise AI.
About the author
DataRobot is the leader in Value-Driven AI – a unique and collaborative approach to AI that combines our open AI platform, deep AI expertise and broad use-case implementation to improve how customers run, grow and optimize their business. The DataRobot AI Platform is the only complete AI lifecycle platform that interoperates with your existing investments in data, applications and business processes, and can be deployed on-prem or in any cloud environment. DataRobot and our partners have a decade of world-class AI expertise collaborating with AI teams (data scientists, business and IT), removing common blockers and developing best practices to successfully navigate projects that result in faster time to value, increased revenue and reduced costs. DataRobot customers include 40% of the Fortune 50, 8 of top 10 US banks, 7 of the top 10 pharmaceutical companies, 7 of the top 10 telcos, 5 of top 10 global manufacturers.
Meet DataRobot
Subscribe to DataRobot Blog
Thank you
We will contact you shortly
We're almost there! These are the next steps:
Look out for an email from DataRobot with a subject line: Your Subscription Confirmation.
Click the confirmation link to approve your consent.
Done! You have now opted to receive communications about DataRobot's products and services.
Didn't receive the email? Please make sure to check your spam or junk folders.
Close