DataRobot at the HIMSS 2020 Global Health Conference & Exhibition
DataRobot at the HIMSS 2020 Global Health Conference & Exhibition
HIMSS20 is around the corner and, like most, I am contemplating the conversations I will have there and am reflecting on the impact of AI on the future of healthcare.
While top trends shaping the healthcare industry include consumerism, expanding value-based care programs, increasing volumes of previously unavailable data, and a continued shortage of healthcare professionals, I don't consider AI as an industry trend. It's really more of a foundational imperative for the continued advancement of medicine, cost-effective care of the growing and aging global population, and the backbone for the next generation of care delivery.
All healthcare systems and their partners are already experiencing AI-driven solutions at some level, but some are making bold moves toward building the foundation on which their organization will depend in the future.
Looking towards HIMSS, will I hear from more organizations boldly building their foundational strategies that will serve their enterprises not in silos but across clinical, operational, and financial use cases?  And how are they overcoming barriers of trust and ROI?
HIMSS leadership is calling for all of us to Be the Change. I am looking forward to the conversations my colleagues and I will have with thought leaders, DataRobot customers and partners, and of course prospects this year at HIMSS.  I invite you to join me and the DataRobot team in a conversation about your foundation for an AI-enabled enterprise.
Visit us in the Exhibit Hall:
Booth #604
Innovation Live showcase
InterSystems Partner Pavilion (Booth #3301, Demos Tue and Wed, Theater presentation Thu)
Hear from us…
…at the HIMSS20 Machine Learning & Artificial Intelligence Forum
Presenting: The Intelligence Revolution: Are You Prepared with an Enterprise AI Strategy?
Speaker: Matt Marzillo, Customer-Facing Data Scientist, DataRobot
Date: Monday March 9 (@2:10pm)
Where: Rosen Centre Executive Ballroom
…in the InterSystems Theater
Presenting: Integrated Enterprise AI:Hyperdrive for your Data Platform
Date: Thursday March 12 (@10:00am)
Where: InterSystems Theater (Exhibit Hall Booth #3301)
Visit our HIMSS 2020 event page for all details about speaking slots, demos, and more!

About the author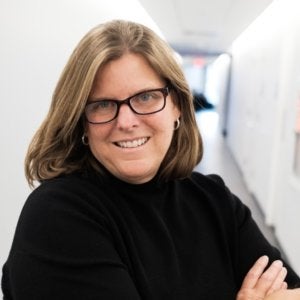 Lisa Runci
Healthcare Marketing Expert
Lisa is passionate about the data-driven transformation of Healthcare and leveraging AI to improve lives and reduce the cost of care.  As a product leader for industry leading vendors, she drove innovation and marketing to bring AI-driven digital health solutions to the market in the areas of patient monitoring, engagement, and adherence.
Meet Lisa Runci
Subscribe to DataRobot Blog
Thank you
We will contact you shortly
Thank You!
We're almost there! These are the next steps:
Look out for an email from DataRobot with a subject line: Your Subscription Confirmation.
Click the confirmation link to approve your consent.
Done! You have now opted to receive communications about DataRobot's products and services.
Didn't receive the email? Please make sure to check your spam or junk folders.
Close