DataRobot AI for Good Round 2
DataRobot AI for Good Round 2
Every day, millions of people interact with AI systems, often without knowing it. Whether it's used to make a product or other recommendation, apply for a loan, or filter spam from your inbox, AI is changing the world. At DataRobot, we believe in empowering users to easily create powerful AI tools that have the potential to transform their businesses. In 2019, we launched our AI for Good program to offer the same cutting-edge tools to nonprofits to help them solve the world's toughest problems. We are wrapping up the first round of our program and are gearing up to do it again! The enrollment period for the second AI for Good cohort begins March 1.
Our Program
DataRobot AI for Good is a free program that provides nonprofits with access to our software and up to six months of hands-on help from our customer success teams. It is designed to address the shortcomings we found with other data for good initiatives by making sure participants have access to the specialized help they need to create high-quality, lasting AI solutions.
The program takes into account project requirements and organizational needs. Some participants didn't have many engineers on staff, so they received extensive hands-on help to develop their AI solution. Other participants had a team of engineers. They consulted with our data scientists and used the advanced capabilities available through our API to develop their AI solution. 
Our team provides the right resources for each project: our data scientists provide expertise on the building and deployment of AI models while our AI success managers help integrate the solution into the nonprofit organization. Our Solution engineers can help design and integrate end-to-end solutions and our UX team can help bring the front-end to life, if needed.
The First Round
During our first enrollment period, we received dozens of applications from ten countries and selected five participants: Kiva, DonorsChoose, Anacostia Riverkeeper, UCSF Brain and Spinal Injury Center, and Mannheim University Hospital.
Their projects covered topics as diverse as studying the drivers of patient outcomes in the operating room to predicting which microloans were unlikely to be funded.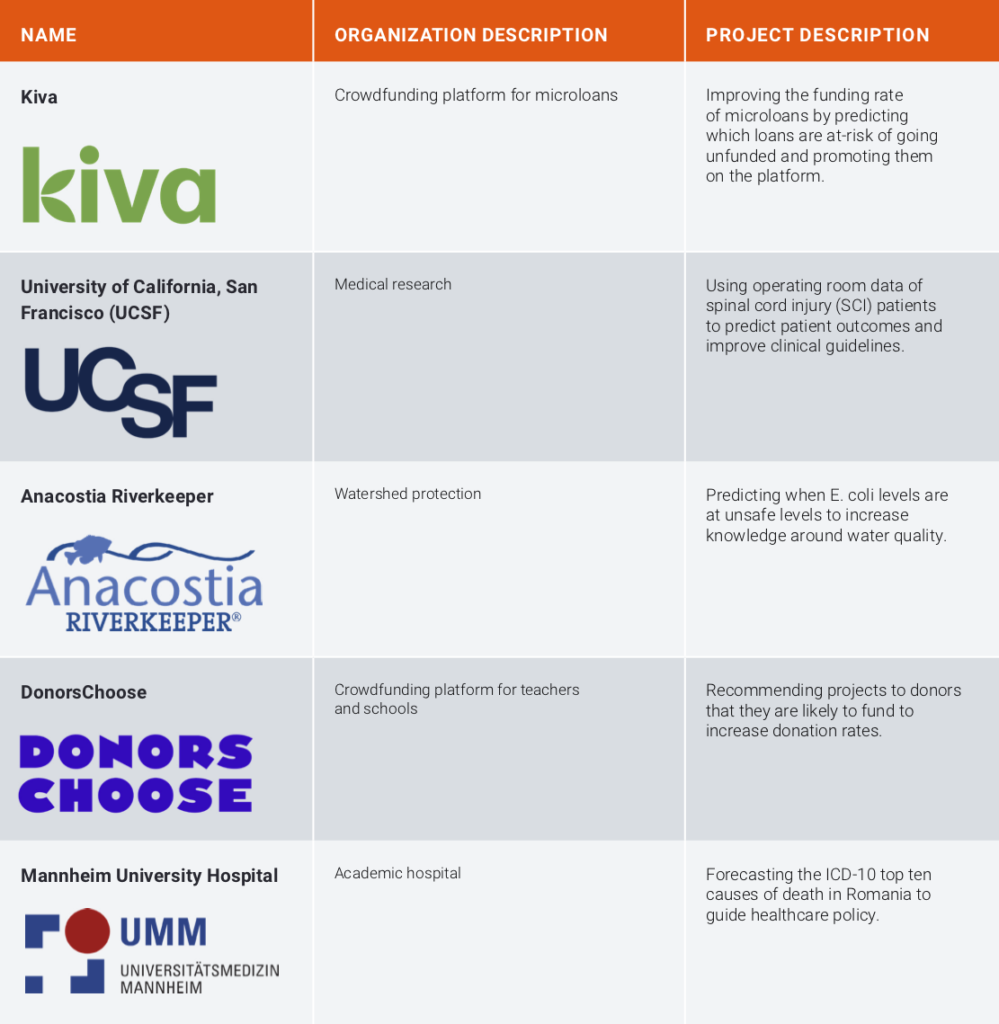 Here are some program highlights:
Kiva trained and deployed dozens of models to develop a system to promote loans that aren't being viewed and are at risk of going unfunded. The organization now promotes high-risk loans on their website to increase their visibility and improve the chances of funding.
Using operating room data, UCSF used DataRobot to study the drivers of outcomes for patients with traumatic spinal cord injuries. They discovered a previously unknown relationship between blood pressure and patient outcomes, which will be studied further to improve patient care. Importantly, the time arrive at a powerful insight was reduced from the typical 2-3 years to 6 months.
In addition to the hands-on help, each participant received an additional year of access to the DataRobot platform.
What We Look for in Participants
In our search for AI for Good participants, we look for projects that have impact, framing, and readiness.
Above all, we want to make sure that projects have an impact in the communities served by our program participants. It is also important that the problem can be solved by AI. There should be a specific event that is being predicted or studied, whether that be microloan funding, unsafe levels of E. coli in the water, or the impact of many variables on patient outcomes. We can help flesh this out, but our ideal applicants have a vision for how they can leverage their data to solve an important problem. Lastly, because delivering an AI solution can be difficult, we want to make sure that the leadership and stakeholders in nonprofit organizations are committed and prepared to implement their project.
The Next Round
The application period for the AI for Good program runs from March 1-April 30, after which we will start scheduling interviews. We expect to contact potential participants in June.
You can apply here for the AI for Good program.
About the author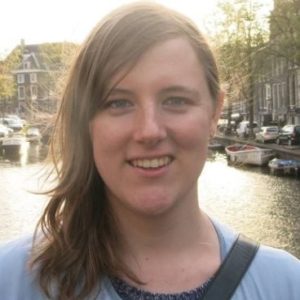 Natalie Bucklin is the Senior Product Manager of Trusted and Explainable AI. She is passionate about ensuring trust and transparency in AI systems. In addition to her role at DataRobot, Natalie serves on the Board of Directors for a local nonprofit in her home of Washington, DC. Prior to joining DataRobot, she was a manager for IBM's Advanced Analytics practice. Natalie holds a MS from Carnegie Mellon University.
Meet Natalie Bucklin
Subscribe to DataRobot Blog
Thank you
We will contact you shortly
We're almost there! These are the next steps:
Look out for an email from DataRobot with a subject line: Your Subscription Confirmation.
Click the confirmation link to approve your consent.
Done! You have now opted to receive communications about DataRobot's products and services.
Didn't receive the email? Please make sure to check your spam or junk folders.
Close