DataRobot – A Leader in Worldwide Advanced Machine Learning Software Platforms
DataRobot – A Leader in Worldwide Advanced Machine Learning Software Platforms
Given the interest in and adoption of AI, data science, and machine learning from organizations around the world, it's no wonder that leading analyst firms are evaluating this market with dedicated research. Today, we're pleased to share that we've just been named a Leader in the IDC MarketScape: Worldwide Advanced Machine Learning Software Platforms 2020 Vendor Assessment, a new report that benchmarks 11 vendors in the industry.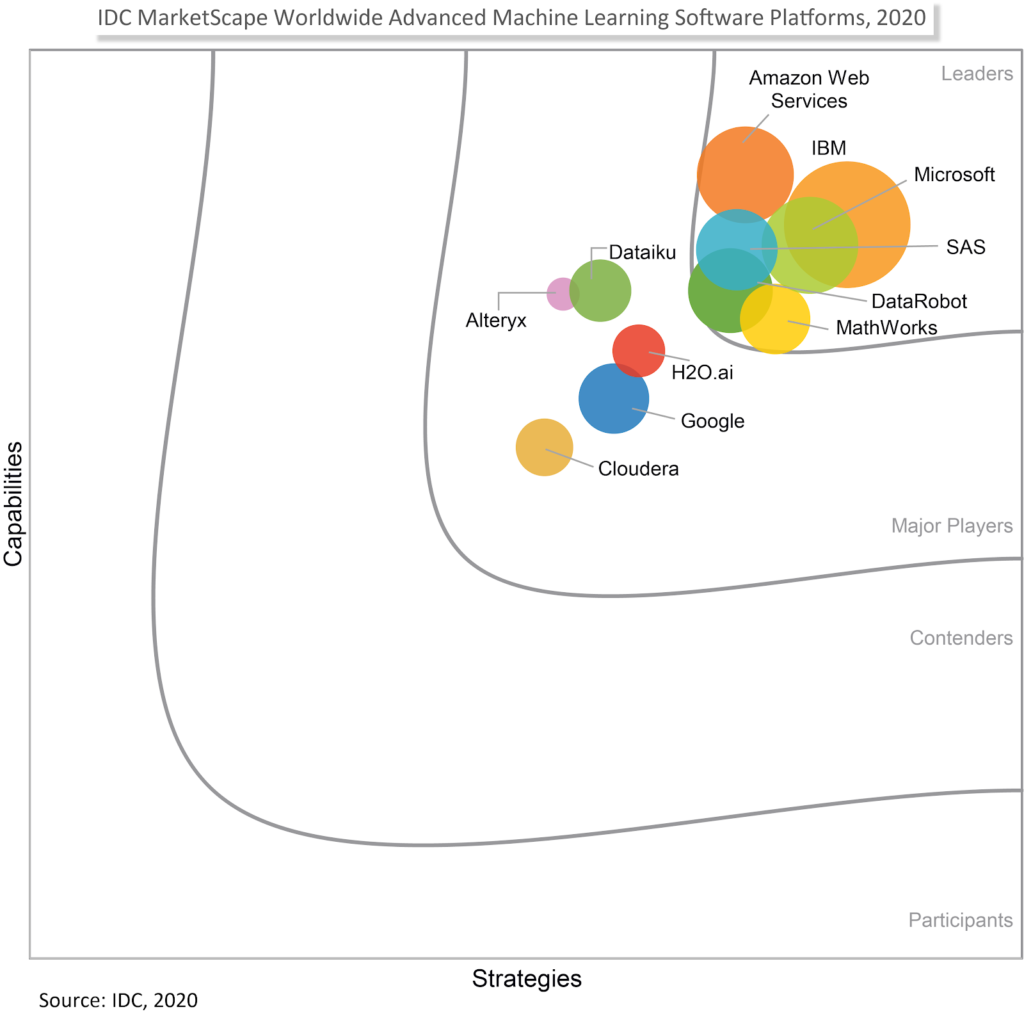 IDC MarketScape vendor analysis model is designed to provide an overview of the competitive fitness of ICT suppliers in a given market. The research methodology utilizes a rigorous scoring methodology based on both qualitative and quantitative criteria that results in a single graphical illustration of each vendor's position within a given market. The Capabilities score measures vendor product, go-to-market and business execution in the short-term. The Strategy score measures alignment of vendor strategies with customer requirements in a 3-5-year timeframe. Vendor market share is represented by the size of the circles.
Written by Ritu Jyoti, program vice president for AI Research, and David Schubmehl, research director, AI Software Platforms at IDC, the IDC MarketScape explores the wide array of tools and capabilities that 11 vendors offer for collecting, exploring, and evaluating data for machine learning, identifying features, choosing, and developing algorithms and models, as well as testing and deploying models into production.
According to Ritu, "AI adoption is past the tipping point. The rapid rise of digital transformation has pushed AI to the top of the corporate agenda and machine learning infusion is ubiquitous across all business processes. However, as we accelerate into the mainstream, organizations will need to embrace innovative machine learning platforms to realize AI/ML at scale and enjoy sustainable competitive advantage."
At DataRobot, we have seen and experienced massive adoption from organizations all over the world. We were founded in 2012 with the belief that AI is the defining innovation of our time and will fundamentally reshape our future, helping organizations transform their operations across the board. We've since grown to become the leading platform for enterprise AI, partnering with government, commercial, and nonprofit organizations around the world to deliver value from data at scale.
Today, we offer an end-to-end platform that appeals to a broad mix of users, helping organizations around the globe transform their data into value. In an ever-changing market, we're seeing how our strategy for delivering the industry's first end-to-end platform for enterprise AI is game-changing for customers, and how it's key to enabling the success that so many companies achieve with AI.
The world's largest organizations trust DataRobot to deliver the insights needed to make business-critical decisions for their business. We believe the most impactful use cases are cross-functional and can have a massive impact. The IDC MarketScape agrees with our vision. According to the report, "DataRobot focuses on companies that are serious about realizing a return on their AI investments, and many see value ranging from tens of millions to up to hundreds of millions."
We're pleased to provide you with an excerpt of the report, free of charge, so you can learn more about why DataRobot was named a Leader; how our new features, like Visual AI and Automated Deep Learning, are helping organizations recognize massive value from their investments; and why customers are drawn to our range of capabilities, community, and corporate support.
Subscribe to DataRobot Blog
Thank you
We will contact you shortly
We're almost there! These are the next steps:
Look out for an email from DataRobot with a subject line: Your Subscription Confirmation.
Click the confirmation link to approve your consent.
Done! You have now opted to receive communications about DataRobot's products and services.
Didn't receive the email? Please make sure to check your spam or junk folders.
Close