What customer experience teams should learn from Citi cards
What customer experience teams should learn from Citi cards
How AI can improve every interaction with every customer
One of the most irritating things in the life for the American consumer is interacting with big retail companies: cell phone providers, credit card issuers, and perhaps worst of all, cable providers. Despite knowing a great deal about me — when I pay my bill, what services I consume, how old I am, my browsing and viewing habits, sleeping schedule, work schedule, purchase history, and so on — they behave as though I'm a complete stranger.
For example, after keying in your account number (or even worse, your phone number), you're often asked for the same number again by the person who picks up the phone (once you finally get through to a real person). Or when your bill suddenly goes up or has unusual charges on it, you still have to go through the same phone system with the same options when you call to ask about it. Perhaps worst of all is when you go on a business trip, only to discover that your card has suddenly stopped working because of unexpected activity — even though you used that card to buy the plane tickets and book the hotel.
For some time now, I've been a Citi® cards customer, and I'm thrilled to declare that they're getting it right. Regularly, these days, I get an email that looks something like this: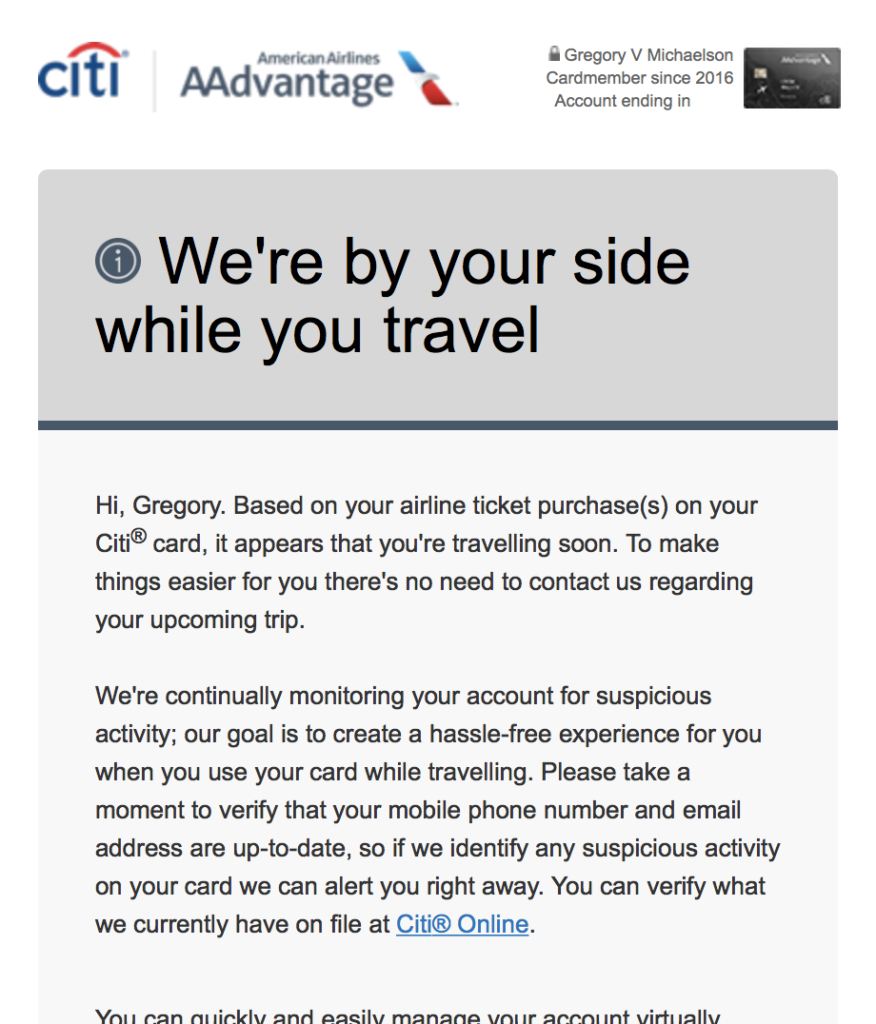 Actual communication from Citi.
In other words, someone is finally starting to use the data they already collect to make my life better and easier. Well done.
I've had other notable customer service experiences that rely on AI recently. For example, American Airlines automatically recognizes me when I call and routes me to the executive platinum desk (yeah… I travel a lot).
Maybe the best use of AI I've seen from a large company is behind USAA's call routing system. They actually try to predict why I'm calling, and their predictions are usually quite good. USAA, incidentally, was also the first to introduce deposits via mobile phone, something that's been copied by all the major banks at this point.
They're very innovative. Improving the customer experience is one of the key success factors in the retail space – Uber proved that.
The reality is, though, that the great examples of smart customer interactions — from companies like USAA, Citi cards, and amazon.com — are vastly outnumbered by the hordes of dumb customer interactions with, for example, every cable company in the country.
All of it boils down to a huge opportunity for the companies that collect our data. Improving the customer experience is one of the key success factors in the retail space — Uber proved that. I'm hoping that exposing some of these great examples of positive customer experience will reward the companies that are getting it right and motivate the ones that are missing the mark.
Here are a few ideas for how retail companies can use AI to improve their customer interactions:
Predict why I'm calling you. You know so much about me, and you have many thousands of other customers and years of historical data. You should be able to make a good guess about why I'm calling and route me to the right place.
Do better with fraud predictions. Some of the biggest transaction processors in the world are laughably immature at fraud prevention — using rule-based systems that are rarely updated. Modern machine learning can do it faster and better than any rule-based solution.
Be proactive. Did you do something that is going to generate a phone call from me? How about shooting me an email instead of making me call you?
Fix my issues before I call you. The cable companies know my download speed at any point in time. The cell phone company knows if there's a better plan for me based on my usage. They should be able to optimize my experience without me having to go through the pain of a phone call.
There are literally dozens of opportunities to make my life better that are being left on the table.
The skill gap that prevented organizations from fixing these issues has disappeared. Finding, hiring, and retaining data scientists is too expensive and too difficult, but automated AI solutions (like the DataRobot automated machine learning platform) are making it possible for the customer service experts to solve these problems for themselves — without needing to hire specialized talent or build dedicated data science teams.
Advanced tools like DataRobot have not only made it much faster and easier to develop these predictive models, but they have made deployment easier as well. Production grade, highly available, scalable implementations are no longer the domain of expensive consultants or niche, third-party providers. Organizations can now build, deploy, and monitor their own solutions.
The challenge that remains now is organizational. Executives need to educate themselves about the opportunities empowered by AI and be willing to think differently about the way they interact with their customers. The status quo is changing, and organizations that embrace that change are going to replace the organizations that do not.

About the Author:
Greg Michaelson is the Director of DataRobot Labs, an R&D group focussed on developing data science applications in a business context. Prior to that he led the data science practice at DataRobot, working clients across the world to ensure their success using the DataRobot platform to solve their business problems. Prior to joining DataRobot, Greg led modeling teams at Travelers and Regions Financial, focusing on pricing and risk modeling. He earned his Ph.D. in applied statistics from the Culverhouse College of Business Administration at the University of Alabama. Greg lives in Charlotte, NC with his wife and four children and their pet tarantula.
Subscribe to DataRobot Blog
Thank you
We will contact you shortly
Thank You!
We're almost there! These are the next steps:
Look out for an email from DataRobot with a subject line: Your Subscription Confirmation.
Click the confirmation link to approve your consent.
Done! You have now opted to receive communications about DataRobot's products and services.
Didn't receive the email? Please make sure to check your spam or junk folders.
Close