Certify Your Skills as a Citizen Data Scientist
Certify Your Skills as a Citizen Data Scientist
Back to school isn't just for kids—it's for anyone who wants to stay on top of industry trends and build their skills in this rapidly changing environment. This is especially important for business analysts and data professionals who want to be expert problem solvers in their organizations. You might be one of them. To remain in high demand and competitive, you know the importance of striving to find effective and efficient ways to solve business problems.
Or maybe you want to pivot your career toward pure data science and take advantage of opportunities in a growing field that has a shortage of talented people with subject matter expertise.
The benefit of knowledge gained from automated machine learning can give you a maximum advantage. But where do you start? And how do you validate your skills?
Citizen Data Scientist Professional Level I Certification
DataRobot recognizes the need for data professionals to have a formal way to validate their expertise and earn a credential in solving business problems using automated AI. We created the Citizen Data Scientist Professional Level I Certification to address this need. It's the first professional certification offered by DataRobot for citizen data scientists who have on-the-job experience performing data analysis and three to six months of hands-on, practical experience using our platform.
This certification ensures that you have a solid command of applied machine learning skills to level up your career in AI, validate your expertise and grow your credibility among the most demanding employers. These skills also help you communicate and collaborate with data science practitioners using the platform and a common understanding.
The format of the Citizen Data Scientist Professional Level I Certification is perfect for those who would like to be certified from the convenience of their home or office. The certification process includes a 75-minute proctored online exam with 40 multiple choice questions that focus on the application of DataRobot to solve common machine learning project challenges.
To recognize and showcase your accomplishment, we provide a digital badge as a benefit of earning certification. This digital badge is issued via Credly's Acclaim platform for you to add and share on social media or professional profiles. This credential shows your colleagues what you bring to the table against a standard benchmark, which provides confidence and credibility.
Credentials are valid for 1 year from the date of successful completion. To maintain your credentials, you must complete 6 hours of continuing education that you can fulfill through DataRobot's programs.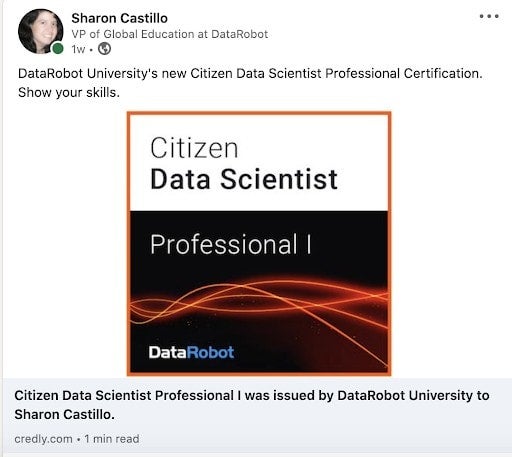 If you're just starting on your journey or you're unsure of what you need to prepare for the exam, we have that covered with learning paths to guide you along the way to complete at your own pace. The best preparation combines hands-on practical experience and self-study.
Show you have what it takes to be a citizen data scientist. Get started today
About the author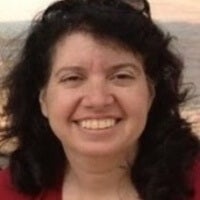 Sharon Castillo
VP of Global Education
Sharon is leading a global team of data science instructors, self-service education developers, and customer education operations to provide a full suite of education offerings, certification, and higher education programs at DataRobot.
Meet Sharon Castillo
Subscribe to DataRobot Blog
Thank you
We will contact you shortly
Thank You!
We're almost there! These are the next steps:
Look out for an email from DataRobot with a subject line: Your Subscription Confirmation.
Click the confirmation link to approve your consent.
Done! You have now opted to receive communications about DataRobot's products and services.
Didn't receive the email? Please make sure to check your spam or junk folders.
Close