AI Experience Worldwide: Why Do You Need AI?
AI Experience Worldwide: Why Do You Need AI?
What inspired me most about this year's AI Experience Worldwide conference was seeing firsthand that transformational growth truly is possible. We heard from so many customers about how AI is revolutionizing their businesses.
One key to success is our vision for augmented intelligence, which builds and is dependent on humans creating structure and rules that assert their values, then puts machines to work to operate at a scale and timeframe that would not be possible otherwise. It combines the best that humans and machines offer.
While there's a lot to consider if you're struggling to bring trustworthy AI to your organization, AIX included many sessions that illustrated how machines and humans can work together to chart a clear path forward.
We also announced a number of major product announcements. We are incredibly excited to bring Composable ML, Continuous AI, No-Code AI Apps, and many more major new capabilities to the platform this year. We are in no doubt that 2021 will be a game changing year for DataRobot.
If you missed it, another key session to watch is Model Monitoring at Scale with Seph Mard, director of technical product, MLOps, at DataRobot. Seph explains the many ways machine learning models can fail and then demonstrates how to use DataRobot to create an automated system for continuous model monitoring.
From there, there are another three sessions you should watch, especially if you're more business-oriented:
Automation and Guardrails teaches the basics of automated model deployment, management, and monitoring. It also shows you how DataRobot's built-in guardrails prevent many machine learning errors.
Accelerating Value from AI with DataRobot's DataRobot's App Builder introduces our new platform that gives non-technical users the ability to create AI Apps. It walks you through the process and shows you how to build from scratch an app that uses AI to make predictions about late shipments in a supply chain.
Success with AI: A Chance Encounter at the Food Court is a great way to showcase how collaboration is key to solving big problems with AI. DataRobot's Gonzo Gonzalez and Karin Jenson team up to explain why breaking down silos and partnering with colleagues from other teams is crucial to successful AI projects.
Finally, I recommend watching Under the Hood: Transforming Products with AI. We assembled an all-star panel of data scientists from Yelp, Pendo, and Overstock.com to share their advice on successfully using AI to enhance a product. It's a must-see session for anyone looking to integrate AI into a product's lifecycle.
DataRobot is democratizing AI. By empowering businesses large and small to use machine learning to build better products and improve customer relationships, our enterprise AI platform helps generate incredible value.
There's so much more to learn. See the full list of the event's sessions and then tour the DataRobot AI Platform.
About the author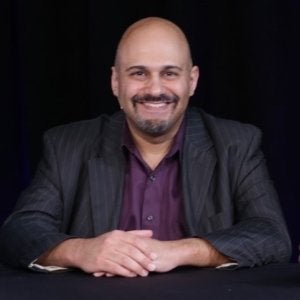 Nenshad Bardoliwalla
Chief Product Officer, DataRobot
Nenshad Bardoliwalla is Chief Product Officer of DataRobot, where he leads product strategy, product management, product design, and customer experience across the company. Bardoliwalla joined DataRobot in 2019 through the acquisition of Paxata, where he was the Co-Founder and Chief Product Officer. He formerly served as vice president for product management, product development, and technology for Enterprise Performance Management at SAP, after many years at Hyperion and Siebel Systems. He lives in the San Francisco Bay Area, CA with his family.
Meet Nenshad Bardoliwalla
Subscribe to DataRobot Blog
Thank you
We will contact you shortly
Thank You!
We're almost there! These are the next steps:
Look out for an email from DataRobot with a subject line: Your Subscription Confirmation.
Click the confirmation link to approve your consent.
Done! You have now opted to receive communications about DataRobot's products and services.
Didn't receive the email? Please make sure to check your spam or junk folders.
Close