Today, I'm humbled and excited to share that I'm officially taking on the role of Chief Executive Officer at DataRobot.
We recently celebrated the ten-year anniversary of DataRobot. And for a decade, we have set a pace of unmatched innovation in the market.
From pioneering AutoML, to launching the first Time Series functionality and the most comprehensive model monitoring capabilities in the industry, to introducing the AI platform just last year, we have been singularly focused on innovation and evolution to meet the needs of our customers. I'm proud to continue that culture of innovation and impact — innovation that matters! 
DataRobot AI Platform is the most widely deployed and proven AI platform in the market, delivering over 1.4 trillion predictions for customers around the world. Key to our success has been our focus on making our customers successful with AI. Our platform helps organizations across industries streamline operations, restore supply chain resiliency, and more efficiently drive growth. We work with over a third of the Fortune 50, including 80% of the top banks in the United States, 50% of leading global manufacturers, and 80% of the top companies in Japan. As we look forward, delivering value for our customers will continue to be our top priority.
Over the past few months, DataRobot has undergone a significant amount of change to refocus on our strengths and position the company for long-term sustainable growth. I'm inspired every day by the exceptional talent, passion, and dedication of our team.
I am confident we have the right focus and right team for the next phase of growth for DataRobot, and to deliver the next era of innovation for our customers and the AI industry. Our work is just beginning — I can't wait to see what the next decade will bring.
About the author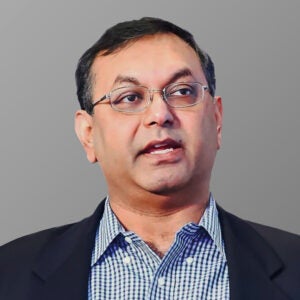 Debanjan Saha is the Chief Executive Officer (CEO) of DataRobot, where he is responsible for the expansion of DataRobot's AI platform, and the impact and innovation it delivers to customers globally. Debanjan joined DataRobot in February 2022 as President and Chief Operating Officer (COO). Debanjan is a visionary technologist with twenty years of product, engineering and operational leadership experience at some of the most successful technology companies in the world, including Google, Amazon Web Services and IBM. Debanjan is also co-author of over 50 patent applications, serves as a Fellow of the Institute of Electrical and Electronics Engineers (IEEE) and is a Distinguished Member of the Association for Computing Machinery (ACM). He lives in the San Francisco Bay Area, CA, with his family.
Meet Debanjan Saha
Subscribe to DataRobot Blog
Thank you
We will contact you shortly
We're almost there! These are the next steps:
Look out for an email from DataRobot with a subject line: Your Subscription Confirmation.
Click the confirmation link to approve your consent.
Done! You have now opted to receive communications about DataRobot's products and services.
Didn't receive the email? Please make sure to check your spam or junk folders.
Close